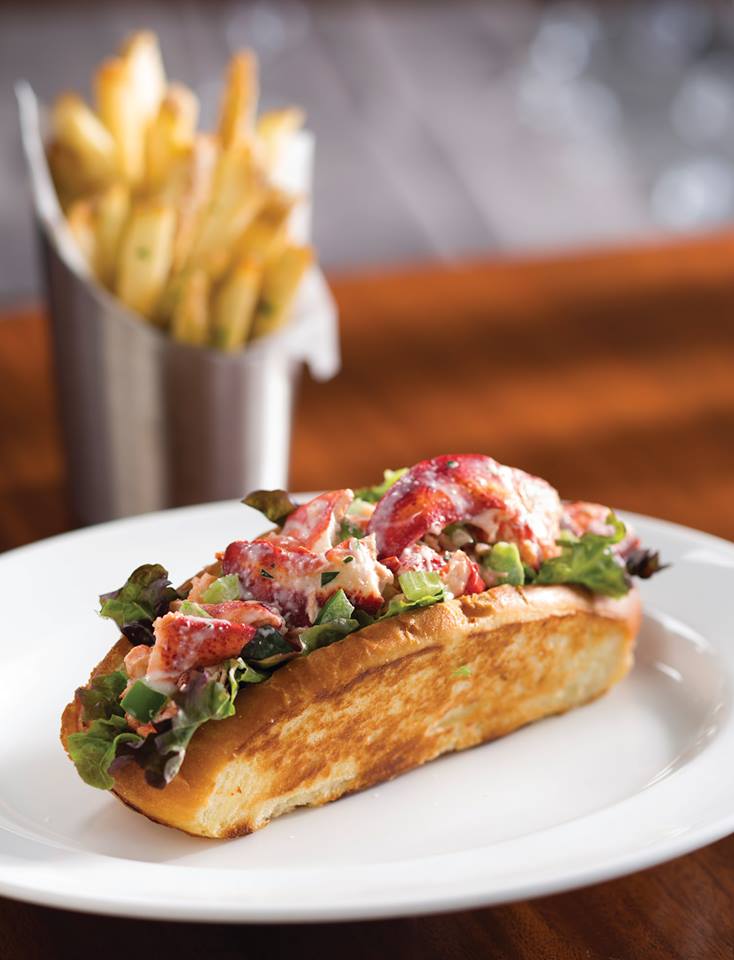 Good Day Chow Fans,
Capital Grille wants you to enjoy a great lunch and because life is fast paced they will feed you in 45 minutes. Trey's Chow Down for lunch loves the Cheeseburger, The French Onion Soup, and the Wedge Salad With Blue Cheese and Smoked Bacon.
You might be surprised with what Capital Grille can do in a mere 45 minutes. Take, for example, the Maine Lobster Roll, served generously on toasted brioche and accompanied by housemade chips. It's one of many exceptional selections you'll find on our lunch menu – served at a pace that suits your schedule, with the service to which you're accustomed.
APPETIZERS AND SOUPS
NEW ENGLAND CLAM CHOWDER
A New England favorite seasoned with our own blend of spices 10
CARAMELIZED FRENCH ONION SOUP CUP 10
SHRIMP COCKTAIL (5)
Jumbo shrimp served with our spicy, house-made cocktail sauce 17
PAN-FRIED CALAMARI
with Hot Cherry Peppers 17
TUNA TARTARE
with Avocado, Mango and Sriracha 19
SALADS
BURRATA
with Prosciutto, Arugula Pesto and Balsamic Glazed Pears 14
WEDGE WITH BLEU CHEESE AND SMOKED BACON
Cool, crisp greens accented with a nice, smoky flavor. 12
MAINE LOBSTER SALAD WITH CITRUS VINAIGRETTE
Chilled Maine lobster tossed in citrus vinaigrette over arugula and avocado. 25
CAESAR SALAD WITH ALL-NATURAL CHICKEN BREAST
Crisp romaine in classic Caesar dressing with grilled chicken breast and tomato salad. 18
SEARED SALMON WITH AVOCADO, MANGO, AND TOMATO SALAD WITH CHAMPAGNE VINAIGRETTE
An unexpected and irresistible combination of flavors. 20
THE CAPITAL GRILLE "COBB" SALAD WITH SLICED TENDERLOIN AND MUSTARD DRESSING
Our unique take on this classic salad, served with our grilled tenderloin. 21
SEARED TUNA SALAD
with Napa Cabbage, Kale, Toasted Almonds and Peanut Vinaigrette 28
BURGERS AND SANDWICHES
SERVED WITH YOUR CHOICE OF PARMESAN TRUFFLE FRIES OR CHIPS
LOBSTER AND CRAB BURGER WITH HOUSE TARTAR SAUCE
Whole chunks of crab and lobster, served with house-made tartar sauce. 23
RIBEYE STEAK SANDWICH WITH CARAMELIZED ONIONS AND HAVARTI
Cooked to your wishes and served on a grilled French loaf. 24
MAINE LOBSTER ROLL
on Toasted Brioche 20
THE GRILLE'S SIGNATURE CHEESEBURGER
A Blend of Short Rib, Chuck and Brisket by Pat LaFrieda, with Caramelized Havarti cheese 18
PLATES
TO START CHOOSE ONE
New England Clam Chowder | Field Greens Salad | Porcini Mushroom Bisque
YOUR CHOICE OF
Seared Citrus Glazed Salmon with Marcona Almonds and Brown Butter
Mini Tenderloin Sandwiches (2) with Parmesan Truffle Fries
Roasted Chicken with Wild Mushroom Risotto
Jumbo Shrimp and Grits with Applewood Smoked Bacon 20
ENTRÉES
SERVED WITH YOUR CHOICE OF SAM'S MASHED POTATOES, PARMESAN TRUFFLE FRIES OR FRENCH GREEN BEANS
FILET MIGNON 8 OZ
A timeless entrée, prepared to your liking. 31
BONE-IN DRY AGED NY STRIP 14 OZ
Prepared to your wishes 29
SUSHI-GRADE SESAME SEARED TUNA WITH GINGERED RICE
Tuna prepared to your liking and served with sesame and ginger sauces. 31
ROASTED SWORDFISH
with Lump Crab Gratin and Mustard Vinaigrette 30
SLICED FILET MIGNON
with Cipollini Onions, Wild Mushrooms and Fig Essence 34
REFRESHMENTS
HOUSE-MADE GRAPEFRUIT SODA
3.75
FRESH SQUEEZED MINT LEMONADE
3.75
All pricing and photos from Capital Grille!
Trey Chapman