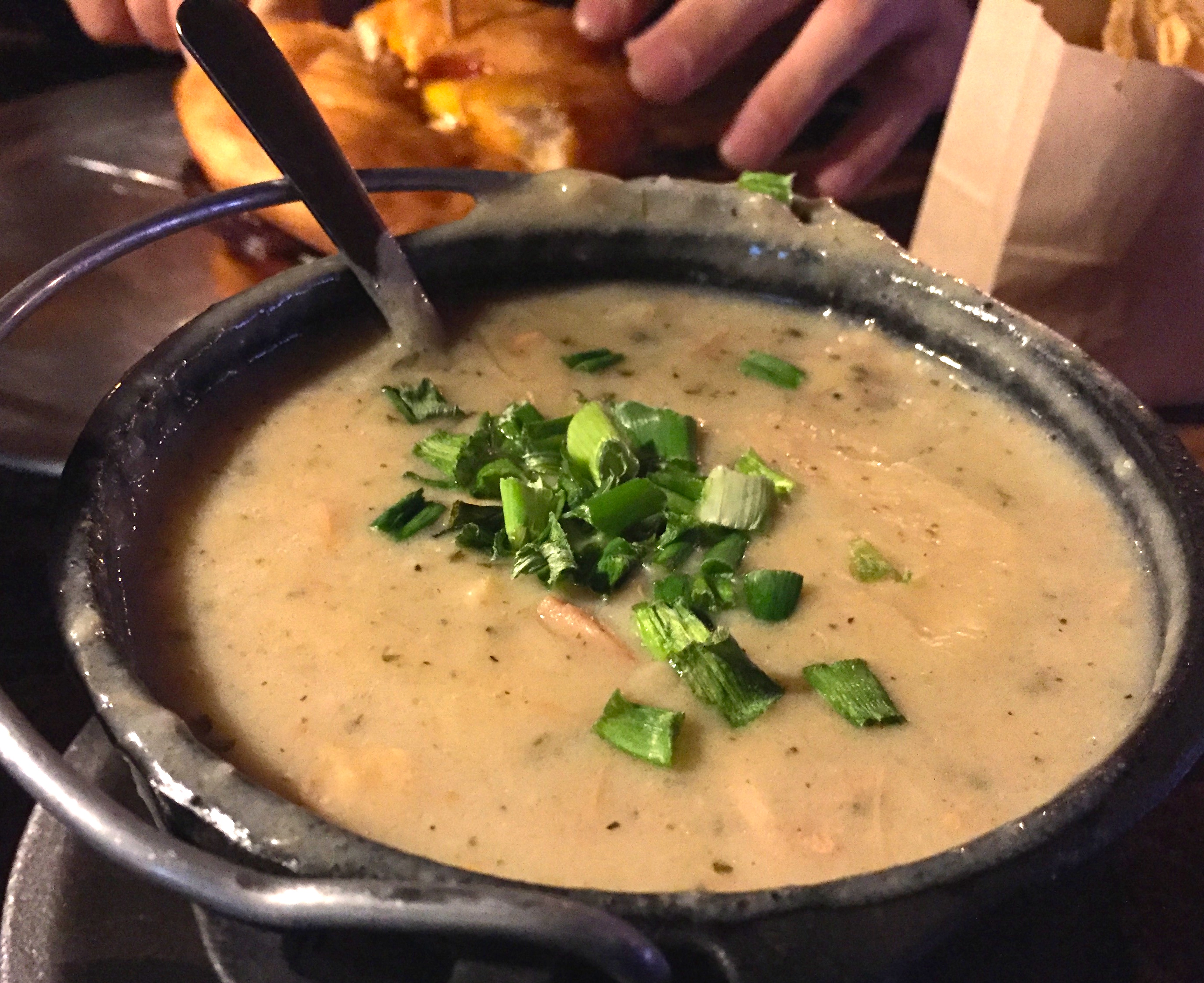 The night air was cold in Austin and with no groceries in the fridge, my brand spankin' new roommate and I decided to skip out on an H.E.B. trip so we could try out an apparent "Austinite" favorite for dinner, Gourdough's Public House, the South Lamar location. We were celebrating surviving our first month in Austin and getting our rent paid on time. I honestly can't name a better occasion for a "donut burger" than that. Oh yeah, you totally read that right, a donut burger. Gourdough's-with its laid-back, dim, cozy cabin vibe, is all about donuts. From various burgers with donut buns to donut-battered and fried entrees to belly busting dessert donuts. You name it, they got it here.
We picked a two seater "high-rise" table by a window to feast…and partially because from there, the bar's TVs were easily in sight, you know, for those awkward conversation lulls. Speaking of the bar, that was a bit small in size, but not in merchandise, had quite a few patrons seated around. They were all either still bundled up from the harsh irregularities of Texas weather, or beginning to shed away layers, upon layers as the warm restaurant (or maybe their drinks) heated them up. After looking around contemplatively for a few moments, my roommate and I agreed to return to check out the bar more thoroughly next time.
We both decided on a donut-related dish, he ordered the "Double D's" burger that boasted of Angus beef, bacon, a fried egg, blue cheese, buffalo sauce and a (unglazed) donut bun. Yikes, I remember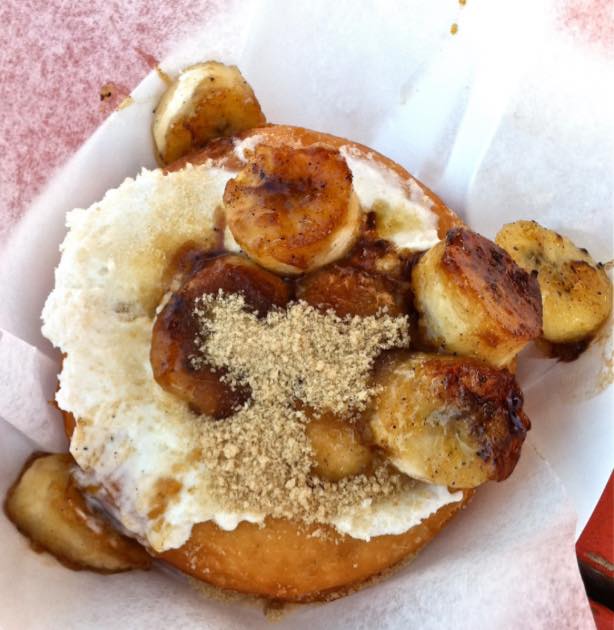 thinking, that sounds like a train wreck of flavors. Once I tried a bite of that disaster, though, I was immediately reminded why literally everyone tells you to check out this place. Gourdough's Public House knows exactly what they're doing there. The Double D's burger was an eruption of flavors that my roommate could only describe as "easily the best burger I've had in my life!" Although he devoured all the fries before I could snag one, they were served in the most adorable mini bag that received many squees of excitement and appreciation from yours truly. I ordered a dish named "Grandma's Dumplings," a fun take on a classic chicken and dumplings, except here at Gourdough's, there are "donut hole dumplings". The dish wasn't quite as thick and filling as I had hoped for it to be, but all that was long forgotten once I realized that there was a giant garlic donut sitting on my plate. If Gourdough's does not already sell these garlic donuts as an appetizer, they sure need to. The slightly crunchy outside perfectly contrasts the warm doughy inside while notes of garlic, herbs and butter dance along your palette. I let out an audible "MMMMM!" that caught the attention of a nearby table. My roommate looked up to see the face of, what I can only assume to be pure ecstasy and reached over to pull some bread for himself. He, too, caught the attention of a nearby table with his immediate "MMM".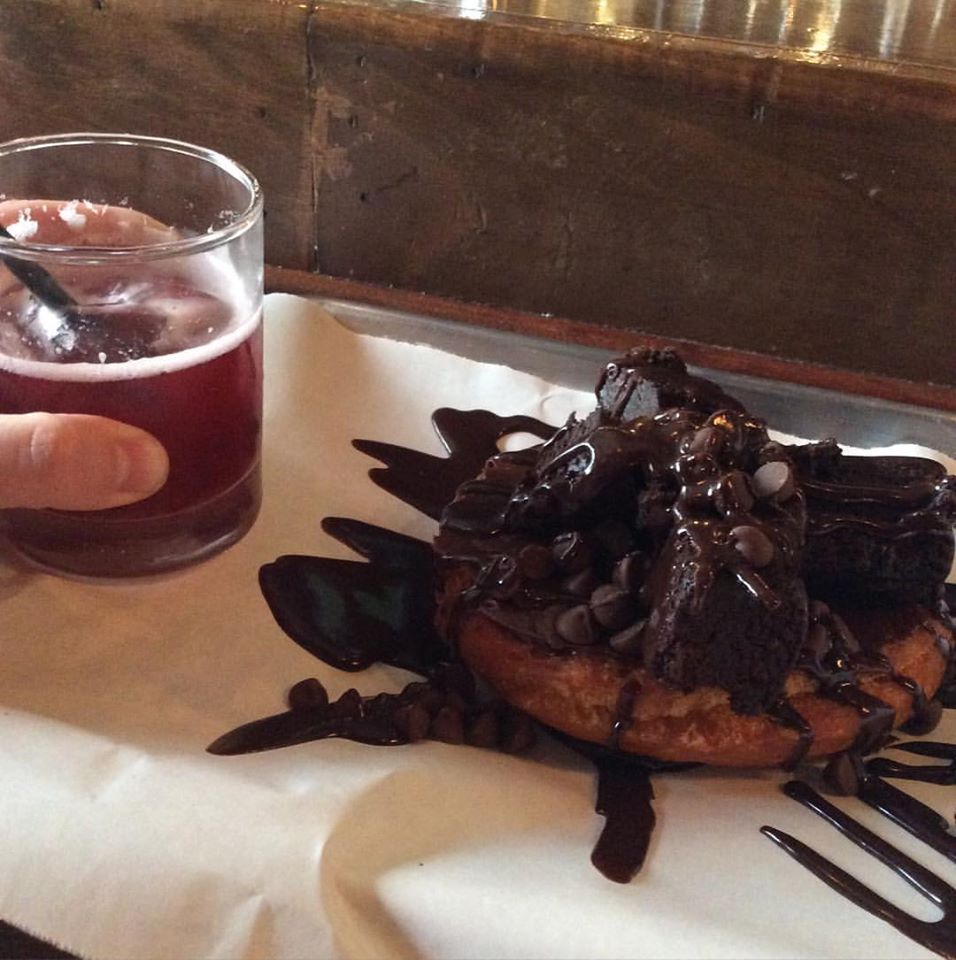 I'm not sure how we both made it to dessert, but we did and it was a fantastic idea. We both decided to split the "Black Betty" dessert donut. The menu promised "House made blackberry filling, cream cheese icing, cake mix, cinnamon sugar & locally harvested honey butter" and the kitchen sure did deliver. Our server even brought over some vanilla ice-cream because it paired "perfectly with the Black Betty". The donut tasted fresh and bright with just the right amount of sweetness, which is a lot by the way. We each devoured half of our halves and had to throw in the towel. I knew I would be secretly unbuttoning the top button on my jeans for the ride back home, but it was worth every bite.
With a huge menu, full bar and a few locations across town including their vintage airstream "food truck" on 1st street, Gourdough's is definitely going to be a spot my roommate and I will have to hit up again.
Until the next joint,
Cha Cha