Turning twenty-one was suppose to change everything. No longer would my friends and I wander around late at night, scratching our heads, puzzled on what to do because everything has closed. No longer would bold, black Xs mark and signal my youthfulness to the masses. No longer would I jealously chug water as my friends tipsily giggle an order for more rounds. I planned to rage- paint the town red some might say.
Pssh, what a fail that plan was. My birthday rolled up on me so quickly (on a Monday no less) that to celebrate I merely accompanied my friend to my favorite hangout, "Buzzmill," for my first legal alcoholic beverage at that magic midnight marker.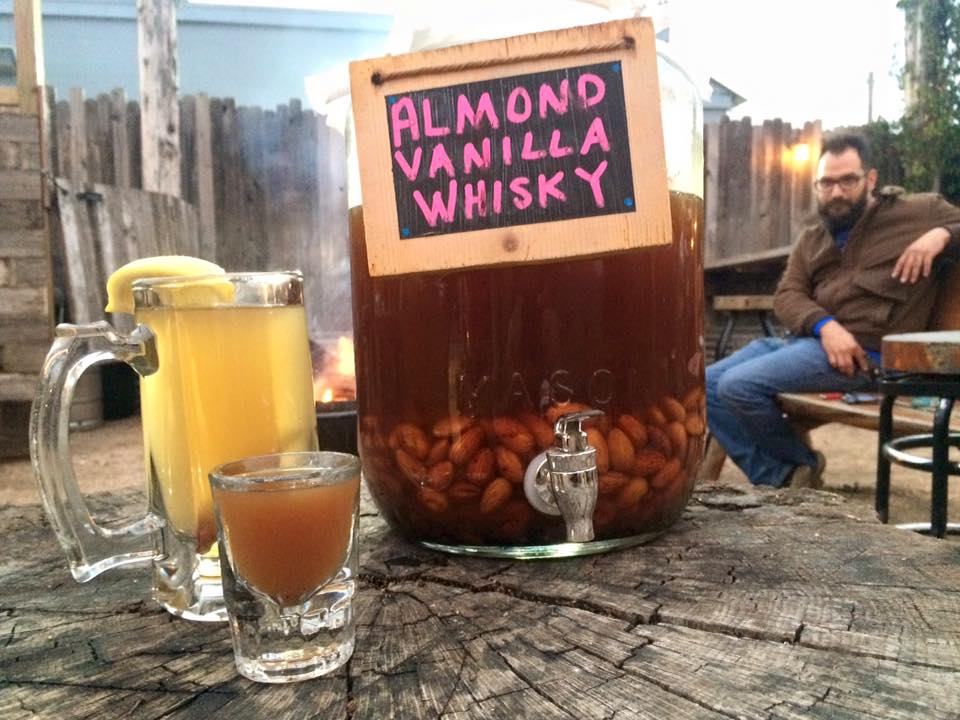 Legal drinking age or not, Buzzmill is the locals place to be in Austin. Not only are they a 24/7 coffee house, but they also offer craft and a few draft beers and an impressive selection of in-house infused liquors, like their Almond Vanilla Whiskey.
"Ugh, just another bar/coffee house concept, Cha?"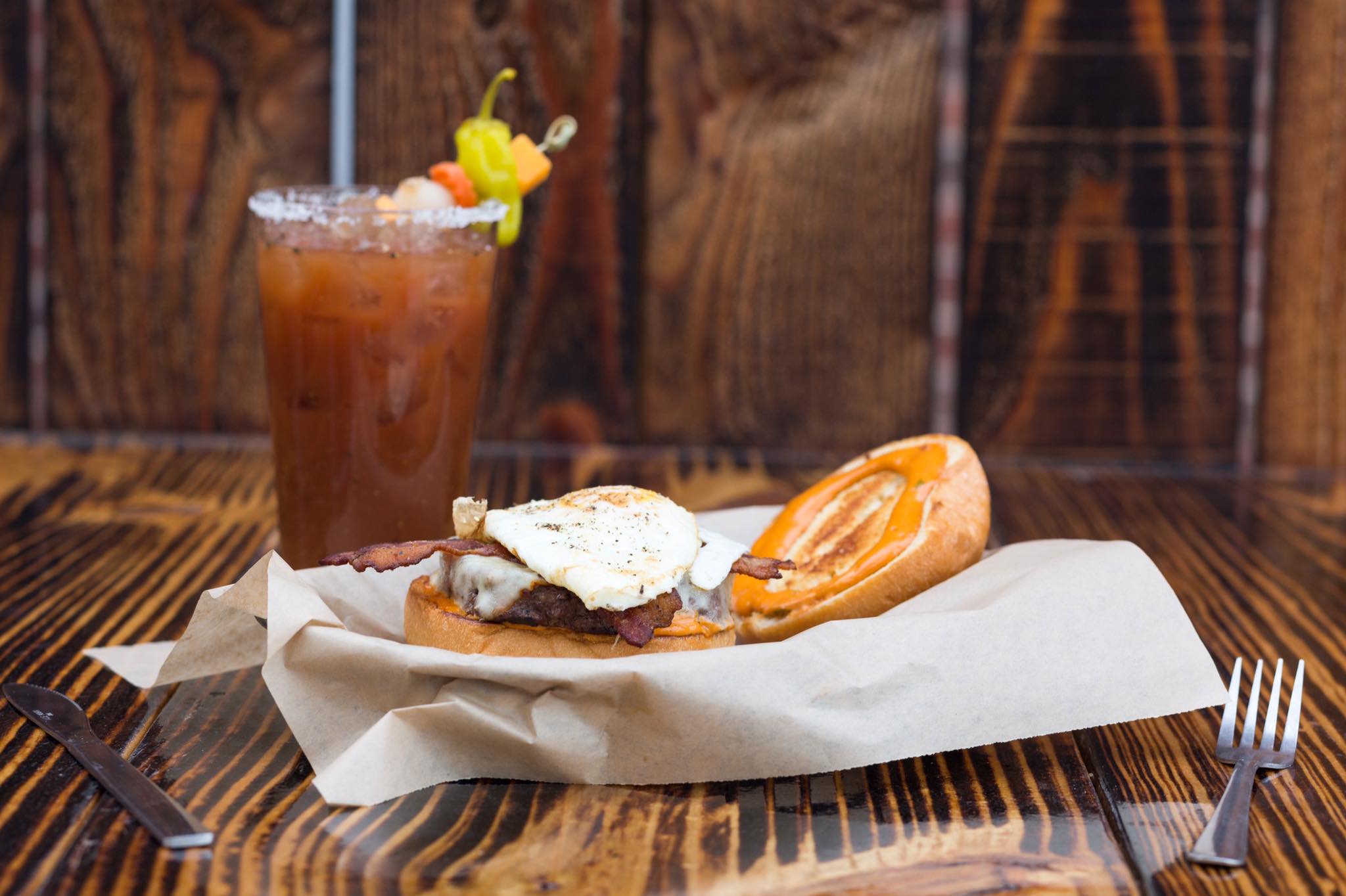 Oh no no no, pal of mine. Underestimating Buzzmill is like missing out on those rare gems when visiting Austin just because you want to get to 6th street (Hello tourist-trap overpriced drinks!). BuzzMill offers an extremely spacious and inviting patio, which serves as the central seating area, two food trucks, live music during the weekends and my all time favorite- Wednesday Comedy Night. I think the official name is "Buzzkills at Buzzmill's" or something equally as clever. Local and traveling stand-up comedians make this night either a hit or miss on the funny scale, but you cannot beat good company and hot coffee or a cold brew, like the fruity and refreshing Buzzmill Cider, and some free entertainment now can you?
If you are not into all the noise, never fear- there's a secret sneaky quiet study area in the back where you can grab a beverage, whip out your headphones and enjoy some peace of quiet while you finish up an essay or devour that new book.
Walking into Buzzmill always gives me relaxed, rustic, cozy vibes. The décor boasts an Austin-hipster, lumberjack vibe and art that mimics wood burnings speckle the walls wonderfully. Buzzmill's infamous stuffed Grizzly greets you at the bar, always decked out in this season's hottest fashions and unisex bathrooms that usually have you confused whether or not you are waiting in line for a drink or pee.
Perfection.
While you are standing in line for your various liquids, be sure to crane that neck upwards and check out the new gorgeous galaxy space art and find a shooting star or two!
"Man, I guess I am going to have to see this place, it sounds pretty rad."
Right? Okay, but here's where I am going to blow your mind! They offer Sunday Brunch too! I know! I made the discovery one evening during comedy night. My mom was planning on visiting me for brunch that weekend and with pancakes, mimosas, and a build-your-own Bloody Mary bar, how could we not?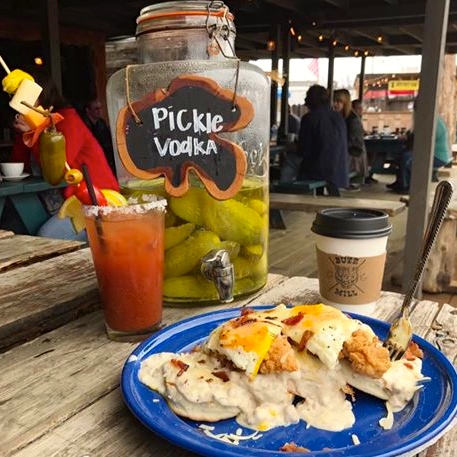 The day arrived, Mom and I hurried over to the outpost bar in the outdoor patio area and ordered a "Samsquantch," which had two biscuits piled with perfectly fried chicken, wild boar gravy, medium eggs and gooey cheese. We also got one of the "Grizzly Platters," that was a classic American breakfast of flapjacks, thick bacon, and eggs. I got the brunch special to try, which was pancakes with strawberries and cream, and a side of grits with cheese sprinkled on top. Oh, and of course a mimosa that came garnished with a strawberry and an orange slice.
Maaaan, we did not even put a dent in all that food! The portions were so much more than we expected and the taste of everything was phenomenal! Without having too many frills, yet still offering classic comfort and coolness, Buzzmill is not only my absolute favorite joint to hang out at but suddenly my new favorite spot to hit up for brunch!
Give Buzzmill a follow on Instagram to keep up with all their community events, and drink specials!
If you catch me there on Comedy night or during happy hour, give me a wave and let me know what you think!
Until the next joint,
Cha Cha