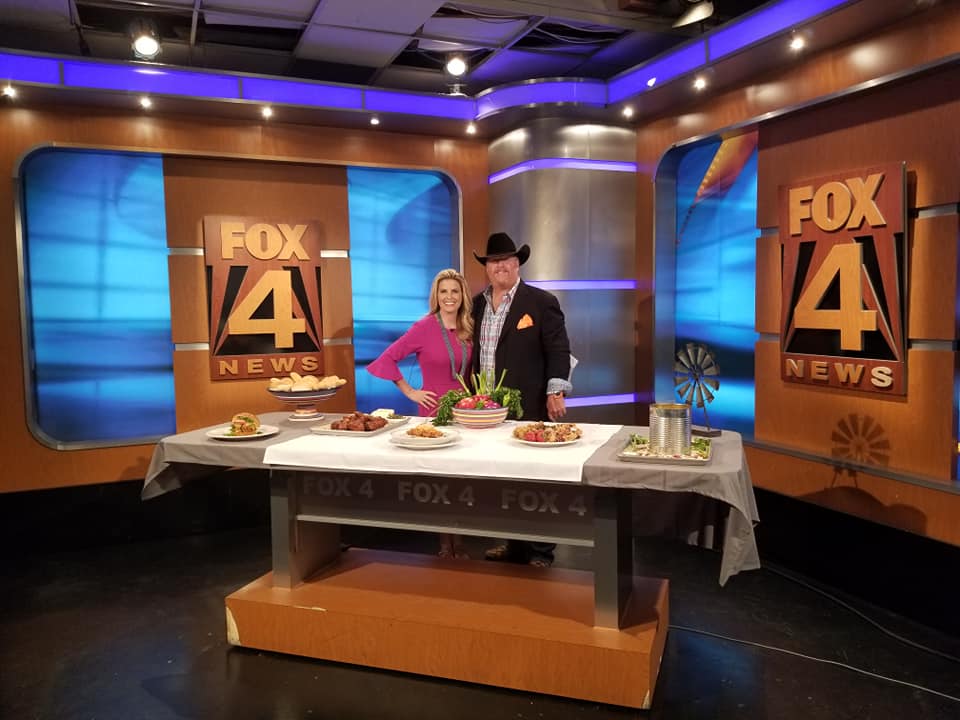 If there's one thing I like to do it's eating. Sometimes, I even chew my food more than once. Ever since I was a little boy I've loved me some chicken. I like it fried, roasted, baked, grilled, dry roasted, rotisserie cooked, and even cooked on a trash can lid. Yes, you read that correctly, cooked on a trash can lid. Let me explain!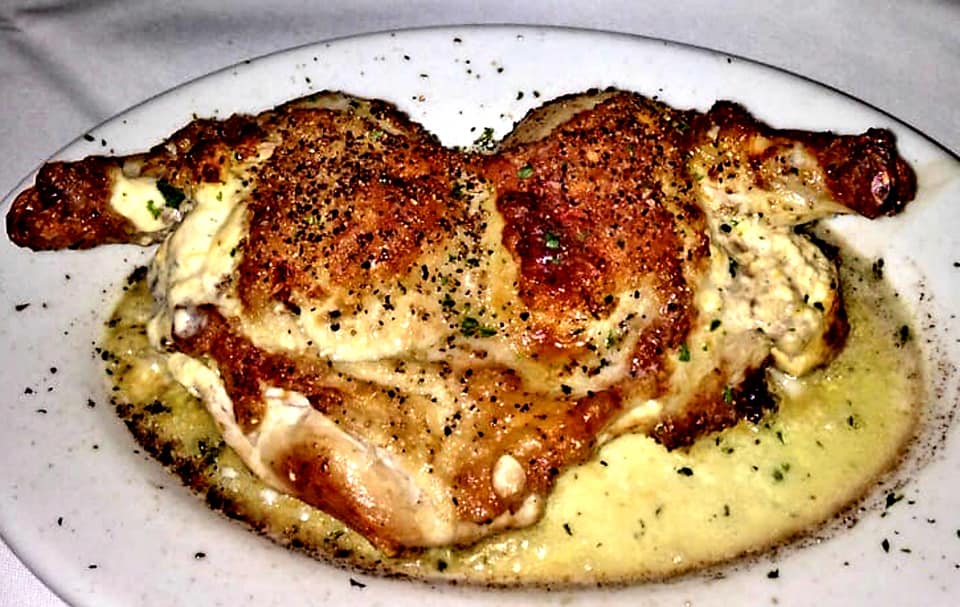 I was traveling through Jamaica just chowing down on everything I could find (like I've done many times before). I was riding in a van and we passed this guy cooking right off the other side of the road. I couldn't see what he was cooking, but I could smell it. Man… did it smell delicious. Now you have to understand he was cooking roadside in a hut style that was anything but normal looking. It was basically falling down! The food was on top of two trashcans cooking. I could smell and see the smoke. I yelled at the driver, "Hey man what's that dude cooking and why is he roadside?" The driver yelled back, "Man, that's Jamaican jerk chicken he's cooking and he's selling it"! I told the driver I want to stop when we come back and everyone looked at me like I was crazy. The driver yelled back, "Yea Man, gotcha!"
We did make our stop and I'll never forget how incredibly delicious that authentic Jamaican Jerk Chicken tasted coming off that trash can lid. I've never tasted that flavor again. I purchased three more of those farm fresh trashcan chicken dishes for the road, and off we went.
After speaking with Fox Good Day I decided to investigate and locate some delicious chicken dishes for everyone to enjoy back home. I've been on the hunt for some delicious chicken dishes in the DFW area and I believe we have some clear winners in the world of cooked cluck cluck. You will find each of these dishes different in their cooking process and each one has a different flavor profile that you will love.
DFW Metroplex & Austin, Texas
Now before you say "What? Ruth's Chris is known for fancy steaks"? Yes, they are, but I can promise you the chicken is sleeper on Ruth's Menu. I've been eating this chicken dish for years and I can honestly say it's in the top of any chicken dish I've ever eaten anywhere in the world. I say with confidence, you will be blown away, by the way, its presented; hot, crackling, and bubbling with butter and a beautiful golden brown crisp skin. The aroma of this dish as they set it down in front of you is head turning. I swear, when I order this, folks around me will ask, "What in the world is that"? I always say with a grin, "Why, it's STUFFED CHICKEN BREAST. It's prepared with a double-breasted chicken that's been oven roasted, stuffed with garlic herb cheese and topped with lemon butter". Trust me and go try this succulent, cheesy, layered with flavor dish at Ruth's Chris Steak House.
2. Gus's World Famous Fried Chicken
Magnolia Ave. in the Arts District of Fort Worth, Texas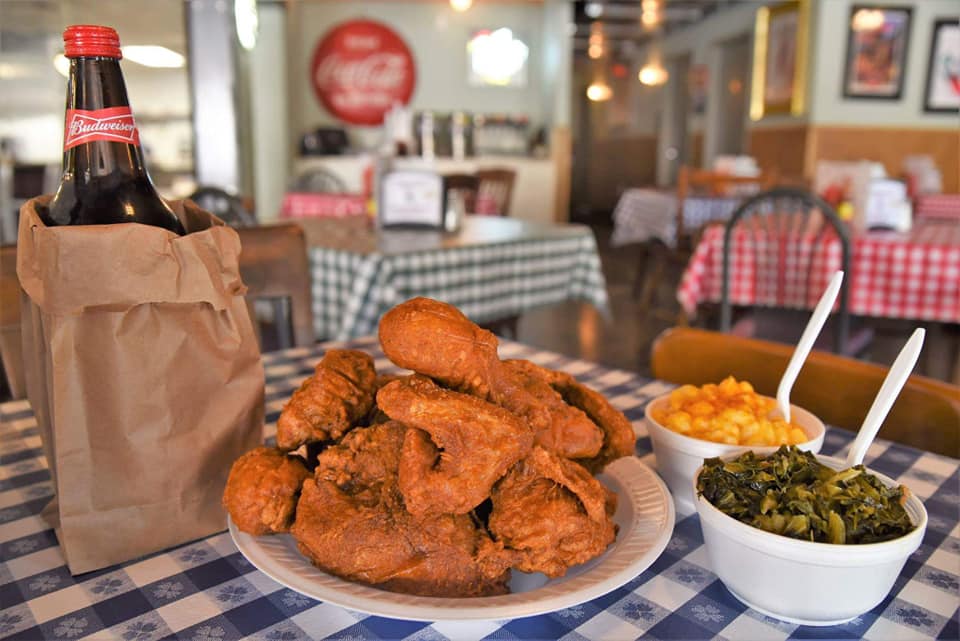 They say it's simply the best fried chicken on the planet…but you won't know what we mean until you try a piece or two yourself! I'm telling you, this spicy crispy fried chicken will make you have chicken dreams when you sleep. I have them and that's when I head to Gus's in Fort Worth. The chicken is light, crispy, and has some heat and a flavor profile that you will fall in love with. The legend goes someone asks Gus Vanderbilt of Gus's World Famous Fried Chicken for his fried chicken recipe and he simply replied: "I ain't telling". They marinate it overnight, put a little of this on it, with a dash of that, and then toss it in the fryer. By the time we get the finished cluck cluck, it's fresh, hot, a little spicy, with a delicious crunchy skin. I can't ever stop eating the stuff. All I know is Ol' Gus knows what the hell he's doing. I'm sure he won't ever turn loose of his legendary chicken recipe. Fortunate for us, you can eat as much as you can buy. You better take a bib, some wipes, and get some chicken to go while you're at it.
3. Roots Chicken Shak (Cover Photo)
Legacy Food Hall in Plano, Texas 
Don't tempt me with a name like "Roots Chicken Shak", because that's got down-home southern food written all over it folks. The fact is Chef Tiffany Derry loves her southern roots and loves to cook southern deliciousness like her mama. Chef Tiffany is master at creating delicious flavor profiles, so when I heard the new restaurant was open I ran over to chow down faster than Emit Smith would carry the football on a touch down run. Ok, maybe not that fast… but I'm going to tell you it was FAST. Her chicken sandwich which goes by the name of THE Roots fried "Spicy Bird" amazed me. It's prepared with a farm fresh Kale salad, lettuce, pepper jack cheese, kimchi, and pickle mayo served on a fresh sweet potato bun. It was insanely good. The texture was perfect, the chicken had a slight crispy crunch, the kale was flavorful and fresh, and the bun was so soft! I'm also in love with the kimchi and pickle mayo. What a simply awesome sandwich. Everyone need,  NEEDS to try the "Spicy Bird". You better get ready it will take your taste buds to the flavor rodeo, yee haw chowhounds!
Bishop Arts District in Dallas, Texas
I love me some Tillman's and the *NEW* Tillman's Roadhouse is where deliciousness meets art. Owner and culinary master chef Jeffrey Kollinger believes in locally sourced vegetables and ingredients with the preparation of each dish. The menu is creative, colorful, and full of goodness. I fell in love, and I mean in LOVE, with the Tillman's Roadhouse "Beer Can Chicken". Yeah, beer can folks! It's served with golden brown skin and has an awesome Dr. Pepper BBQ sauce on it. Wait, what the what? Beer, can, chicken, and now Dr. Pepper too? Yee haw! I'm telling you it is juicy, moist, and packed with flavor. This chicken is freaking delicious folks. I was eating with my fingers and I found myself sucking the ends like a two-year-old. It's stupid good! It's served with; roasted baby potatoes and house prepared maple apple slaw. Can you feel that after reading about this delicious dish? I bet you do. That's your mouth watering!  Now get over to Tillman's and order that "Beer Can Chicken" you will know you've found foodie heaven.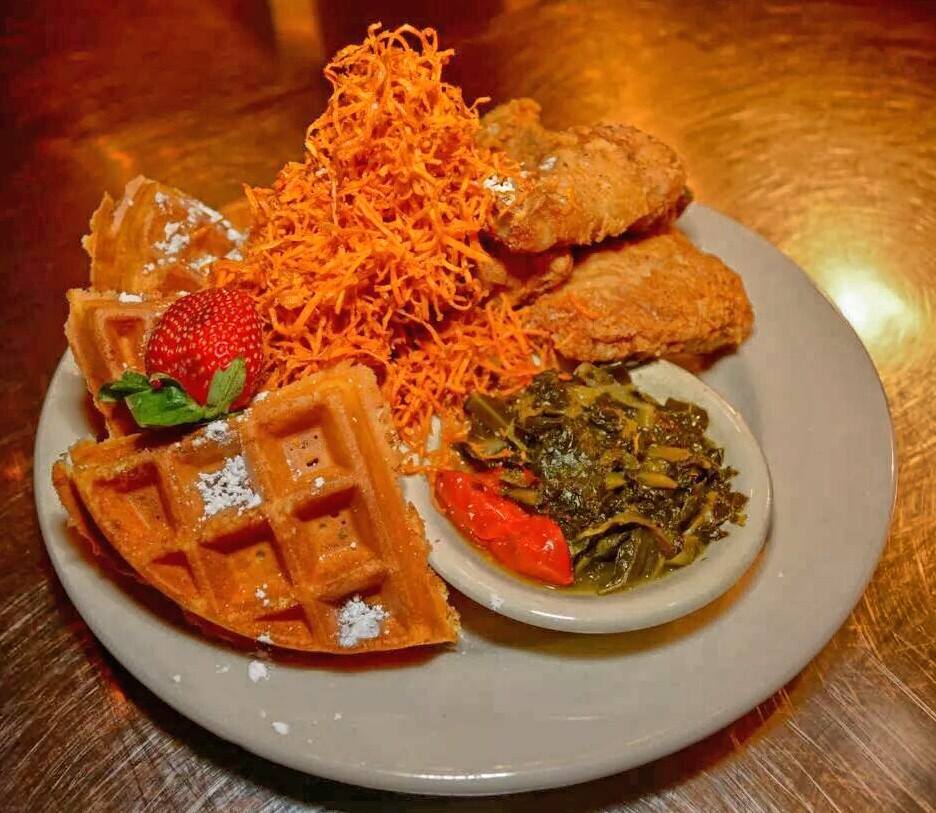 Hwy I-30 at Hulen in Fort Worth, Texas
My man and soul food legend Chef Keith Button Hicks… When I think about soul food of any type, Chef Hicks is always the first to pop in my head. I've known him for over a decade now and everything his kitchen is slinging is purely delicious. I will tell you, Chef Hicks has a "Chicken and Waffle" dish that is truly amazing. Anyone who eats this dish will fall victim to Chef Keith's cooking spell. There are rumors that folks start babbling all kinds of soul food phrases after they eat his chicken and waffles like, "That was the best I've ever had", "Man, that cat can really cook", "That food was groovy baby", "I found my soul food happy place with Chef Hicks"! Buttons' Famous Chicken & Waffles is prepared with special seasoned fried chicken and a homemade Belgium waffle with blueberry infused butter. Served with sweet potato pommel frites and their signature collard greens. Oh man, you need this in your life (and it's only 15 bucks). Get to Buttons and enjoy the comfort soul food. Life is groovy, baby.
The Board Walk Plano TX
I know that you're thinking folks, a biscuit bar for chicken? That's what I said, Biscuit Bar on a boardwalk in Plano, YEP! It's a spot featuring a vast array of all-day biscuit sandwiches, plus a full bar & patio overlooking a little lake with fountain and located on a boardwalk. It's super cozy, friendly, and bright with a colorful atmosphere. I want to talk about two chicken and biscuit items that are so delicious you might just tear up with joy. They are the "Chicken & Not-A-Waffle"; southern fried chicken and biscuit French toast. Oh my gosh, it is packed with flavor and you will love it. The second one is the "Fancy Chicken Biscuit"; it's southern fried chicken, dill pickles, and house-made fancy sauce. Get off the bus and shut the door folks because you just entered flavor town. All the dishes are super delicious with a fantastic flavor profile. You need to take a trip to the Biscuit Bar in Plano. I'm sure you will want to send me a thank you card.
7. Rapscallion 
Lemon Ave. in Dallas, Texas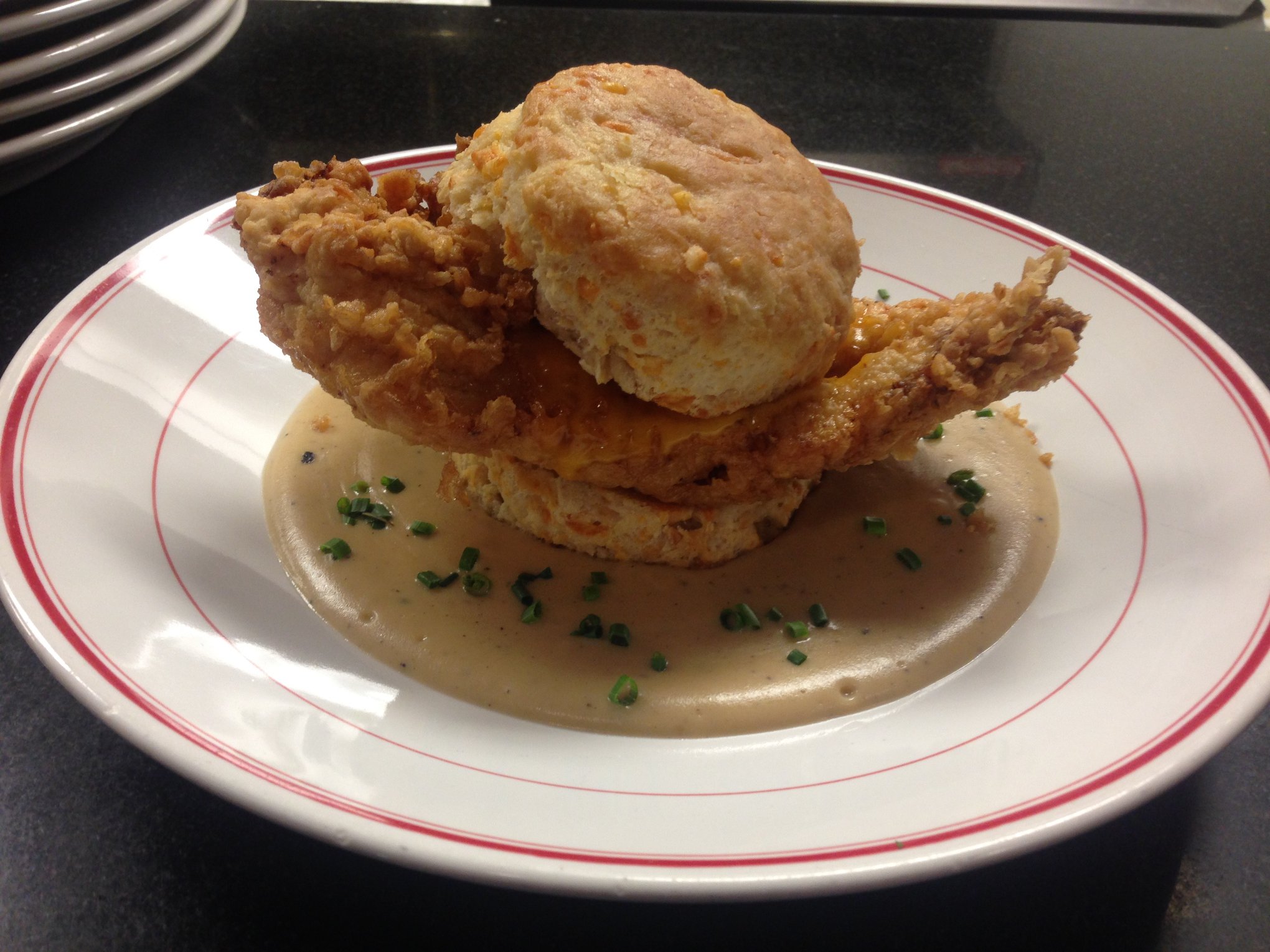 The name says it all folks. Rapscallion is defined as "a mischievous person". All I can say is the first time I saw the name I told myself, this place better be good, it can't be average, it has to be at the top, and on point. After my first visit to eat with Chef Tate at Rapscallion, I fell in love with everything he's slinging out of his kitchen. The restaurant is cozy, has a creative cuisine selection with changing menus, farm fresh vegetables and ingredients. He has a chicken dish I live to eat. It goes by the name "Spicy Chicken Biscuit" and is prepared with a house made buttermilk biscuit, a crispy chicken thigh, honey Mala sauce, and a shaved pickle.  Perfect texture. An amazing flavor profile. Deliciousness with capital D! This chicken biscuit will have you hooked from the first bite as you fall in love with Rapscallion.
Sundance Square in Fort Worth, Texas
Little Red Wasp Kitchen and Bar is nestled in downtown Fort Worth between two steak houses. When they were first building the Wasp I asked myself, what is this??? I thought, this better be good. Let me tell you, it is better then good… it's amazing. This restaurant is chef driven, knife and fork sandwich concept by Chef Blaine Staniford and Adam Jones. I love the Wasp "Nashville Fried Chicken". So dang delicious. I have to focus on the brunch, because this what I want to discuss. Chef Blaine's "Fried Chicken and Biscuit" is prepared with a cheddar cheese biscuit, house prepared black pepper gravy, and an awesome big fat n' juicy fried chicken breast. You have to have a knife and fork to eat this beast of dish. It's packed with flavor and you will be sopping up the gravy with your little fingers and licking them all up. I promise you that.
9. Texas Republic Bar & Kitchen
West 7th District Fort Worth TX
 In order to find great food one must eat everywhere. Truly, that is the only way you will know. You find some of the BEST dishes in the most unexpected places. One special dish you can find is the "Trash Can Nachos with Chicken" at Texas Republic Bar & Kitchen in Fort Worth just off 7th Street. Texas Republic Bar & Kitchen is a very large club, complete with outdoor patio games, big T.V. screens, and a chef-driven menu with farm fresh items prepared and created by Chef Clint. They have a huge menu selection with everything from burgers to sides. Trust me, everything is delicious. The "Trash Can Nachos with Chicken" is actually one my favorites of all time. It is packed with flavor, color and looks so good your eyes will think its food porn. Prepared with house-made chips, two kinds of cheeses, fresh flavorful chicken, and scallions. This dish will have you saying, "MORE PLEASE".
Well, I hope you enjoy my delicious chicken destinations. Have fun chowing down, and I'll see you at the table!