TREY'S CHOW DOWN & DRINK WITH TREY made its way over to THE 32nd ANNUAL TASTE OF DALLAS.
"Taste of Dallas, Dallas' premier summertime food and drink festival, returns for its 32nd year serving up three fun-filled days of great food and music featuring over 50 restaurants and food trucks, Backyard Bites presented by Coleman Backyards, Latin Flavors presented by Jose Cuervo, dozens of engaging and interactive sponsor and exhibitor activations as well as The Foodie Experience with its all-inclusive food and beverage sampling format on Friday night.
Taste of Dallas Music – Presented by Dallas Observer, features over 40 music acts on 4 stages throughout the weekend with all concerts and performances included in the price of admission"
Head over to http://tasteofdallas.org/ for more information!
Trey's Chow Down was glad to be a part of this fantastic foodie celebration. The entire weekend was full of fun, deliciousness, music, creative food presentations, and the foodie panel presented by Tik:Talk Marketing.  For all 3 days, we were surrounded by great music and incredible smells, keeping our senses on high. I was always looking for my next snack!
There were so many food options. It would be difficult to try them all but Trey's Chow Down made a mad dash for every dish we could find. Some of the culinary creations smelled so good and looked so delicious there was no way we were going to pass them by as we strolled around.  Our noses were in the air trying to inhale all the fantastic aromas floating around. While we enjoyed all the dishes from this event there where definitely some clear winners in our opinion.
Here are the places you need to visit when out and about in Dallas area…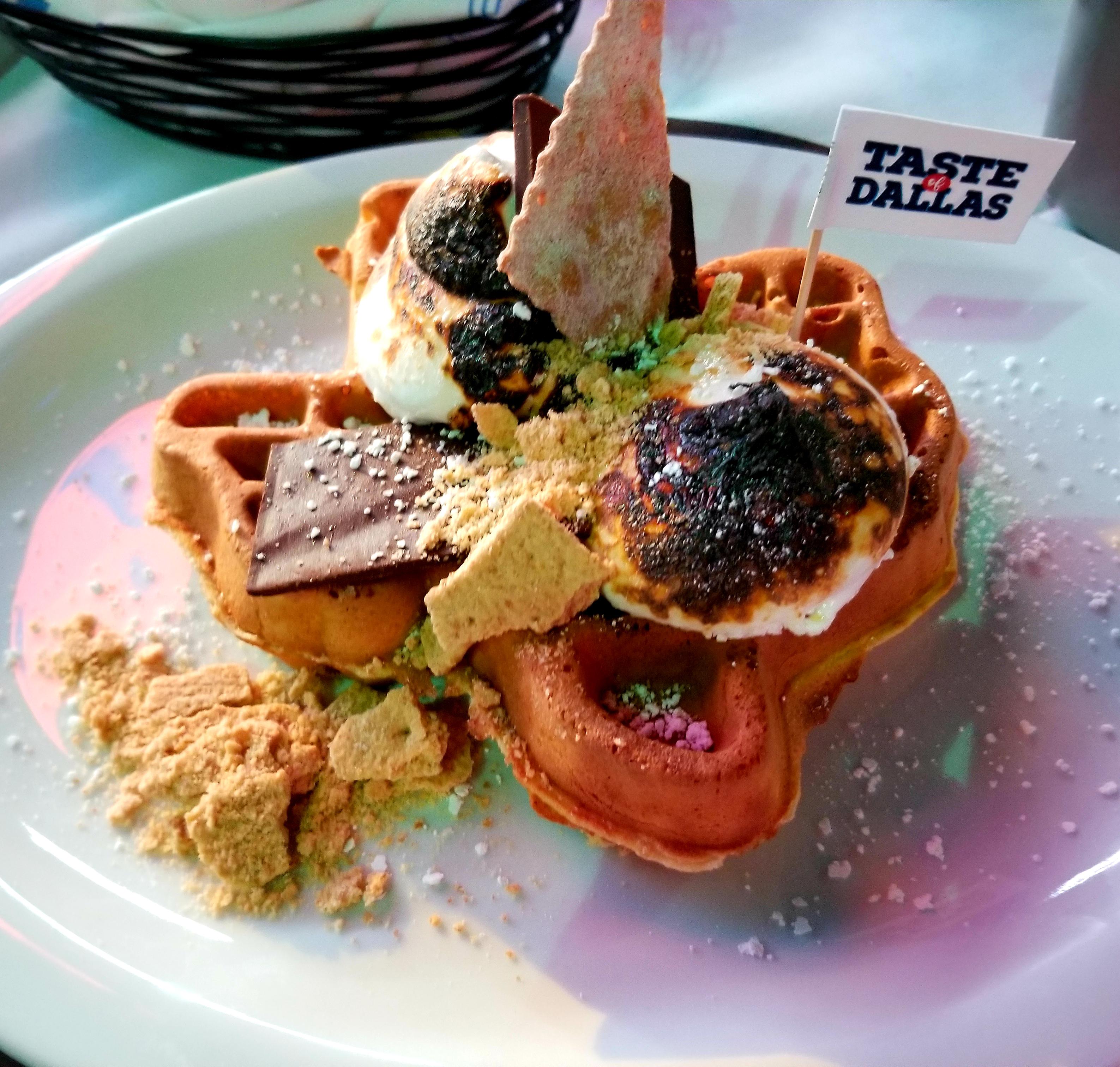 Tillman's Road House in the Bishop Art's District in Dallas, Texas:
Chef Jeffrey Kollinger from Tillman's Roadhouse had a fantastic and flavorful dish "waffle creation" early Thursday AM for the Taste Of Dallas Kick Off at Victory Park with News 8 Daybreak #IAMUP. Friday evening he had an amazing farm fresh "braised pork" dish. It was juicy, packed with flavor, and smelled so delicious it hypnotized you as you walked by. Tillman's Roadhouse has been a long time favorite of Trey's Chow Down. Chef Kollinger's Team does an amazing job slinging deliciousness at Tillman's in the wonderful Bishop Art's District. If you want a cocktail, they will fix you a fresh Texas cocktail so you can socialize and relieve your stress. Make sure you stop into Tillman's Roadhouse and enjoy some creative culinary delights. Your pallet will tingle with happiness. Tell'em Trey sent you to Chow Down!
Cinnaholic in Richardson, Texas:
The cinnamon rolls from Cinnaholic Richardson is what I would like to call "devilishly delicious." I can't even begin to describe the amazing flavor profiles and the way your mouth will feel with each bite. Believe you me, I tried 3 different Cinnaholic cinnamon rolls… and 2 of them twice because I just couldn't get enough from these little sweet treats. The staff was amazing, knowledgeable, and passionate about their "devilishly delicious" treats. The rolls are so fantastic. I truly think one could fall in love with this product and become addicted to chowing down on them daily. Cinnaholic says they're a California-born concept that makes the housemade cinnamon rolls with a variety of decadent frostings and toppings. More than two dozen are on hand at low-key storefronts featuring a counter and casual seating in the Dallas suburbs. I'm just going to say y'all need to make sure you drive, fly, run or walk to Cinnoholic and try these treats. First, there are 4 things you must do when you get ready to chow down: Wash your hands before you chow down, you will want to use them to shovel that roll in your mouth. Then make a bib with a napkin and tuck it in your collar covering the front of your shirt, trust me! Do NOT share. I will repeat DO NOT share or you will be mad and be standing back at the counter ordering more and furious you even considered sharing. When you finish the last bite of that roll REPEAT and start over.  Be sure and tell'em Trey sent you to chow down.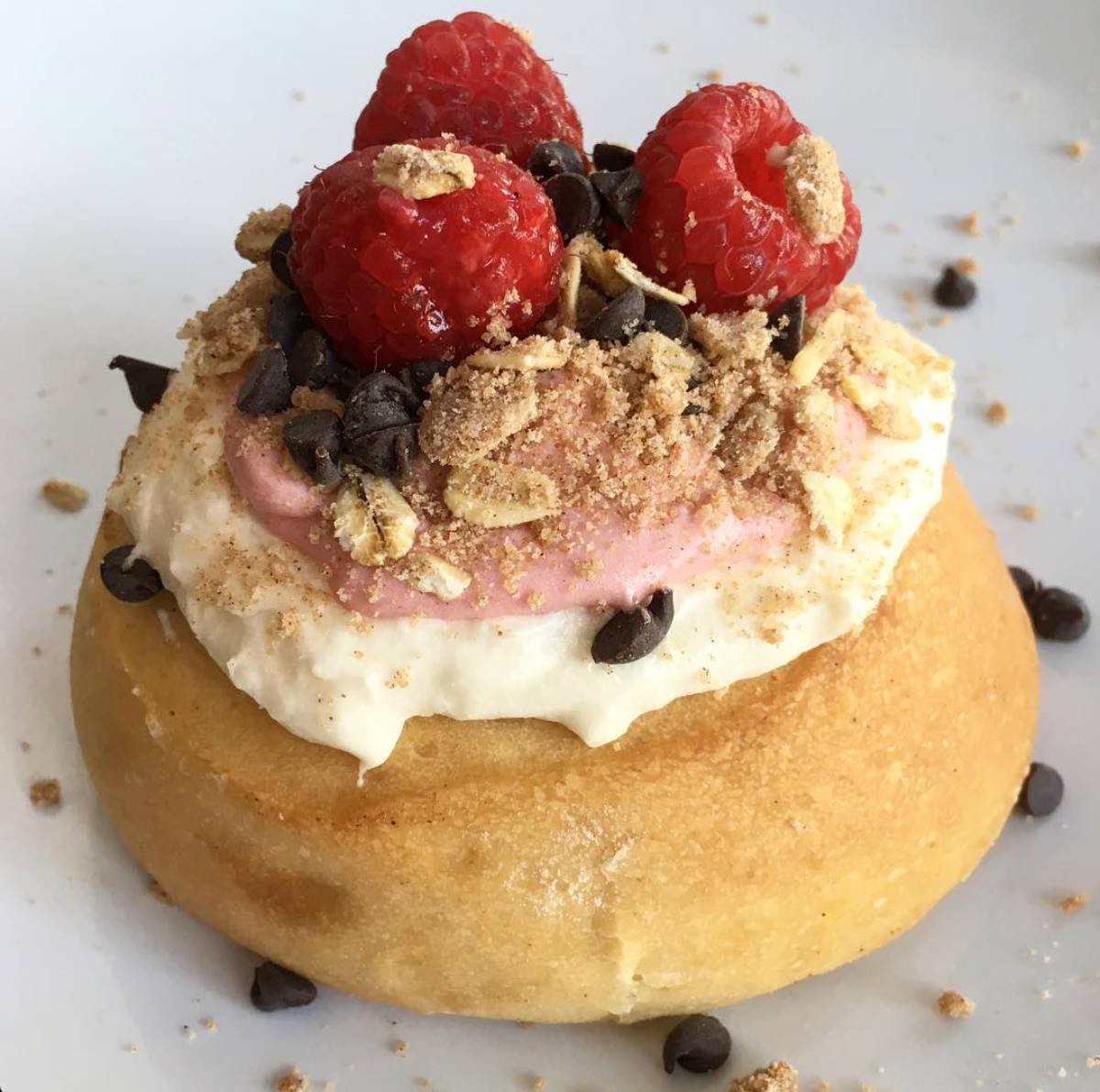 Pink Magnolia in the Bishop Art's District in Dallas, Texas:
Oh how I love Chef Blythe Beck from Pink Magnolia she had a delicious and flavorful dish on Friday evening. It was a "fried chicken deviled egg" yes I said it, a "fried chicken deviled egg" OMG! Pink Magnolia is located in the wonderful Bishop's Art District and has some creative culinary delights and an amazing cocktail menu that changes with the seasons. The new cocktail menu has some fantastic and refreshing drinks you can enjoy for the Texas summer. Some have fun names like "The Blanche," "The Rose", "The Dorothy," and "The Sophia".  Chef Beck has an amazing "Chicken Fried Ribeye Stack" on her brunch menu that we are in love with. You need to make plans to stop by Pink Magnolia and try some of Chef Blythe's culinary creations. I would head over for brunch because you will make it a SUNDAY FUNDAY for sure.
Gas Monkey Bar N' Grill in Dallas, Texas (Cover Photo):
Chef David Hollister from Gas Monkey Bar N' Grill has a creative, and delicious, sandwich he named "Smoked Creole Beef on Weck". This sandwich is packed with flavors, juicy goodness, and had a fantastic flavor profile. It's made with creole rubbed and oak smoked akaushi flank steak. Trey's Chow Down visits Gas Monkey often, and we love to try Chef Hollister wonderful creations. Make time to stop by Gas Monkey to chow down and have a cocktail. You can always find some creative culinary creations from Chef Hollister. Throw the door open and tell'em Big Trey sent you!  The photo of Chef Hollister's creation was taken by Hollister Photography and is displayed for a cover photo.
Fresh Art Foodie in Dallas, Texas:
Fresh Art Foodie had an amazing "mac-n-cheese dish" that was packed full of cheesy deliciousness. Trust me, you're gonna love this dish. All that cheese was creamy, yummy, lip-smacking and left me wanting more. In fact, it should be named, "MORE" because that's what you will be saying I want "MORE" until you POP. The culinary team consists of 3 chefs at Fresh Art Foodie:  Chef Adrienne Hernandez, Chef Joey Allette, and Chef Alex Line. Fresh Art foodie says, "They passionately believe… Food is art, food is fresh, food is fun. From the carnivore to the vegan, the athlete to the couch surfer, we have a menu sure to please the eye, palate, and soul." Trey's Chow Down truly believes they're slinging the best creative delicious at Fresh Art Foodie. Check them out and visit their site for catering and foodie needs!
Texas Spice at the Omni Hotel with Lamar Street Restaurants project in Dallas, Texas: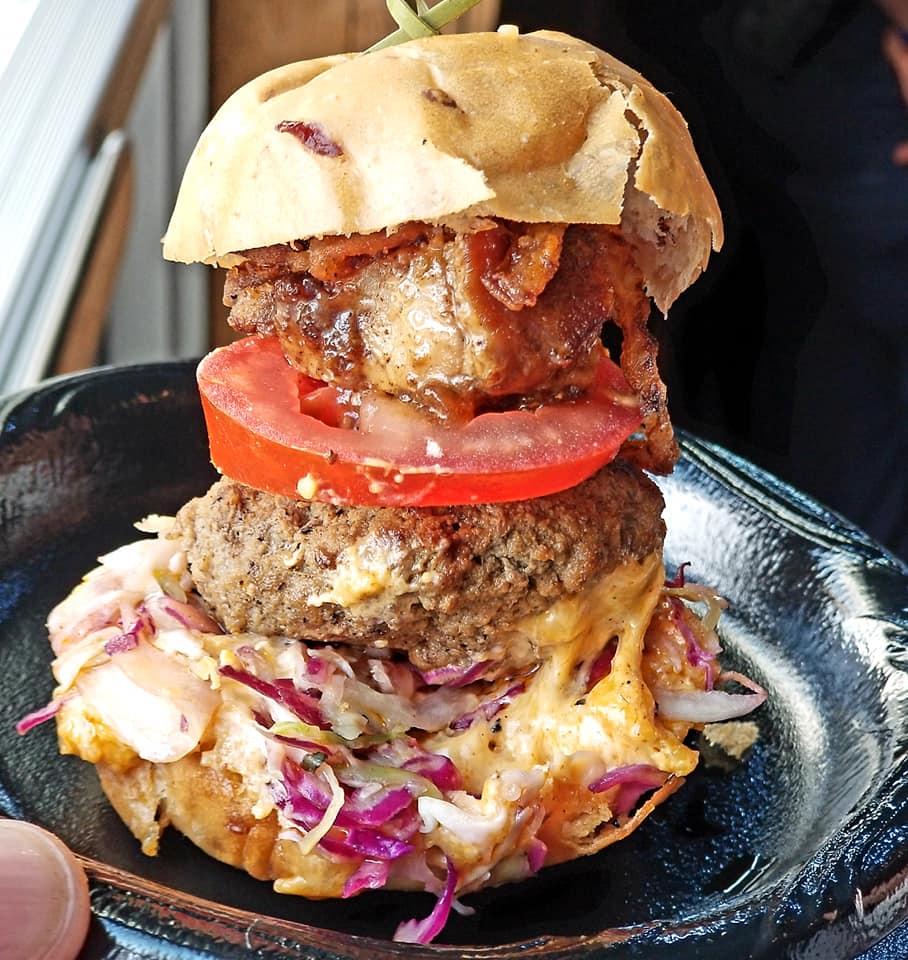 What we loved from Texas Spice was the "House Smoked Brisket Beef Patty Slider". This little slider was layered with flavors, all stacked between a fresh "Cranberry Brioche Bun." It was prepared with "Pimento Smear, Millionaire Bacon, Swiss chard & Kale Slaw, and topped with crispy Onions."  This lil Texas slider took my taste buds to the flavor rodeo. Giddy up and let's chow down at Texas Spice!
Hypnotic Donuts & Biscuits in Dallas, Texas:
The mention of the word donut always sends everyones mind into overdrive. I swear when I saw the name "Hypnotic Donut" on my information sheet it was like someone said "Squirrel…squirrel! Where? Over there! Where?". I'm A.D.D., so you can imagine that my mind was in overload. I walked up to their table grabbed 2 donuts and sped off to shove them in my mouth. Those donuts were flavorful, colorful, and tasted perfect! The colors did seem to be HYPNOTIC but the flavor was like Ka-BOOM on my tongue. I loved these donuts, and what made it even better was the staff was all smiles. You can order via email too, which is a big plus. Who doesn't love donuts? Try them out today and tell'em Big Trey sent you!
Willie's Homemade Salsa from Dallas, Texas:
At first, I was so busy on Sunday and was truly in a food coma after three days of chowing down. I walked by Willie's both several times and didn't stop. I was shoving the Texas Spice burger in my mouth and noticed his booth. I went to give Willie a card and he handed me a jar of his homemade salsa. I was looking at the bottle driving home and thinking about Willie sitting there discussing his salsa. Soon as we got home I cracked that jar open and got me some fresh chips to try his salsa. When I cracked that lid open I could smell the heavenly flavor and couldn't wait to scoop up some of that salsa. I started eating Willie's Salsa and fell in love with the fresh deliciousness. It's not too salty. Lots of salsa nowadays are too salty, and you lose the flavor to all that saltiness. Willie's is truly homemade and made just the way you like it. I tried the mild and it was super delicious. In fact, I ate the entire jar in less than 24 hours! Please click on the link and visit Willie's website to try his salsa because it will make you smile. Don't order just one bottle, get several, or a case! I'm telling you, it will make you mad if you don't have enough. I'm mad mine is all gone as I write this article…
http://www.willieshomemadesalsa.com
The Amazing Dip Company in Dallas, Texas:
I was at Cinnaholic munching on a cinnamon bun and I saw these dip containers out of the corner of my eye. I love my cheese dips, so we walked over and I saw it was the Amazing Dip Company from Dallas. They had all kinds of flavors displayed and where giving away free samples. We tried the "Garlic and Herd Dip" and it was superb. The company was started in 2016 by SMU grad, Marcus Wentrcek. They have all kinds of delicious dip flavors like: Green Goddess, Cameron's Spicy, Cameron's Garlic, Cameron's Smoked Gouda and many others. Their dips are prepared with farm fresh products and are homegrown in Dallas. Marcus explains his dip this way, " Amazing Dip Company is a small local business that sells gourmet smoked gouda cheese dips. Cameron's Smoked Gouda Cheese Dips are aged to perfection, then beautifully paired with locally grown vegetables and crisp bacon to create a mouthwatering sensation!"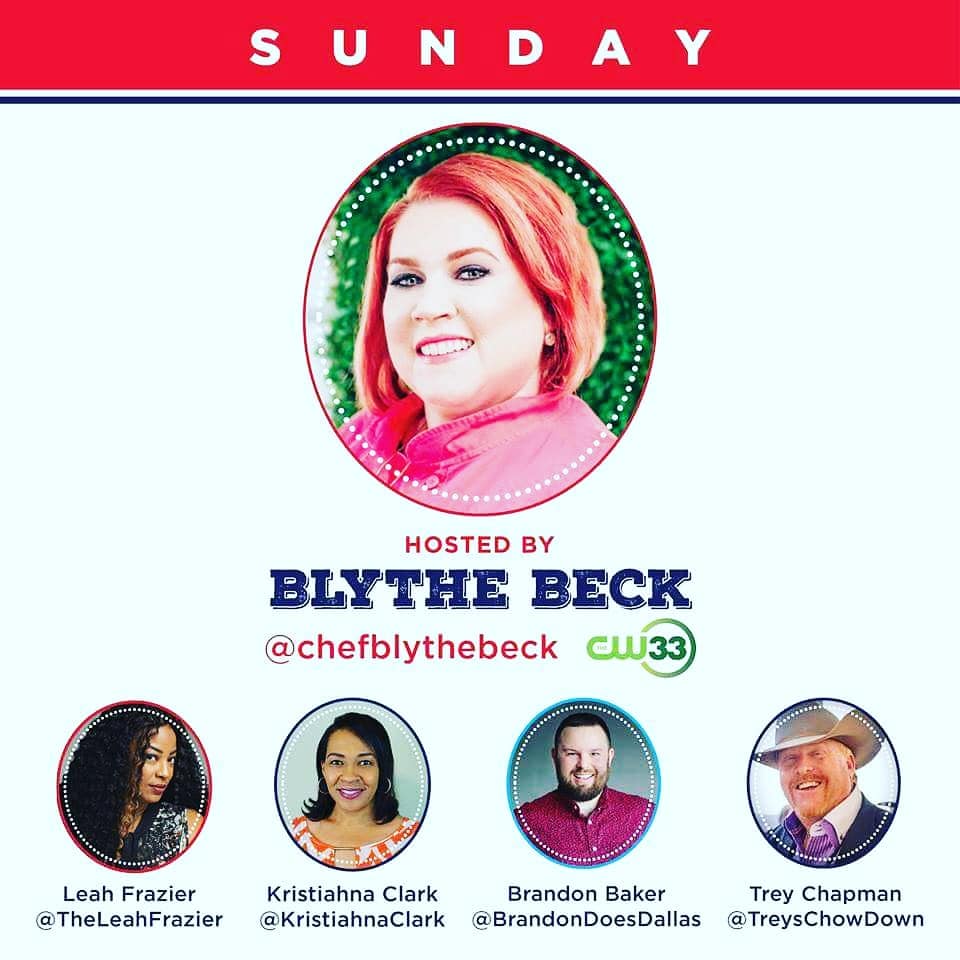 This dip now comes in 5 delicious varieties and is extremely versatile. It can be used in limitless recipes or simply eaten with a cracker. The dips are named after the owner's 5-year-old son, Cameron! How can you pass up tasting and purchasing dip from a locally sourced food? With farm fresh ingredients, you can't! Trey's Chow Down LOVED THIS DIP AND THE STORY. Find some time to try and purchase this dip you will be glad you did.
Foodie Panel @ Taste Of Dallas Presented by Tik Talk Marketing:
The foodie panel was hosted by Chef Blythe Beck and featured some of Dallas's biggest food bloggers and foodies. The panel had discussions with Brandon Baker from @BrandonDoesDallas, Leah Fraizer @TheLeahFraizer, Kristiahna Clark @KristiahnaClark, and myself, Trey Chapman with TreysChowDown.com. Our discussions consisted of the best breakfast, burgers, patios, drinks, and the Dallas foodie trends and videos happening today. If you want to have your finger on the pulse of Dallas foodie happenings follow all these folks on Instagram today. If you're not already following the famous Chef Blythe Beck, then I just can't help you.
All in all, the Taste Of Dallas 2018 was an amazing event. We tried some fantastic foods, met some incredible chefs, and were introduced to some amazing new products.
Please follow us on our social media and sign up for our Trey's Chow Down newsletter!
Have a blessed day, and thanks for giving Trey's Chow Down you time!
Trey (Chow Down) Chapman. Click on my name and hit follow!