The iconic Chicago-based restaurant Harold's Chicken Shack celebrated it's grand opening of its new location in the city of Cedar Hill last week. Family-owned and operated, we're PROUD to feature this NEW Texas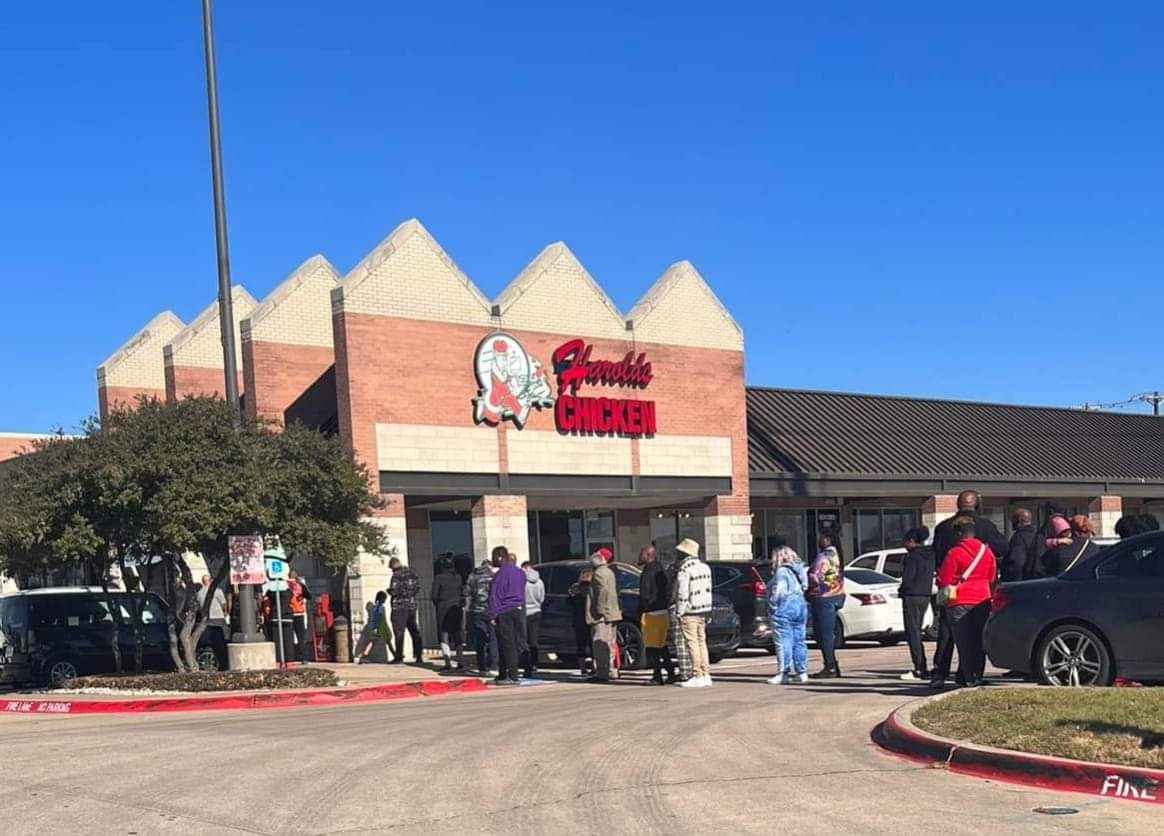 family business.
The Harold's Chicken Shack story goes something like this:
Harold Pierce, an African-American entrepreneur who moved to Chicago in 1943, founded the restaurant on June 22, 1950 at the corner of 47th Street and Kenwood, near the estate where he worked as a chauffeur. Harold and his wife also operated a soul food restaurant on 39th street called the H&H (Harold & Hilda); their specialties were dumplings and chicken feet.  
Pierce differed from other fast-food innovators in his development of the Harold's brand. He wanted each of his franchises to develop its own personality rather than forcing each to fit the same mold. Some Harold's restaurants are very informal, with take-away chicken served by employees standing behind a window of bulletproof glass. (Originally introduced as a necessity rather than an aesthetic concern). Others offer the option to dine in. Harold's Chicken Shacks may or may not offer fountain drinks, additional menu items, catering services, or delivery. The only constants are the basic chicken dinners and the emblem of a cook chasing a chicken with a cleaver. Even this varies greatly, sometimes rendered in lights and sometimes hand-painted. Often, the cook is dressed like a King. Harold's restaurants are 
Their owners, said this week, "They're glad to be open and we're happy to be in Dallas!"
Trey's Chow Down Road Tripp'ed to NEW Harold's Chicken Shack that opened just last week. It opened to a TEXAS BIG fanfare as droves of folks showed up wanting some of Harold's famous Chicago-Style Chicken.
The atmosphere is clean, vibrant, and comfortable with a big dining room, a bar, and a bar area for cocktails and beer. The service was fantastic and the staff was all smiles, even as busy as they were.
We enjoyed a big variety of Harold's fresh-prepared chicken, wings, tenders, sides and more. They prepare everything fresh in-house and it's served HF&D #HotFreshandDelicious. The chicken is fresh and it goes through a process of being cleaned, dipped, then battered and covered with Harold's proprietary herbs and spices before frying. After its fried its covered in Harold's special red sauce that was developed over 70 years ago. The chicken is flavorful, crispy and loaded with deliciousness in every bite. Each bite was a flavor explosion in my mouth – I LOVED IT!
We are happy to have them in Texas, slinging Harold's delicious Chicken for all the hungry folks in North Texas. I'm honored to feature them on Trey's Chow and wish them all the luck.
Featured items:  
Fried Pickles, Fried Mac-N-Cheese Balls, Fresh Fried Okra, French Fries, Fried Chicken Wings and Chicken Tenders.  
If you haven't tried Harold's Chicken, I would highly recommend you take a ride over to chow down, but because the hype is still as fresh as the chicken, be prepare to wait!) It's worth it, I can promise you that. They're a NEW OFFICIALLY APPROVED Trey's Chow Down Delicious Destination for all food lovers to enjoy.
(Please follow us for deliciousness around the USA)
Hope to meet you a table soon!
Trey (Chow Down) Chapman