Good Day Drinking, and Socializing Buddies,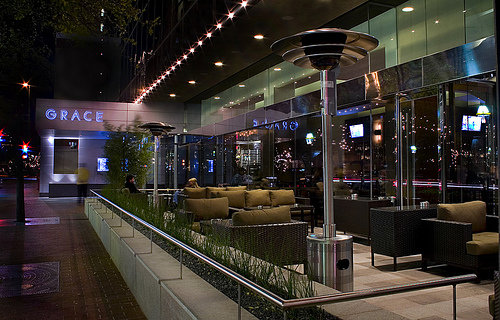 If you're like me I feel it is hard to beat a FANTASTIC patio to kick it on while you enjoy a cocktail, eat or socialize with friends. If you look up the word patio on Wikipedia, it defines it as: (an outdoor space used for dining or recreation that adjoins a residence and is typically paved). That may be the Wikipedia definition, but truthfully patios are so much more than this.
In today's times' people search high and low, far and wide, and go to endless lengths to create amazing patios. Patios in most cases are an extension of how one perceives socializing, cooking, partying, or spending time with family and friends to look.
Restaurants, bars, nightclubs, and event venues are no exception to this rule. They know if they can create a fantastic outdoor atmosphere that it will attract people who love the outdoor way of life. When you are in the sunshine or under the moonlight, everything is always fresh, and vibrant! To me, drinks and food always taste better outside. It just feels a lot better, and you do not feel confined. Being outside has a freshness to it that can't be emulated any other way than being outside.
In the last year, I have spent much time outside looking for great patios that you can have some have fun, eat, socialize, play games, listen to music, drink, and feel alive. I wanted to share these favorite places with you in hopes you will have as much fun as I have had kicking it and slinging the good times. My choices may not have the word "patio" in their name, but if they are on this list, it has a patio for sure.
If you see one you like, just click the link!
Grace Restaurant. (Fort Worth)
Grace, Grace, Grace, what can I say about this fantastic place? Set in downtown Fort Worth on Main Street, Grace's patio has long been a favorite of mine. The patio is perfect for socializing with friends, business folks, or for a romantic date under the stars. Also, when the sun goes down, it is a sexy and romantic patio. It has couches and a few single chairs that face each other. Perfect downtown views of all the downtown vibrancy and excitement one can handle. They have excellent craft drinks like the "Pain Killer" which is delicious. The bar food is 5 star and created by the one and only Chef Blaine. Grace is truly a fantastic destination. It is a place you do not want to leave. Check them out and be sure to eat some of that amazing food!
Reata Roof Top Bar. (Fort Worth)
A true Fort Worth legend and landmark Reata Restaurant and Roof Top Bar. Set on the top of the famous Reata Restaurant. The atmosphere is incredibly cozy, but also vibrant. On any given night the roof is packed with folks wanting to enjoy some delicious food, drinks, and that beautiful downtown Fort Worth atmosphere. The city views are excellent, but for obvious reasons, this roof is an attraction all its own. It has an incredibly cozy and inviting vibe to it. When it is a clear Texas evening, you can see the stars, and it is amazing! The staff is excellent the food is incrediblely delicious, and the drinks are perfect. When you get time, plan to go to Reata to eat and drink under the stars.
Saint Rocco's Roof Top Bar. (Dallas)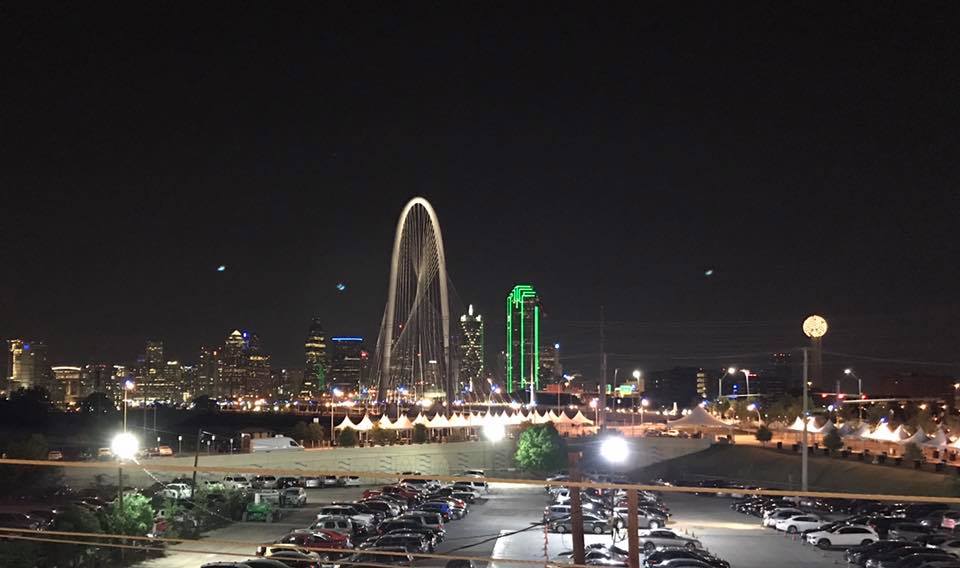 Saint Rocco's at Trinty Groves has fantastic views of the Dallas skyline. Set on the third story, top of Saint Rocco's Italian Restaurant is one big patio. It is a cozy, bright, and fun bar and it feels like you are on a patio at home! It is enormous with lots of couches set up as living rooms so you can socialize with a group or just with a partner. They have big tv screens projected on the walls so you can see games and other events while you have fun. They have a small menu with some great food. The servers are friendly, helpful, and can get you the perfect refreshing craft cocktail of your choosing. If you want to roll down stairs, you can enjoy some amazing old school Italian Food that is lip smacking delicious. The Lobster Ravioli is to die for. Check out Saint Rocco's today, the views are incredible!
Lola's Trailer Park. (Fort Worth)
Lola's Trailer Park is behind the original Lola's and is one big patio. They have won all kinds of awards already, and customers keep raving about Lola's and all it offers. Everything is outside with amazing space, trees, games, two outdoor stages, food trucks, incredible sound, and plenty of seating. The staff is extremely friendly and love what they do. There's also a small inside bar area with a small stage for live music- The original Lola's. You can take your pick at Lola's. The Orignal Lola's or Lola's Trailer Park choice is yours and always leads to a fun time.
I will sum up the Rustic quickly for you. It is a super cool place with a southern vibe, award-winning patio, and awesome farm fresh food. The amazing thing about the Rustic it is right in the middle of Uptown Dallas where you would not expect this place to be. It's southern vibe, and fantastic music lineup always makes Rustic a great destination spot. They always have a great line-up of local and national artist that grind out great tunes. The food is always on point, fresh, and the service is friendly. Check out The Rustic today but plan to stay a while and take a camera too. You never know whom you will see there.
The Soda Bar @ NYLO. (Dallas South Side)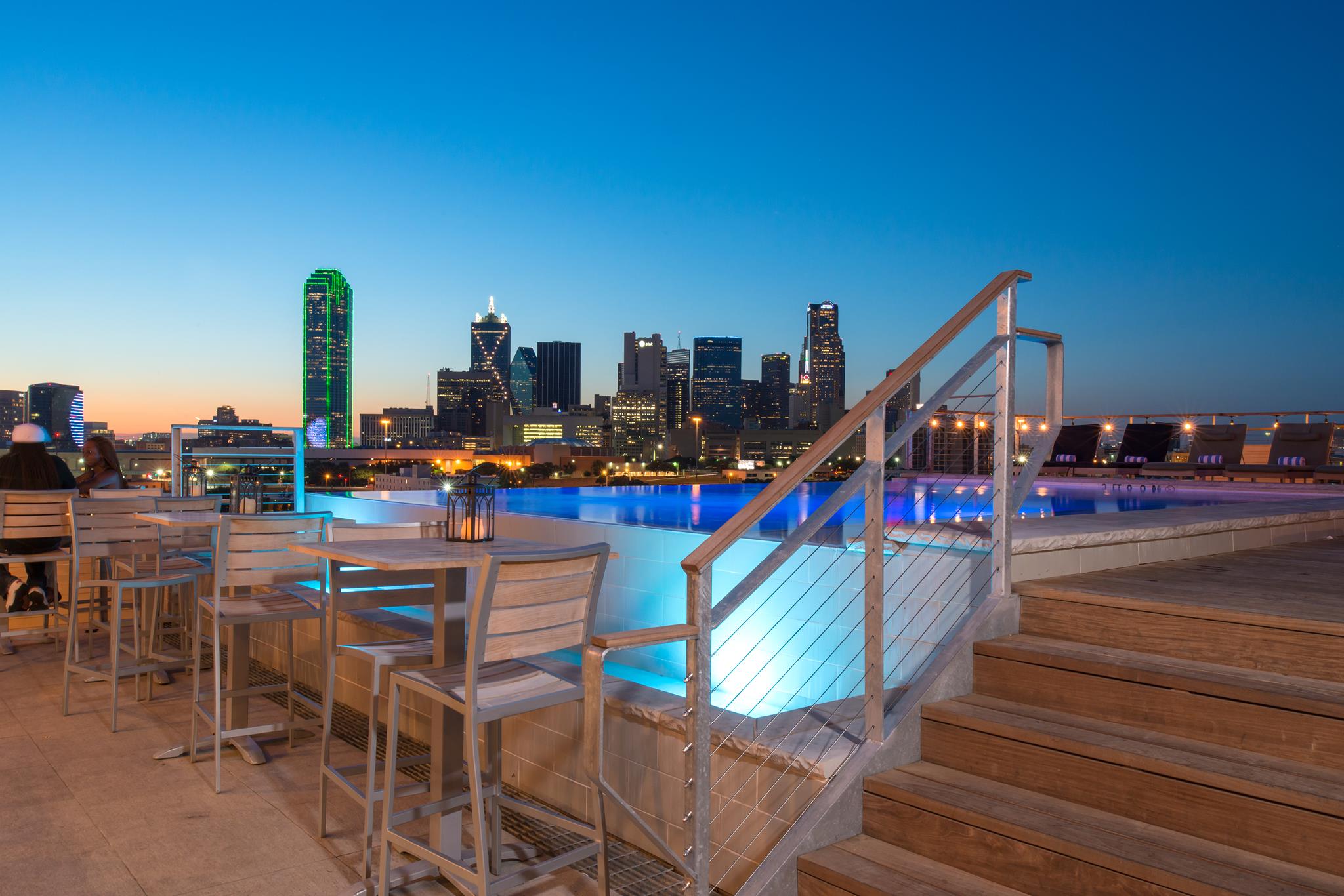 The Soda Bar is on top of the NYLO in downtown Dallas. It is a boutique hotel and considered to be one of the most unique hotels and bars in Dallas. The views are amazing from the rooftop bar area which also has a pool. At night the lights from the pool add to the incredible outdoor, vibrant, downtown-nightlife vibe. The cocktails are fantastic and again the views, the views, the views! Like I said before cocktails and food always taste better outside! The Soda Bar is the complete package of music, art, downtown vibes, and unique outdoor atmosphere! Take that phone camera you are going to need it!
Landmark Bar & Kitchen. (Fort Worth)
Landmark has managed to carve out its place in Fort Worth nightlife and music history. They have a 4000 square foot Texas-sized patio complete with a mechanical bull. Yes, a real mechanical bull. The patio has a bar with games and lots of fun. They also have fantastic local and national artists that sling cool tunes. The inside is huge and also has a private patio or balcony that hangs out over the downstairs. The views are fantastic upstairs where you will find the top bar and restroom too. The food is good, and the atmosphere is casual, cozy, and friendly. Visit Landmark today and get on that bull for a ride but make sure it's before you eat!
Bar Louie is a two story bar off West 7th Street in Fort Worth. They have a great patio overlooking a part of 7th Street and some of West 7th area. They have a from scratch, made to order kitchen menu serving dishes open to close. The craft cocktails and martinis are fantastic. Their servers are friendly and helpful and seem to love slinging drinks! They have music and a D.J. too! Check out Bar Louie and take your appetite with you and dig into one of Louie Burgers!
Whitehall Exchange. (Bishop Arts District)
Whitehall is one of the coziest little bars you will find that I consider to be a patio atmosphere. They sit on a corner in the Bishop Arts Distrtict in Dallas and have a very vibrant atmosphere. They have music that plays on the corner, and the walls open up bringing the inside, outside and the outside, inside. You can sit on either side looking inside or looking outside towards the streets. The food is fantastic and the craft drinks are super delicious. I enjoyed this place. Check out Whitehall today and get ready for a cozy good time!
Houston Street Bar & Patio. (Fort Worth)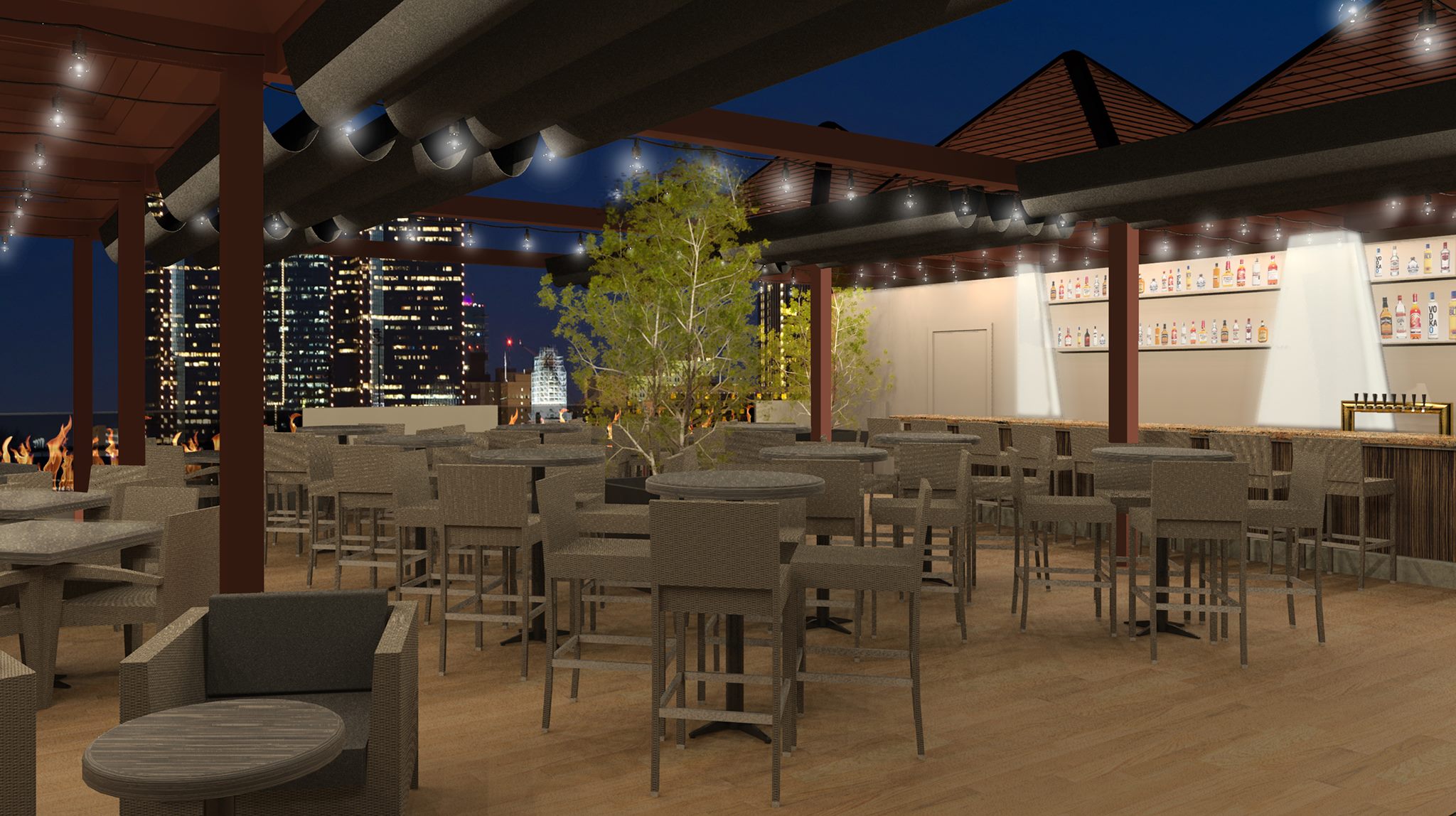 This place has been around a while. They have a hopping bar downstairs with tv's, a pool table, and music some evenings. You go toward the back, and you can go upstairs to the rooftop patio bar. Itlooks out over Houston Street and has plenty of room. They also have a bar on the roof too for quicker service. The atmosphere is party ready, and they have fans to make it more comfortable on hotter summer evenings. Fantastic, little cozy bar with friendly servers- Check it out and have some Fun!
Kona Grill, Fort Worth is located on the tip of Crocket Row, off West 7th. They have a rooftop patio with a broad new American menu including low-calorie options and cocktails. They have a fantastic atmosphere inside, very vibrant and a beautiful fish tank that has lots of wonderfully colorful fish swimming around. They have a great, incredible patio that is open on the weekends. The patios are on 7th Street, and if you like the hussle and bustle of the city, you will love this patio. The menu has a wide variety of good and delicious fresh sushi too. The service is wonderful, and the staff is friendly.
American Gardens. (Fort Worth)
American Gardens is located in the middle of the new West 7th development and consumes a whole city block. They have an inside bar area and an extensive outside area. There are lots of trees, games, a ping pong table, sitting areas, and an outside bar area. The atmosphere is always upbeat, vibrant, and fun. They are slinging all kinds of frozen drinks, beers, and signature cocktails. If you are hungry, you can dive into some of the American Gardens's delicious food. If you are looking for a fun time with great vibes, check out American Gardens!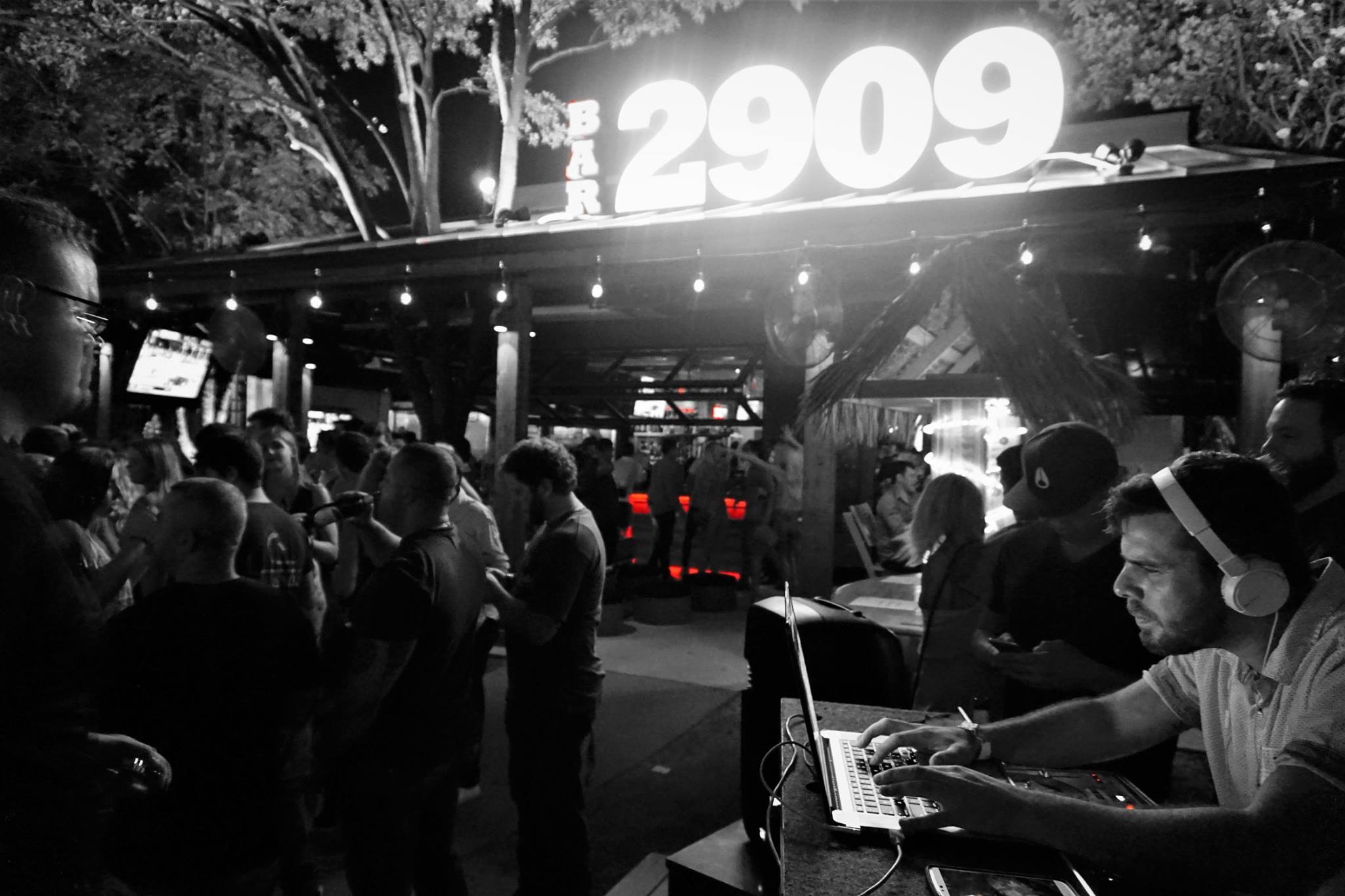 Bar 2909, located at 2909 Morton Street in the heart of West 7th area, is one big outdoor patio. It is colorful, upbeat, and rocking vibe that starts from the minute you roll into the front gates. They have an outside bar area with chairs and couches custom made out of old barrels and painted wild and BEAUTIFUL colors. The inside bar area is colorful, and they even have an area with chairs and couches that look like they came straight out of an old Scarface movie. They have live music, DJ's, and fantastic outdoor speakers jammin great tunes. The cocktails are delicious, the beer is cold, and good times are many. They have a food menu including brunch on the weekends. Check out Bar 2909 and the big outdoor patio area sooner rather than later. Oh, and better make plans to stay a while, it is hard to leave.
Whiskey Garden (regulars call it, 'WHISKEY!'"), Fort Worth;
Whiskey is a truly amazing work of art. Cool artistic surroundings here. From the gas pump faucets, tire sinks, whiskey bottle light fixtures, and creative decorations to its incredible outdoor area that comes complete with a swimming pool. That's correct, a swimming pool with underwater seats for pool drinking! Fantastic outdoor setting with semi-private tables and a massive wooden deck. Whiskey has plenty of bar space to quickly grab cocktails while still leaving lots of space open for socializing. Bring your suit, your fun times, and head to Whiskey Garden to throw down.
I hope you enjoy my list! My suggestion is you take a Sunday Funday and hit some of these wonderful places up. Be sure and check their Facebooks or other social media for their hours of operation.
Love Y'all, and God Bless!
Trey Chapman Follow Me On Social!