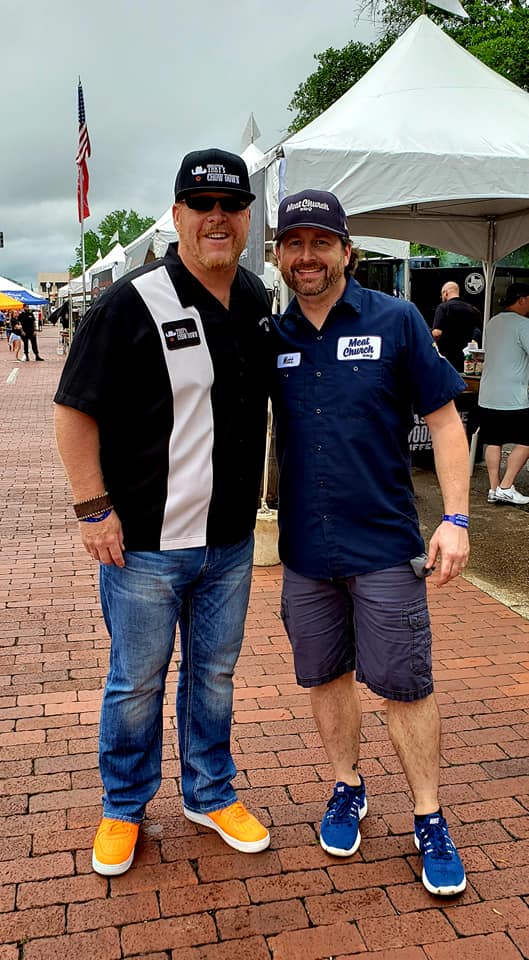 Drink With Trey and Trey's Chow Down had an awesome time this year at the Red Dirt BBQ and Music Festival in Tyler Texas.
Trey is always searching for the best food, drink, fun, and entertainment in TEXAS. He found plenty of awesome TEXAS CRAFT BBQ and creative sides in Tyler last Saturday. The pit masters worked hard and the artist where slinging great tunes all day.
Trey met folks from all over Texas and chowed down on some GREAT Texas CRAFT BBQ! Pit masters came from West, East, South, and Central Texas to throw down and create some amazing Craft BBQ and sides.
The Red Dirt Festival creators had this to say: "Now having celebrated its fifth anniversary, the Red Dirt BBQ & Music Festival has proven to be one of the most premier and unique music and food experiences in Texas. The festival takes place on the brick streets of the downtown square in Tyler every May, featuring more than 20 of the most celebrated barbecue restaurants in Texas. Music happens for nearly 12 hours on two stages, with the main stage highlighting the biggest names in Texas and Red Dirt Music.
Barbecue joints from as close as Tyler and as far as Amarillo converge on the Rose City to showcase their smoked meats to thousands of barbecue enthusiasts, while thousands more pour onto the brick streets for the concert.
Red Dirt BBQ & Music Festival celebrates its sixth anniversary on Saturday, May 4, 2019 back on the brick streets of Downtown Tyler. Randy Rogers Band will headline this year's festival, joined by Wade Bowen, Stoney LaRue, American Aquarium and Mike and the Moonpies. The festival sold out for the sixth year in a row when tickets went on sale February 1, selling out in a record 181 minutes.
Trey found lots of delicious Texas BBQ, sides, and treats. All the BBQ was amazing but Trey discovered some clear winners that had some creative and flavorful Texas BBQ that everyone should try. "Click on highlighted names" for more about each restaurant or BBQ Stop.
1.BBQ on the Brazos
Delicious juicy Brisket with great bark,
Flavor packed Jalapeno Cheese Grits and.
juicy sausage.
2.Meat Church BBQ
Amazing Chicken Fried Burnt Ends, Apple and
Brown Sugar Habanero Pork Belly Burnt Ends,
Delicious 44 Farms Barbacoa Tacos.
3.Opie's BBQ
Flavor packed Texas Brisket and Sausage.
4.Hutchins BBQ McKinney
Juicy Brisket with Great Bark.
5.Tyler's BBQ Amarillo Texas
Succulent flavor packed Texas Ribs.
6. Truth BBQ
Texas Craft BBQ Brisket Slider. This
Slider was succulent and had a great flavor
Profile. The bun was fresh and delicious.
7. Snows BBQ
Texas Craft BBQ Taco and sausage. Taco
Was packed with flavor loved the sausage.
8. Roegels Barbecue Co.
A very creative Texas BBQ dish. A delicious
Pulled Pork Slaw top off with some flavorful
Sausage.
9. Stiles Switch BBQ & Brew
Succulent Serrano Galzed St Louis Ribs
Smoked Chicken Wings tossed with a fresh
and flavorful Alabama White Sauce. Loved
these two items.
10. Micklethwait Craft Meats
Fantastic craft beef loaded with flavor.
To locate more award winning Texas BBQ joints to Chow Down see our approve link below.?
If you haven't attend this festival you need to put it on your books!