There's something light and fun about going out for happy hour. Usually places are a little less busy and it's definitely relaxing knowing you have nothing to do in the middle of the day. It's the perfect feeling-no obligations, total relaxation. So when my friend and I found ourselves with nothing to do one Saturday afternoon we headed down toward 7th street to test out Blue Sushi Sake Grill's happy hour.
I've been to Blue Sushi once or twice before and was definitely impressed, with not only the food, but with the atmosphere too. It's definitely hard to be in a bad mood here. The center bar, featuring a live aquarium, splits the restaurant into two main color themes and will suddenly throw you into what everything a trendy, modern sushi bar could be!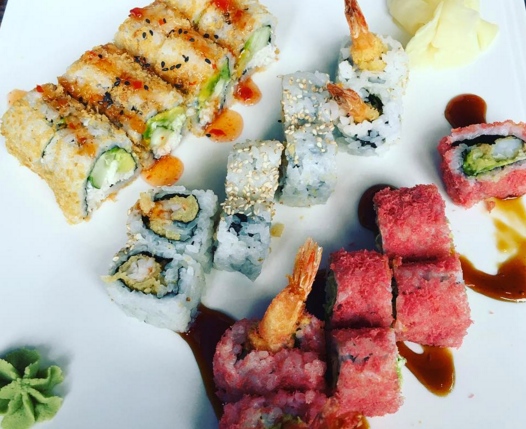 Our server brought out the most refreshing cucumber water, and we started off with some miso soup while we devised a plan for the rest of our meal. After hungrily slurping our soup down, we first ordered the vegetarian lettuce wraps to share from the happy hour menu. They came out and I was delighted to see they were build-your-own! Green edamame hummus, yogurt curry sauce, and green tea brown rice were just some of amazing sides that came out with the lettuce leaves. The real star of the show was the creamy cilantro sauce that you could lightly drizzle-or pour as I did, all over your very own healthy lil wrap creation.
Our sushi order was something else, my friend ordered the classic California rolls and because I was feeling a lil wild that day, I jumped out of my sushi comfort box and ordered the Spicy Tekka rolls-which is just spicy tuna and cucumber, and man were they huge! I'm not a fan of spicy food, but I'm definitely open minded enough to at least give things a try. I was so relieved to find the spiciness was more about the flavor than the pain, and the cucumber added just the right amount of crunchy textured goodness the roll needed. I suppose my spontaneous behavior inspired my buddy and we decided to venture off the happy hour menu and try the Rainbow Roll, eight huge pieces made of crab, avocado, and cucumber that were then garnished with small pieces of tuna, salmon, shrimp, and white fish on top.

I should have already known anything with the word Rainbow in the title is probably gonna equal a good time, and this roll didn't disappoint.
Blue Sushi sure knows how to do happy hour right, we left the restaurant lighthearted and bellies full. And never fear, if you are one of those people who always have things going on in the middle of the afternoon and don't get to make it to traditional happy hour specials-you can catch Blue Sushi's happy hour Monday through Saturday 3pm-6:30pm, and Friday and Saturday's nights at 10:30pm to midnight, and basically all day Sunday. This is definitely a joint I'll be hitting up again soon for happy hour!
God Bless Chalynn