Hello,
Round number 2 for this experienced taco taster!
On this 2nd round of Taqueria tastings, I'm joined by my friend and fellow foodie Cara, who is in town for all the turkey day festivities. Cara and I share a mutual addiction to tacos, so who better to join me! Our goal was to visit as many taquerias as possible in one day until we had to waive the proverbial white flag or burst with gluttonous enjoyment, I think we hit the latter…
Our first stop-Taqueria San Louis. San Louis is located at 2705 NE 28th St, in north Ft. Worth. When pulling up, the first thing noticed was that this taco joint is open until 4am. This intrigued me, why? You've got to be slinging some pretty good food to stay open that late, and actually have the late night business to support it.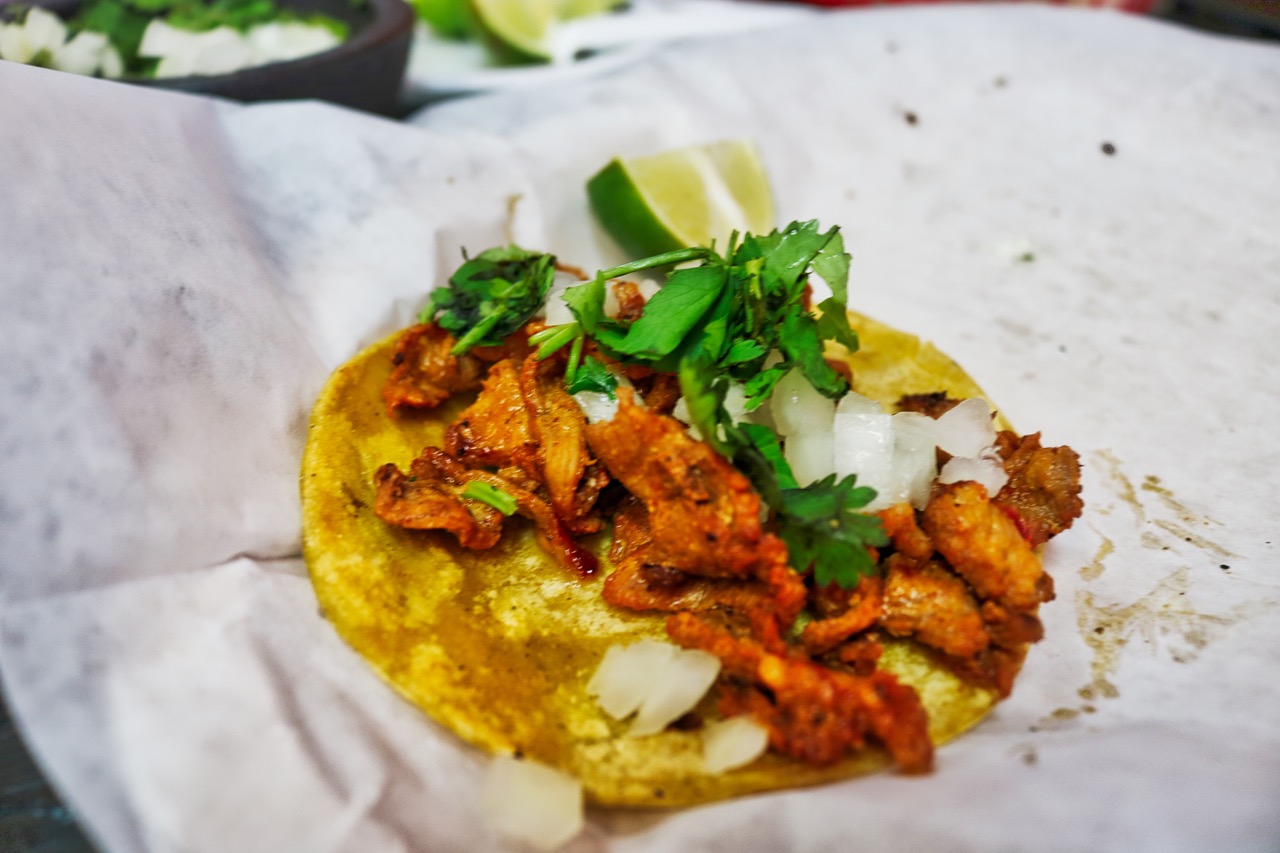 San Louis is a quaint spot, seating about 40 people I'm guessing, the ambiance is very festive with vibrant orange walls and Latin tidbits scattered about, we especially enjoyed the large TACO sign on the wall near the front door. The kitchen is an open air kitchen (visible to the public), which as a chef, I appreciate. Open air kitchens scream, "Nothing to hide here, we are a clean kitchen!"
We take our seat at one the small tables in the dining room, and very quickly our waitress has a basket of corn tortilla chips and two different salsas (red & green) in front of us, and menus.
The menu has several options from tacos and tortas, to several plate options. We came for the tacos though! I ordered a single Pastor taco, while my companion orders a single Carne Asada. I think the waitress asked several times if it was just one each. Street tacos are typically small in size, and these were no exception. The tacos came out on two 4" yellow corn tortillas with the cilantro and white onion placed on the side in a mini molcajete (basalt stone bowl used as a mortar and pestle). The tortillas were griddled on a flat top grill and lightly steamed to ensure tenderness. The Asada is cooked to a medium/medium well temperature and lightly seasoned.
Both of us thought the meat was a little chewy, but the onion and cilantro did prove to be a nice accompaniment. The pork of the Pastor was tender and had a nice aroma, but I thought it was a bit lacking in that pastor flavor of guajillo chile and achiote paste. Several friends recommended San Louis to me, so I think I'll give them another try. Like I said earlier, you don't stay open until 4am without the business and a loyal following. On another note, I think we were both surprised when we got the bill, chips & salsa(s) 2 tacos, 2 bowls of beans and a Jarritos for less than $10! Great deal!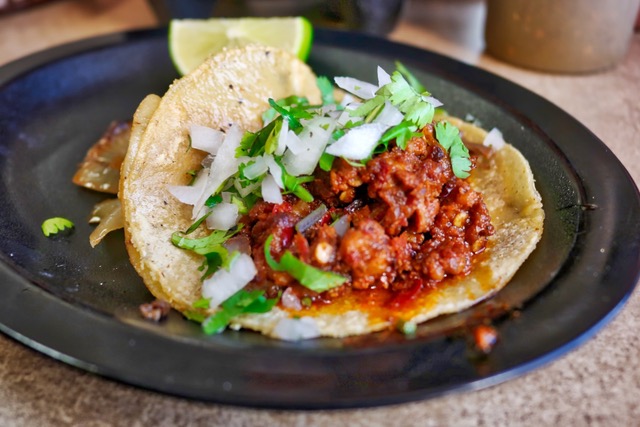 2nd stop-Los Paisanos Restaurante Y Taqueria, which is located at 1446 N Main S, in north Ft. Worth as well. This was a random stop for us, because the Taco Truck that I had once known about seemed to have moved, but was a pleasant surprise. Walking into this small brick and mortar building, I quickly feel like I'm at a small "Mom & Pop" taqueria. It's small and compact, the smell of home cooking is in the air and Mexican cookies and pastries hang wrapped in plastic by the register. Los Paisanos, you have my attention!
We are once again promptly greeted and take our seat, where again we are met with chips and salsa. The salsa here is awesome! A tomato based salsa with a nice red chile flavor and a little kick from what I think was chile piquin, but I'm not sure. Cara asks our server what her favorite taco on the menu is and the response was priceless; with a big smile and a slight turn of her head, she responds Tacos al Pastor. Now I'm excited, Tacos al Pastor has been my favorite taco for 20 years now.
Two Tacos al Pastor it is. The tacos are served on black plates, which gave off a great color contrast between the yellow corn tortilla, red pork, white onion & cilantro. The tortillas were very good, possibly made in house. Although the pork was a bit greasy and again no pineapple, I thought the flavor was really nice. The achiote paste stood out with both earthy and floral notes, and had a nice chile de arbol kick. This taco was my favorite on this trip.
Chips & Salsa, 2 tacos — less than $4
3rd stop-Melis Taqueria which is located at 4304 W. Vickery Blvd. I use to be a regular at Melis when I lived in the neighborhood for some 13 years. The building that Melis sits in is a bit run down to say the least, the patio is definitely in question, but sometimes these kind of places are the best.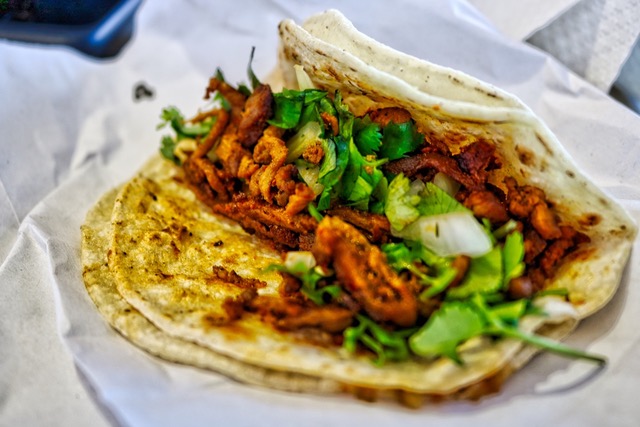 Cara ordered a Langua taco, which if you're not familiar is made from the tongue of a cow. Lengua is very tender, and has a great beef flavor to it. The more the muscle works, the more flavorful it is. The Lengua taco at Melis is served on two griddled white corn tortillas with cilantro & white onion. I did not get the opportunity to sample this one. Although, she did say that this taco was her favorite of the day.
My order was (once again) Tacos al Pastor. Like the Lengua taco, the Pastor is served on two griddled white corn tortillas, with cilantro & white onion. The pastor meat here seemed to be braised and then shredded. The flavor was bold with guajillo chile and clove. Their salsa verde was able to calm down much of the clove, but still a bit too strong for me. I'll still be back, this place has been one of my favorites for some time.
2 tacos 1 fanta – less than $10
Where stuffed, see you next time!
Chef David
Follow me on Facebook and get the 411 daily!