Howdy Y'all!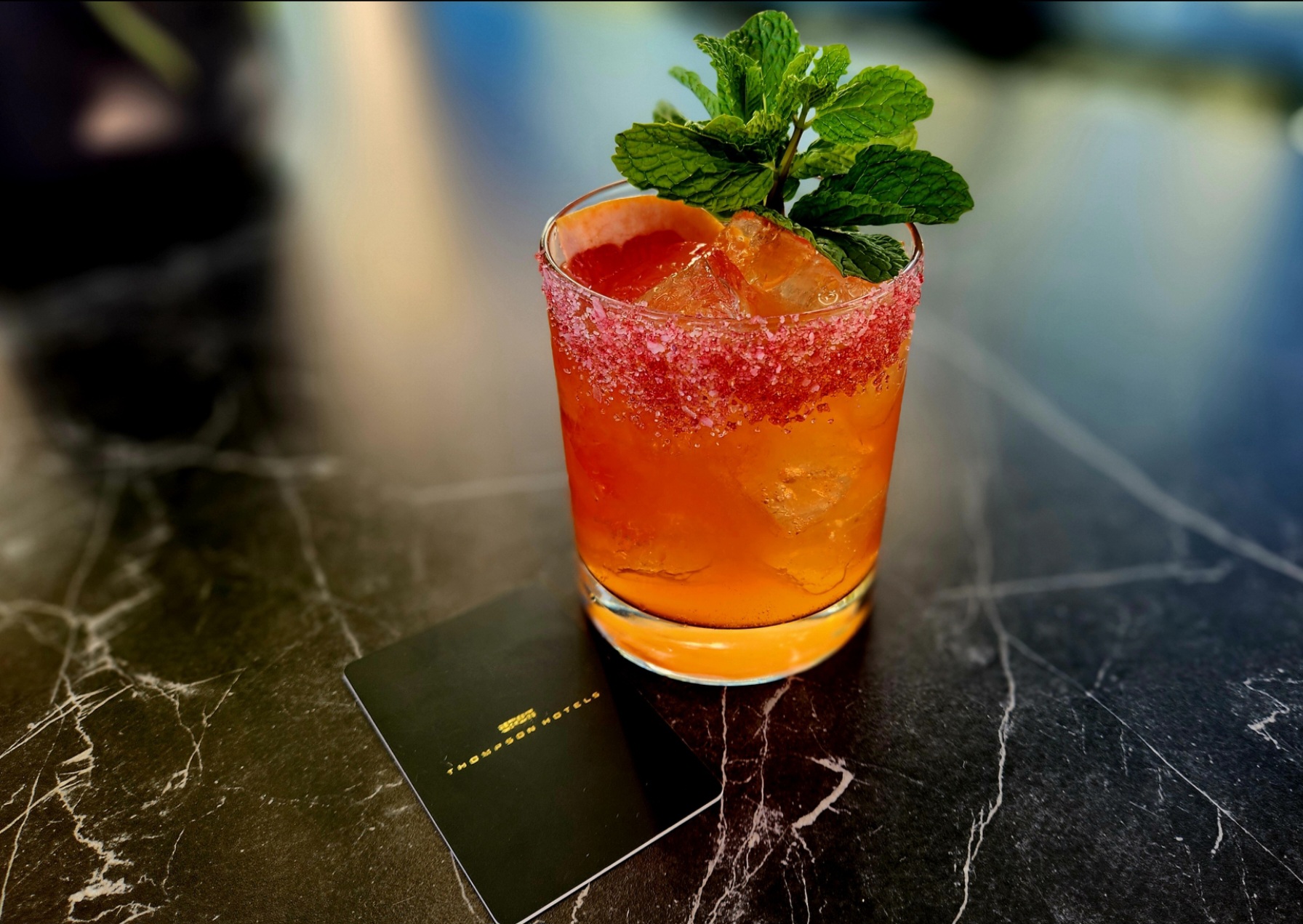 It's travel time again with Trey's Chow Down Road Trip'in the USA for creative chefs, deliciousness and unique travel destinations. Today we're at the gorgeous Thompson Hotel on the RIVERWALK in downtown San Antonio, Texas.
When we heard about this beautiful hotel offering fantastic views overlooking the Riverwalk and downtown, we had to give them a visit. The Thompson is NEW to San Antonio, opening in the middle of 2021, but the classy, cozy and vibrant atmosphere makes it feel as if it has been there forever.
It's truly impressive, rising above the Riverwalk for an elevated experience in this cultural epicenter. They offer stunning, unmatched skyline vistas, cozy and refined guest rooms, creative culinary delights, and incredible service. You can immersive yourself in the cool nightlife from the rooftop lounge, The Moon's Daughter, or pony up to the bar and enjoy a Texas-whiskey while you enjoy the splendid San Antonio skyline.
My favorite option was enjoying cocktails on the pool deck in our private cabana overlooking the river walk. The pool area is amazing, with an overall feel of elegance with rich textures and beautiful colors. You can jump into the pool and enjoy the water right from your private cabana. Just perfect!
The hotel is perfectly positioned over the northern Riverwalk neighborhood, where we watched a boat parade float by at dusk. The lights from the boats beaming off the water and bouncing off the sides of the River Walk were gorgeous.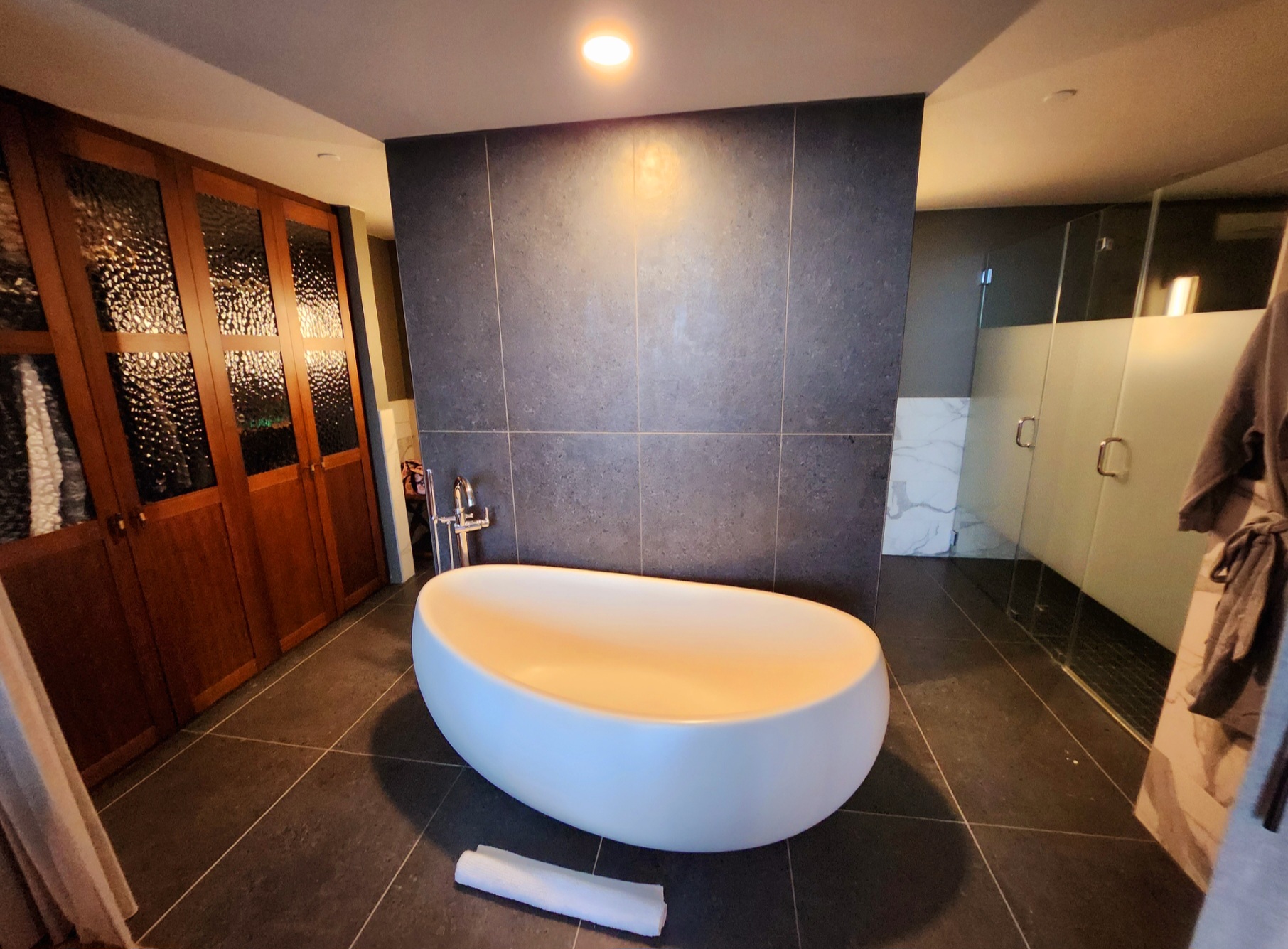 There are many rooms available and each one will make you feel like a king or queen. We enjoyed a suite complete with a living room, bar area and an incredible bathroom with a spa tube. The staff and room service were perfect; they made us feel like old friends. If you're looking for a nice little getaway, I would highly recommend a suite for a weekend. You will thank me later!
The chef-driven culinary offerings are plenty! Everything is created and prepared in-house by a talented chef with a first-class culinary team. This isn't your grandma's cooking. You will fall in love with the creative, unique and unforgettable flavor profiles they offer. Using fresh, locally-sourced ingredients, vegetables and spices, each dish I tried was colorful, loaded with flavor and delicious. I couldn't find anything they offer that wasn't pure culinary perfection.
Located close to the historic Texas Alamo, the San Antonio Museum of Art, and the Tobin Center for the Performing Arts, the River Walk and plenty of shopping you just can't go wrong. If you're looking for a new elevated experience that will immerse you in style, elegance, and a culinary wonderland with stunning views I would highly recommend a visit to the THOMPSON HOTEL SAN ANTONIO, TEXAS.  
Easily 10 Hats out of 10 for a perfect score. They're an officially APPROVED Trey's Chow Down Travel destination for all food and travel seekers to enjoy!
Please follow our social media platforms as we search for creative chefs, tasty eat, savory sweet treats and unique travel destinations around the USA.
"Until next time stay hungry and enjoy life my friends!" 
Trey (Chow Down) Chapman