Hello Food and Travel Lovers!
Trey's Coastal Chow Down took a ride over to enjoy with some FRESH chef driven seasonally inspired dishes that are served in a beautiful atmosphere with island charm and views so beautiful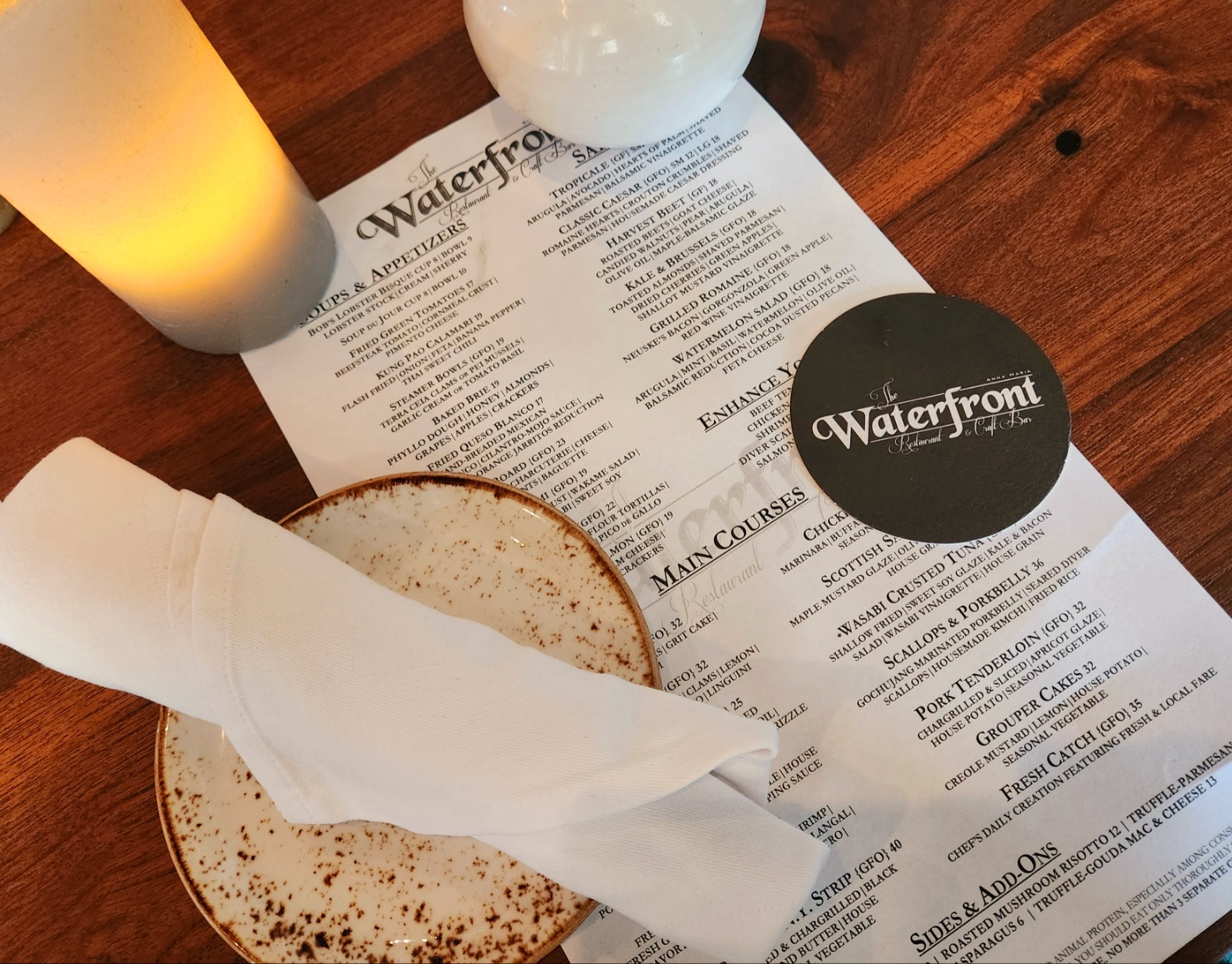 they're unforgettable. THE WATERFRONT RESTAURANT in Anna Maria Island is one of this magical places you will fall in love with and find it hard to leave even after your meal is finished.
Built in 1922, the cottage was one of the original homes on Anna Maria Island. At that time, and for many years after, it was referred to as "Lorraine Cottage", Lorraine being the name of the builders' daughter. The main room of the cottage had wood panel walls recovered from the inside of an old ship and a fireplace made of stone and brick, just as you see it today. Most interestingly, a wagon wheel was used as the masonry support in building the fireplace, giving it its unusual circular pattern. The cottage remained a seasonal home for many decades, with several additions being made as ownership changed hands. In the 1970's the cottage got its first commercial use as an art gallery. The next decade, it was reimagined as an ice cream parlor known as Candy Cane's, well-known for its player-piano. The cottage then became Ato's, a family-owned Polynesian style restaurant serving breakfast and lunch. In 1999, an English couple took ownership and rebranded the restaurant under the name you know as today, The Waterfront. The Suzor family purchased The Waterfront Restaurant in 2002, and they continue to proudly own and operate it today. Tragically, in the early hours of March 18th, 2004, most of the original cottage was destroyed by a fire. Only the original fireplace and back building could be salvaged. These remaining fixtures played an important role in the new construction, as the restaurant was designed with Lorraine Cottage in mind. Nineteen months later, in October of 2005, The Waterfront Restaurant reopened with much of the original staff and management.
We enjoyed a beautiful dinner with plenty of creative and fresh chef prepared dishes that anyone would love. You just can't go wrong with anything on the menu or from the craft bar because it's all fantastic. Not to mention, it's all served in a stunning and magical island atmosphere. ✨️
If you love to eat, drink, and enjoy seasonally inspired dishes, then you need to make a visit to The Waterfront Restaurant and chow down. It's an officially approved Trey's Coastal Chow Down delicious destination for all island lovers to enjoy. 😋
"It's truly an unforgettable and magical experience everyone needs to enjoy."
We hope to meet you at a table soon.
Trey & Jana