Here's one for ya! Donut Deliciousness!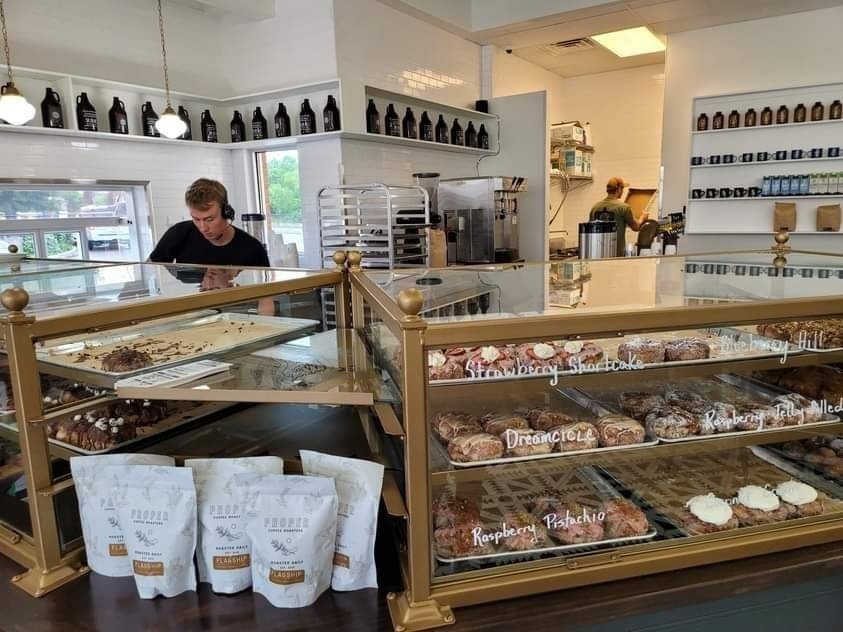 Parlor Doughnuts is a craft doughnut and coffee shop offering an array of unique bakery items, including their original layered doughnuts. They offer vegan, gluten-friendly, and keto-friendly products, as well as artisanal breakfasts and specialty coffee. Their goal is to efficiently deliver a superior product, at a moderate price, with exceptional service, in a comfortable setting.
That's why Trey's Chow Down is BACK at Parlor for possibly some of the BEST DOUGHNUTS I've tasted in the USA. We've made it to 24 states on our MEETS, EATS & SWEETS Tour, and Parlor is truly a donut of LAYERED PERFECTION. Parlor uses a different and unique technique to create their signature donuts.
It's the individual layers in their doughnuts that make them so special – Parlor dough is layered with butter, making it flakier than the average doughnut. Beyond their amazing dough, they work hard to offer an incredible selection of over 20 flavors. For this reason, they believe you will leave their shop saying, "This is the best doughnut I have ever had… PERIOD!" I do agree with that, and with the perfect layers combined with the variety of favors and fillings offered, there's really nothing quite like it.
Please see my FOX NETWORK special from Early 2022
Because everything tastes better with a little background, here is the story of Parlor's Doughnuts…
For centuries, the "parlor" was the special room in the house where people came together to talk and where exceptional things happened.  It was usually the best-furnished room in the home where families could comfortably receive their guests.
While the origin of the doughnut can be traced back to the early 1800's, their popularity grew during WWI when volunteers (known as Doughnut Lassies) prepared doughnuts and coffee for soldiers on the front lines. The doughnuts provided comfort, a brief reprise from battle, and reminded them of home.
Information – https://www.parlordoughnuts.com
Parlor Doughnuts was founded by Darrick Hayden, in partnership with Josh Tudela, in February of 2019. Darrick traveled the states extensively with his son's band for several years.  During those years, Darrick would seek out the area's best doughnuts and coffee. His appreciation of good doughnuts grew, as his son's appreciation for great coffee grew.  With his son Noah, the two launched a coffee shop in 2015 named Proper Coffee, which flourished, and gave birth to the concept of Parlor Doughnuts.
The concept for Parlor Doughnuts grew out of the Hayden's travel, exposure, and the desire to create a new path for the doughnut experience.  Layered dough was the clear choice for this unique doughnut shop experience.  Parlor offers their signature "Layered Doughnut", which sets them apart from the traditional cake or yeast style. Along with this unique style of doughnut, Parlor seeks to offer something for everyone by offering vegan/gluten-friendly, and a keto friendly doughnut, along with a special doughnut for all the pups out there, with their Doggie Doughnut. The brand has expanded to offer breakfast items such as acai bowls, avocado toast, breakfast sandwiches and tacos.  And of course, specialty coffee.
In February 2019, the dynamic combination of unique doughnuts and great coffee launched in Evansville, IN in a niche little downtown shop. The community's support exploded, exceeding all expectations. Less than a year later, Parlor Doughnuts opened an expansive location on Evansville's east side, including a large dining area, drive-thru service, and on-site coffee roastery. Additional shops have now opened throughout the country (view our locations here).
Parlor Donuts is a new official Trey's Chow Down Delicious destination for all donut lovers to enjoy.
Hope to meet you a table soon! Follow us on all our social media channels!
Trey