Howdy Chow Hounds!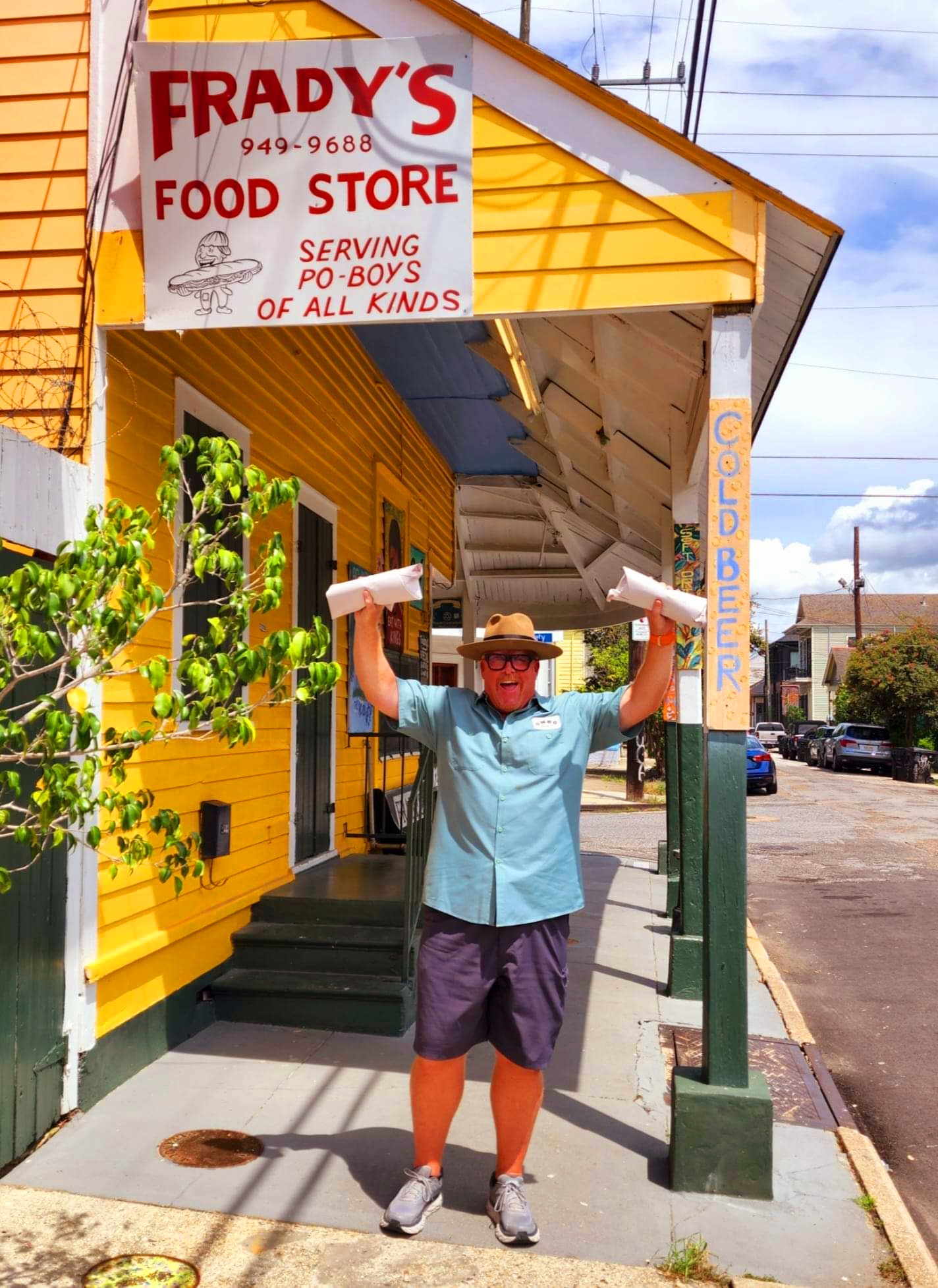 History has it that the Po-boy was invented by the Martin brothers, Benny and Clovis, to feed striking streetcar drivers in New Orleans in 1929. According to an account on the website of the Oak Street Po-Boy Festival, Benny Martin once said: "We fed those men free of charge until the strike ended. Whenever we saw one of the striking men coming, one of us would say, "Here comes another poor boy." I'm not really sure how it was created but the generally accepted and repeated story of how the celebrated Po-Boy sandwich was invented first appeared in a New Orleans newspaper in 1969, 40 years after the streetcar strike. All I know is I love me a good Po-Boy sandwich and I sure found one of the BEST Louisiana originals.
Today we're at Frady's One Stop, located at 3231 Dauphine St in the Bywater District of New Orleans. It's a COZY and BRIGHT store on the corner that just screams old school New Orleans. It's been family owned and operated for decades and has unbelievably friendly service. You will fall in love when you see it, just like I did!
The building that houses Frady's One Stop has been around for more than a hundred years. Before Joseph Frady bought the going-out-of-business Flick's Meat Market in 1972, it was an open-air fruit stand. Frady bought the meat market with two goals in mind: to turn it into a corner grocery store and to serve the best cold drinks and sandwiches. He did make that dream happen and today they're slinging some of the BEST Po-Boys in the USA.
Frady's in the Bywater District is the perfect place to go after long walks, bike rides, or if you're just plain hungry. They offer fried shrimp and meatball po' boys that are truly unforgettable and loaded with deliciousness. They also offer roast beef, fried prawns, fresh sides, and savory sweet bread pudding. Be sure to also check out some of their tasty beer options!
Featured Dishes: Fresh Meatball Po' Boy and Fresh Fried Shrimp Po' Boy. Prepared on bakery-fresh French bread that is soft on the inside and with a fantastic crust on the outside. Absolutely the PERFECT Po' Boys loaded with deliciousness.