Good Day, Everyone!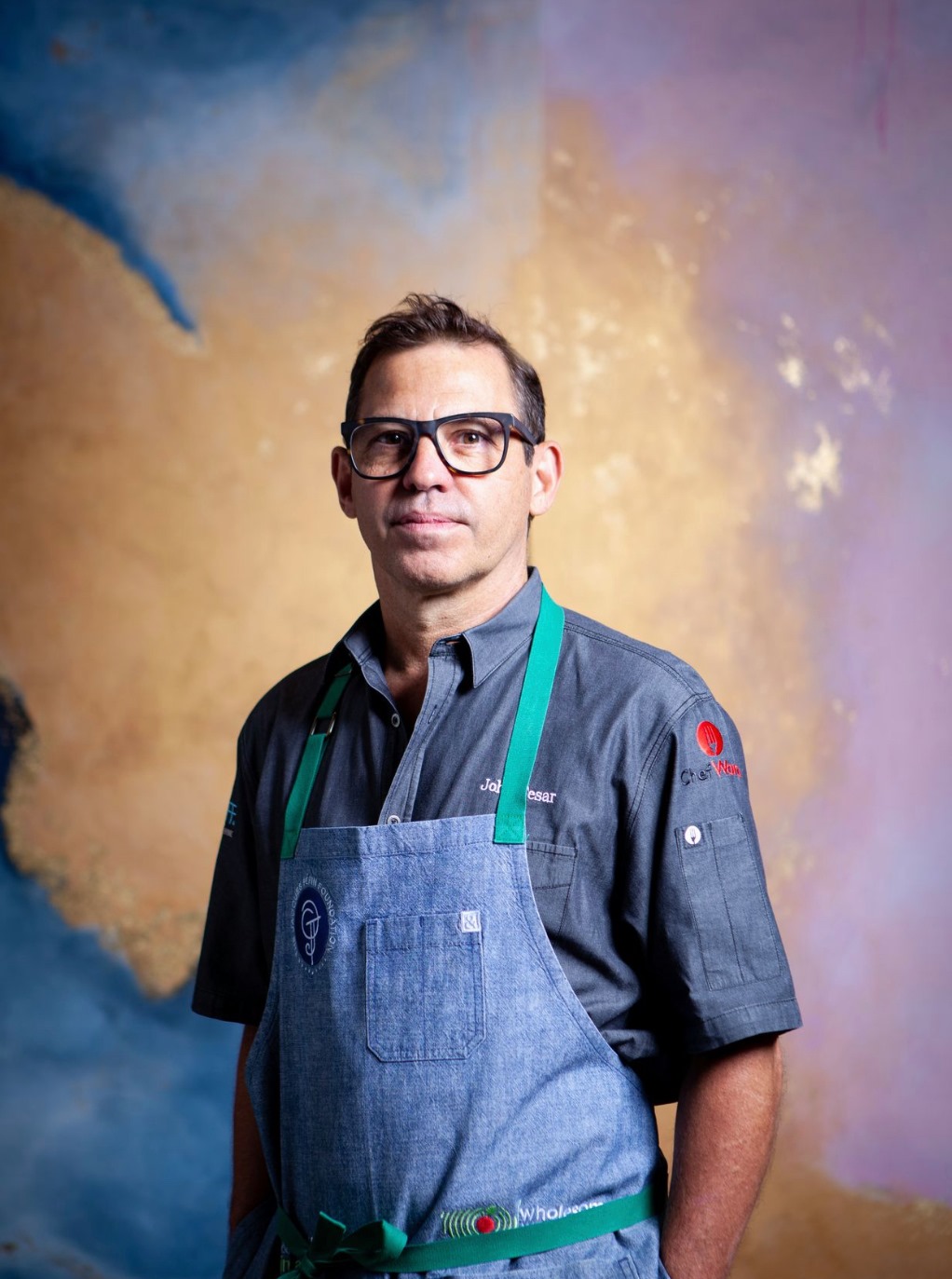 About eight years ago I met a chef in Dallas who I had read so much about and heard so many stories. I had been wanting to meet him for several years, but our paths had never crossed, and I'm not one to push meetings. Being in the food and restaurant business for decades, I understand all too well the complications of restaurant operations and how short on time chefs, managers, partners and owners can be every day. Time is a commodity that everyone is short on these days, especially celebrity chefs. They have a tough schedule already, and if they're traveling between multiple restaurant concepts, events, charity functions, meetings, and TV interviews, there truly is NO TIME to spare. With that in mind, I waited until the time was right to meet him.
When I met Chef John Tesar and got to spend some time with him hosting him on my TV show, I realized how passionate he was about the restaurant business and how he personally feels about perfection and what that word truly means. In today's times some folks mistake passion and the pursuit of perfection for something else entirely. To be honest, being deeply passionate and dedicated toward something is a trait few folks will ever understand, but Chef John Tesar knows all too well because he lives it 24/7/365.
You can never fully understand a person by what you read or hear. You really have to spend some time talking with them to understand what they're trying to achieve, and the path they're walking to reach their goals. It would be safe to say that John isn't walking anywhere – he is running full speed all the time in the relentless pursuit of creating deliciousness for everyone to enjoy.
John had been telling me for three years about his plan to open his new restaurants in Florida and California, and how excited he was to get them operational. Then, in the middle of the construction, covid hit the USA and put everything and everyone on hold. All of John's restaurants were temporarily closed and he survived by selling his dry-aged beef to folks as they stayed at home. The NEW restaurants were on hold, but John kept on working. After everything opened back up, John hit the ground running full speed to facilitate the opening of his latest concepts: Knife & Spoon in Orlando, and Outer Reef in Dana Point, California.
As we travel around the USA, road trippin' for deliciousness, we made the trip for the opening of Knife and Spoon at the Ritz-Carlton in Orlando, Florida. The restaurant was stunningly beautiful. The bright, bold colors, beautiful coastal furniture and decorations give the restaurant a cozy, but vibrant atmosphere. Truthfully, it's perfect in every way: from the bar and lounge area, back to the dining room with the big moss-covered rock on display.
I love open concepts, and the restaurant is wide open so you can see all the happenings and the delicious food coming from the kitchen. You can also see the beautiful outside surroundings, which gives you a feeling of complete serenity as you enjoy your meal. Every dish was incredible – from the fresh seafood, dry-aged steaks, and savory-sweet desserts. It's impossible to pick a single dish to feature, because they're all creative, colorful, and loaded with a variety of flavor profiles that you will fall in love with. If you're in Florida you need to make the trip to Knife & Spoon. I would suggest reservations, because he's always full.
They've also opened a NEW Knife Burger poolside at the Ritz-Carlton, so you can enjoy a delicious award-winning Knife Burger while you're lounging by the pool, soaking up the Florida sun. It's KNIFE BURGER time in Florida! I guess we will have to make the trip back for a Tesar burger.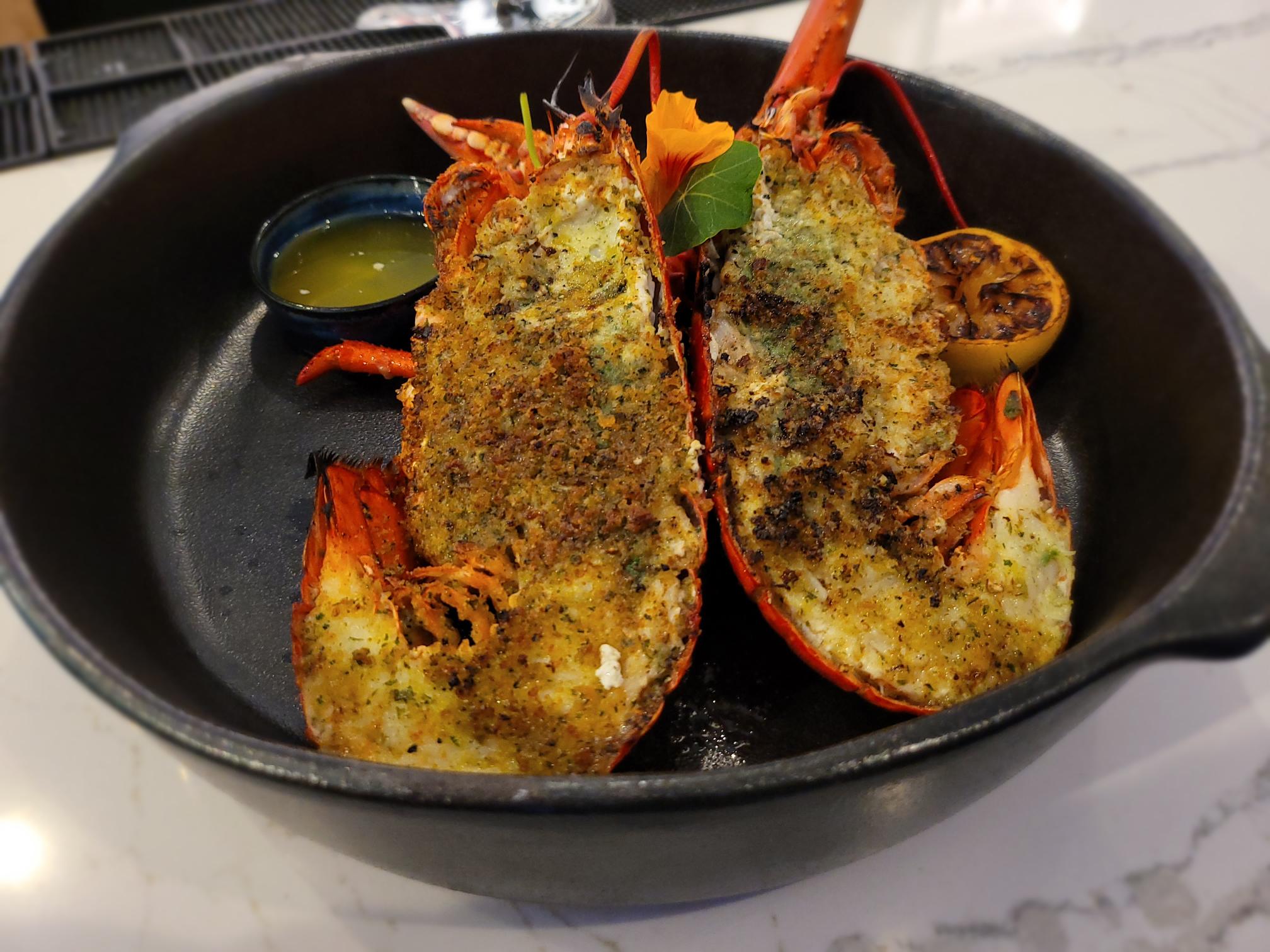 "Onto the next", as they say! Last week we headed to the beautiful coastal city of Dana Point, California for John's latest restaurant opening: Outer Reef at the Laguna Cliffs Marriott. It's hard to keep track of everything John has going on, but when he calls, we make the trip for deliciousness. You can't pass on a Tesar restaurant opening and risk missing those delicious dishes.
It was breathtaking when we pulled up and saw the beautiful Pacific Ocean surrounding the resort. The Outer Reef patio area fit right in and added to the beauty. The palm trees and colorful landscape were swaying in the wind like they were dancing to soulful music. My mouth started watering before I even walked into the building.
Walking in and seeing the blue colors and the big fish tank set an awesome coastal vibe. The restaurant is wide open, with a very large patio area to enjoy the wonderful outdoor California coastline. Outdoor fire places and colorful landscape make it easy to relax. It's so beautiful that it's hard to leave once you've finished your coastal dinner of perfection.
​The menu has a variety of fresh, chef-driven dishes that include fresh seafood, dry-aged tuna, 44 Farms dry-aged steaks, lobster, oysters, Passmore Caviar and so much more. John's special dry-aged tuna is a masterpiece with an unforgettable flavor profile. It's Ahi tuna, dry-aged for 10 days, then pounded thin and draped over three fat coins of foie gras. The dry-aged steaks are ridiculously delicious. John's special dry-aging process gives his dry-age steaks what I like to call the TESAR FLAVOR-LOADED STEAK OF PERFECTION. Savory, meaty deliciousness that is so good you just want more with every bite.
Other dishes offered are smart to take advantage of the coastal location such as fresh swordfish, halibut, crab, cod, shrimp, and more. Top it off by ending with creative, one-of-a-kind desserts that are truly works of art.
Chef John has done it again. When OUTER REEF opens next week, it will set a new standard in Orange County, and all of California. It is a restaurant packed with deliciousness, incredible service, and coastal perfection that's unique and unforgettable.
You can't forget about John's AWARD winning steak houses in north Texas because they are slinging some of the BEST steaks in the WORLD. Knife Dallas and Knife Plano have really racked up the awards. Just last week Knife was award the 26th BEST STEAKHOUSE in the WORLD. If you've never enjoyed a meal at Knife you need to make that trip and chow down!
"Food is an exploration of the palette!" "Try something new!" "You just might like it!"
See you at a table soon!
Trey (Chow Down) Chapman