Howdy Food Lovers!
It goes without saying that grilling takes flavors to another level. Most people are aware of this phenomenon when it comes to meat, poultry, and fish. But did you know that certain vegetables taste vastly better when they're cooked on the grill? Here are five of the most potent examples.
 Corn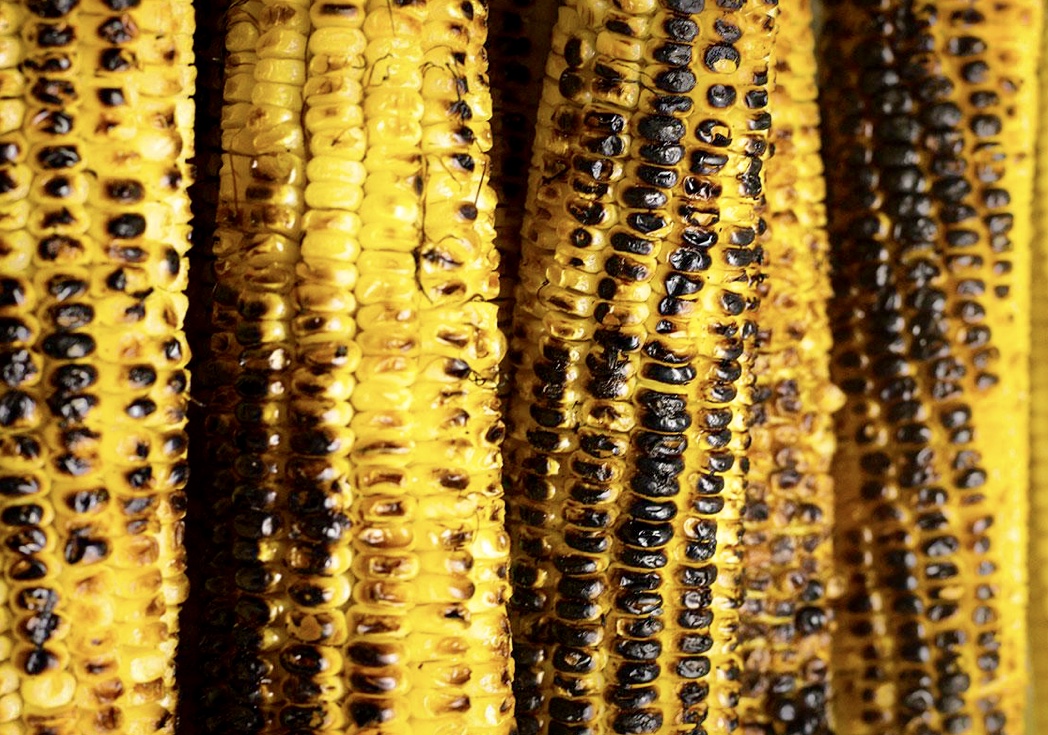 When cooked over an open flame, corn on the cob quickly becomes the most sought-after dish on the picnic table. The kernels take on a sweet, mellow flavor that balances well with the smoky char of the exterior. If you don't want the kernels exposed to the fire, you can soak the ears—husks and all—in cold water for several hours prior to cooking. Place the corn on the grill over medium-high heat for 20 to 30 minutes, turning frequently. Let cool for 5-10 minutes before removing the husks and silks. They should peel right off, allowing you to dress the corn simply with butter and salt.
 Alternatively, you can peel the corn and place the ears directly over medium heat, with no other preparation required. This is our preferred method because it's so carefree, and because we like the taste of the slightly caramelized kernels. This method also has more visual appeal, adding color and texture to the plate.
 Asparagus
If you use a premium gas grill, you can be enjoying delicious grilled asparagus spears within minutes.
 After trimming the woody ends off the ends of the stalks, rinse the asparagus under cold water. Dry thoroughly and toss with extra-virgin olive oil, kosher salt, and freshly ground black pepper. Grill over medium-high heat for 2-3 minutes for thinner spears, or 8-10 minutes for thick stalks. If you're worried about the thinner pieces falling through the cooking grate, use a grill basket. Add more salt and pepper to taste, if needed. We like to sprinkle grilled asparagus spears with a little Parmesan cheese just before serving.
 Eggplant
The secret to perfectly cooked eggplant is to draw out the excess moisture with salt beforehand. If you skip this step, the flesh will be unpleasantly spongy.
 Slice the eggplant into rounds about 3/4 inch thick. Dissolve 2 tablespoons kosher salt in 1 cup warm water, until the salt dissolves. Add 1-1/2 quarts of cold water and add the eggplant slices to the brine. If necessary, weigh the slices down with a heavy plate to keep them from floating to the top. Let soak for 30-45 minutes.
 Heat your grill to medium-high. Drain the eggplant and blot the slices dry with a clean towel. Brush all over with extra-virgin olive oil and sprinkle with salt. Grill for about 5 minutes per side, closing the lid if using a gas grill. The eggplant can be served hot or at room temperature, and makes a great meat substitute. It's especially delicious when topped with a dollop of fresh basil pesto.
 Onion
Unlike most grilled veggies, onions do best when cooked for a long time over low heat. This draws out their natural sweetness and gives them a flavor reminiscent of the best French onion soup. We prefer to use sweet onions such as Vidalia, but this method will work with any type of onion. Cut the onions crosswise into slices about 3/4 inch thick. Pierce each slice through the center with a wooden skewer. Trim the ends of the skewers so that you're left with just a centimeter or so on each side.
 Brush the slices with extra-virgin olive oil and season with salt and pepper. Place over low heat and cook for about 40 minutes total, flipping the slices every 10 minutes to ensure even cooking. Enjoy as is, or use the onions to top a sandwich or burger.
 Bell Pepper
Colorful bell peppers are both flavorful and forgiving, which makes them perfect candidates for the grill. Choose an assortment of colors to dress up the plate. Bear in mind that green peppers, while still tasty, aren't nearly as sweet as their counterparts.
 Pierce each bell pepper in several places with a thin knife. Brush the exteriors with a neutral oil, such as canola. Place the peppers directly on the cooking grate over medium-high heat, turning often as the skins begin to char. Don't worry if they burn black—you'll be able to peel the skins off after cooking.
 The peppers should be done after about 10 minutes. Remove from heat and place in a bowl to cool slightly. If you like, you can cover the bowl with plastic wrap to create a steam effect; this will make the skins easier to remove. Serve as is, or remove the skins, stems, seeds, and membranes before serving.
 Once you've begun to experiment with grilled vegetables, you might find yourself neglecting your indoor kitchen more and more. By using your grill for several aspects of the meal, you'll cut down on prep and cleanup work, as well as overall cooking time. What's not to like?