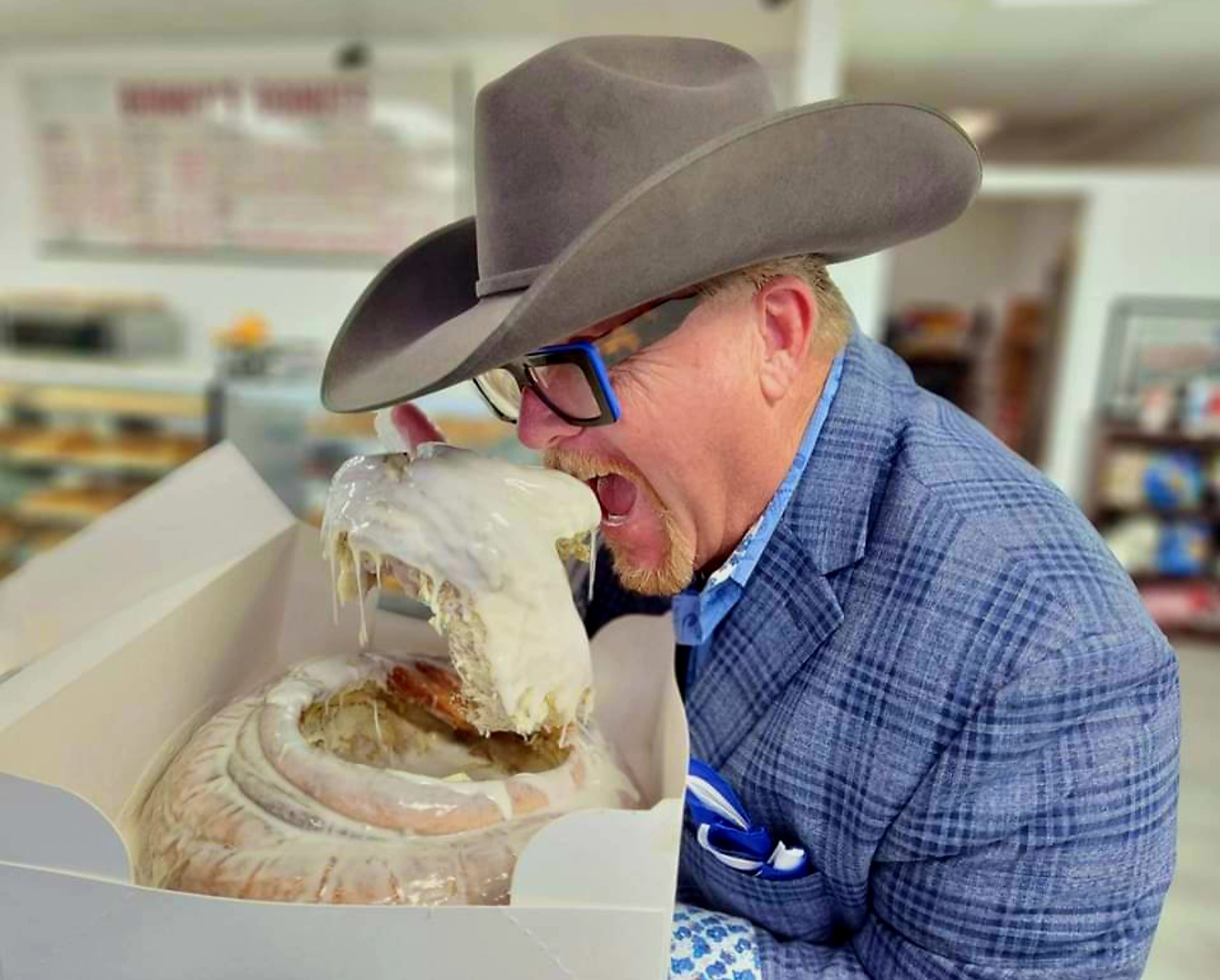 Howdy Chow Hounds!
I know you've heard the old saying, "EVERYTHING IS BIGGER IN TEXAS!" Well, I can honestly say, YES, IT IS – and I'm going to prove it to you!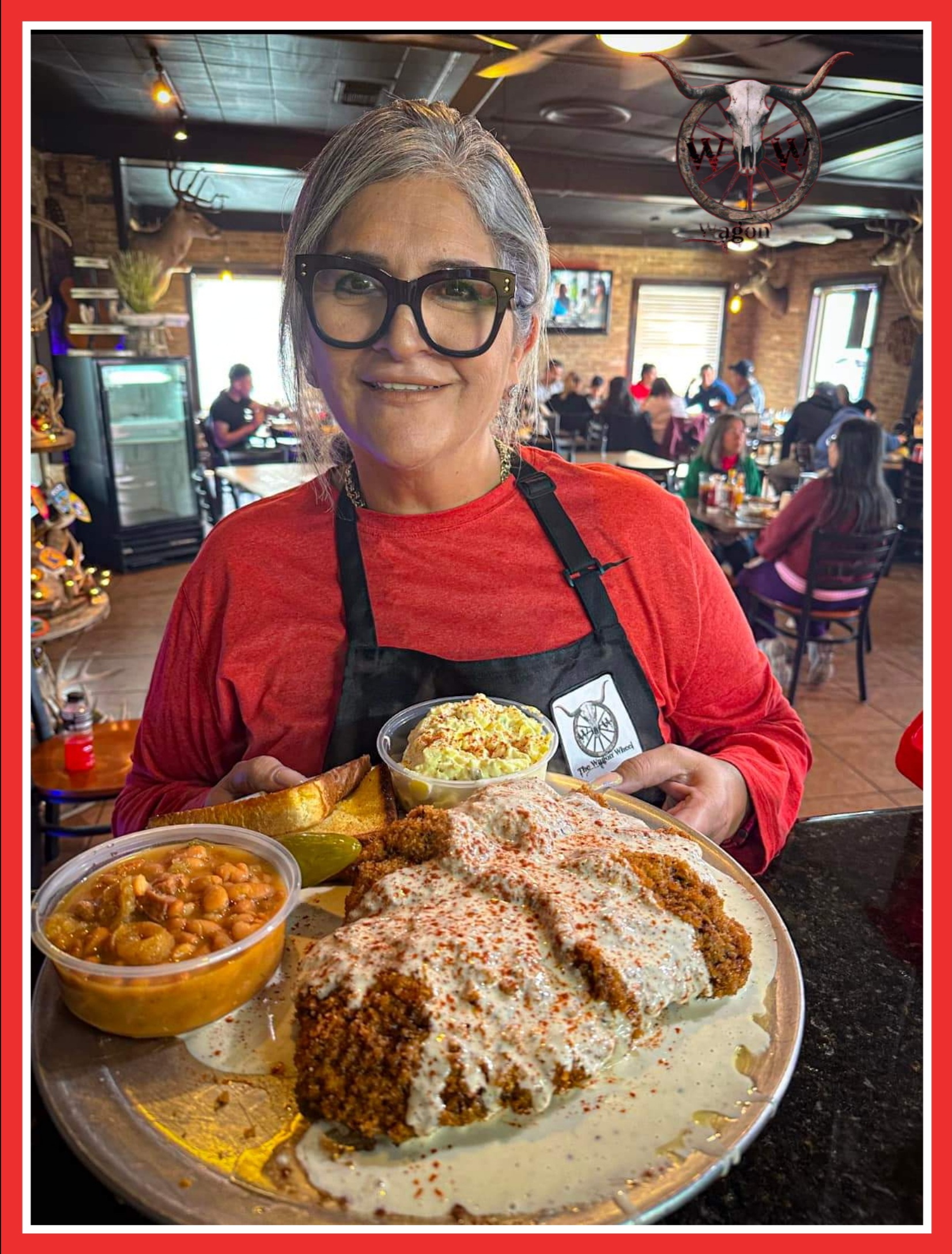 Have you ever had BIG snack dreams? Just sitting there with your mouth watering, wishing you had a two-pound burger, a three-pound donut, a five-pound fritter, or a ten-pound cinnamon roll? Of course you have, and not only are they real, I've found them! All of these and more are right here in Texas, just waiting to make your BIG SNACK DREAMS come true. Snacks so BIG, so TASTY, and so DELICIOUS that they're unforgettable.
If you follow me, you know that I love big oversized portions of everything. I started down the big snack road because I too had a dream of insane snacks. It didn't help that I kept seeing multiple folks post what they thought were big Texas snacks. I just couldn't take it anymore: I had to seek out the BIGGEST snacks in Texas, but they had to also be delicious.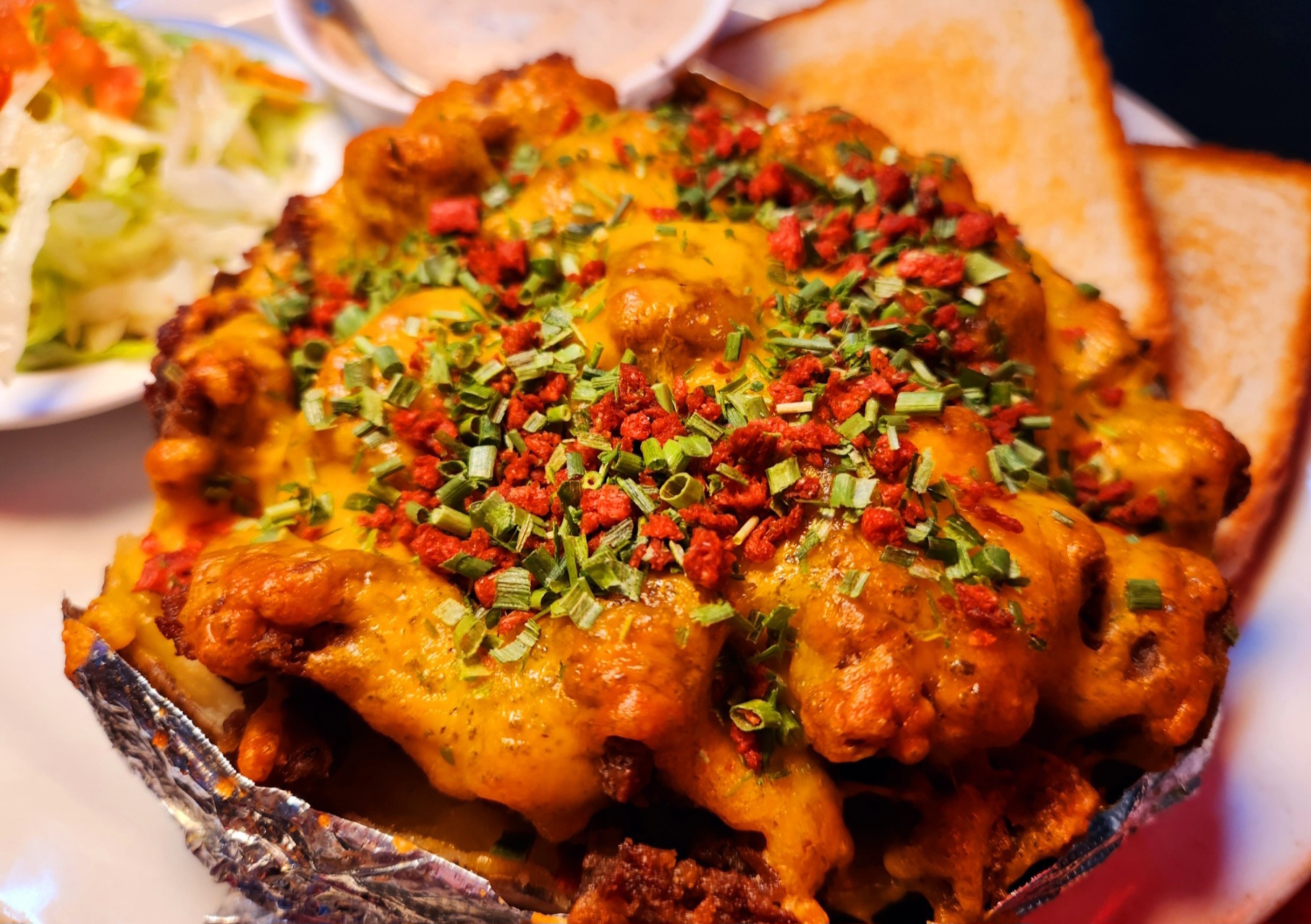 The biggest issue with big oversized eats, savory sweet treats, burgers, sandwiches, and desserts, is a lot of them sacrifice flavor for size. Not good enough! I wanted to discover big AND delicious eats that everyone would love.
We traveled around Texas for a year and a half looking for the best and the biggest. What we discovered was so impressive that I just had to tell the world. I think everyone deserves a delicious meal with laughs, smiles, good conversation, and BIG loads of deliciousness. Join me as I take you to places that are SLANG'N TEXAS DELIGHTS! Buckle up butter cup, because we're going on a ride straight to DeliciousVille that will be unforgettable!
Big snack information and links. Please just click on the highlighted names.
Mary's specializes in fresh, house prepared, Texas sized, fork-tender chicken-fried steak as well as chicken-fried baked taters, burgers and Mexican dishes. These are the hallmarks of her Southern roadside cafe and kitchen. She also offers a variety of other dishes and has something that everyone will like. We enjoyed the massive chicken fried-steak and one-pound baked tater. They were both prepared fresh to order, massive, and are a must have if you love Texas size delicious food.
Bonnie's Donuts / League City, Texas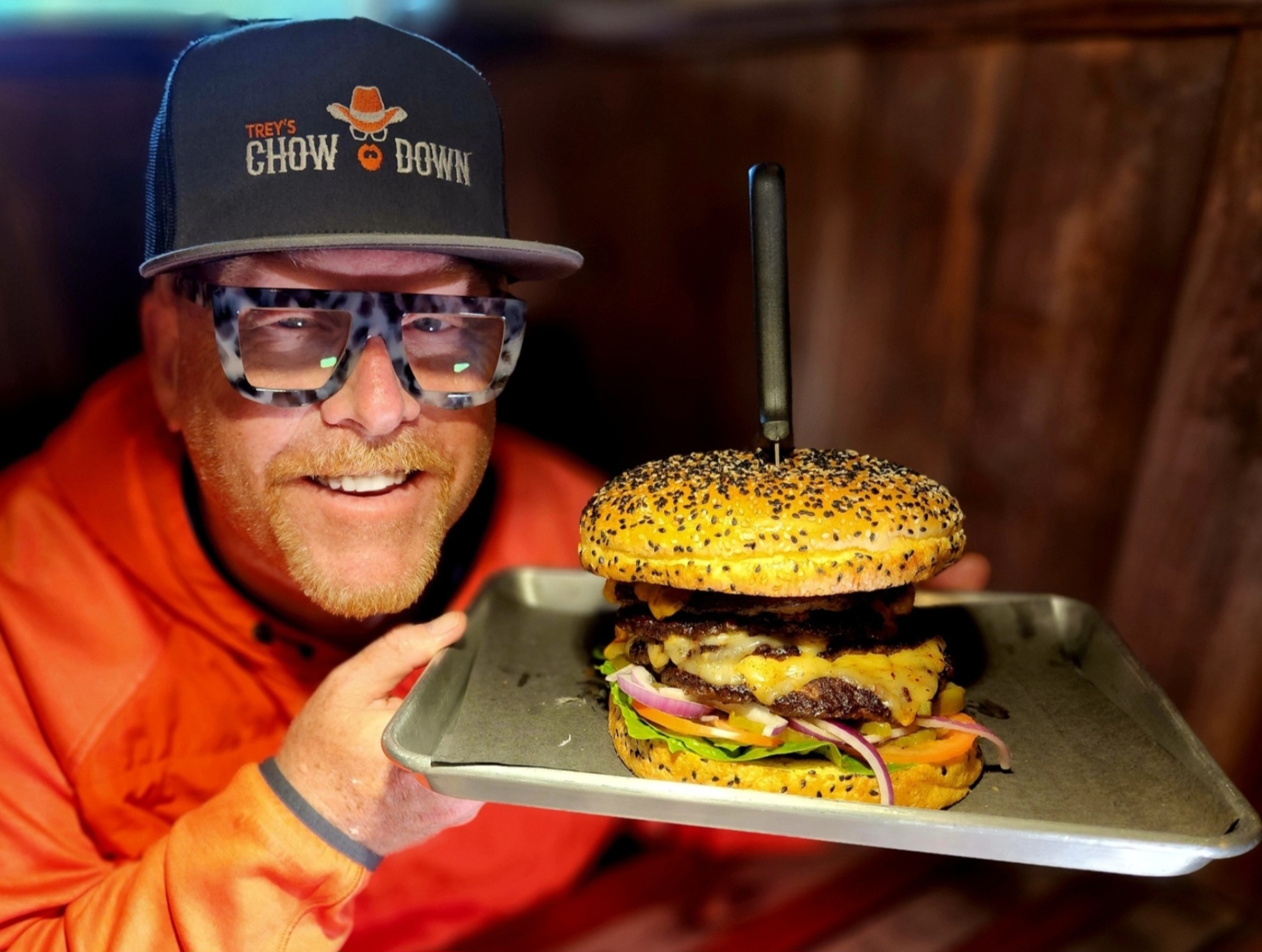 Bonnie's is a family operation and they work hard to make sure everything they serve is fresh, warm, and prepared with love. They specialize in some of the BIGGEST treats in Texas, like their five-pound fritters, five- and ten-pound cinnamon rolls, Texas donuts, and more. I've had them all and they are truly unforgettable. It's worth the drive for this deliciousness! Bonnie's Donuts is located in League City, Texas – just a short drive from Houston. They're a truly BIG, FLAVOR-LOADED destination that's absolutely unbelievable. ( 24 Hour Preorder Must Call) 
The Patriotic Pig / N.R.H. Texas 
The PIG, as I call it, specializes in Texas BBQ, fresh sides, burgers, desserts and NOW one of the BIGGEST BURGERS in TEXAS. It's the new MOAB (Mother of All Burgers); It weighs in around 2.5 lbs. fully loaded. It's a MASSIVE brisket smash burger topped with their house-made BOOM sauce. It comes as a 1-pound or 2-pound option. It's a MONSTER! The burger is actually very flavorful and I love the BUN because it's unique: soft on the inside, and flavorful with each bite. The meat is so juicy it was literally dripping all over the place. You might say it has that DRIP of deliciousness.
I'm not kidding you! It's Massive. It's Delicious! I DARE you to try it!
Vidorra Dallas / Dallas, Texas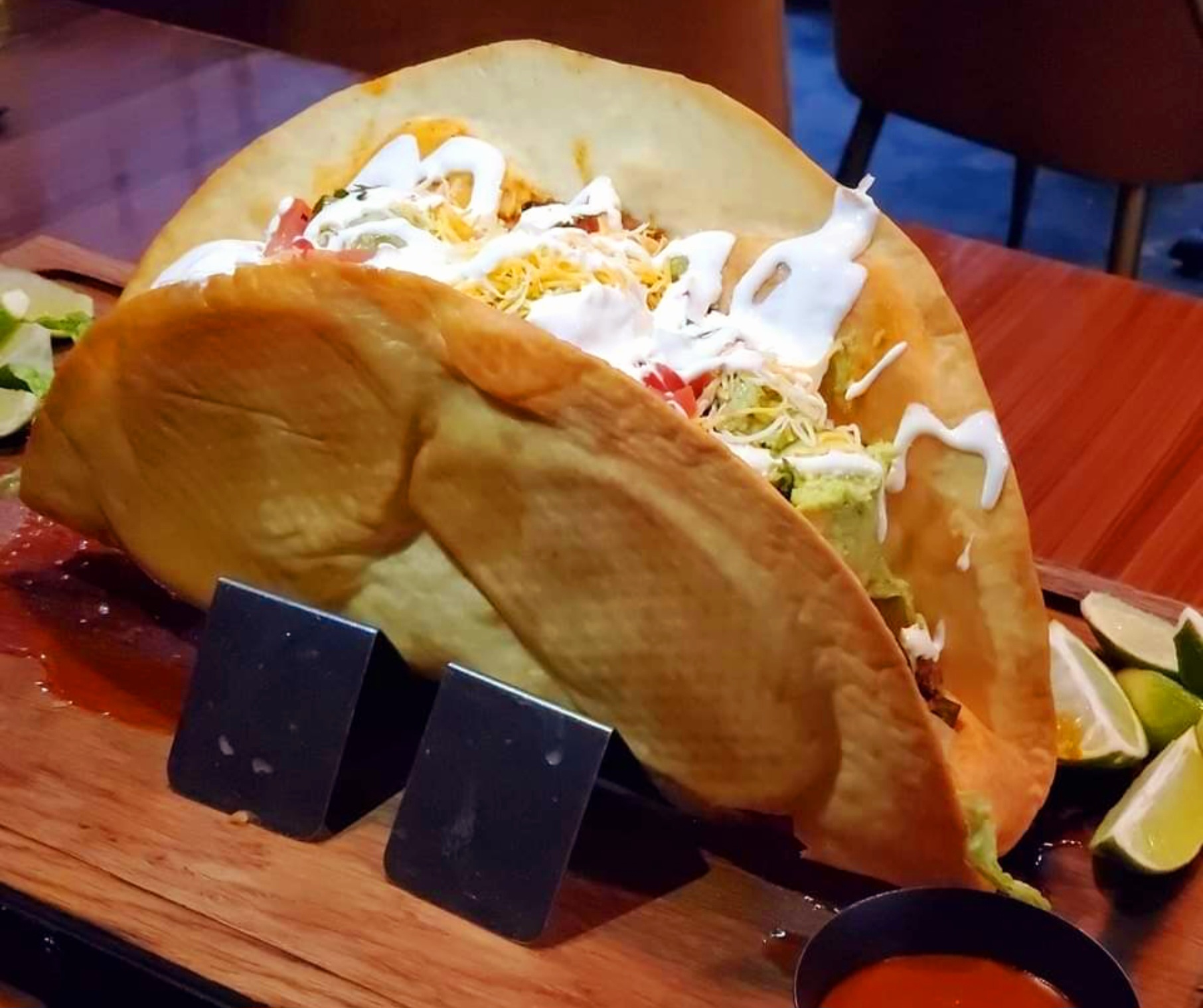 Have you ever dreamed of a four-pound taco? Me too, and I'VE FOUND IT! The El Jefe Taco is a jalapeno cheddar tortilla loaded with taco beef, chorizo, and all the fixins'. I even had the lettuce drip going on with each bite I took. Be sure to get their queso and try the tablitas en fuego as well. These are Texas-sized dishes that are loaded with deliciousness.
Ol South Pancake House / Fort Worth & Burleson, Texas
WOW! What a breakfast sandwich! Weighing in at over one pound, the BIG Texas Chow Down. It's prepared with a fresh house Texas waffle that makes up the top and bottom of the sandwich. In the middle it has fresh eggs, two different cheeses, slices of ham, loads of hashbrowns and bacon, then topped with butter and smothered in Ol South pancake syrup of your choice. This is as TEXAS as TEXAS gets for an unforgettable savory sweet breakfast treat.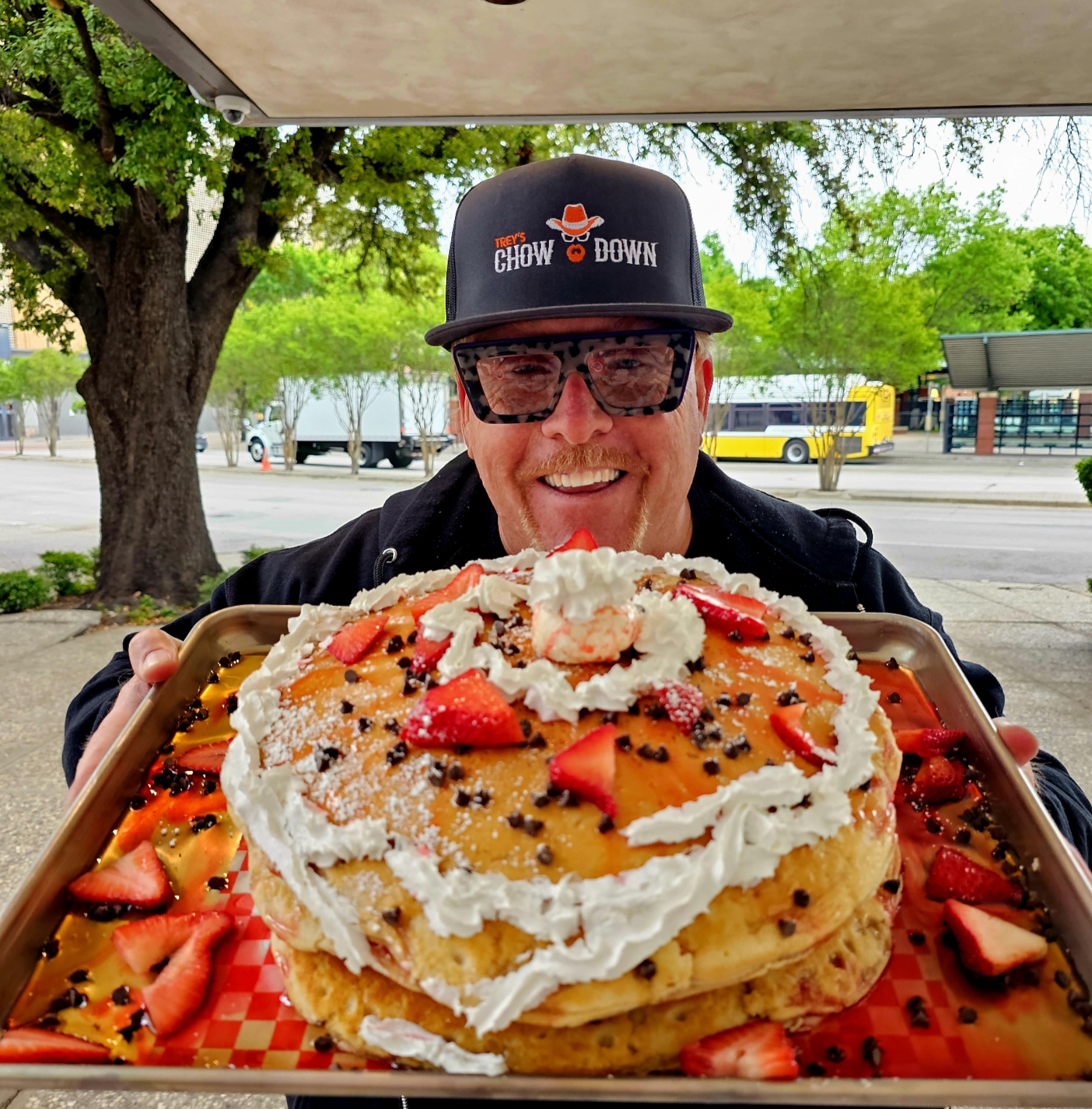 Jackie's Ham & Eggs / Lewisville, Texas 
Locally owned and operated, Jackie's has been slang'n TEXAS SIZE deliciousness since deliciousness was deliciousness. I LOVE JACKIE'S! If it's BIG, Jackie's has it! Big pancakes, one-pound biscuits and gravy, plate-sized crepes, Texas-sized omelets, enormous breakfast burritos and MORE! We were impressed with every dish. The portion sizes are R.I.D.I.C.U.L.O.U.S. Get ready to chow down when you walk through the door at Jackie's.
The Wagon Wheel / Eagle Pass, Texas  
The Wagon Wheel is family owned and operated and is local favorite restaurant. They offer delicious Texas BBQ, country fried steak, and wood-fired calzones that are to die for. Folks drive from all over Texas to try them. They're so big they use a pizza pan (not a plate) to present the items. TEXAS SIZE is an understatement. Over a pound for the chicken fried steak and calzones, crazy. If you're looking for some serious Texas-size snacks, they've got them. ( Special Thanks the Elder East S.A. TX)
Serious Pizza West 7th / Fort Worth, Texas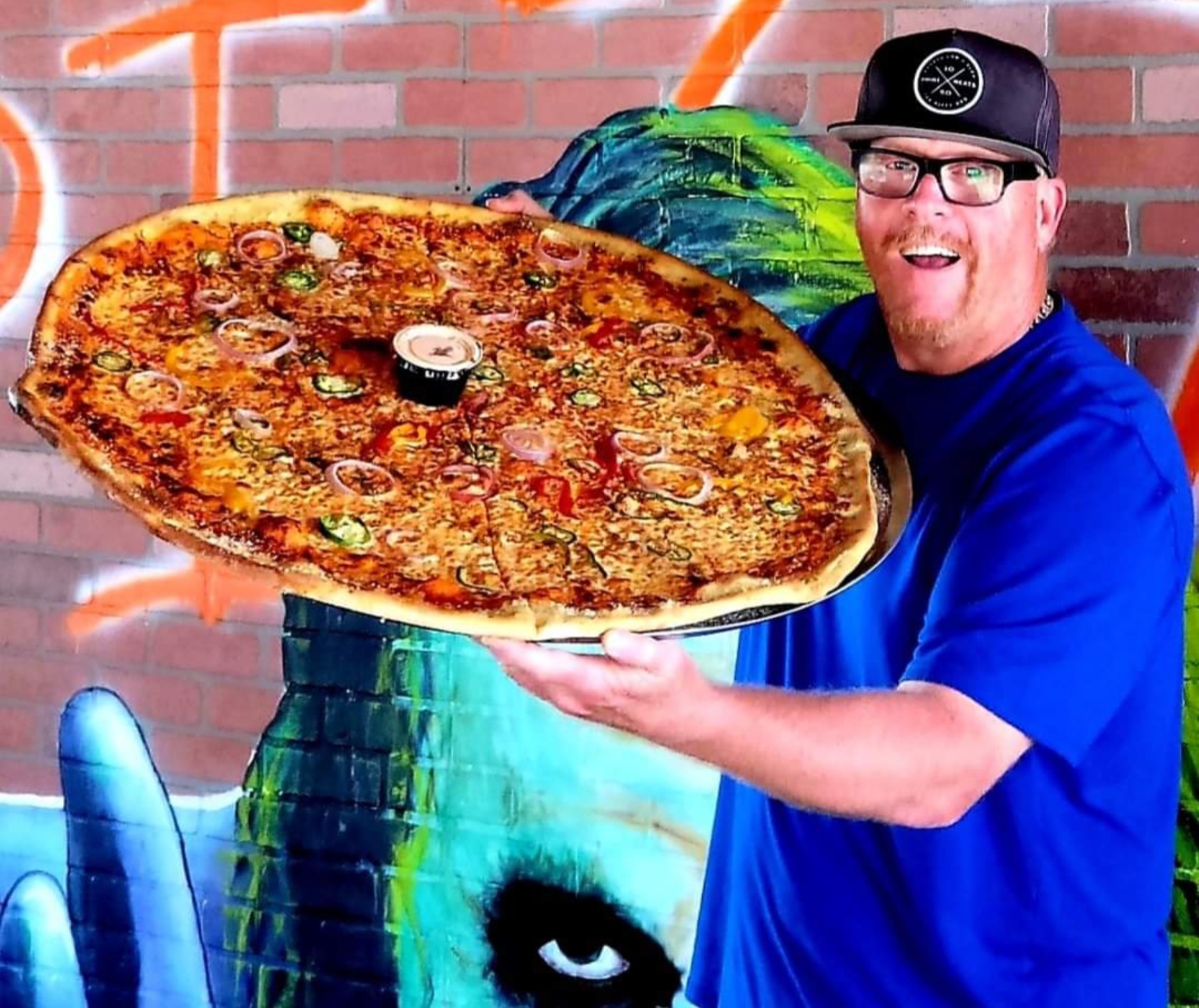 Wheel-sized pizza prepared fresh to order… you won't believe the SIZE of this pizza! More like KING KONG. The Pizza is served HF&D #HotFreshandDelicious and you can order many combinations or create your own custom pizza. They use fresh ingredients and vegetables to create some delicious pizza flavor profiles you will love. If you like the size of wagon wheels loaded with deliciousness and pizza perfection then head over to SERIOUS PIZZA and get SERIOUS about your pizza decisions.
Jonathon's Diner / Dallas, Texas  
YEE HAW! It's the BIGGEST club sandwich in the state of Texas! Chef John's TEXAS Club Sandwich: stacked and packed with ham, turkey, bacon, Swiss, American, lettuce, tomato, avocado, farm-fresh egg, mayo, and onion on toasted bread. It looks like a small sky scraper sitting on the plate. The sandwich was not only massive, but also packed with deliciousness. You will love this sandwich! It's served only Mon-Fri for lunch.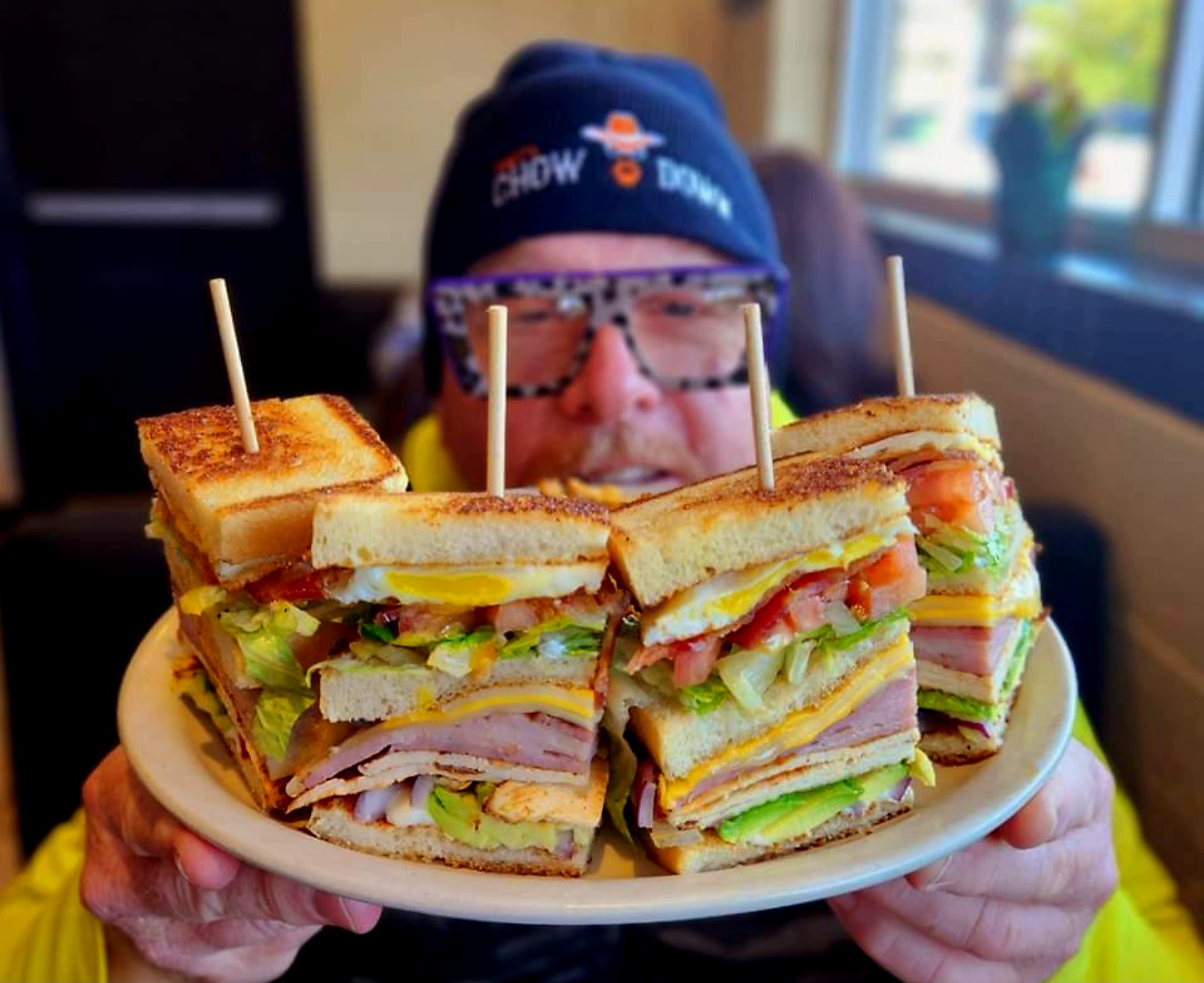 It goes by the name NEW YORK GIANT, but we don't care because it's piled high with Texas deli deliciousness. It's prepared with one pound of fresh, authentic NEW YORK pastrami piled high on fresh rye bread. You can get it anyway you like want it: sauces, bread, everything. Your Sammy, your choice! If you love BIG PHAT sandwiches this is for you. A MUST TRY!
Round Rock Donuts / Round Rock Texas
It's a donut round up at Round Rock donuts! They've been slang'n some of the best and world's largest donuts since 1926.  Their donuts are famous for their orange hue — a byproduct of using fresh eggs. More than 2,000 donuts are hand-rolled, cut, fried and iced daily at the bakery. If you want a unique and BIG donut experience, head over to Round Rock and chow down!
I wanted to still highlight this BIG TEXAS dish because it's so impressive. The Black Ship Little Katana Fresh Sushi Boat. The boat is filled with various sushi options of your choice, and it has plenty of choices. My best judgment is it weighed over two pounds when I picked it up. Everything in the sushi boat was so tasty and fresh. We really enjoyed each piece of sushi offered in the boat; it was massive and two of us couldn't finish it. A seaside boat of sushi deliciousness!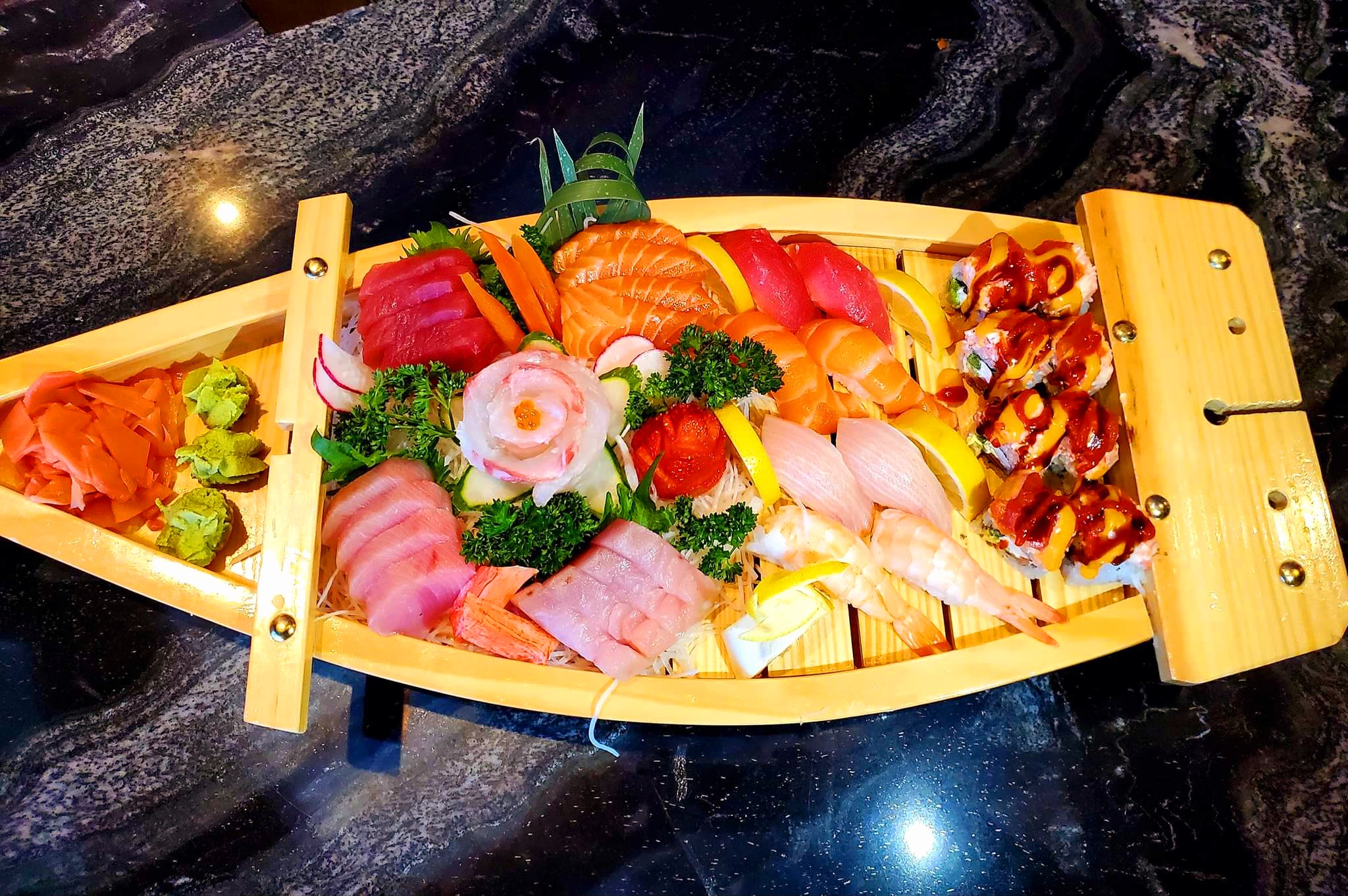 Del Frisco's Double Eagle Steakhouse
I have to confess something to each of you. I've had dreams about the bacon dish at Del's. Oh man, there's nothing like naughty bacon dreams folks. It's the THICK-CUT NUESKE'S BACON AU POIVR served with a Bourbon Molasses Glaze and a side of deliciousness. Oh, the food gods are shining down on Del Frisco's for this bacon dish! By all means, this is so good it should be illegal. The succulent bacon flavor just rolls across your tongue and sends your taste buds into full mode overload. Don't be surprised if you have to wipe your chin after each juicy bite. A true trend sitter and it's under 20 bucks, ladies and gentlemen.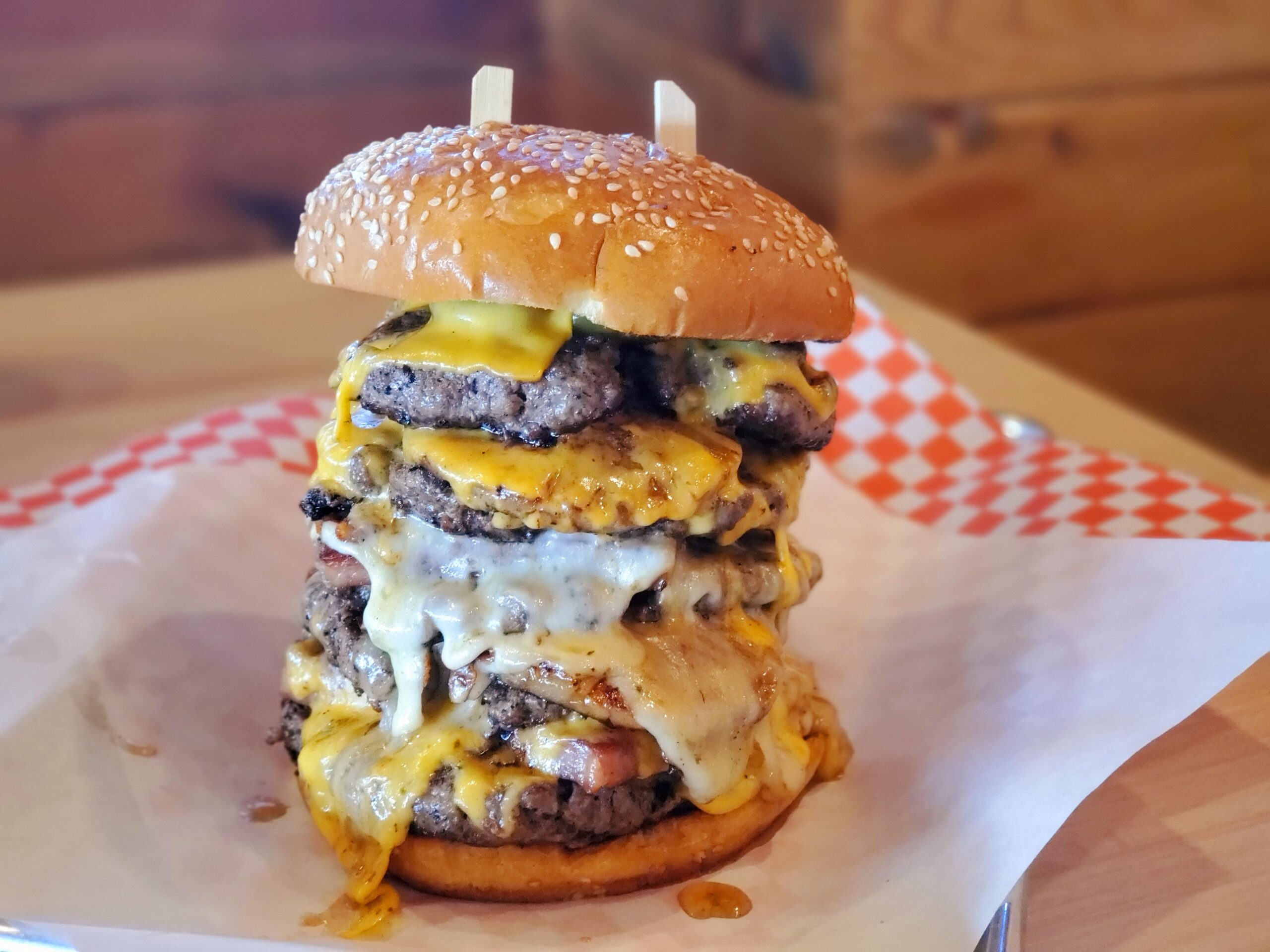 I discovered a NEW Korean/American fusion burger concept that is slinging insane burgers!  K-POP Premium Burgers created by the passionate Chef Kevin Lee and his wife Jenice Lee located in The Colony, Texas. The burger profiles are truly unique. It's where Korean meets American to create some of the most delicious fusion burgers I've eaten, and I've eaten a bunch. Chef Kevin Lee creates and prepares all the sauces in house daily and only uses fresh ingredients to create big, bold, Korean/American delicious burger flavors you can never forget. The meat patties are cooked to HF&D (Hot Fresh and Delicious) They have those flavor loaded crusty edges from the flat grilling process that I'm in love with.  This is all coupled with a Texas-sized batch of fresh waffle fries, topped with garlic sauce and fresh parmesan cheese. When I say you'll never forget, I mean NEVER.
Trey's Chow Down LOVES ROAD TRIP'IN TO EL RINCON for the BIG PHAT 2.5 Pound Burrito. The Texas size burrito is prepared fresh to order using only fresh ingredients and vegetables to create 2.5 pounds of BURRITO DELICIOUSNESS. The El Gigante Burrito fresh grilled steak, charro beans, fresh bacon, grilled onions, peppers, tomatoes, Mexican Rice, sour cream, guacamole, spicy Serrano sauce, and topped with chili con carne, and house prepared queso. The burrito was savory, meaty, chessey, flavorful, loaded and PACKED with DELICIOUSNESS. GO get it folks. I double dare ya!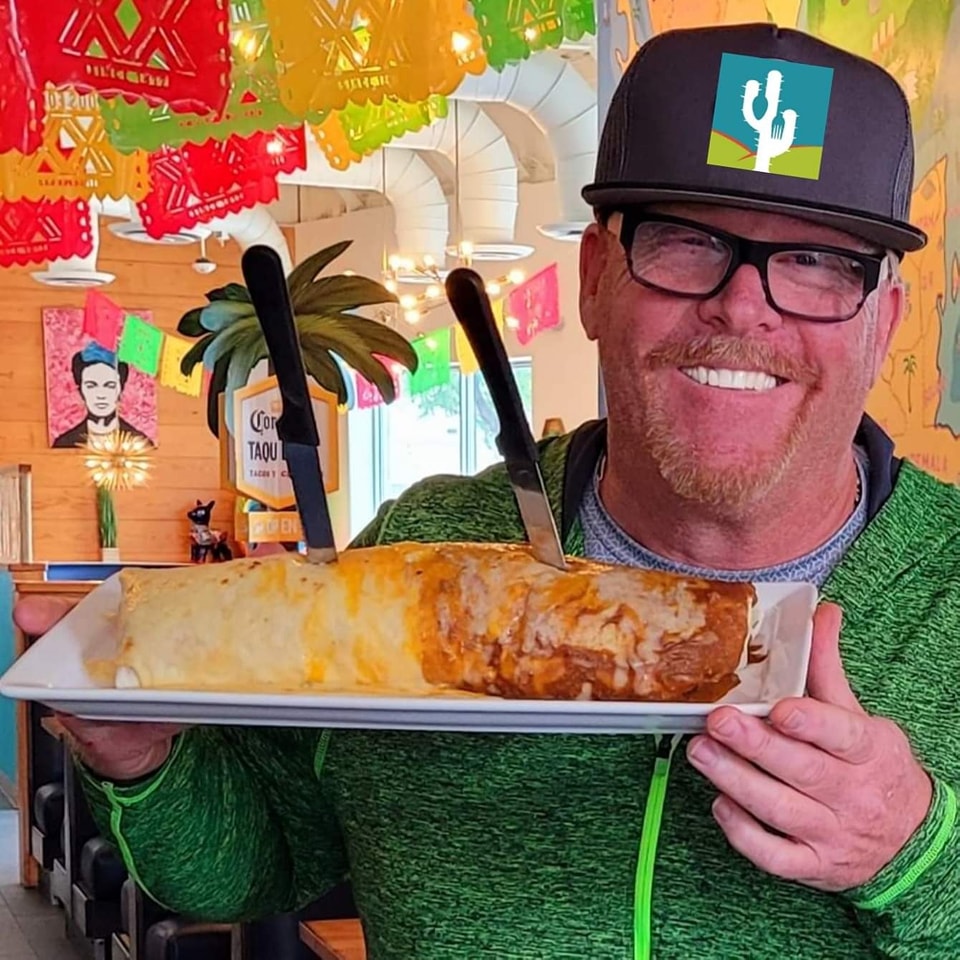 If you live in Texas or you're just passing through you need to make plans to enjoy some TEXAS-SIZE MEALS! Everyone needs some TEXAS DELICIOUSNESS.
Hope to meet you at a table soon!
Please follow us and join our culinary adventures and shows around the USA!
Trey (Chow Down) Chapman  aka) The Chow Down King!