Good Day, Burger Lovers!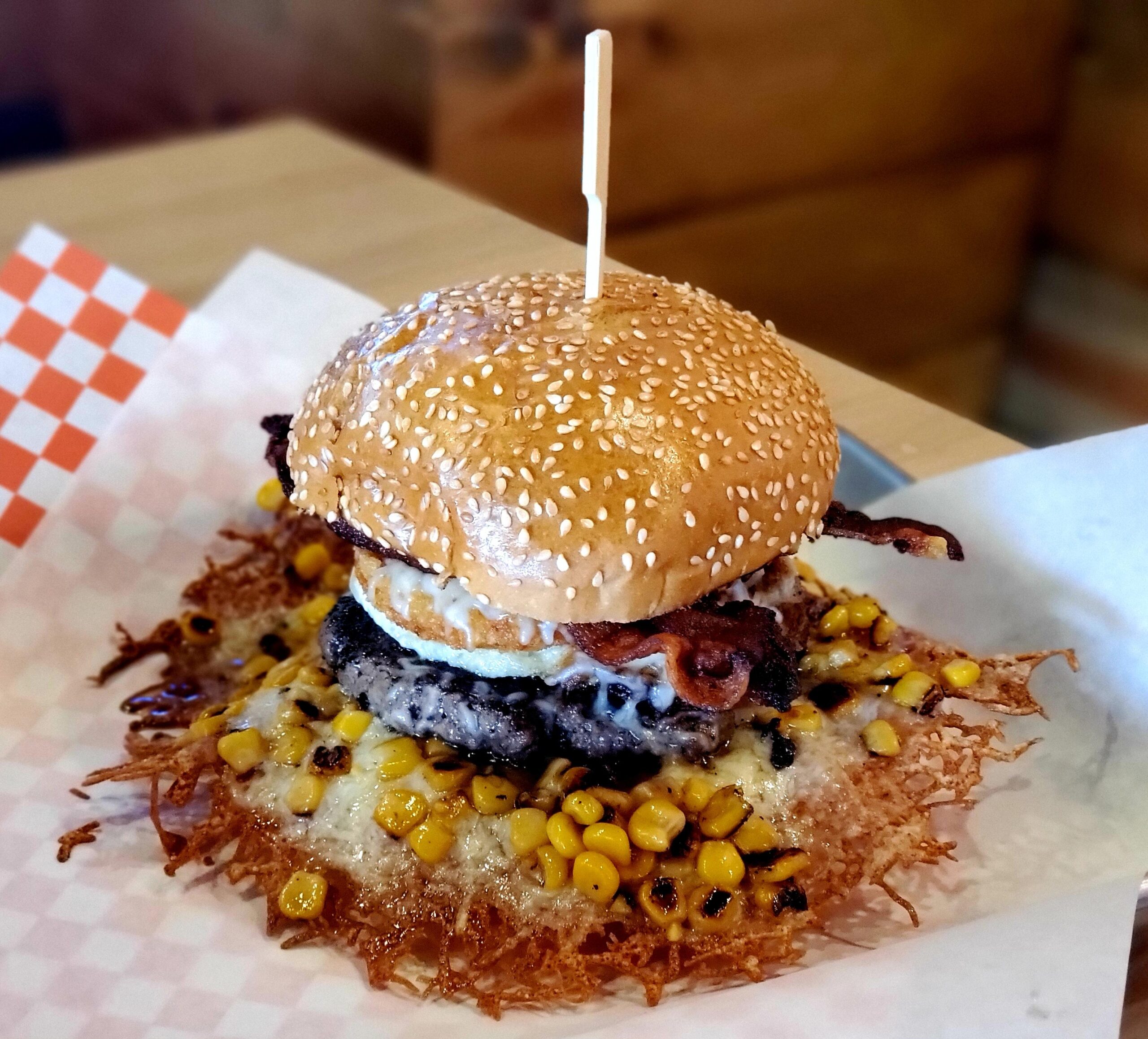 I discovered a NEW Korean/American fusion burger concept that is slinging insane burgers!  K-POP Premium Burgers created by the passionate Chef Kevin Lee and his wife Jenice Lee located in The Colony, Texas.
As most of you know, my entire life revolves around food, chefs, restaurants, creative, and delicious dishes! The last decade I've been consumed with locating the best burgers, steaks, barbecue and seafood for Trey's Chow Down and Trey's Chow Down LIVE. I LIVE for locating the BEST, and telling the world about the deliciousness I discover through social media, my LIVE T.V. and Radio Podcast.
I received an email last week from a friend Chase Foxworth who was elated and extremely enthusiastic about a new burger joint in The Colony, Texas. He knew the results of our BEST BURGER CONTEST in 2019 reached over 1.5 million BURGER LOVING North Texans. He understood how excited I would be to see this new concept of burger deliciousness for the 2020 Burger Race. He couldn't wait to show me! I receive numerous requests to visit new burger concepts, or to test a certain burger. I try to visit each and every request as time allows, but his email was so powerful and full of conviction that I made plans to meet him P.D.Q. and try some of these burgers he was raving and screaming about.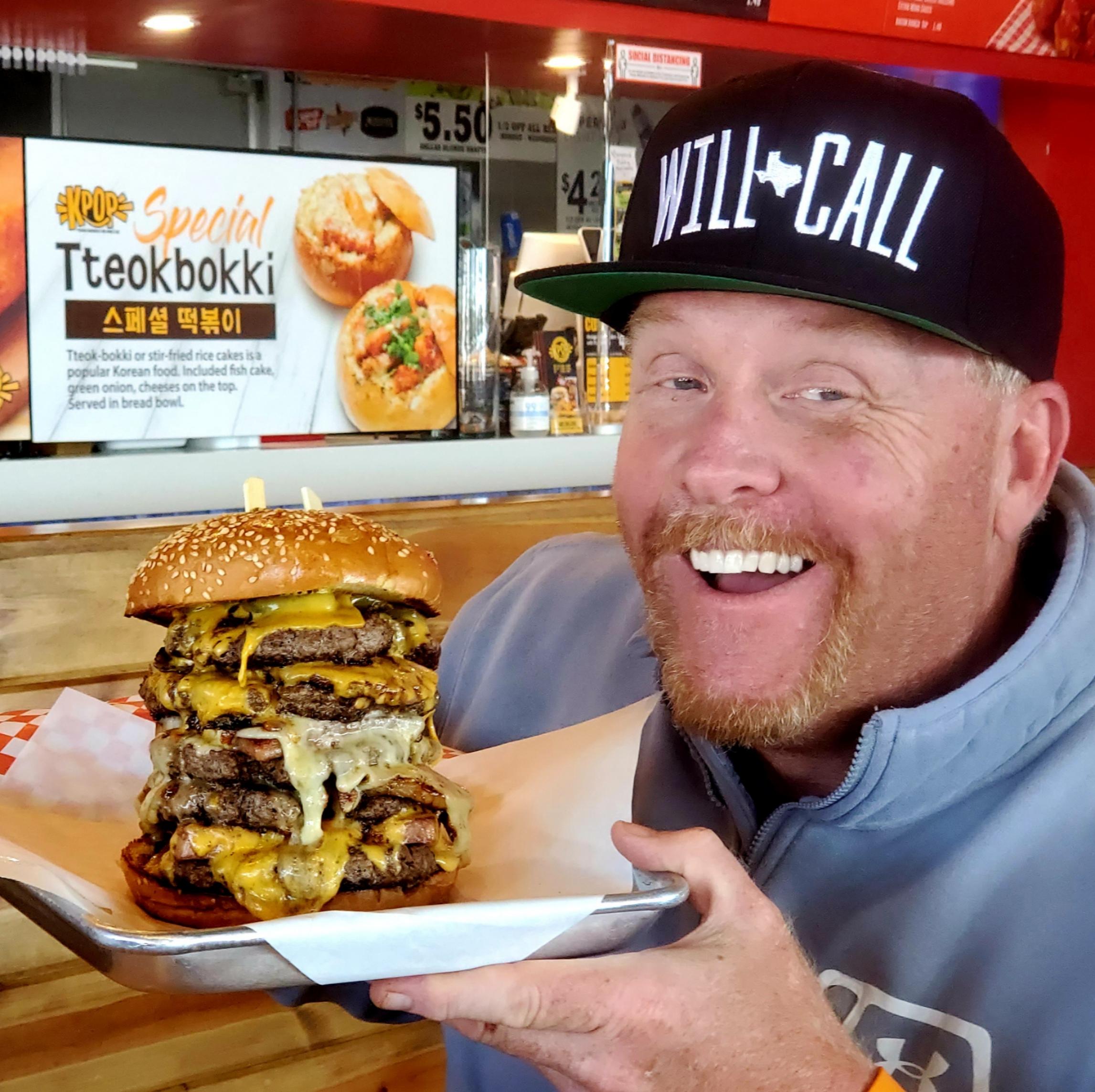 WOW! When I opened the door to K-POP Burger and saw the BIG, colorful photos I told myself they couldn't look as good in person as they do in those menu photos. Chase told me not to look at those photos, because they don't do the burgers justice – the burgers are actually bigger than the posted photos! I laughed and said, "I'm sure!"
Being in the food business for five decades, and working with P.R. Firms, Advertising Firms, Marketing Departments, Chefs and R&D Divisions, you understand one important factor: food photos or videos can look vastly different than the completed and plated dishes. I have been wrong before, and I'm happy to admit that I was wrong again today. Very, very wrong!!
The K-POP Burgers the chef delivered to us were absolutely R.I.D.I.C.U.L.O.U.S.. When I say ridiculous, I mean ridiculously delicious looking. The size 3.5 pounds, the bright colors, the copious amounts of meat, cheese, and other fresh items piled on the burgers was complete insanity. I was so impressed that I was a bit speechless for a second – but only a second!
After I studied the burgers and considered the creative process in constructing them, I wanted to rip them apart. You know, go completely cave man on these bad boys – slinging meat, cheese, and sauces from ear to ear. Just like a cave man ravaged with hunger!
That is exactly what I did: tore into both burgers and started a burger chow down. Three men coming in the front door of K-POP stopped and asked me what the burgers were called, and if I was going to eat them by myself. One man even told me he has never been able to finish a burger from K-POP in his three visits! He said, "I call K-POP 'the place where YOU CAN'T FINISH A BURGER!'" I thought that was an incredible testimony to K-POP from a guy who didn't know me.
The burger profiles are truly unique. It's where Korean meets American to create some of the most delicious fusion burgers I've eaten in 2020, and I've eaten a bunch. Chef Kevin Lee creates and prepares all the sauces in house daily and only uses fresh ingredients to create big, bold, Korean/American delicious burger flavors you can never forget. The meat patties are cooked to HF&D (Hot Fresh and Delicious) They have those flavor loaded crusty edges from the flat grilling process that I'm in love with.  This is all coupled with a Texas-sized batch of fresh waffle fries, topped with garlic sauce and fresh parmesan cheese. When I say you'll never forget, I mean NEVER.
I tried the Big Phat "2AM Burger" which was loaded with : 8 oz (1/2 Lbs) fresh angus beef, jalapeno bun, bbq sauce, grilled mozzarella cheese, grilled corn, fresh bacon, hash brown, fried egg, American cheese x2, and fresh prepared K1 Sauce (house sauce)
Then I tired the 3.5 Pound "Bang Tan Burger" which was loaded with : 8 oz (1/2 Lbs) fresh Angus beef patties (x5), wheat bun, grilled pineapple (x2), grilled jalapenos, grilled spam patties (x2), American cheese (x6), pepper jack cheese (x4), and fresh house prepared K3 sauce.
I'm telling you burger lovers right now! If you're looking for a fantastic new Korean American fusion burger that will send your taste buds to the Flavor Rodeo and have you scream YEE HAW, then head over to K-POP Burger and chow down! They have a variety of eighteen different insane burgers to choose from.
I'll see you at at table!
PLEASE Follow us @Trey's Chow Down on our social media channels.
Trey ( Chow Down ) Chapman
Please see our Best Burger Winners in North Texas for 2019!
https://treyschowdown.com/the-50-best-burgers-in-north-texas-2019/