Good day, Doughnut Lovers!
They told me: "The magic is in the hole!"  
As we continue our Road Trippin' the USA: MEETS, EATS and SWEETS 2022 Tour, I've located another unique hand-crafted doughnut experience that is savory, sweet and sure to please your sweet tooth cravings.
Today we're in Houston, TX at the world-famous Voodoo Doughnut. They have other Texas locations in the cities of Cypress and Austin, as well as a total of 12 other locations in six different states as they continue growing in the USA.
Locations👉 https://www.voodoodoughnut.com/locations/ 
The Story goes: Voodoo Doughnut is the brainchild of old friends and entertainment-minded Portlanders Kenneth "Cat Daddy" Pogson and Tres Shannon. In 2000, they decided to embark on a shared entrepreneurial venture – something that combined quality hospitality with their daring do-it-yourself brand of show business.
Offering More than 50 kinds of doughnuts, they're the originators of the Cannolo and Bacon Maple Bar Doughnuts, and of course the Voodoo Doll Doughnut. They offer 13 traditional doughnuts as well. Classic Dozen includes: Blueberry Cake, Buttermilk Bar, Glazed Old Fashioned, Raspberry Romeo, Sprinkle Cake, Powdered Sugar Cake, Plain Cake, Cinnamon Sugar Cake, Raised Glazed, Chocolate Ring, Chocolate Old Fashioned, Butterfinger, and Maple Bar.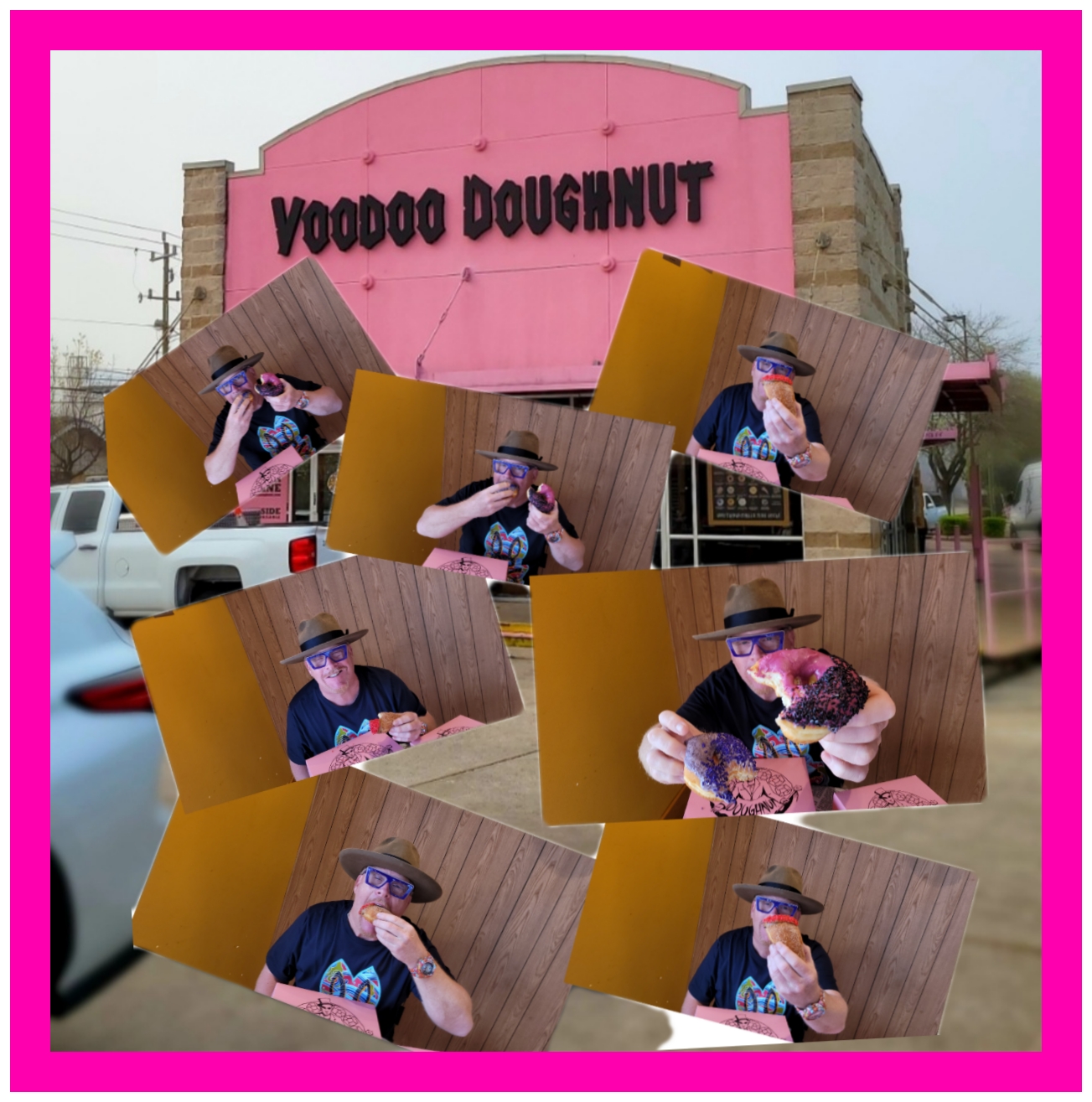 They also offer a wide variety of VEGAN Doughnuts. The Vegan Voodoo Dozen option includes some crazy and some traditional. Vegan Voodoo Dozen includes: Chocolate Ring (2x), Dirt (2x), Raised Glazed (2x), Portland Cream, Maple Bar, School Daze, ODB, Voodoo Doll, and Maple Cream.
Each doughnut is prepared fresh and colorful with savory and sweet flavor profiles. I was impressed with each doughnut presentation and the wide variety of available flavors. My favorites were the Voodoo, Dirt, Bacon Maple Bar, The Grape Ape, the Raspberry Romeo and the Maple Blazer Blunt. I found this one extremely delicious! It was a raised blunt and dusted with cinnamon sugar, maple frosting, and red sprinkle embers. Each bite I took was a kaleidoscope of flavors that POPPED in my mouth! 
📝👉 https://www.voodoodoughnut.com 
The building was easy to spot with its vibrant VOODOO style imagery and pink color. I really enjoyed the colorful atmosphere with the awesome attention to detail. The service was very friendly and you really felt like they were happy to serve you. If you're looking for a NEW doughnut experience that you will LOVE and find extremely unique, check out a VOODOO Doughnut and chow down. They're an official Trey's Chow Down Delicious Destination for all doughnut lovers to enjoy.
My suggestion for a trip to a VOODOO Doughnut location. "You better pack your bags because you're headed on a one way TRIP straight to DELICIOUSVILLE!" 
"Hope See You At A Table Soon For Some Deliciousness!"
Trey (Chow Down) Chapman
Please FOLLOW us on our other social media platforms as we discover unique Burgers, BBQ dishes, seafood creations, savory, sweet and delicious destinations around the USA.