Hello Chow Hounds!
Last week Trey's Chow Down took another Road Trip for deliciousness as we headed out to beautiful East Texas to the town Paris, Texas. Paris is a wonderful and beautiful city, complete with a downtown country feel and beautiful views. Paris is in Northeast Texas at the western edge of the Piney Woods.  It's in Lamar County and as of the 2010 census, the population of the city was 25,171.
We made the trip to Paris because someone told me about a little food trailer slinging some of the BEST BIRRIA TACOS, PIZZAS, and RAMEN in Texas. If you follow me, you know we live to discover deliciousness for our followers. I'm telling you this an amazing find!
What is Birria? Let me explain! Birria is a Mexican dish from the state of Jalisco. The Spanish term "birria" is used to describe immaterial things without value or quality. It is a traditional ancestral soup or stew made from a combination of chili pepper-based goat meat adobo, garlic, cumin, bay leaves, and thyme, and cooked at a low heat. After cooking it's usually simmered for about 20 minutes, then blended in a high powered blender until nice and smooth. An authentic Birria Taco, Pizza or Burrito is served with "Consome de Birria" sauce and it is #StupidDelicious.
When I pulled up to the stoplight on the corner of Lamar and Collegiate, I could smell the delicious aromas wafting in the air from the Chabelo's Tacos Food Trailer. I was getting so excited that my mouth was watering ? over the thought of chowing down on some cheesy Birria Pizza Deliciousness.
I walked up to place my order and was greeted by some extremely friendly people with big smiles. It was difficult to stand there because the delicious smell was pouring out from the trailer. I could see and hear the Birria Tacos sizzling on the grill!
I placed a big order, but I'm going to highlight and feature the Birria Pizza in this post because it was truly unbelievable. When I grabbed the pizza box it was very heavy and I knew that meant only one thing – It was going to be loaded with tons of cheese ? and plenty of deliciousness.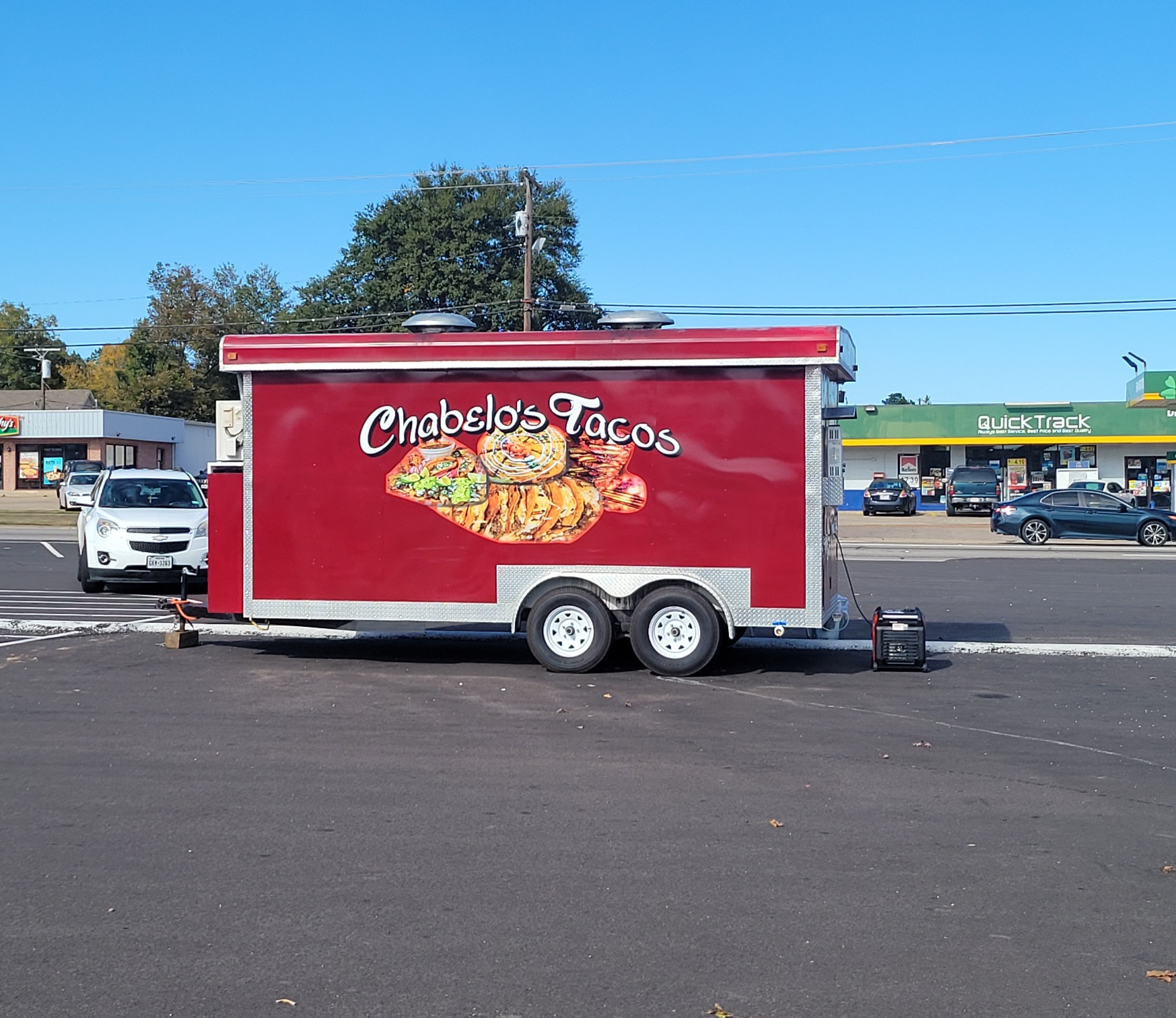 What I discovered was one of the BEST BIRRIA PIZZAS in Texas, and I've eaten quite a few this year as I've been on a mission to discover the BEST. The Pizza was prepared fresh to order so it takes about 20 to 25 minutes, but it's so worth the wait! It had loads of cheese, fresh house-prepared sauces, farm-fresh onions and cilantro chopped and bagged separately. It also came with fresh grilled onions that were caramelized to perfection on the grill.
I was so excited to try this pizza that I stood in the parking lot, eating it off the back of my truck. Each slice I grabbed seemed cheesier than the last. The cheese pull would snap and the cheese would curl around my fingers. Each bite I took was loaded with deliciousness. ?
They also offer fresh-prepared Birria Tacos, Birria Ramen, and other fresh-prepared Mexican cuisine. Just like their Birria Pizza, every dish is prepared using the freshest ingredients and vegetables available to create some bold, savory, modern Mexican flavor profiles that are truly delicious.
I don't care where you are – if you love delicious, dream-inducing Birria Pizza that is prepared fresh then you need to head over to the Chabelos Food Trailer in Paris, Texas. Make that trip!!! They are a NEW Official Trey's Chow Down Delicious Destination for all Texas food lovers to enjoy.
Don't forget the Fresh sauces – they are pure sauce perfection! ? Tell'em Trey sent you to chow down. ?
Trey (Chow Down) Chapman
Follow us Facebook/Trey's Chow Down