Howdy Y'all,
As you know, Trey's Chow Down road trips the USA for creative chefs, tasty eats, savory sweet treats, and unique travel destinations. Today we're in League City, TX, a suburb of Houston, to enjoy some of the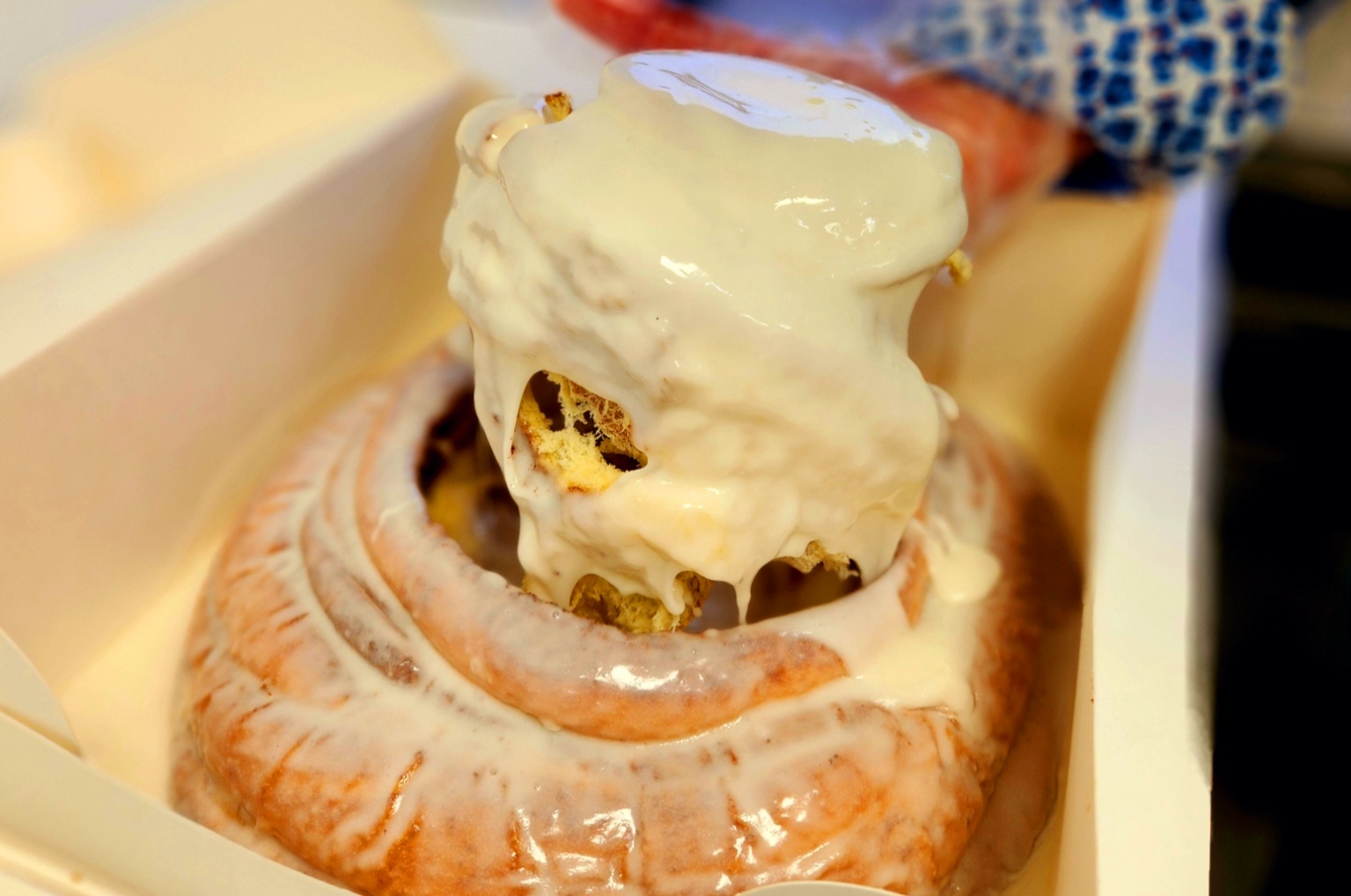 biggest cinnamon rolls, sweet donuts, and incredible pastries – all prepared fresh at Bonnie's Donuts.
They say everything is bigger in Texas, and that includes the desserts! That holds true here in League City, thanks to Bonnie's Donuts and their 5–10-pound cinnamon rolls. I couldn't believe the size of these monsters. The customers we spoke with said that every thing is delectable, delicious, and worth checking out especially the FRESH 5 and 10 pound cinnamon rolls.
The owner Natalie Chun has been making these gigantic rolls with her husband for a about five years. Natalie came to the U.S. from Cambodia 8 years ago to pursue her dream of owning a business. She started out working for a local baker and when the opportunity came to purchase Bonnie's Donuts, she didn't hesitate. The cinnamon rolls quickly became a fan favorite thanks to social media, food bloggers, and YouTube channels.
I was lucky enough to be invited in to try some of their award-winning donuts and the Texas-size cinnamon rolls. I was shocked at how heavy, dense, and massive the rolls were. Each batch, which includes an estimated pound of cinnamon, takes roughly two hours to prepare. When I picked up the ten-pound cinnamon roll I was smiling ear to ear and couldn't wait to get my icing on and start chowing down!
You can check out the giant desserts along with their other creative creations on their Facebook and webpage. I absolutely loved meeting them and enjoyed these one-of-a-kind savory sweet Texas-sized treats. Don't sleep on the donuts, because there delicious too.
Bonnie's is a NEW officially APPROVED Trey's Chow Down Delicious Destination for all food lovers to enjoy. Tell'em Ole Trey sent you to chow down!
Hope to meet you at a table soon!
Trey