When I opened my message from Chef John Tesar it said,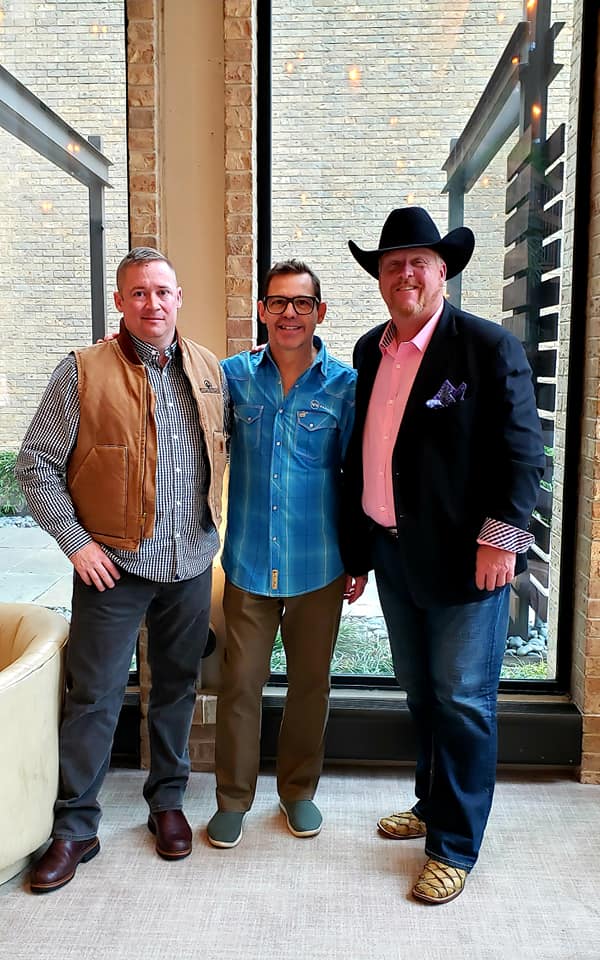 "Trey… Caviar, Burgers & Champagne. My buddy, Michael Passmore, is back home here in Dallas for a few events. He's the founder of Passmore Ranch in California, where he farms fish, makes damn good caviar, and serves guys like us all over the country. He asked me who he should go see in Dallas. I told him if he brought the caviar, I'd supply the burgers and champagne for lunch at Knife (at The Highland Hotel). Easy going lunch, some champagne, a bunch of caviar, and chat with Michael."
After I read the message I re-read it again just to make sure I understood. We were going to eat some of the finest caviar in the world, paired with some of John Tesar's award-winning world famous burgers. Then we're going to wash it down with champagne and discuss various types of delicious caviar from the man who farms it? Is this a joke? Am I dreaming? Then I remembered John is too busy to type all that out for a joke. I didn't even have to think about it. I replied YES right away. I couldn't wait for this day to come.
If you don't know John, I'm just going to give you a free quick education about an amazing Chef. John gets his thrills on perfection, creativity, and hard work. He has an unwavering dedication to the culinary arts, his peers, and various charity organizations. He lives to make sure every single customer has a happy and positive dining experience. It doesn't matter if it's a 6-dollar burger, or a 200-dollar steak, John accepts nothing but perfection. His culinary pedigree is so extensive and has so much detail I'm not going to list all of it for you. I will tell you in the simplest terms; John is just a BADASS at what he does. Period! I respect the hell out of the guy.
So now you know why I was so excited when John told me we're going to discuss caviar over burgers. I was ecstatic! I'm so passionate about food, drink, the chefs that create it, and the farmers and ranchers that help bring it all together. I couldn't say no. I love being able to write about different foodie experiences so everyone can enjoy them and learn about the creative chefs and farmers that make it happen.
We pulled up to the Highland Hotel. It was a windy day. I'm always early and of course, my love Jana was driving me so I could work on social media and emails on the trip to meet John and Michael for our caviar outing. I must've asked Jana what time it is, at least a dozen times because I do not want to be late. I always want to be early. I consider it disrespectful to be late. Everyone's time is valuable and especially a Celebrity Chef, and Michael's time since he flew out from California.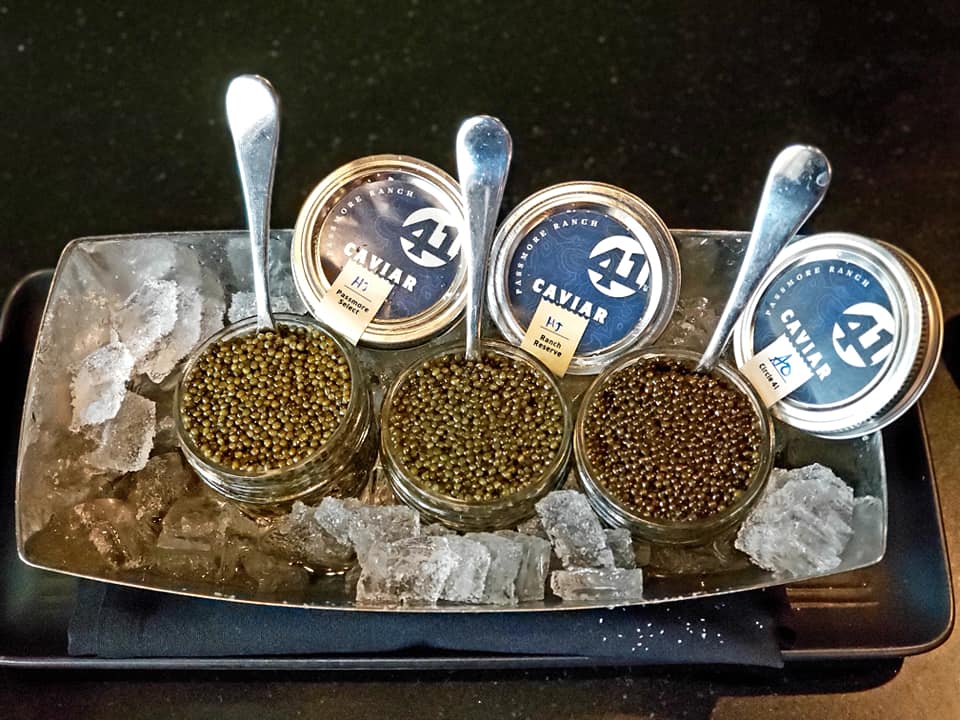 We walked in and I saw John talking with some folks. So, we introduced ourselves to the famous Michael Passmore of Passmore Ranch. We sat down and immediately I started firing off questions about all the fresh caviar I saw on the table. If I remember correctly, we had 10 beautiful sexy jars of caviar setting on ice. I say "sexy" because that Passmore fresh caviar was colorful and oh so sexy just sitting there sparking under the lights. John finished, brought some champagne over, and we started discussing the various types of caviar and the attributes that each offered. Each had it's own name and number and were easy to identify. We talked, laughed for a bit, and then when the burgers arrived Micheal said, "My two favorite words… Let's eat"! In fact, he told John we need to have a caviar burger on the menu at Knife Dallas lol! But he was serious. We started testing the Passmore fresh caviar and for the first time in my life, I loved every single one I tried. I was shocked but very happy, I had finally found a ranch that produced great caviar and caviar expert that knew what he was talking about. He discussed in detail how caviar was produced, harvested, tested, and shipped. Michael is so passionate about his customers, his caviar, and fish that he tries every batch personally to ensure the highest standards are kept.
What happened next could be a scene out of a major motion picture or a scene from Ballers. Where snacking on burgers, caviar, and champagne when I hear John and Michael discuss French fries. I thought to myself French fries with champagne, caviar, and burgers. They have to be kidding? All the sudden plates of French fries appear. I'm thinking to myself HELL YEA! Cheese burgers, Passmore Ranch-Fresh Caviar, Champagne, and now French fries. You've got to be kidding me? 
Then Michael says my favorite words again "Let's eat some French fries and caviar!" To which I said, "Michael what do you mean put the caviar on the French fries?" Then his response was classic, "Hell no, Trey!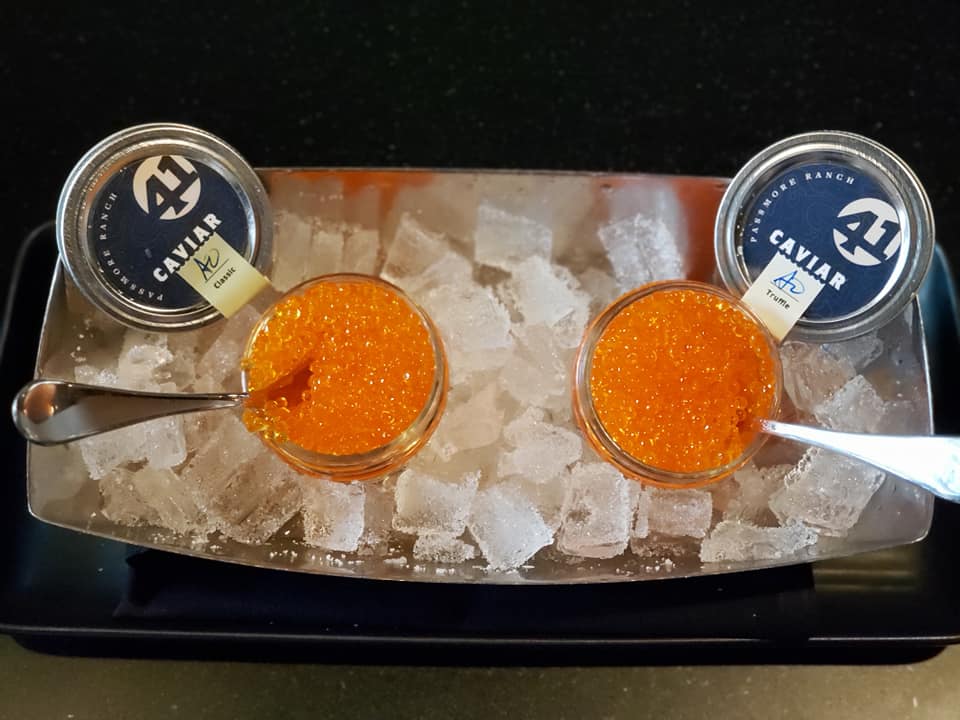 We're going to dip these French fries in my delicious caviar and wash it down with champagne"! I thought this is freaking awesomeness. Here we are sitting at Knife, eating award-winning Knife burgers, caviar, drinking champagne, and now dipping French-fries in farm-fresh caviar like we're dipping chicken nuggets at a damn Chic-Fil-A. All I could do is keep eating drinking, talking, and laughing.
I looked up and John was down at the end of the table working. He wasn't eating anymore. I said, "What are you doing"? To which he replied, "I'm working, signing my books for some folks who bought them"! He said he has personally signed over 16,000 books each with a message. He wants to sign each one individually with a message to make it personal for each person purchasing one of his books. That my friends, is just one more reason why I call John a badass. It shows you the dedication and respect John Tesar has for his customers and his craft.
After our burgers, fries, caviar, and champagne, we said our goodbyes. It was truly an amazing experience with John Tesars and Michael Passmore.
If you're a chef, a foodie, or a person who just loves to eat, please look up Passmore Ranch. Go to their website Passmore Ranch and educate yourself on what they offer. They will ship you some of the world's best fish and caviar right to your front door, back door, or kitchen door overnight. You will fall in love with Passmore Ranch products and Michael PASSMORE'S attention to detail. I promise.
Until next time my foodie friends remember. " Food is an exploration of the pallet. Try something new, you might just like it."
Trey Chapman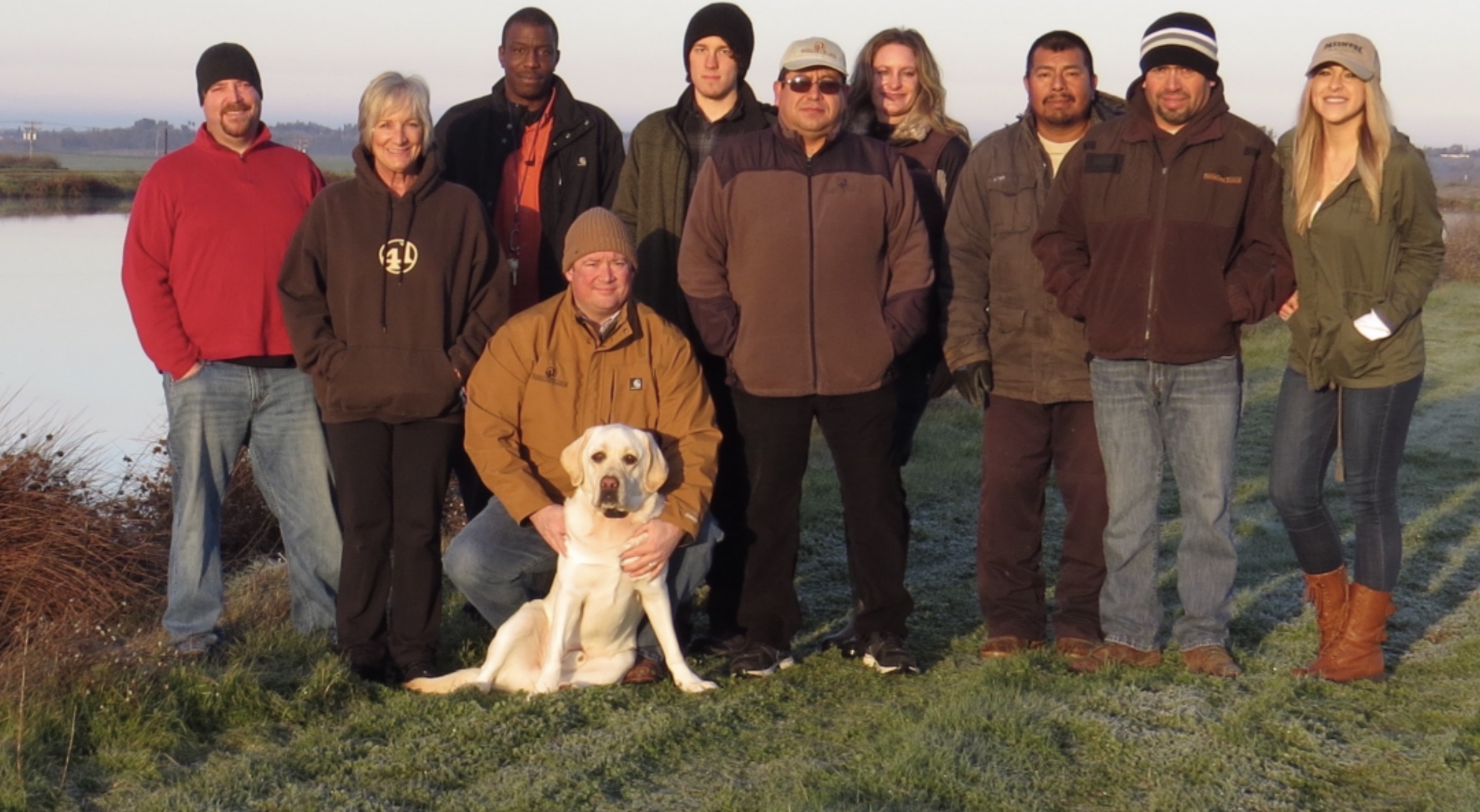 We started by selling live fish at Northern California farmers' markets, and our quality and service quickly made us a premier purveyor for top restaurants and Michelin-starred chefs throughout the state and the country.
Michael and Vandy Passmore moved to the ranch just outside Sacramento in 2005 because they fell in love with the rolling hills and lush grasslands on the edge of the Sierra foothills. They got big help launching the fish ranch from a neighbor – an aquaculture pioneer who would become Michael's great friend and mentor.
Today, our ranch is 86 acres with our fish being raised in 80 million gallons of fresh water pumped up from the pristine Cosumnes aquifer. We have a variety of open lakes and massive tanks used to increase the variety of sustainable fish we grow. Our ranch also houses a hatchery for sustainable spawning, and will soon have a state-of-the art processing facility so we can deliver fish precisely to order from live to filleted.
We offer the freshest fish, aged, sized and delivered to order, almost as if chefs were pointing and saying, "I'll take that one." We continue to build new partnerships with some of the country's best chefs, including renowned restaurateur Rick Moonen, three-starred Michelin chef Christopher Kostow, Napa pioneer Cindy Pawlcyn, and Dallas chef John Tesar.
How We Do It
Passmore Ranch's philosophy is clear: Cut no corners. We grow, source, and produce the finest fish and caviar for our chefs, and deliver directly to them. Both in the fish we rear, and those we source through partner farms, the standards are the same – adherence to sustainable methods coupled with outstanding waters, food, and handling from the water, right to your kitchen!