Good day Chow Fans!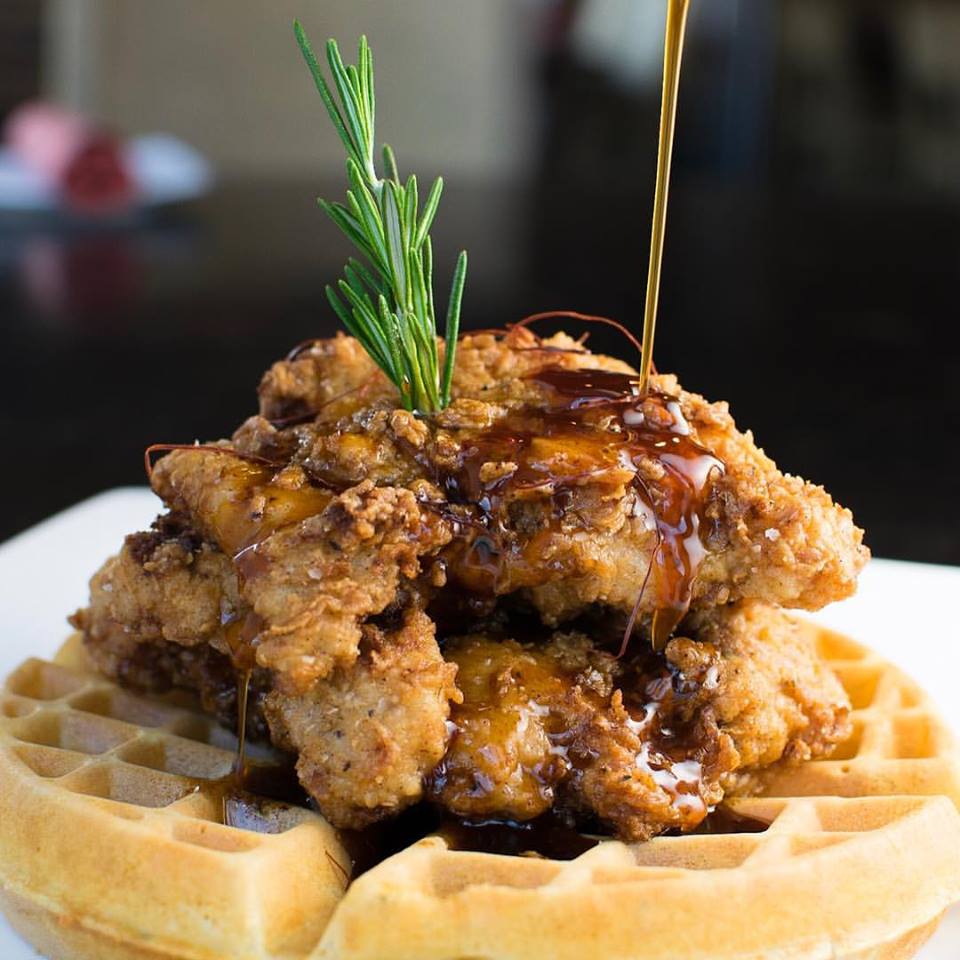 I grew up in Texas in the ranching/beef/restaurant business. One would think I would be a beef man! A person who only consumes beef! That is far from the truth. My family history in the ranching business has given me all the opportunity in the world of beef from raising it to selling it for private sale. I grew up in the family restaurant business and even handled the moving, cutting, packaging of the beef, and making our custom chili in the meat company. It was a lot of work, but gave me great insight and knowledge in the food business.
I do enjoy all kinds of food. I love chicken! Especially LOVE fried chicken. There is just something about rolling that chicken in a delicious batter, setting it into a fryer, and ending up with a beautifully crisp chicken. It comes out of the fryer all hot, crispy and crackling… Your senses seem to go into what I like to call, "Full Tilt Chicken Boogie". OMG the crispy skin and the soft delicious meat can make anyone go crazy. I find it hard to control myself!
A lot has changed in the last 20 years within the culinary world. Chefs have gotten more creative with fried chicken dishes and flavor profiles. This combination of creativity and fried chicken has made the business better than ever. I set out to find the most delicious fried chicken. I'm talking all types of fried chicken. Fried chicken on biscuits, fried chicken and waffles, spicy fried chicken, and regular old fried crispy fried chicken. You name it!
Please enjoy the best Fried Chicken Trey's Chow Down has ever eaten in the Fort Worth and Dallas area.
The Fixture Restaurant & Social Lounge
Location: in Fort Worth on Magnolia Ave.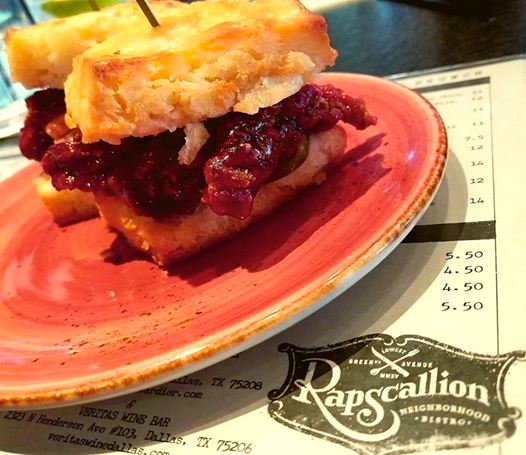 Chef Merritt cooks like Picasso painting artwork. I love the two incredible Fried Chicken Dishes he prepares. The first dish is the "Trey Chapman Biscuit". It is served on a house made biscuit, with fried chicken, house made bacon, farm fresh eggs, and cheese. It is sat on top a bed of house made chorizo gravy. It's only available at brunch. You better buckle up because this dish is taking you to flavor town at super sonic speed! The second is "Chicken and Waffles." Let's be real, it speaks for itself. The flavor profiles on both of these are off the charts. Ridiculously delicious! Head to the Fixture and be ready for a true culinary experience.
Location: in Dallas on Greenville Ave.
Chef Tate is a master at creating some of the most creative dishes with amazing flavor profiles in DFW area. Rapscallion has a laid-back atmosphere plus a diverse menu. Chef Tate has a chicken and biscuit sandwich that I consider to be one of the best I've ever eaten. I cannot put into words or translate the taste this dish creates on your pallet. Just get ready to say OH MY GOODNESS may I have another?… and another! The "Spicy Chicken Biscuit" is a fried chicken thigh prepared with a house made spicy honey-mala sauce, a house made buttermilk biscuit, and topped off with a delicious shaved pickle. Flavor Gods, take me now.
Location: in Fort Worth on West Fwy.
My man Chef Keith Button Hicks AKA the master creator of soul food dishes. Sometimes when I eat his soul food I sit and ponder, is this what food in heaven taste like? I've known Chef Hicks a long time! All I can say is the man can turn anything into a soul food dish and make you love it. One of the best things you will ever eat is Chef Hick's "Chicken and Waffles". It's so good that there's not much to describe here! Ha ha!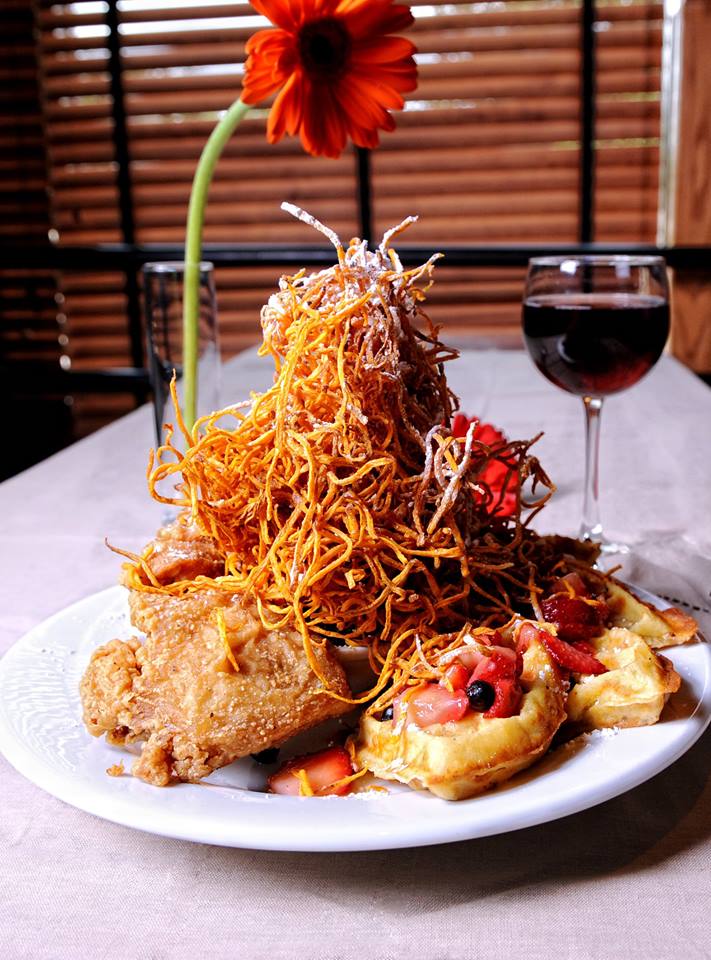 Special seasoned fried chicken and a homemade Belgium waffle with blueberry infused butter. Served with sweet potato pommel frites along with the Chef's signature collard greens. You better get a helmet because this dish will rocket you to the flavor galaxy at light speed.
Location: in Dallas on Pittman St.
Unfortunately, I've never met the creators or chefs from the now famous Chicken Scratch. I'm not sure how I've missed them in my three visits! Why have our paths not yet crossed in the culinary world? Regardless, when I do meet them they're getting a hug and a golden metal for their amazing "Chicken Coconut & Waffle." Chicken Scratch is an amazing family-friendly concept that's just down right AWESOME! They're tucked back in an area of Dallas you wouldn't expect, but have created a "Chicken Wonder Land." That's the best way to describe it. I'm passionate about the menu at the Chicken Scratch. I don't care what chicken you order, but you better have your ticket and bags packed to board the flavor train. If I have to narrow down my pick to one dish, it's the "Chicken Coconut & Waffle." It's an 8-inch house made coconut waffle, with three house made chicken strips, whipped butter, coconut, maple, and chili syrup! Oh my lort, all aboard the flavor train because it is leaving the station. Choo choo!!!
The Little Red Wasp Fort Worth
Location: in Fort Worth on Main St.
Oh yes… Ladies and gentlemen the man, the myth, the legendary Chef Blaine Staniford from Grace and his Little Red Wasp. I met Chef Blaine about 5 years ago at a festival in Fort Worth, and have eaten so many of his amazing creative dishes. It's hard to pick just one, but you know I will try to do my best. Little Red Wasp has great craft fried chicken you can order, but I'm in love with the "Chicken & Biscuit". It has a cheddar cheese house biscuit, house batter fried chicken breast, and is served in a bed of house made black pepper gravy. My mouth is watering has I write this article. Have you ever been on a food adventure where you say WOW. What did I just eat? You need to suit up for this weekend's flavor adventure and run, NOT WALK, to Little Red Wasp and order the "Chicken & Biscuit". Oh! And tell'em Big Bad Trey sent you!
If you're looking for delicious fried chicken to eat on the go, or a quick lunch during the week then I have the answer for you. Gus's World Famous Fried Chicken is always a number choice. Lisa's Fried Chicken has about 10 locations and I love there chicken. Quick, easy, really tasty, and always awesome.
Thanks,
Y'all follow me and remember…if you like the way it looks and love the way it smells, then CHOW DOWN!!!