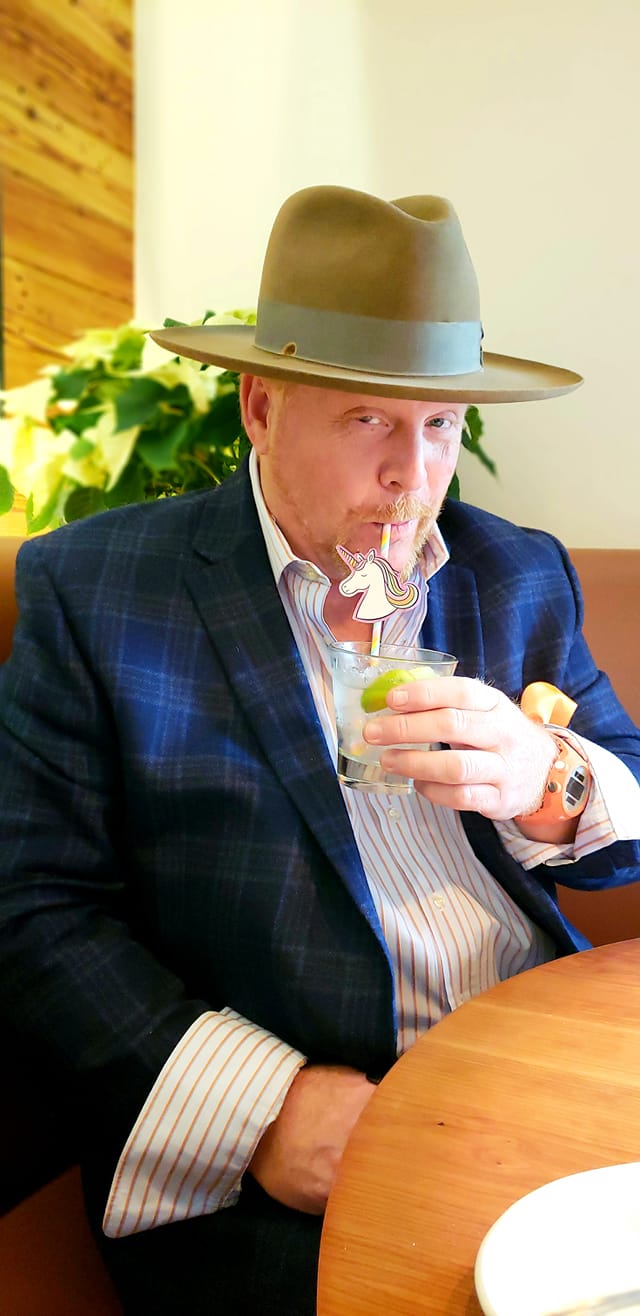 Last year, our Drink With Trey "BEST BARS & NIGHTCLUBS LIST" received over 1000 re-shares and 121,000 reads! We just had to make a BEST LIST for 2019 for our Texas sports fans too.
It's here! It's time! Are you ready sports fans?
Every year the Super Bowl puts excitement in the air for sports lovers, partygoers, drinking buddies, and heck even folks who love to watch the super bowl just for the commercials.
If you follow Drink With Trey, Trey's Chow Down, or Trey Chapman, then you know how much we love to have a good time. You can't threaten us with a great party because in most cases we are the PARTY. We've been partying, watching sports, slinging back drinks, listening to live music, and chowing down all over Texas in 2018. We wanted to offer our suggestions for the BEST PICKS to watch the SUPER BOWL or any sporting event for that matter in the DFW area.
Our picks have a large number of TVs, great music, awesome chow, seductive bar bites, and great service folks that pride them selves on great customer service. It's all about having a great experience with lots of fun. Buckle-up buttercup! It's fix'in to get crazy!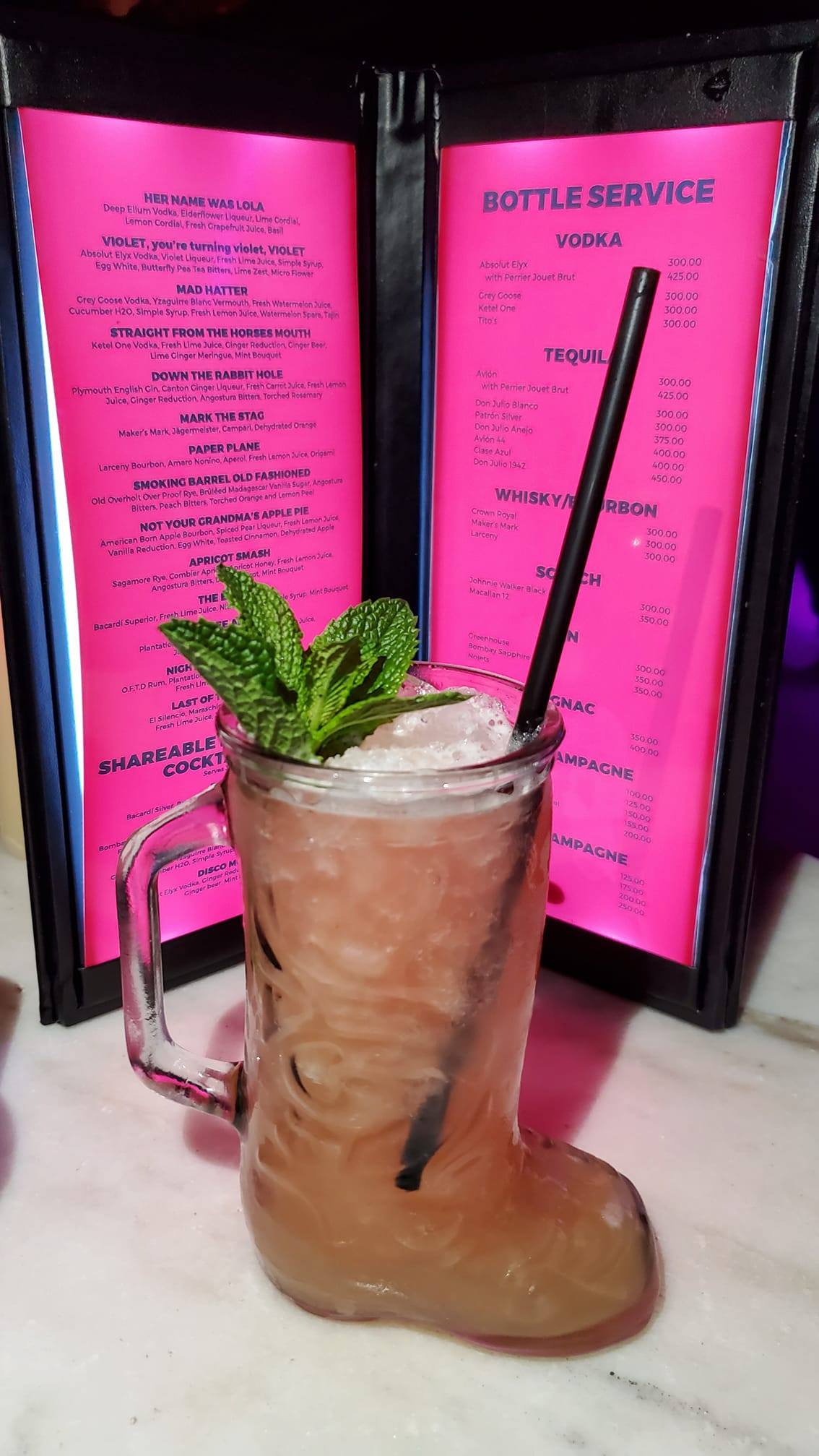 Dallas, Texas Uptown
The Tipsy Alchemist's sole purpose is to blow your mind with elevated cocktails through science, art & technique in a sexy, colorful, social lounge setting. Tipsy is always fun and it's a destination just waiting for you. I'm so THANKFUL to the management at The Tipsy Alchemist for creating this new cocktail. The (Drink With Trey ) if you want an amazing drink then head over to Tipsy in Dallas and say you want to "Drink With Trey!" Thank you Aaron and Scuba and the great staff at The Tipsy Alchemist who took the time to create this drink!
I love the BOOT glasses for the presentation too!
Fort Worth, Texas on West 7th
Rez as the locals like to call it has plenty of TV's with a big menu and great chef-driven brunch items. I love the Texas-size patio and they have so many TVs! The only way to miss anything is to close your eyes. The NEW bunch menu is killer. It is just packed with great creations.  On Super Bowl Sunday they will have brunch until 3 PM and 2.00 Mimosa's. The staff is friendly with big smiles and just love to sling those cocktails. So get there early and have some fun for Trey. Check out Reservoir's new location at Texas Music Factory coming soon!
On Super Bowl Sunday they will have brunch until 3 PM and 2.00 Mimosa's. Check out this video: Reservoir fun
Dallas, Texas in Hardwood District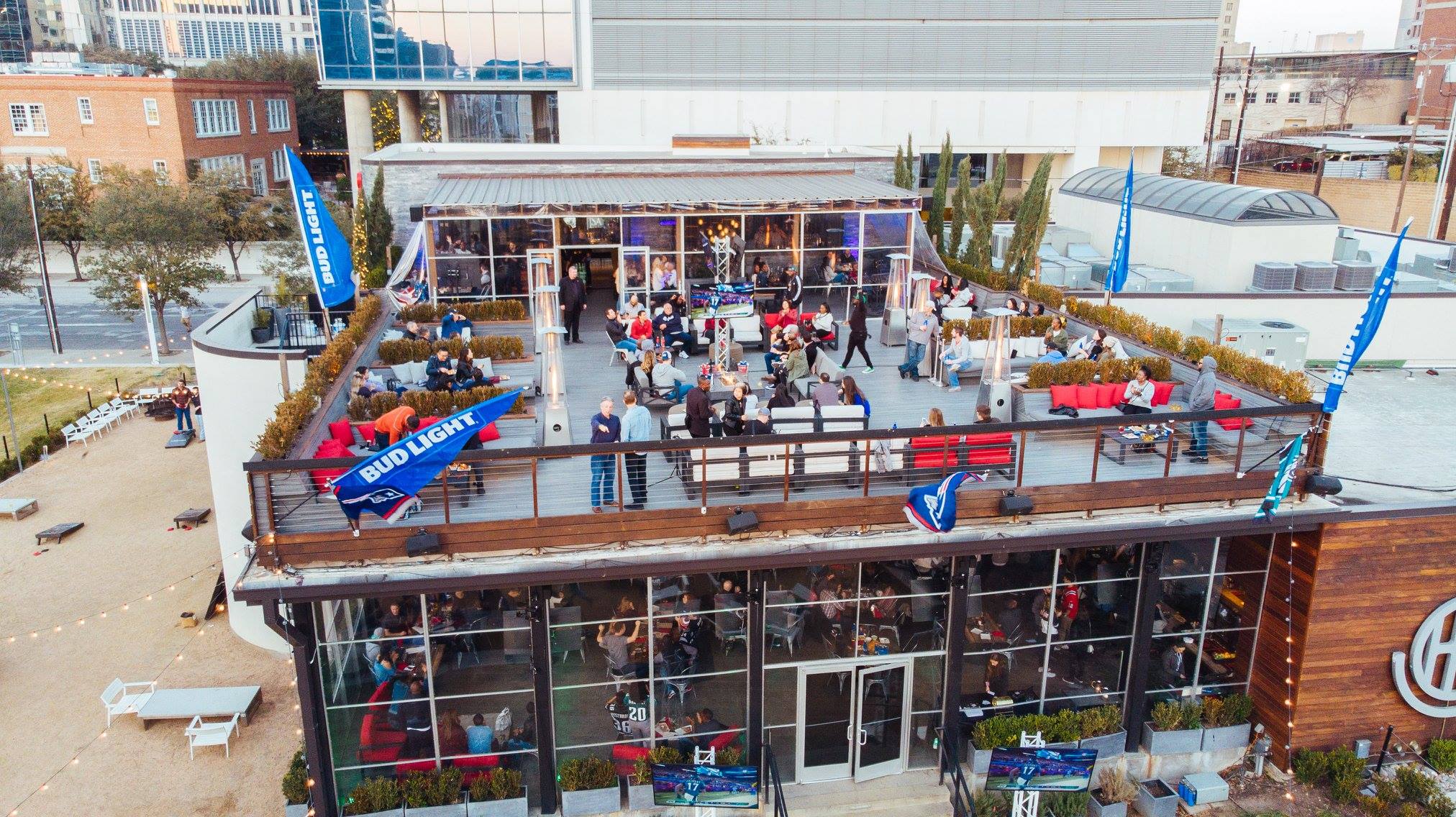 I love this place! My favorite spot is on the patio looking out at the beautiful buildings of Dallas. They have a wonderful bite menu and why not considering they're the sister of Saint Ann's Restaurant. The staff is always upbeat and friendly with big smiles. They are hosting a big watch party downstairs and on the front lawn. They have a VIP party upstairs. Not sure about the cost of VIP though. I do know, they will have $5 dollars off appetizers and beer tower specials. I dare you to try "Everything But The Kitchen Sink." This dish is what I call A Spectacular Foodie Rock Star! If you love sundaes, then I double dog dare you to try this dish. Head on over to the Happiest Hour and turn it up like Trey!
They will have a VIP party, $5 dollars off appetizers and beer tower specials. Check out this video: Happiest Video
Fort Worth, Texas in West 7th area
TXR as the locals like to call it has one of the biggest TV screens in the DFW area, if not the biggest with incredible color. They have amazing sound throughout the club and a wonderful staff that is super friendly. They also have fantastic bathrooms, which is important if it's crowded. They have an amazing menu that is chef-driven and the chef offers some award-winning items that you will love. Oh baby, the "Trash Can Nachos" are OMG… I just dare you to get this amazing dish. Tap this link and view video Make plans for TXR tell'em Trey sent you.
Dallas, Texas in Deep Ellum
What can I say about my boyz at Deep Ellum? It's just an AWESOME place with fantastic one-of-a-kind cocktails created by professional mixologists. They have booths, tall tables, bar seats, and a Texas-size TV screen. They offer wonderful Deep Ellum Distillery products like Apple Cinnamon Vodka, Pickle Flavor Vodka, and of course the regular Deep Ellum Vodka. I dare you to try the "Apple Pie Drink" you CAN NOT have just one. I guarantee it or my name isn't Drink With Trey!
D.E.D. special:  Happy hour all day on Sunday. $5 DED Vodka, $6 infusions, and $7 specialty cocktails. Head over to D.E.D. it's just bad azz! D.E.D. Tasting Room Video.
Fort Worth, Texas in West 7th Area
Whiskey, let's say that again, WHISKEY. You see how that just rolls off your tongue? The locals call it Whiskey. I like to call it my fun house. Whiskey Garden has long been one of my favorite places for just about anything fun related. Awesome staff, award-winning tacos from Chef Tuck, great cocktails and of course tons of fun. Just stay out of the pool it's cold as a well-diggers butt this time of year! Oh, and it's covered, lol! Reservoir across the street is a sister club so feel free to walk back and forth.
Specials: Free buffet starting at 4 by Tailfeather's Wing Truck. at Whiskey until they run out of food. We know they won't run out of drinks. Love my W-H-I-S-K-E-Y staff!
Dallas, Texas at Restaurants On Lamar/Omni Hotel
The Box! The Big Deal! The Beast in Dallas! This place is packed with TVs, pool tables, private suites, great staff, a big patio, and awesome food. Let's just say The Owners Box is a destination, not a stop off. You have a chef-driven menu and 6 other restaurants on Lamar to choose from if you get hungry. They also have 2 other big patios if you just want to stroll around and get away for a few. Oh yeah, I forgot one of the most important factors. You can carry your drinks anywhere on Lamar. Just stroll around sipping, drinking, and laughing like you own the place. Like a BOSS! If you need a room, the Omni is there too. Heck, drinking at the Owners you've already won (even if your team didn't). I love the pretzel and loaded fries just DELICIOUS! Head over to the Owners Box.
Arlington, Texas at Live Area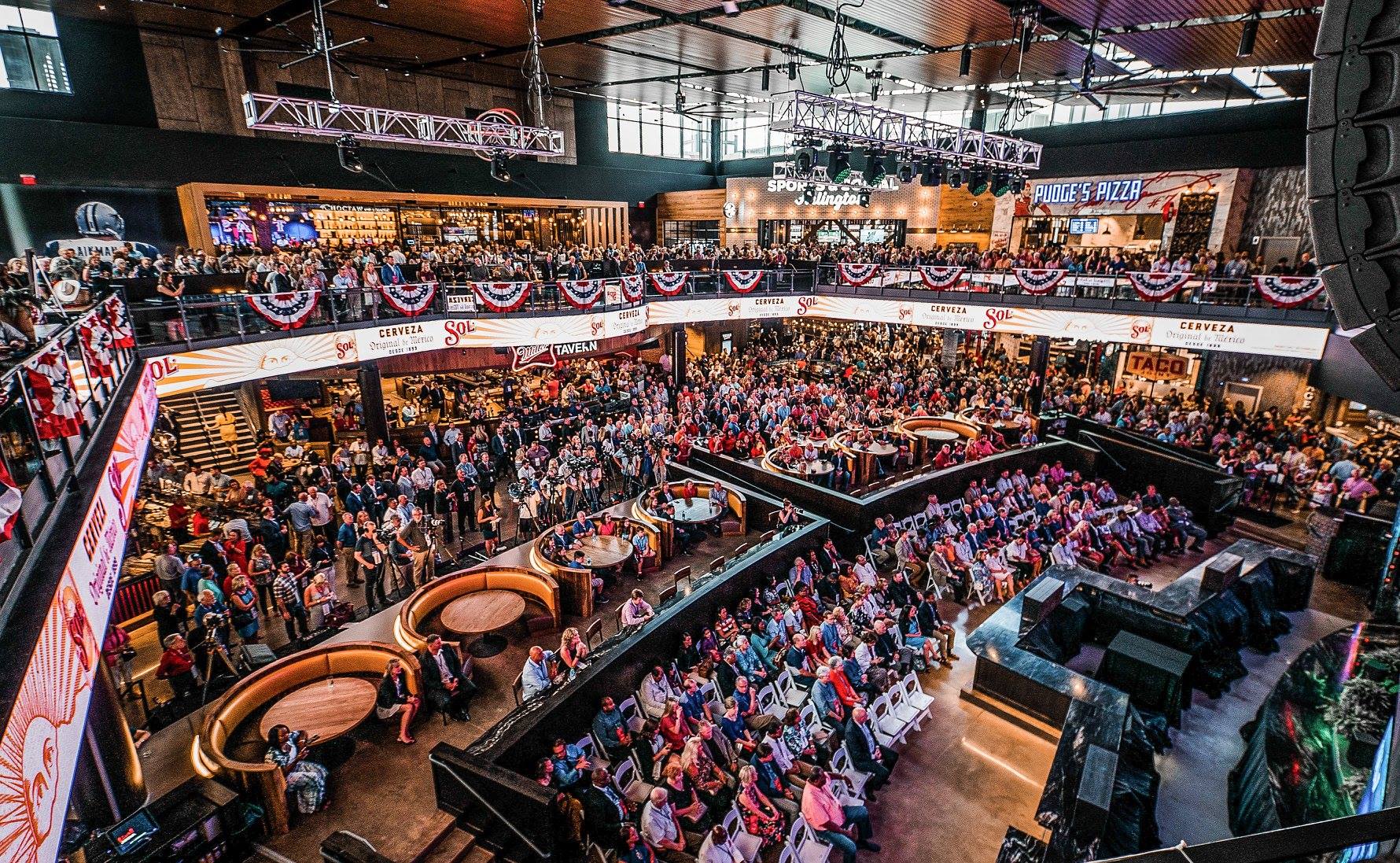 What? What? What did you? That's what folks normally say when you try and describe Texas Live to someone who has never been before. I like to call it an "Entertainment Mecca" everything you need for a real Texas party. T.L. has a complete and crazy line up of places to sling back drinks, watch the big game, or Chow down on some incredibly delicious food. It's so big it needs it's own zip code, lol! They are having great specials Super bowl Sunday look at this deal:
Sunday, February 3rd for the Big Game Bash and enter for a chance to WIN the ultimate tailgate package! Package includes a 65″ TV, tailgate tent, cooler, and two chairs. Enter here → http://bit.ly/2SeAxG9
Head on over to Texas Live and have a Texas-size time like Drink With Trey does! Check out this video
Dallas, Texas at Good Latimer Express
Bottle Blonde, or B.B. as I Iike to call it, has an awesome upstairs outdoor patio setting. The downstairs is killer too but I love the upstairs. The first time I was there I fell in love with the vibrant upbeat atmosphere upstairs. The cars flying by on the expressway makes for some fun games. They have a fantastic friendly staff and a wonderful menu full of great tasty creations and bites. They have lots of TVs and plenty of room for Super Bowl Sunday.
They will have two 24-foot projection wall TV's which will be awesome to watch the big game. Head over to B.B. have a have a drink on the upstairs patio for Trey. Watch this video! 
Fort Worth, Texas West 7th Area.
Bar 2909 or just 2909 as the locals like to call it. I call it my outdoor headquarters for all that's fun. 2909 has an amazing outdoor area with games, lots of seating, a fireplace, big heaters, and great sound. They have plenty of bar space so you can get your drinks easily without any issues. They have a wonderful Chef driven menu from Cork & Pig Tavern and it's full of tasty creations. Its filled with great eats. They have one of my favorite sandwiches, the "French Dip". This is so good you will order two one for later. Great cocktails, lots of room for lounging and having fun in the sun, or under a heater. Head over to Bar 2909 and have some good times. Watch this video! 
Fort Worth, Texas in West 7th Area
V.T. is what I call it and it's a great place for fun and debauchery of all types. They have two floors of greatness. Outdoor games of all types, great cocktails, and an awesome staff that loves to have fun. You can hang out upstairs and look down two different streets. Here you can take in the vibrant upbeat atmosphere. They have some big TV's with a great sound all over V.T. I love the upstairs section outside in fresh Texas air. They have great seating areas with plenty of stand up and stretch room. V.T. as also been an all-time favorite of mine and is a great place to watch sporting events. Love me some V.T. baby! What this Video! 
McKinney, Texas on Eldorado Pkwy
If you're in the McKinney area for Super Bowl Sunday or any sporting event you need to head on over to the wonderful End Zone. The powerhouse of sports entertainment, or as I would say, the place for some bad azz fun with great staff. E.Z. has plenty of room with great bar food. They have some awesome cocktails too! They say, "It doesn't matter if you like the classic, soulful, shaken, or stirred, you will get an amazing cocktail from E.Z.". They're having some great deals on Super Bowl Sunday.
The biggest game in all of the sports, free beer hour, free appetizer samplers, prizes, $200 being given away…I mean, what else do ya need!?!? Head on over to E.Z. and tell'em Big Trey sent you.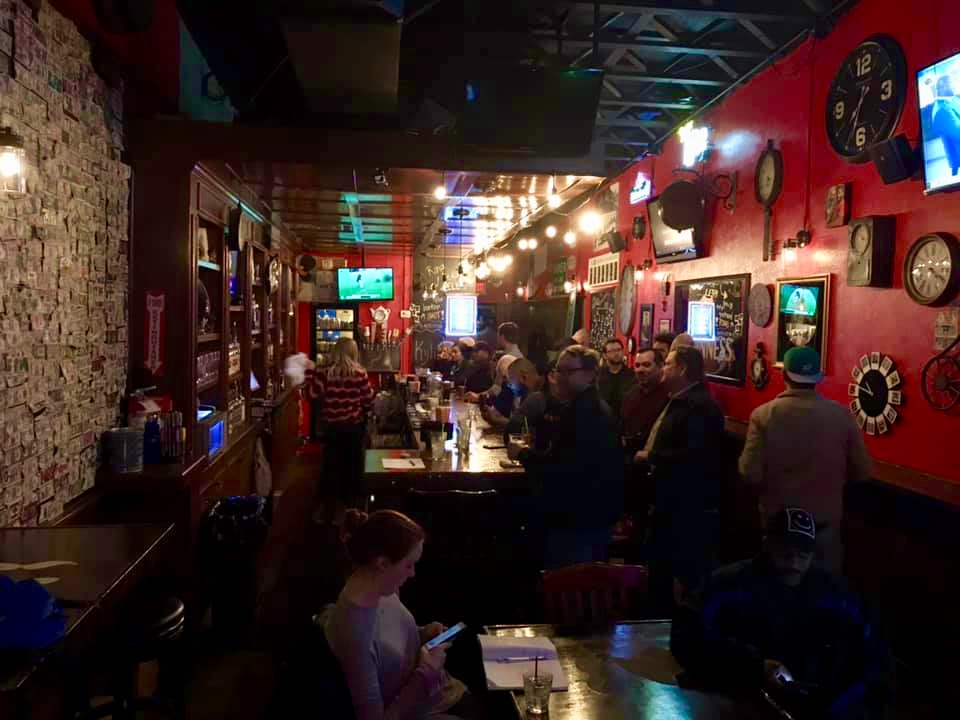 Fort Worth, Texas in West 7th Area
Here's the deal. Mad Hatter isn't a big sports club, a party palace, or a gigantic bar. It's plain and simply one of the BEST little bars in Texas, PERIOD! When I tell you it's the BEST because I truly mean it. The place reminds me of CHEERS. It just can't get any better than the little Cozy Mad Hatter. The owner and staff are truly amazing and so friendly. They pride themselves on great customer service as well as serving perfect cocktails and cold beer. You get good times and plenty of conversation whether you want it or not. If you in the mood to try an award-winning cozy little joint in Fort Worth where everyone knows your name then head over to the wonderful Mad Hatter. Tell them Trey sent you. Mad Hatter still my NUMBER #1 VOTE of the BEST BARS in Texas, PERIOD!
Fort Worth, Texas Magnolia Area
Up 90 is a fantastic little sports bar located in the new hip area of Fort Worth in what I like to call the Magnolia Arts District. Known for friendly fun folks and a great staff you call see all your sports games and enjoy some great company. I think they enjoy every sport known to man at Upper 90 it's a real sportsman paradise. Super bowl Sunday is no different it will be a Texas size day!
Party kicks off at 5PM Free Food, Drink Specials, Super Bowl Squares, Live Music and more. Head over to Upper 90 and enjoy the fantastic sports vibe and wonderful staff! Check out this video!
Please have an awesome time and remember to TIP your staff well! Be polite and don't drive drunk. It never ends well for anyone especially you. 
Much Love,
Watch out new Radio TV show @ Spoony Radio . COM