I discovered French Cajun-Creole Cuisine Heaven – WOW!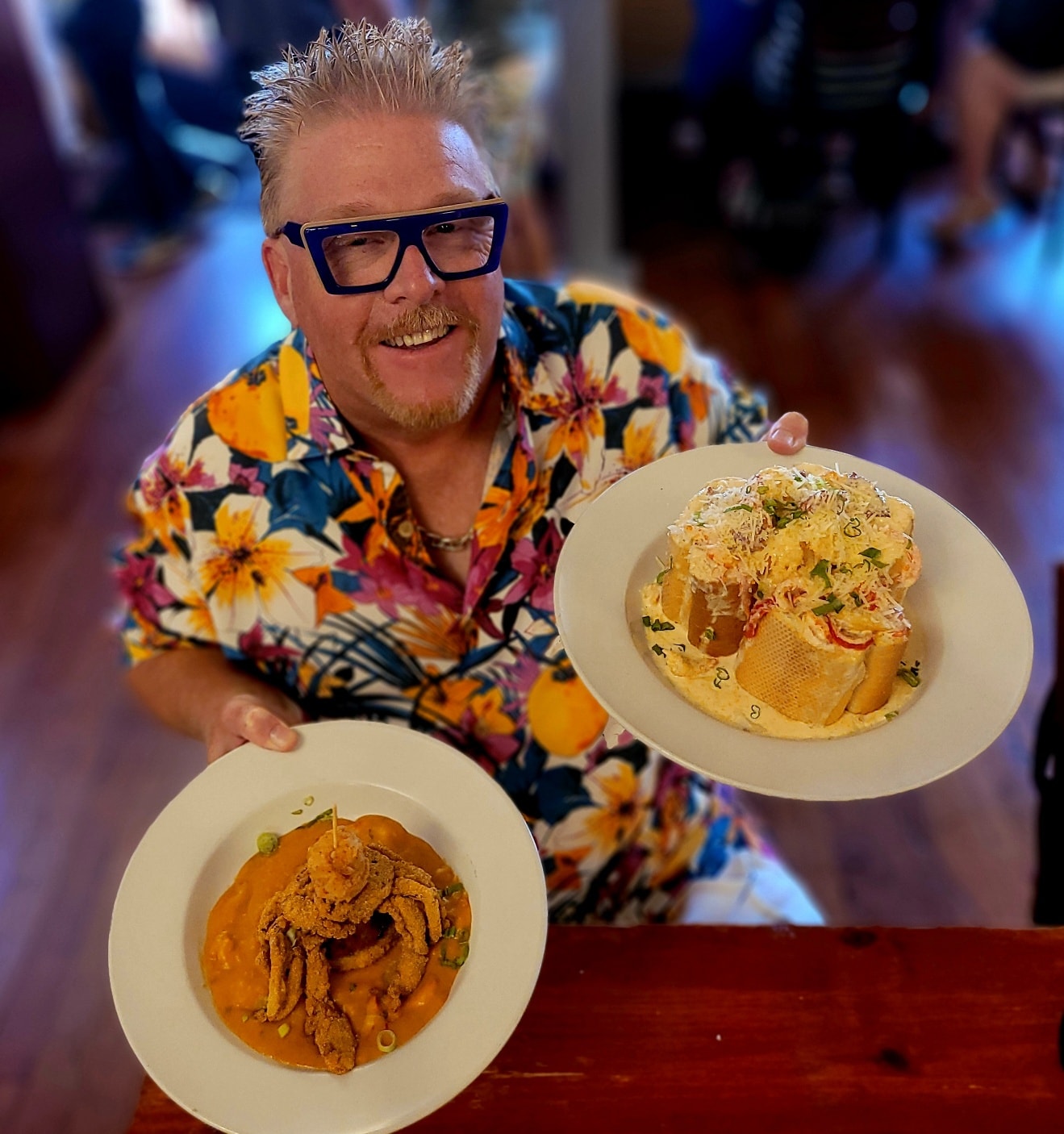 If you also love to travel for deliciousness, then I have something special for you. If you're searching for tasty craft cocktails and wonderful food experiences, look no further. This is the one!
Trey's Chow Down is Road Trip'in the USA for Trey's Coastal Chow Down deliciousness and today we're in Arnaudville, Louisiana at The Little Big Cup for some serious comfort food and sweet treats. Located just five hours from DFW on the way to New Orleans, it's worth a visit to chow down on some seriously creative and flavorful French Cajun-Creole cooking.
Kevin Robin and Sanjay Maharaj are the owners of The Little Big Cup. Kevin is all about food and Sanjay handles the management side. Together they strike a perfect balance and bring you The Little Big Cup.
Kevin is a native of Arnaudville but spent 20 years in New York before returning home to work at his family's business: Russell's Food Center, a five-generation operation that has brought the best in food to the Acadiana area. Sanjay is a native of Trinidad.
We received several tips about this place and just had to check it out. We're glad we did, because their entire operation is incredible – from the menu to the service. Everything we tried was perfection from beginning to end.
They've won many awards and offer one of the BEST Po'boys in Louisiana, and that's saying something. That Po'boy is creamy, savory deliciousness stacked and packed with fresh goodies that will have you screaming, "THANK YOU MAY I HAVE ANOTHER?" Just #Stupiddelicious We ordered a wide variety of dishes and we couldn't find a single bad one. There was something for everyone and they were all served HF&D #HotFreshandDelicious.
We enjoyed many items, including:
Cracklin' Dusted Fried Mac-N-Cheese Balls – OMG DELISH!
Cheesy Seafood Nachos – R.I.D.I.C.U.L.O.U.S!
Fried Crawfish Cornbread- Unbelievable!
Kevin's Po Boy – Savory Deliciousness!
Soft Crab Stack 2.0 ABSOLUTE perfection!
SAVORY SWEET TREATS that were so delicious your tongue will slap your brains out wanting more.
📝👉 https://thelittlebigcup.com/
If you LOVE to eat and you LOVE incredible food experiences, then I would highly recommend a visit to LITTLE BIG CUP to CHOW DOWN. They are a new official APPROVED Trey's Chow Down Delicious Destination for all food lovers to enjoy.  
Please follow one of our 11 social media platforms for delicious east, tasty craft cocktails, savory sweet treats and unique travel destinations.
Trey ( Chow Down ) Chapman