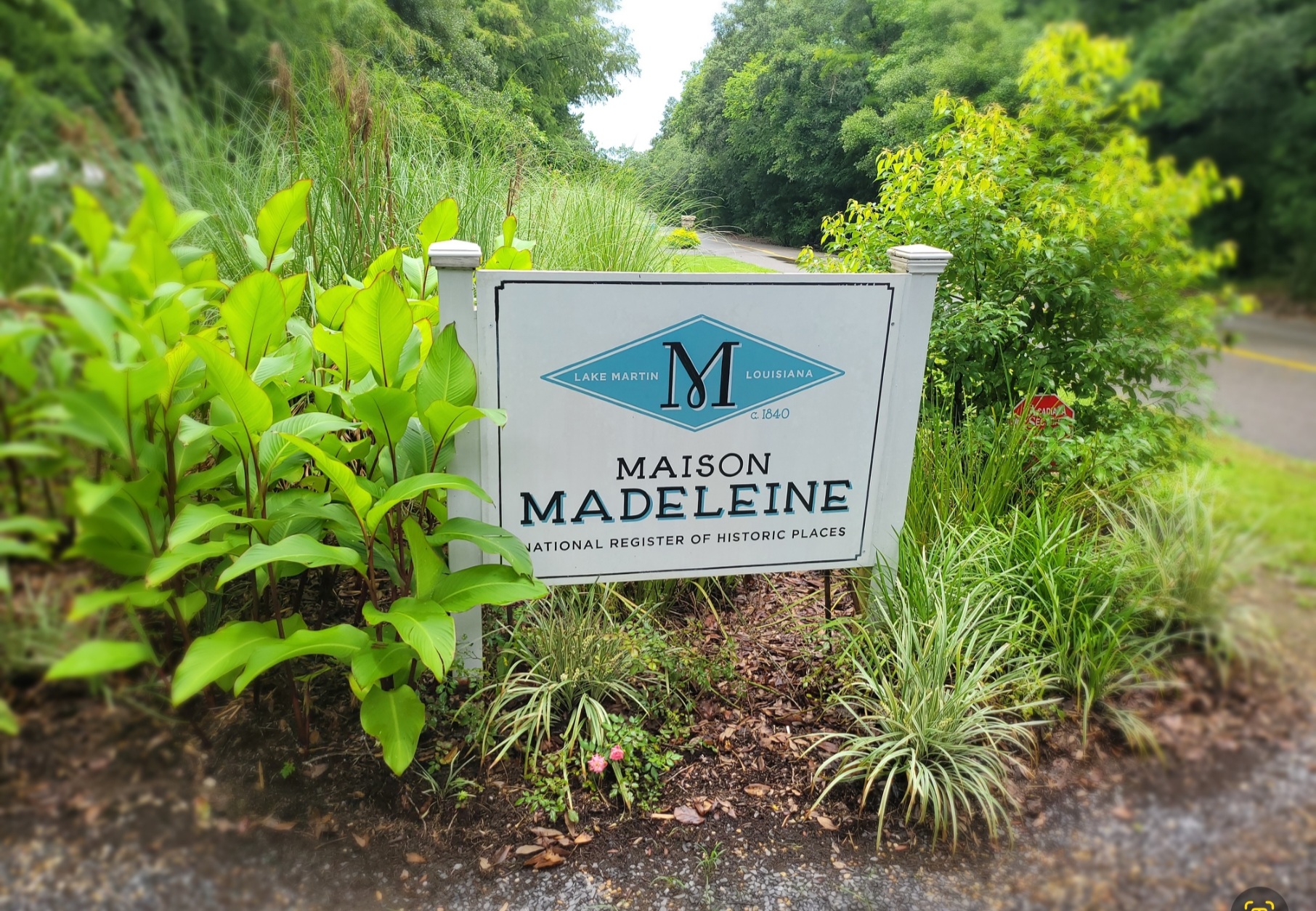 Have you ever seen pictures of a place so dreamy, beautiful, peaceful and picturesque you think to yourself, that can't be real. It's just not possible – there's no way a place like that can exist in today's world. Well, we discovered a place just like that in Lake Martin, Louisiana; a place so unbelievable we just wanted to pinch ourselves. It is simply known as Maison La Madeleine.
I'm going to tell you the rest of this fantastic story and how it all began so you can enjoy this incredibly unique travel destination that is rich in history, cozy vibes, southern hospitality, and food so delicious you will want to lick your plates clean after every meal.
This story starts back in 1860, when Jean Pierre Cenac walked to Bordeaux from the foothills of the Pyrenees and arrived in Algiers, Louisiana on Christmas Eve. He set up shop, got to work, and started making family history. Fast forward about 160 years and today Proprietress Madeleine Cenac and her husband Walt Adams own and operate one of the most incredible bed and breakfast travel destinations in the world: Maison La Madeleine. It's located in the heart of the Atchafalaya Basin, adjacent to the Nature Conservancy's 9,300-acre Cypress Island Preserve in Lake Martin, Louisiana.
Established as a Bed & Breakfast in 2005 by its owner Madeleine Cenac, it's been a successful operation for going on 17 years. Madeleine and her family oversaw every little detail and put in years of blood, sweat and tears restoring a beautiful rustic 1840's southern cottage. She's extremely detail-oriented and every single item about the restoration, right down to the floor nails, was kept authentic and true to the times. As I walked around studying the details, the beauty, and soaking up the history, I was in a trance. It was so convincing that one would think they were actually back in the 1840's, except for the modern conveniences.
They have also won accolades from the travel and tourism industry, magazines, programs and of course the tourists who are lucky enough to visit. They offer incredible service, history, fantastic stories, delicious meals, live music with a supper club series, incredible French Creole surroundings and accommodations fit for kings and queens.
I can't begin to describe the feeling you get as you drive down the beautiful tree-lined roads on the way to the cottage. Your heart will smile because it's absolutely breathtaking! The sights, smells, sounds, colors, and animals create a vision like you're driving into a movie scene. When you finally arrive and step out into the beautiful world that is Masion La Madeleine, you will be in awe of the surrounding landscape and happenings.
The main house, or historic structure – a circa 1840 French Creole cottage – was moved to its location on Lake Martin in St. Martin Parish from property on the Vermillion River near Perry, Louisiana in 1997. Painstakingly restored and authentically furnished to its original grandeur, it serves as the centerpiece of the Bed & Breakfast. This is one of less than 50 such surviving 19th Century structures in the Acadiana Parishes.
When you enter the home, you get a warm cozy feeling that I can't describe, except to say it's pure bliss. From floor to ceiling and wall to wall its full of furnishings, artwork, and historical artifacts that would make any historian green with envy. My eyes and senses were on overload as I enjoyed it all – especially once I completely understood how much detail, hard work and dedication went into every aspect of this home and its surroundings.
Just when you think you've seen it all, you get a key and start upstairs to your living quarters. The stairs creak and the wood pops as you make your way up the narrow staircase. As you slowly push the door open you see the beautiful hallway and rooms decorated so perfectly. It's like you've entered a fairy tale. There are two bedrooms, complete with sitting areas and even a hidden sleeping nook for children to enjoy. Accompanying this is a little kitchen area and a wonderful cozy bathroom. The entire living quarters is inviting and warm, with history about the family and Maison La Madeleine.
You can stroll around and enjoy the unique, colorful, and beautiful landscape surroundings. When you're done you can relax on the big front southern still pouch, or in the back by the river. My favorite place was the old Jesus Bar, which is behind the cottage main house. They have an incredible outdoor kitchen and seating area, but the Jesus Bar is where all the good stuff happens! You can also choose to enjoy a private cooking class from professional Cajun-Creole chefs who live close by and are some of the bests you will find. I would highly recommend a cooking class because it's educational, fun, and packed with delicious eats.
" I've traveled a lot in my life and enjoy traveling to wonderful and beautiful destinations. Maison Madeleine is TRULY UNIQUE and should be enjoyed by anyone who loves to travel, learn about history, eat, drink, and enjoy Louisiana. If you have some extra time, take a boat ride on Lake Martin to look at gators, or stroll around the nearby Breaux Bridge, Louisiana. I fell in love with everything about this wonderful bed and breakfast and of course the amazing Madeleine and Walt."
Special Thanks to Chef Herbert and Chef Vicki two incredibly talented authentic Cajun Chefs that are simply wonderful! 
Please follow us on social media. Hope to meet you at a table soon!
Trey & Jana ( Chow & Travel Hounds )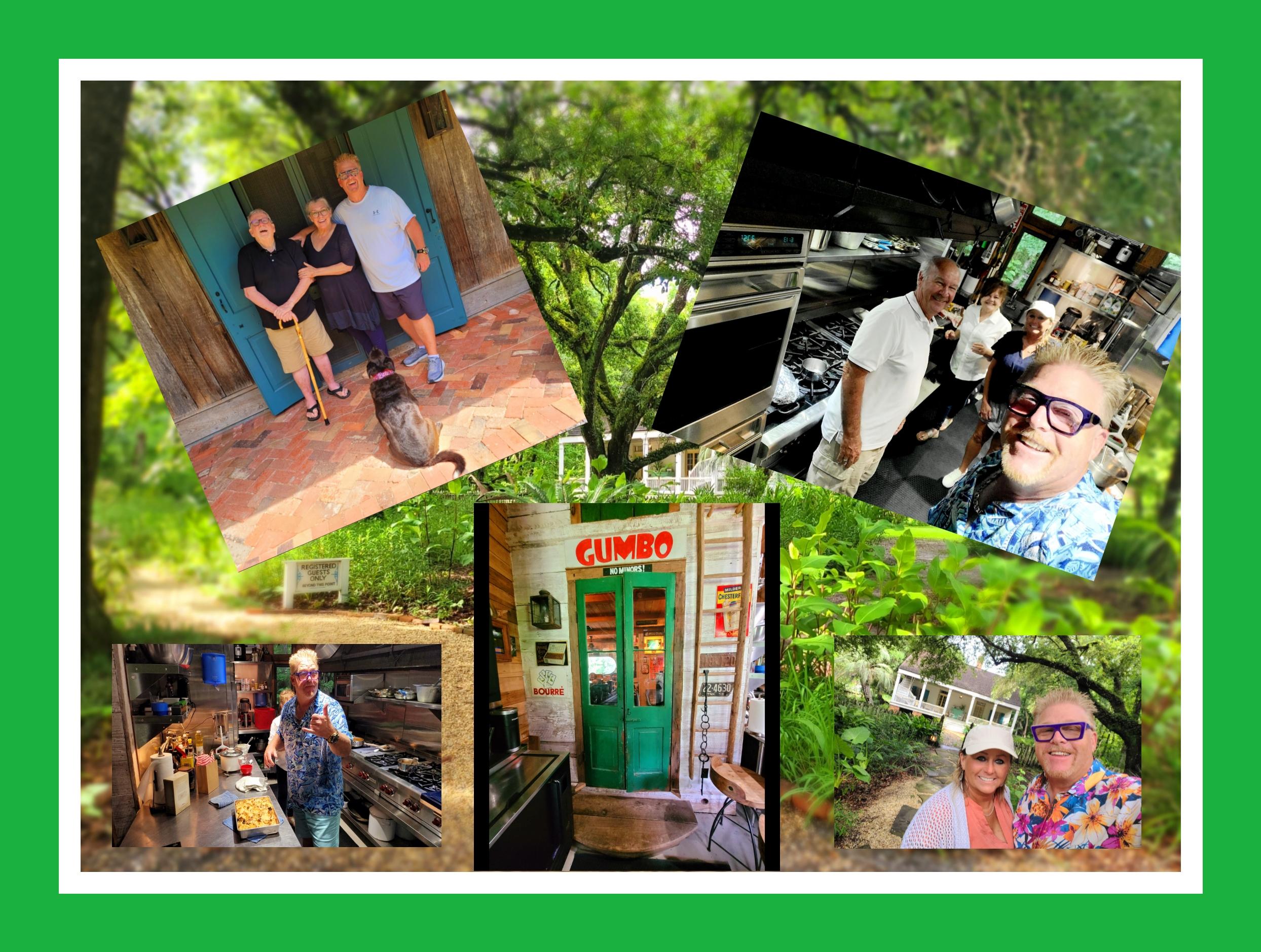 Walt, Madeleine & Trey at Jesus Bar + Herbert, Vicki, Jana & Trey Private Cajun Cooking Class + Trey Cooking + Jesus Bar From Door + Jana & Trey in Bliss.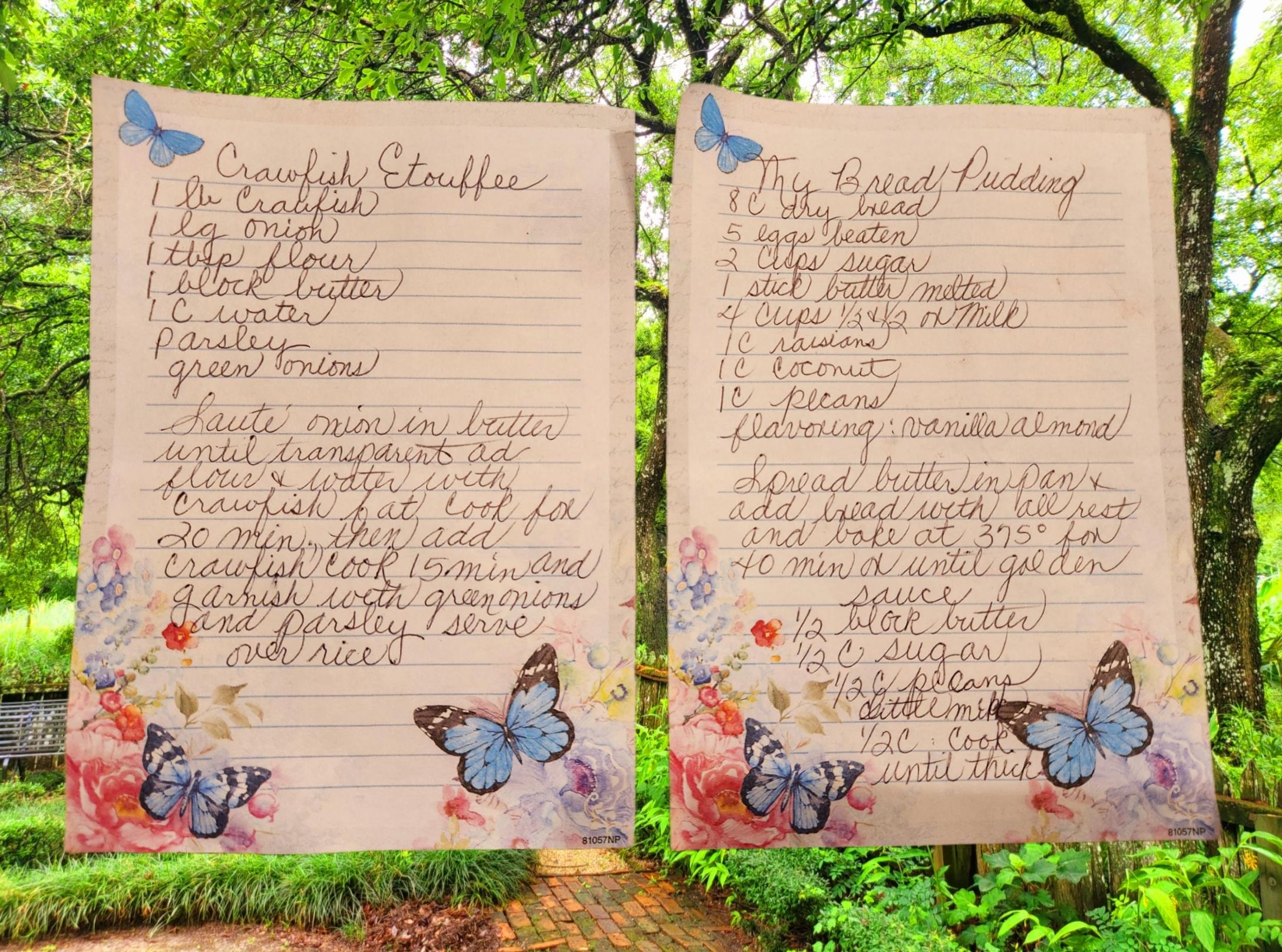 Trey's Chow Down Fresh Crawfish Étouffée and Trey's Louisiana Bread Pudding ( Thank YOU Chef Walt and Chef Vicki )