Howdy Burger Lovers!
I'm honored to present this year's BEST burger winners. Any burger on my list is here because they are fresh and delicious. Please support local and try all of these burgers. Below at the end of the blog we created a full color poster of this years winners. You may screen shot from your phone or print it off and plan your BURGER adventures of 2021. By saving our list you will have instance reference for your barbecue cravings. 
WOW! What a year 2020 was for the restaurant, food, and culinary world. In my five decades in the restaurant business, I've seen disasters of all types and nothing comes close to the devastating effect Covid-19 had on our economy. Restaurants, chefs, pitmasters, and restauranteurs had to make big changes if they wanted to survive the pandemic. Nationwide, we lost over 251,000 restaurants forever and 2.5 million restaurant jobs at the latest estimate. The good thing is that NOW we are on the mend and the Texas economy is in full giddy-up mode! This is why it's so important to support local restaurants to keep us in giddy-up mode.
Even though things were crazy due to Covid-19 we still worked hard reporting on food and hunting down the best burgers we could locate in North Texas. The pandemic allowed us plenty of extra time to chow down on some tasty burgers; it also allowed burger creators time to come up with some new delicious and creative burgers for all of us to enjoy. If you follow me, you know how much I enjoy a great and tasty burger.  This is our seventh year for the BEST BURGER contest in Texas and I'm excited to tell everyone about my delicious burger discoveries.
Did you know that burgers are one of the most sought-after sandwiches in the world? The burger business is crazy in the U.S.A. I don't have the newly updated numbers of burgers sold in 2020 during the pandemic (and it would be an oddly skewed amount), so we are using the last updated numbers. A national research company states that we sell 6.48 million burgers a day, and around 75 burgers a second! What? Yes, 75 burgers a second! This roughly breaks down as 4,500 burgers every minute, 270,000 every hour, 6.48 million a day, and 2.36 billion burgers a year. A worldwide research study states we sell 50 billion a year worldwide. 50 Billion a year that to me is shocking, but I know how many folks just love a succulent, savory, and delicious burger.
Having so much history with hamburgers, I've always wondered when and where the hamburger was created. According to Congresswoman Rosa DeLauro, the hamburger was first created in America in the 1900s; it was a simple ground beef patty between two slices of bread. There are several different versions of stories of when the hamburger was invented – one is that of German origin. Otto Kuasw, who created a very popular "sailors' sandwich" made of a fillet of beef, fried in butter, served with a fried egg between two toasted buns… It doesn't really matter when or how it came to be, what matters today is almost everyone loves a tasty burger.
The old saying says that everything is bigger and better in Texas, and that still holds true today, especially in the burger and beef business. In the last ten years, the Texas market has seen an explosion in the use of craft meats from the farm/ranch category. We have a variety of small ranches and farms offering various types of perfect meats that can be dropped off right at anyones back door. Some of the popular proteins, beef, and cuts being used are Angus, Hereford, Brangus, Kobe, American Style Wagyu Kobe, American Kobe, Japanese Wagyu, Chuck, Short Ribs, Round Steak, Tenderloin, Filet Mignon, New York Strip, Ribeye, Brisket, Bison, Lamb, heck even fresh Tuna for Tuna Burgers, and many other combinations including bacon/pork. We could go on for days about combinations of various proteins, meats, and meat cuts being used. Everyone is looking for that special real deal burger flavor profile to make his or her burger number one in the burger wars. In my opinion, being a fourth-generation rancher, superior meat quality and fresh protein plays a big role in achieving that perfect flavor. If you're curious about the meat sectional, just ask the chefs or pitmasters what they use and they will proudly tell you, or if you look it may be displayed at the restaurant. I received an invite last year to visit one of Texas' BEST craft beef suppliers 44 Farms.
Now that I have your attention, let's talk burgers.
The world definition of a hamburger is: ham·burg·er (noun) a round patty of ground beef, fried or grilled and typically served on a bun or roll and garnished with various condiments. This may be true but it has surely changed in the last decade.
I get asked almost daily about what the classifications are for adding a burger to our BEST BURGER LIST, and what experience I have in judging the best burger. Questions come in all the time on what my qualifications are for a burger to make my BEST BURGER list!
Well, it's pretty simple! Growing up in the restaurant business and offering burgers at all our family restaurants, I've become a real burger freak over the years. For over 100 years, every restaurant we've owned offered burgers of some sort. When I was a boy, we owned Quality Meat and Provision Company in Fort Worth, Texas. My granddad opened Quality Meat in the 1940s and it was still open when we sold it in the early 1980s. I worked there every summer with my grandma and my uncle John, where I performed all kinds of duties at the meat company. My favorite thing to do was unload the fresh sides of beef (they were very heavy). I would put them on the hook and slide them down the rail. I would push the swinging sides of beef into the meat cooler where they would be checked for quality, then butchered by the experienced and professional meat cutters. On occasion I would help load the meat in our fresh hamburger patty machines and make fresh patties. After the meat was ground up and pressed into patties, we would stack them in the boxes and seal them. We would then deliver them to our family restaurants and customers' restaurants to be cooked and consumed. I had a little flat grill in a back room where I would sneak some of the fresh patties, cook them only using salt and pepper, and add some cheese. Of course, this was just a Trey-test to make sure they were delicious and ready to be served with the Chapman Family name. I worked in our family restaurant operations and was involved in research, development, and new menu creations of all kinds for decades. When I was in high school my dad requested we work at all kinds of different hamburger joints to gain experience in the restaurant field. My burger history and education are quite extensive. I might as well have a master's degree in hamburgers.
Let's discuss my qualifications for what constitutes an award-winning burger.
The bun has to be soft, fresh, and flavorful – not dry. If it has vegetables, they need to be fresh, colorful and taste great. They can't be soggy and limp. The pickles need to have a slight crunch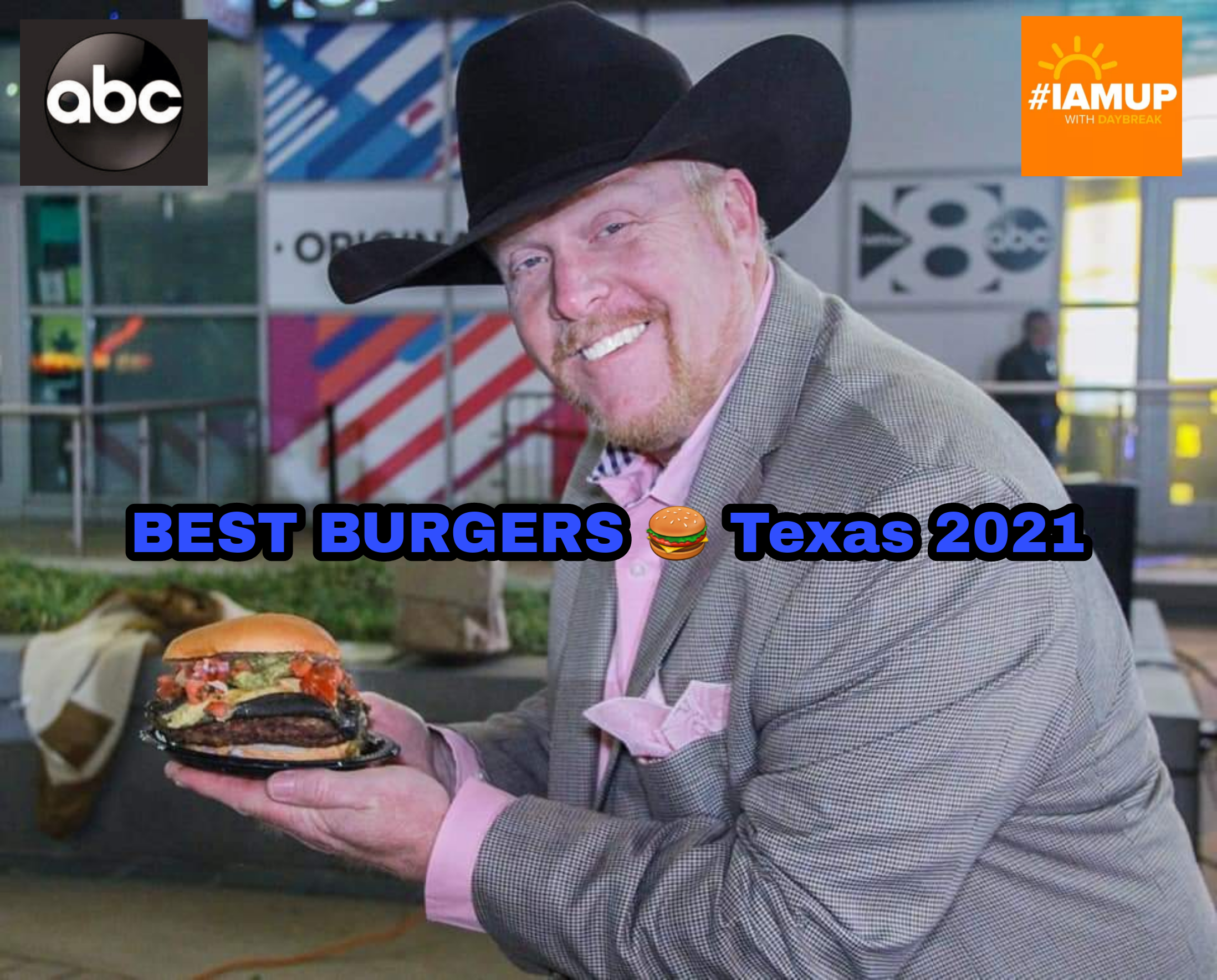 – they just have to crunch when you bite into them! I prefer the meat to be fresh and hand-pressed. If not hand-pressed, above all else, loaded with flavor. I have a few more but I'm not telling, no sir! It sounds easy to just create or make a burger, but it ain't. It's all in the preparation, handing, seasoning, and how you construct the burger.
The categories will be as follows:
– BEST ALL-AROUND 
– BEST CRAFT BURGER
– BEST OLD FASHION BURGER
– BEST BRUNCH BURGER 
– BEST BREAKFAST BURGER (new for 2021)
The beef industry has changed so much in the last five decades. To me, a CRAFT burger is completely different in the creation and flavor profile. They can be prepared with delicious, creative toppings, a variety of expensive, fresh meats, premium aged cheese, with a fancy bakery fresh bun. A craft burger can get expensive depending on how it is created. When it comes to craft burgers, my flavor profile has a wide range. I will try anything to see what kind of burger deliciousness a chef has created to achieve the number one tasting burger in the burger wars. There are lots of crazy flavor profiles for craft burgers. Plenty of craft burger creations can send your taste buds to the flavor rodeo and have you screaming "Giddy up!" with each bite.
An OLD FASHION burger has tender beef, farm-fresh vegetables, and a soft, toasted, buttery bun. It is a simple burger. A plain old fashion burger flavor profile is simplistic. If prepared correctly, with fresh beef and ingredients, it can be packed with juicy deliciousness. 
We traveled the highways and byways in search of the best burgers, covering many miles and visiting over 190 locations. We tried over 230 burgers to locate the best burgers in North Texas. Just like previous years, we have some new winners and lots of repeat winners on the list. In fact, I have a large number of repeat winners on this year's list because, to tell the truth, if you have a great burger, well you just have a great burger and there's no other way around it.
We are proud to introduce the winners below. My hopes are you will visit some, if not all, of these fantastic burger joints and chow down.
WINNER: Best All-Around Burger for 2021
Plano/Dallas, Texas
Chef John Tesar
The Double Ozersky Times Two Burger:
This burger won the BEST ALL-AROUND last year and the year before. I just couldn't find a better all-around burger for 2021. I hosted John last year on our live TV and Radio podcast where we discussed his passion for the culinary arts and his restaurant concepts. Knife has been featured on almost every TV food show and has won so many awards they don't have enough room to display them. 
The Ozersky was created by Chef John Tesar at his award-winning Knife Dallas, named after the late food critic and writer Josh Ozersky, also from Dallas. The Double Ozersky is truly a masterful burger! It's simplistic but riddled with flavor. When you bite into this burger and the flavors hit your pallet… You can say nothing but, "Give me another bite". It will put a smile on your face and fill a void in your burger-loving heart. It's prepared with two 44 Farms beef patties, two slices of cheese, farm-fresh red onion, and a bakery-fresh bun. This burger has two important elements: First, they use 44 Farms delicious beef patties. Second, the patties are cooked on an old-school flat grill. As the beef patties cook on the grill they soak in their own juices, which creates a fantastic flavor. Then they add the cheese to the patties while they are cooking on the flat grill, melting it into gooey deliciousness on the patties. When you receive this burger it's warm, fresh off the grill, and smells like heaven. I can say without hesitation that this is truly one of the best burgers I've eaten in my five decades of life. Chef John just killed it with the Double Ozersky Burger.
WINNER: Best Craft Burger of 2021 
Wild Acre Brewing Company Camp Bowie
Fort Worth Texas
Chef David Hollister
(Cover Burger Photo)
Ridiculousness Burger:
This is a new burger winner, but the creator Chef David Hollister has been around for a long time. I hosted him on our live TV show two different times and we did a short TV special with him for Fort Worth Magazine. He's extremely talented and passionate about creating deliciousness. It's no surprise to me that this Ridiculous Burger was #RidiciouslyDelicious. It is savory, meaty, cheesy, and loaded with great flavor. It's prepared with Mickey's Spicy Mustard, Kosher Dill Pickles, two Akaushi Wagyu Patties, four Slices of Tillamook Cheddar, four Slices of Nueske's Bacon, Jalapeño Cheddar Sausage, fresh Fried Egg, and a bakery fresh Toasted Onion Roll. Can you say R.I.D.I.C.U.L.O.U.S !
Best Craft Burgers of 2021 
Mckinney, Texas
Mathew Hamilton
Chef Adam West
The Hamilton Burger:
I met cowboy Matt Hamilton for the first time this year when his restaurant and butcher shop were featured on our weekly LIVE radio and T.V. show. I remember like it was yesterday! We were discussing burgers and Matt said, "Trey, you have to try our Hamilton Burger! You're going to love it." As always I wrote myself a note to head over to Local Yocal and try Matt's burger with his namesake attached. Well, burger lovers, Matt wasn't lying or telling a tall Texas tale. When I saw the server bringing my burger I couldn't take my eyes off of it. The presentation was picture perfect! The meat was stacked so high I was going to need a little ladder to climb on this bad boy and start chowing down. The burger was loaded with meaty, savory deliciousness. It has one full pound of meat. Yes, I said ONE POUND OF MEAT! I grabbed it with both hands and dug in! I was on my fourth bite when it won my heart for one of the best CRAFT BURGERS I ate all year. It's prepared with 1/3 lb. House-ground wagyu beef, house-smoked prime brisket, smoked jalapeño cheddar sausage, three slices of bacon, loads of cheddar cheese, farm-fresh grilled onions and jalapeños, with some creamy mayo. You wouldn't think all those different proteins wouldn't work to combine the perfectly flavored burger, but IT DOES. It was created just four short years ago by Pete Gonzales and the Local Yocal Team. They wanted a burger that was too BIG to eat. Pete is a butcher and BBQ Pitmaster passionate about his craft. When you get a chance you need to head over and try this award-winning burger. You better take a TEXAS size appetite when you head over to chow down.
3. Fuego Burger
Benbrook, Texas
The House Fuego Burger:
Created by Carlos and Christie Rodriguez, the House Fuego Burger looks like a piece of art and smells like heaven. If someone like Picasso was going to create a burger that looked like artwork and tasted delicious, it would definitely emulate this burger. It has a colorful bun with a BIG phat beautiful fresh melted cheese skirt surrounding the entire burger hanging off the bun about 2 inches in circumference. First, we ate with our eyes and this burger impressed me so much when they delivered it that my mouth was watering before my first bite. In the words of Carlos and Christie, "If loving cheese is wrong, then I don't want to be right!" The burger is prepared with a half-pound beef patty cooked on a flat grill, roasted jalapeño pepper mayo, fire-roasted green chilies, and a generous helping of melted cheddar jack to create cheesy goodness that surrounds the burger. With each bite you take the juicy burger patty combined with all that gooey cheese will melt in your mouth and send your pallet to the flavor rodeo. What an awesome burger!!!
Fort Worth, Texas
Chef Stefon Rishel
Flynt Burger:
Wishbone & Flynt is the brainchild of Top Chef winner Stefon Rishel and is located just south of downtown Fort Worth. The Flynt burger is prepared with a special chef's custom blend of fresh meat, that's never frozen. It has fresh white cheddar cheese, house-made pickles, farm-fresh lettuce, tomatoes, onions, and the patty is seared in duck fat. Yes, I said duck fat! The presentation of this burger is beautiful, but the culinary jingle that pops on your taste buds will linger forever. The Flynt burger is simply culinary perfection!
Fort Worth, Texas (3 locations)
The Serrano Burger: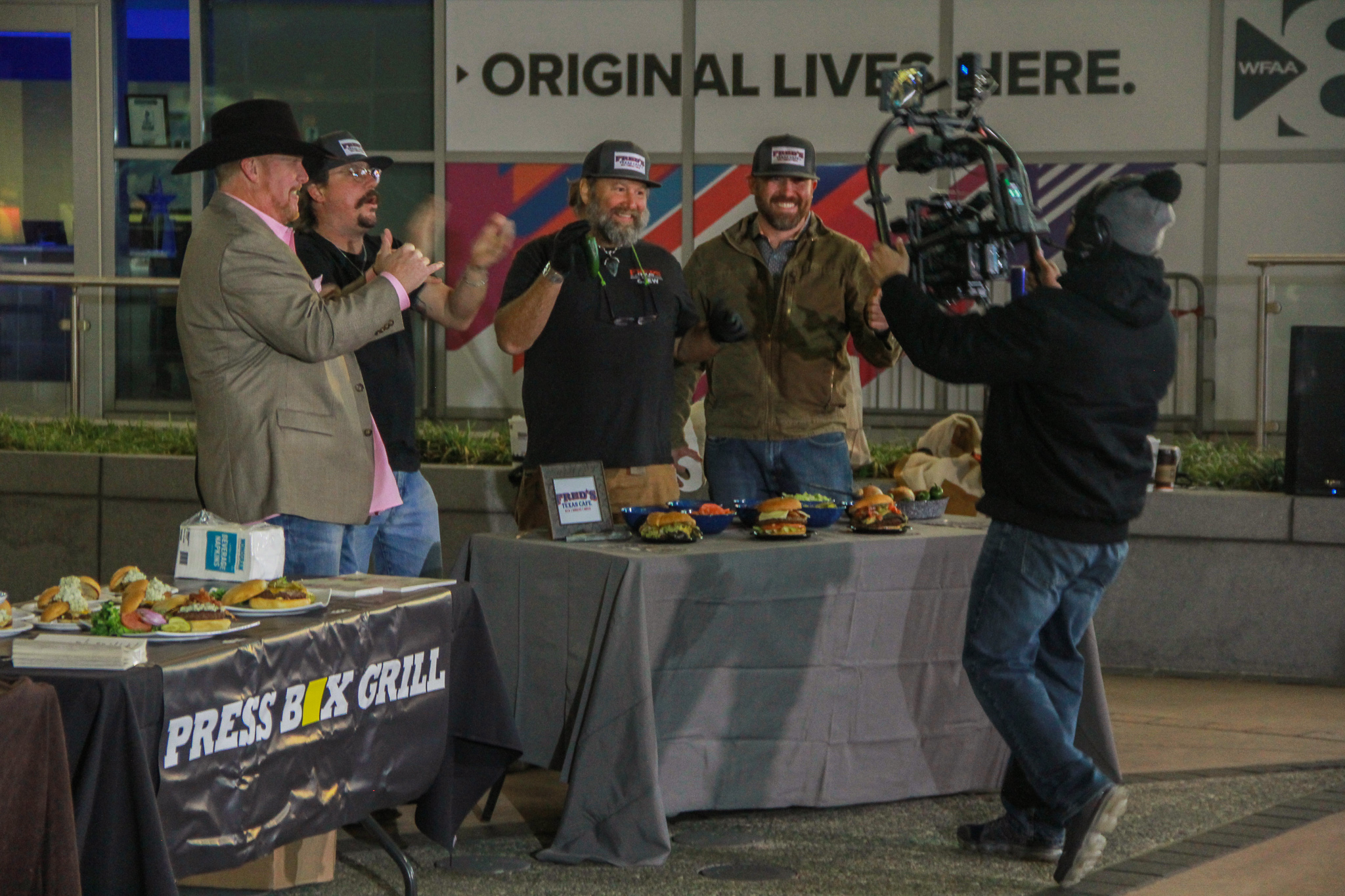 Fred's Texas Cafe and chef Terry are slinging creative burger deliciousness all day, every day. Chef Terry has created many award-winning burgers and the Serrano Burger is just one of many great burgers you will fall in love with at Fred's. This burger is a flavor explosion in your mouth that you will not soon forget. It's prepared with a fresh, soft, tasty bun along with fresh, never frozen ground chuck that is hand-mixed with farm-fresh Serrano peppers, and topped with grilled onions & Oaxaca cheese. Served with pickles, lettuce, tomato, and house-prepared lime mayo. A real flavor explosion in your mouth!
Crowley, Texas
Bacon Jammer Burger:
Just south of Fort Worth in Crowley, Texas, you will find Nicky D's. It's a very unassuming place that offers fantastic creative burgers and other delicious eats. The burger I fell in love with was the Bacon Jam Burger. Yes, I said Bacon Jammer! This burger is savory, cheesy, and delicious that everyone needs to try. It's prepared with a fresh tasty bun, bacon, a heap of cheddar cheese, fresh jalapeños, and a sweet bacon jam sauce. This burger is riddle with sweet-savory deliciousness.
Fort Worth, Texas
Jalapeno Popper Burger:
Located off Old White Settlement Road in an old small strip center, Pearl Snap has a cozy little dining room and a wonderful staff that's all smiles. They serve fresh chef-driven burgers and dishes you will love. Prepared with a fresh, soft house-made bun, a succulent meat patty, two strips of bacon, grilled Jalapenos, cream cheese, cheddar cheese, bacon bits, and diced Jalapenos. I added an extra meat patty for more meaty deliciousness.
Dallas, Texas
Chef Nathan Tate 
The Rapscallion Burger:
Prepared with a special 80/20 blend of certified Hereford Beef, three-cheese pimento, house pepper bacon, farm-fresh lettuce, tomato, onion, dill pickle, house-prepared creole mustard, and served with Rapscallion spiced sweet potato chips. All served on a fresh bakery brioche bun with black sesame seeds. You can also add a farm-fresh egg if you desire. I think the egg really adds a lot to the flavor profile of this amazing burger! The egg makes it pop on your taste buds – POW! This delicious burger is the creation of Chef Nathan Tate. He is cookin' and slingin' deliciousness all over Dallas. I visit Rapscallion often just to make sure I'm not missing any of Chef Tate's new delicious creations. I was introduced to Chef Tate's food two years ago and I've been in love with his cuisine ever since.
Fort Worth, Texas
The King George Burger:
Prepared with two juicy meat patties, two slices of cheese, with bacon & BBQ caramelized onions. All the trimmings are stacked between a farm-fresh bun. You get a generous portion of M&O's hand-cut French fries too. This burger looks incredible as well, with all the gooey, melted cheese running down the sides of this burger. It's beautiful, artistic, big, and packed with flavors. I really enjoyed this bad boy burger!
10. Dutch's Legendary Hamburgers
TCU area/Fort Worth, Texas
The Bacon Blue Cheese Burger:
Located by TCU in Fort Worth, Dutch's has created many award-winning burger combinations. The Bacon Blue Cheese is prepared with a juicy beef patty, fresh bacon, a generous portion of blue cheese, farm-fresh tomato, onion, house prepared chipotle mayo, and it's all on a bakery fresh bun. Dutch's uses a fantastic house prepared bun which has the flavor profile of a Hawaiian sweet bun that creates a unique flavor for this burger. The bun combined with the blue cheese creates a special combination on this burger. Get to Dutch's and chow down on this burger!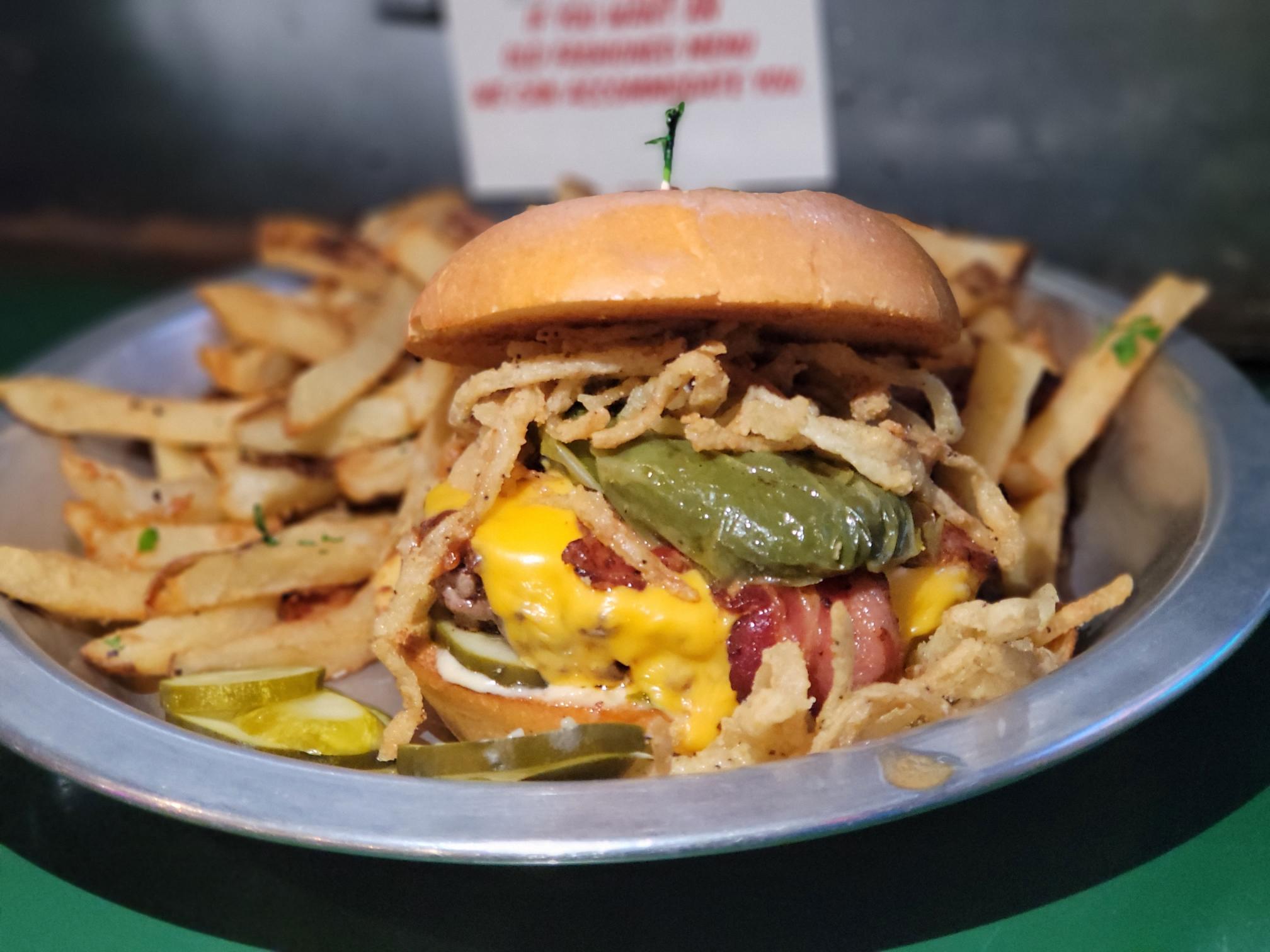 11. Rodeo Goat DFW
Dallas Fort Worth Texas
The Bodacious Burger:
Located in various locations in the DFW area, Rodeo Goat serves fresh, chef-driven burgers and eats that are delicious. The Bodacious Burger is a tribute to the O.G. (original goat). A big beef patty, American cheese, bacon, fresh crispy onions, fresh grilled jalapeños, pickles, house-smoked jalapeño mayo, and house BBQ sauce. This is a tasty burger that is loaded with Bodacious flavors.
12. J's Casa BURGERS 
River Oaks, Texas
The Mexican Burger:
J's has three burgers in this year's contest because they are slinging some unique burger deliciousness. It's a small restaurant with an extremely cozy outdoor atmosphere and great service. The Mexican burger is just one more of J's flavor-loaded burgers to win a spot on my best burger list. It's prepared with fresh avocado, bacon, fresh-grilled jalapeños, grilled onions, white cheese, fresh lettuce, tomato, and fresh house verde salsa. This burger is a must-try if you love craft burgers. Don't forget to add some of their tater tots that are coked GBD #GoldenBrownandDelicious
13. Whiskey Cake Bar & Kitchen
DFW, Texas & Oklahoma
The OMG Burger:
Prepared with goodness. REALLY. This has beer-battered onion rings, roasted criminis, muenster, grain mustard, red chili mayo, lettuce, tomato, all on a challah bun. The OMG Burger has loads of fresh ingredients and combined creates a BIG bold flavor that just rocks your taste buds. Also, the homemade chips on the side are delicious too.
DFW Metroplex
The El Diablo Burger:
I'm pretty sure that everyone in Texas has heard of HOPDODDY by now. If you haven't, let me introduce you to this award-winning, chef-driven burger concept. They offer delicious, one-of-a-kind, creative burgers that have fresh hand-prepared baked buns and hand-pressed meat patties. Yes, two of my favorite things are fresh buns and fresh hand-pressed patties. Do I have your attention now?! The burger I fell in love with is the El Diablo. It's prepared with a fresh-baked bun, hand-pressed Angus beef patty, pepper jack cheese, farm-fresh habanero and serrano peppers, caramelized onions, Salsa Roja, chipotle aioli, and farm-fresh lettuce. All I can say is, "The culinary jingle this burger creates on your pallet will never be forgotten – it's flavor perfection!"
Fort Worth, Texas
The Clay Pigeon Burger:
Chef Marcus's Clay Pigeon Restaurant is one of the finest chef-driven restaurants in Texas. His burger is prepared with fresh hand-ground beef from prime ribeye and New York strips. A fresh bakery buttered bun, farm-fresh lettuce, tomato, onions, house prepared Clay Pigeon garlic aioli and served with hand-cut French fries. Chef Marcus Pasley created the Clay Pigeon Burger. He is the owner of the famous Clay Pigeon and is an award-winning chef who creates amazing cuisine representing many cultures. Chef Marcus has no boundaries on what he can create and sling out of his kitchen. Marcus is one of my favorite chefs! It's truly his life's passion to cook delicious creations for all to enjoy.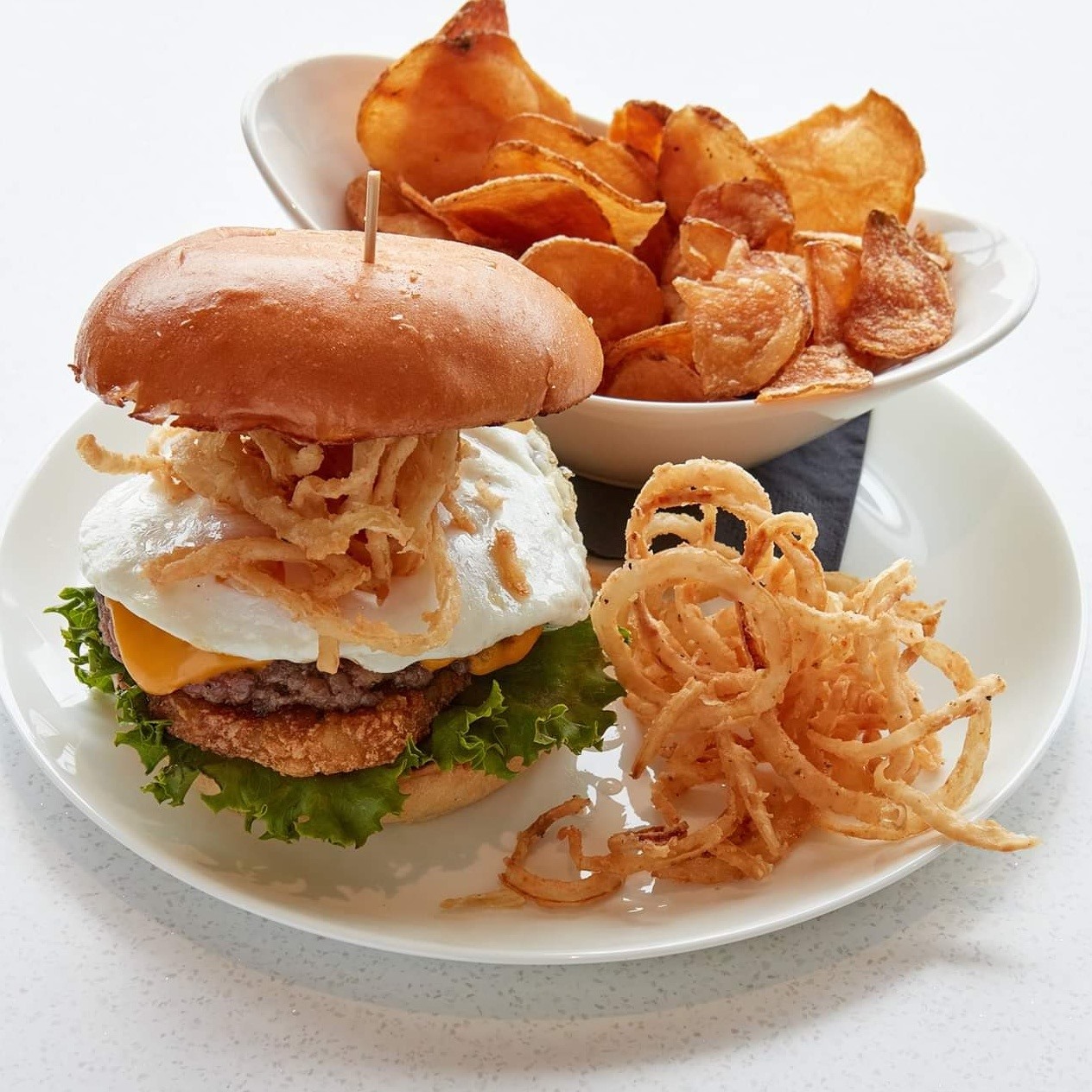 16. Seven Doors Kitchen & Craft Cocktails
The Colony, Texas
The Phat 70/30 Burger
chef Jacob QUINTANA
Chef Jacob is famous for his fresh culinary creations and his phat 70/30 Burger. Seven Doors offers fresh culinary delights with an amazing and vibrant atmosphere. the 70/30 Burger is always served HF&D #hotfreshanddelicious. It's prepared with fresh ground beef and bacon Blend, white cheddar cheese, house sweet pepper jam, house crispy onions, farm fresh lettuce all stacked between to soft bakery fresh Brioche Bun. It's also gluten-free. If you're looking for a cozy place to try and delicious burger head over to Seven Doors.
17. Press Box Grill
Downtown Dallas, Texas
The Cowboy Burger:
Located in downtown Dallas in a nice corner location, Press Box is slinging burger deliciousness all day every day. I met these folks from another foodie named Brandon Baker and I fell in love with their tasty burger creations. I featured them on my Best Burger in North Texas special for ABC last year. I love the Cowboy Burger – go figure! It's prepared with a fresh, soft bun, your choice of patty topped with bacon and blue cheese crumbles, plus lettuce, tomato, red onions, and pickles on the side. Can you see a pattern here I LOVE the flavor of blue cheese? This burger is loaded with flavor and is H.F. & D – Hot, Fresh and Delicious. Head over to Press Box, throw that door open, and yell, "Cowboy Trey sent me to Chow Down on your Cowboy Burger – bring it on!"
18. J's-Casa Burgers
River Oaks, Texas
The Junkyard Burger:
J-Casa is located in a very small, cozy building located in River Oaks with some fantastic burgers and homemade sweets. I love the big phat Junkyard Burger! It's prepared with a fresh, soft, tasty bun, American cheese, hotlinks, farm-fresh jalapeños, lettuce, tomato, and yellow mustard. This burger is succulent, flavorful, and delicious!
19. Heim Barbecue
Fort Worth & Dallas, Texas
The Heimburger:
I prefer the beautiful river location and enjoy some Heim deliciousness. Travis and Emma have won so many awards with their fresh smoked beef creations. The Heimburger is just one more award-winning dish from pitmaster Travis. The Heimburger isn't smoked, but you might think it was. It's prepared with finely chopped Heim smoked brisket combined with 44 Farms fresh ground beef to create meaty deliciousness. The star of the show is the bacon jam – yea baby, bacon jam prepared from Heim Bacon Burnt Ends, onions, and of course butter. The burger has a very unique flavor that translates to succulent burger savory deliciousness. If you love burgers you need to head over and chow down on this creative tasty burger.
Fort Worth, Texas
Chef Park Scott 
The Park Burger:
Prepared with fresh beef, fresh tomato, fresh lettuce, onion, cheese, pickle, Chef Parks burger spices and all stacked on a soft fresh toasted bun. This burger was created by Park the "Hang Over Chef" and It's packed with flavor and screams EAT ME! Check out and chow on this delicious burger!
Fort Worth, Texas
Chef Hans 
The Farm To Market Burger with Cheese:
Prepared with a fresh and juicy eight oz. Texas Akaushi beef patty, farm-fresh pickles, lettuce, tomato, and onion – all stacked between a Swiss Pastry Shop fresh baked bun. Chef Hans creates magic and deliciousness at his world-famous Swiss Pastry Shop. He cooks up a lot of different hamburgers with insane toppings and crazy flavor profiles. They always look Texas-worthy, incredible, and have big bold flavors. We love Chef Hans and his crazy super delicious burger creations at his unbelievable Swiss Pasty Shop.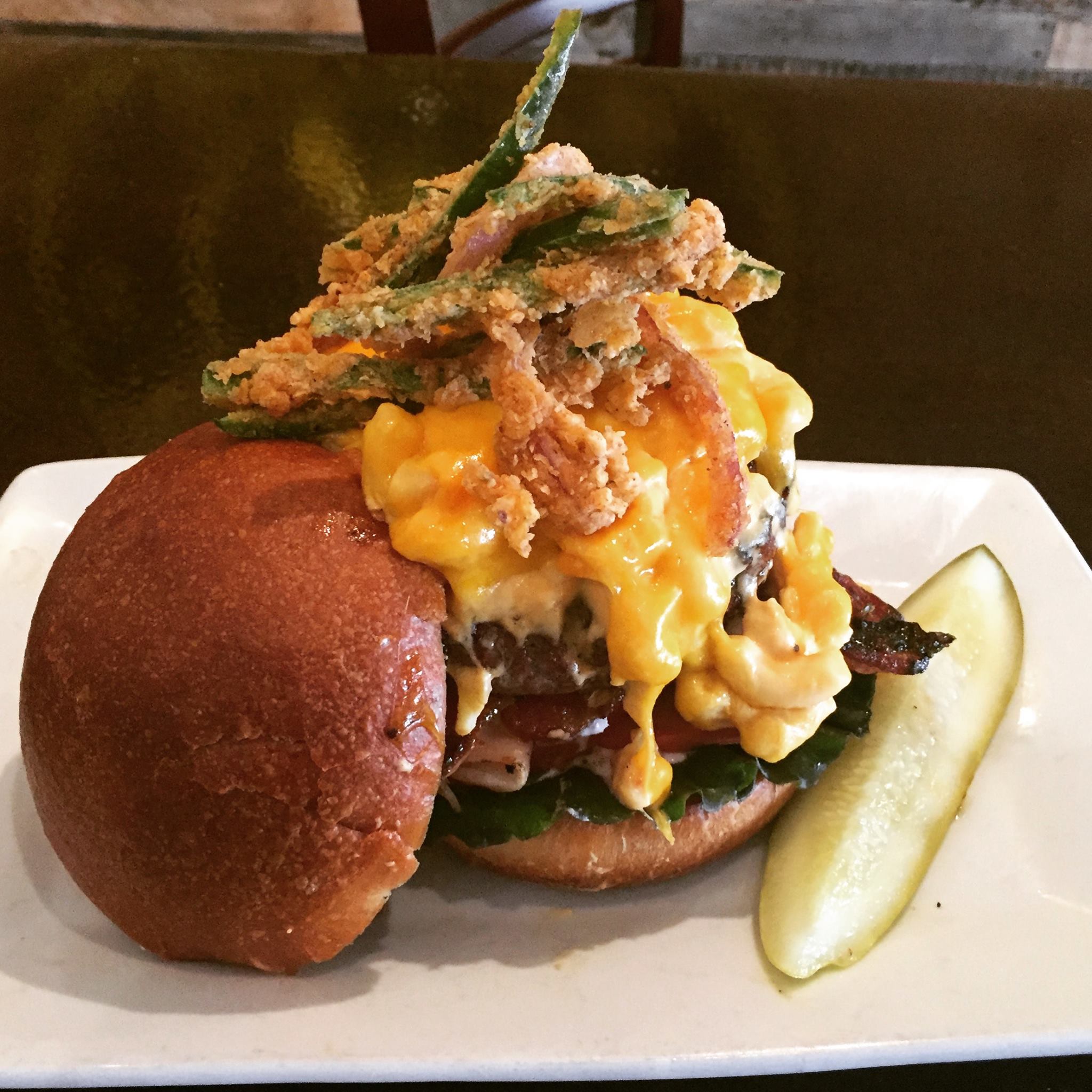 McKinney, Texas
The Garbage Burger:
I found EJ's by accident. I was actually trying a different burger across town and I saw a photo of their Garbage burger while scrolling through social media. I said, "Oh Trey you got to try that burger at EJ's!" So I did, and I loved the flavor. It's prepared with house-ground meat with jack cheese, sliced turkey, red leaf lettuce, sliced tomato, red cabbage slaw, jalapeño bacon, mac & cheese, topped with fried onion & jalapeño mix, served with loaded tater tots. This burger is stacked high, phat, and is very delicious! Get to EJ's and try this burger perfection creation!
Lamar in Dallas, Texas
Culinary Team
The Gold Metal Burger:
Prepared with 2 juicy Texas beef patties, topped with Cheese, house prepared onion strings, Gold barbecue sauce and all stacked between a bakery fresh brioche bun. This burger has a fantastic, fresh flavor profile. It's a delicious Texas burger that you will want to have again and again. If you add the fresh French fries and throw on some of their house-prepared bacon, the burger will WOW even more! The Omni culinary team creates deliciousness from farm-fresh products and ingredients with great flavor profiles that you won't and can't FORGET! Check out The Owners Box for great burgers and sports.
Fort Worth, Texas
Roundhouse Burger ( Roundhouse Style)
The burger is packed with flavor, loaded with cheese, and the bun was buttered and toasted. I always say that the bun makes the burger or the sandwich, and the bread at Roger's is fresh and soft with each bite. The Burger is prepared with two smash patties, melted cheddar cheese, fresh shredded lettuce, pico, and Rogers sauce.  Yo, whatever that Rogers sauce is prepared with it makes for a TASTY BURGER.
25. Grease Monkey
Arlington, Texas
The Angry Burger:
Located in downtown Arlington in a cozy bar pub-type atmosphere, Grease Monkey is a burger and wing hot spot. I love the flavor profile of the Angry Burger. It's prepared with a fresh, soft, and tasty bun, a beef patty, roasted green chili peppers, garlic, fried jalapeños, chipotle mayo, pepper jack cheese, and a little bit of burger deliciousness. Head over to the Monkey for some burger greatness.
BONUS 26.Fearings Restaurant
Dallas, Texas
The Rattlesnake Burger:
Chef Dean Fearing is famous for his amazing culinary creations. A true celebrity chef that knows no bounds to his culinary creativity. The Rattlesnake burger yet another of those tasty creations. It's prepared with mesquite-grilled fresh beef, Dean's Secret Sauce, Smoked Bacon, fresh Caramelized Onions, Pepper Jack Cheese, and fresh house cut rosemary French fries. Yes, my mouth is watering just thinking about this H.F. & D. creation. Hot, Fresh, and Delicious.
Best Old-School Burgers of 2021
WINNER: Best Old Fashion Burger for 2021
Jacksboro, Texas
Herd Family
The Herd Burger:
Herd's Hamburgers is the embodiment of the old fashion Hamburger in Texas, and probably by all accounts in the entire United States of America. They just have something at Herd's that's hard to emulate when it comes to a tasty burger. Herd's originated in 1916 and has been continually owned and operated by the same family ever since they first slung the doors open. You can't get much more originally than an Old Fashion Burger that served their first burger in 1916. If you think about it, 1916 isn't far off from the original burger creation in the USA in the early 1900s. That fact alone is truly remarkable. Just ponder on that 1916 and all the burger places that have come and gone and Herd's is still slinging those award-winning Old Fashion Burgers. The Herd's burger is simple in nature, but as I've said many times over my decades in the food business, "Simple dishes are sometimes the most difficult to facilitate!" It's prepared with fresh, smashed-thin meat patties, fresh vegetables, cheese, and a soft burger bun that's toasted on an old flat grill. If you truly are a burger freak and love burgers like I do head out to Herd's and chow down.
Bonham, Texas
Chef Kyle & Jarrett 
Old School with Bacon Burger:
Muddbones still on our list 3 years in row now. It is the brainchild of friends Kyle and Jarrett. They began in a food trailer and grew their business to be one of the BEST little burger joints in Texas. They've been featured on the hit T.V. show the Texas Bucket List, won various awards, and have been featured in North Texas for their tasty flavor-loaded old-school burgers. They'll tell you, "We set out (and succeeded!) to create a place where people could eat a burger that surpassed all others!" 
I saw their building about ten times as I was driving by in 2018 and didn't stop to eat their burgers. One night in late 2018 I saw them on TV and I told myself, "Trey, you need to go see those boys at Muddbones." The rest, they say, is history. I pulled open the door and walked into Muddbones with my hat pulled down. I ordered the Old School and sat down. When I received my burger and unwrapped it I couldn't believe the meaty deliciousness I was breathing in. It was tickling my nose hairs with delight. When I picked it up and took my first bite I knew I had a winner. The burger was a succulent, delicious old-school surprise and was loaded with flavor. It's prepared with a fresh and tasty 5" bun, quarter-pound patty, house-made seasoning, American cheese, lettuce, tomato, onion, pickles, and your choice of condiments. I added bacon as any Texan should. I added extra cheese to my second go-round because I love cheese. The bun is toasted on the flat grill for flavor where the meat is cooked.
3. Kincaid's Old Fashion Burgers
DFW Area, Texas
The Regular Kincaid Cheese Burger:
Created by Mr. Kincaid in 1946 in an old grocery store in Fort Worth, this burger is one of the original best burgers in Texas. They've won so many awards at Kincaid's they're running out of room to hang all of them. I've been eating and chowing down at Kincaid's for five decades. I always visit the original location in the old grocery store location off Camp Bowie in Fort Worth. The old location has charm and is extremely cozy. If you ask me the atmosphere at Kincaid's makes the burgers taste better. I always say, "Food tastes better with a story", and Kincaid's has a great story. My granddad was friends with Mr. Kincaid they talked business and beef a lot back in the day. Both of these men were part of the early history in the beef business when Fort Worth, Texas was taking shape. It's hard to explain the flavor profile of the Kincaid burger except to say, "It's just DANG DELICIOUS"! It's the true definition of an old fashion hamburger and has kept its same flavor profile all these years. My buddy "The Music Legend" is someone who has lived in Fort Worth for decades, Robert Gallagher says, "It's the best damn burger, period"! It's prepared using a fresh bun, all-natural Black Angus beef (preservative, hormone, and additive free) ground fresh daily. It's layered with farm fresh tomatoes, lettuce, pickles, onions and cooked on my favorite an old school flat grill in its own juicy juices. Again, vegetables are placed on the bottom of this burger which changes the flavor and makes it better. Remember, "It's just DANG DELICIOUS"!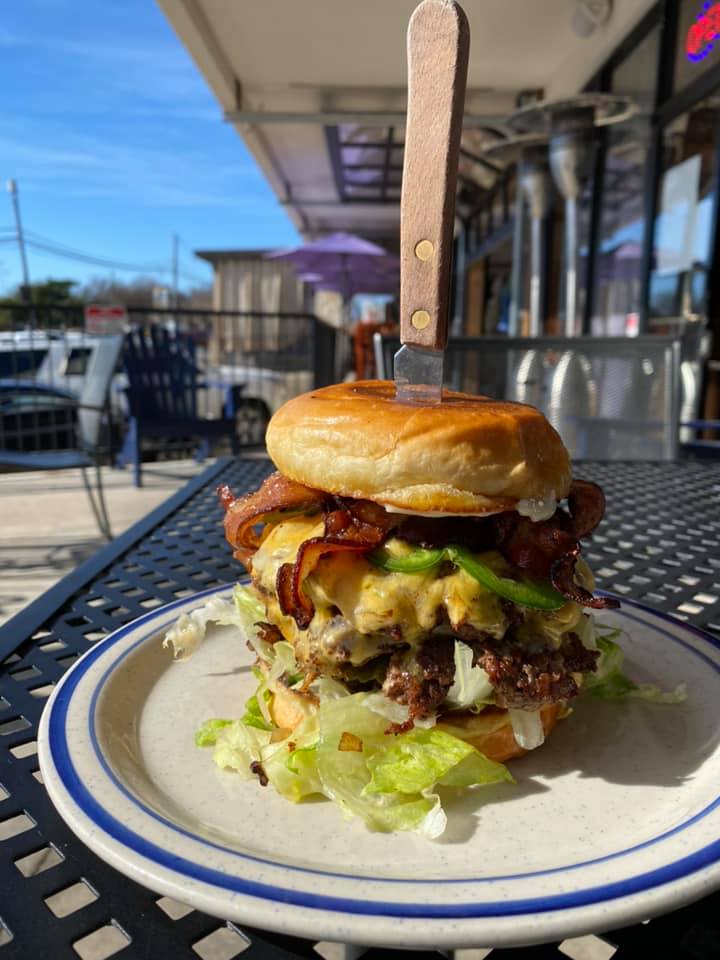 Dallas, Texas
Chef Nathan Tate
Hillside Double Old School Cheeseburger:
Chef Nathon Tate strives for perfection with all of his culinary creations and his "new" old school double cheeseburger is no exception. The burger bun was soft and fresh, the patties had a nice crust around the edges, and they were juicy. I added double meat and bacon because I love it. The burger is prepared with fresh, hand-pressed beef patties, American and provolone cheese, a house-prepared creole mustard and mayo sauce, shredded chilled farm-fresh iceberg lettuce, diced onions, fresh sliced tomato, and dill pickles. The burger is loaded with flavor and will send your taste buds to the flavor rodeo!
Deep Ellum, DFW Texas
Sky Rocket Old Fashion Triple Cheese:
Located in Deep Ellum in a cozy old school building, Sky Rocket Burgers is slinging old fashion burgers with some modern flavor profiles. I went big both of the days I ate burgers at Sky Rocket. I ordered the Triple Meat, Triple Cheese, added some bacon and a farm-fresh egg. This burger was layered with cheese and plenty of it. It was also cooked on a flat grill with smashed patties for some old fashion meaty deliciousness. Burger juice was running down my face as I chowed down. They also have tasty fries and real Coke in glass bottles.
Fort Worth Tx Lola's Trailer Park
Pitmaster Dayne Weaver
Dayne's Old School Burger
Dayne's is yet another award-winning Texas craft barbecue joint that entered the Texas burger wars this year with a BANG! They use brisket trimmings to create a flavorful old-school burger. The smash patty burger is served on a fresh toasted sesame seed bun with succulent smashed beef patties and fresh vegetables to create an award-winning burger that sends your taste buds to the flavor rodeo.
Fort Worth & Denton, Texas
The Classic Old Fashion Burger:
Fat Shack is new to the DFW area as of last year and when they opened in Fort Worth we couldn't wait to try one of their delicious burgers. I've tried three of their burger options and I liked each one. They have a creative menu with everything from burgers to sandwiches and even have fried desserts. Of course, I ordered extra cheese because I'm a fat guy that loves cheesy goodness! The Classic Burger is prepared on a soft, fresh bun, 100% Angus beef, and is served with American cheese, farm-fresh lettuce, tomatoes, onions, and Fat Shack's house prepared burger sauce. This burger is so juicy and delicious that I had burger juice dripping down my chin. The way it should be.
Fort Worth & Willow Park Tx.
Chef Ruth Hooker
Regular Old School Double Meat:
Hookers is old-school all the way. From the super-friendly customer service to the simple, but delicious, flat grill prepared burgers. It doesn't matter which location you visit for your burger because both locations are slinging deliciousness! The Regular Double Burger is served on a soft bun with 100% Hereford beef, farm-fresh chilled and chopped lettuce, fresh tomatoes, onions, and of course I added some bacon and cheese. You can also request grilled onions and/or fried onions. You will love this flavor profile and you are encouraged to support your local Hookers!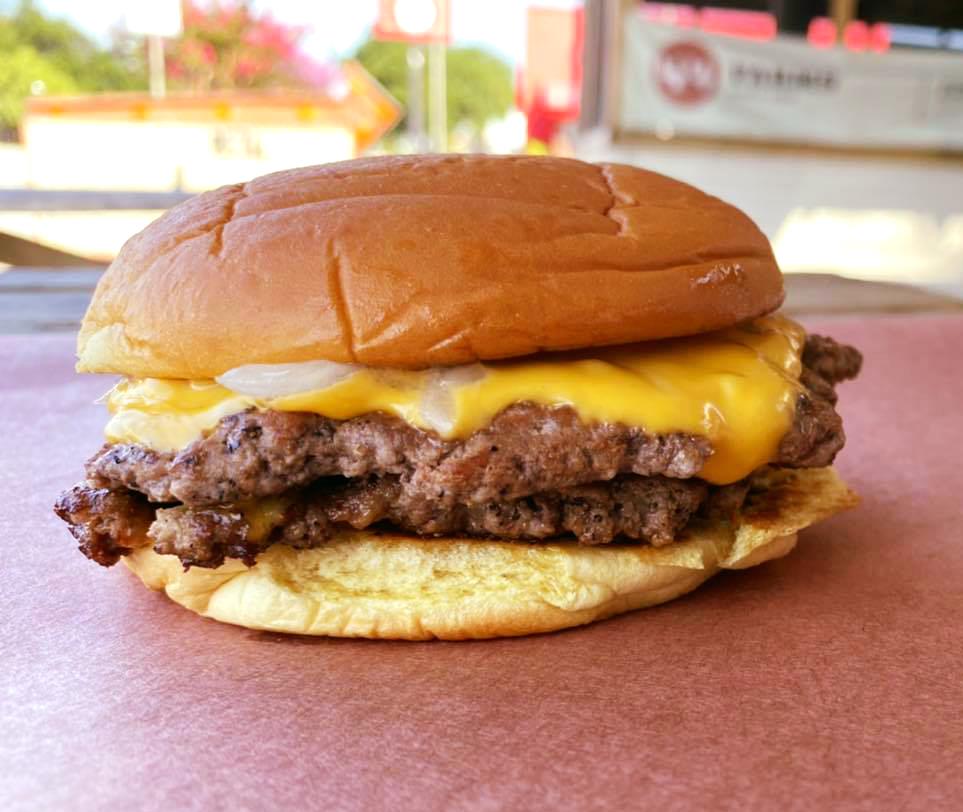 9. Zavala's BBQ
Grand Prairie, Texas
Pitmaster Joe Zavala
Zavala's Old Fashion Burger
Pitmaster Joe Zavala is slinging award-winning, delicious barbeque and now award-winning burgers. Located in an old building in Grand Prairie, Zavala's old-school burger is old and simple but loaded with flavor. They use brisket meat trimmings and a flat grill to create those crusty beef edges that we love so well. A fresh burger bun with some grilled onions and those smashed beef patties to create old-school burger perfection.
10. Maple & Motor
Dallas, Texas
The Maple & Motor Old School Cheeseburger:
Prepared with a half-pound, hand-formed burger patty from a proprietary blend of chuck and brisket with a 70:30 fat content, farm-fresh lettuce, dill pickle, red onion, and a fresh buttered grill shined bun. Maple & Motor Burgers are cooked on an old-school flat grill in their juices and the cheese in this burger is melted to perfection. I love this burger (and any burger) that Maple & Motor creates. They have a cozy atmosphere in a little old gas station building. When you get a chance, head over to Maple & Motor for some delicious food! They have been featured on Diners, Drive-Ins and Dives, and Steve Harvey's Show as the BEST BURGER in America.
11. Charley's Old Fashioned Hamburgers
Est. 1992 in Fort Worth, Texas
Charley's Big'Un Burger:
Oh yes, Charley's is always on point and juicy. You better have a napkin, wait… Three or four napkins! YOU KNOW I love bacon and cheese so this one is perfect! The burger is prepared with two juicy beef patties, two slices of American cheese, one slice of Swiss cheese, two strips of bacon, one slice of Canadian bacon, and served on a toasted buttered bun. If you haven't been to Charley's you better head on over!
12. Burgerland
Paris & Sulphur Springs, Texas
The Old Fashion Double-Double:
Let's talk about old school right here! Burgerland has been slinging succulent, delicious burgers and hand-cut fries for years now. I love sitting at the old school drug store-type bar and watching them cook those burgers on the flat grill, with all of those patties sizzling and soaking up the tasty burger grease, creating burger perfection. My mouth is watering just thinking about them right now. The burger is prepared with double meat patties, American cheese, bacon, and fresh grilled jalapeños. I also added the TEXAS SIZE French fries with seasoned salt, which really popped in my mouth. DELISH! The burger Gods were shining down on Burgerland. It was a very worthy trip.
13. Dirty Bones
Fort Worth Tx
Crocket Row West 7th
Smash Patty Double Burger:
Dirty Bones is a NEW restaurant in the West 7th area of Fort Worth. After the first bite of the smash patty old-school burger, I was hooked. Prepared with two fresh smashed patties, grilled onions, American cheese, fresh vegetables, and mustard. You can add their Dirty Sauce for a flavor change, but I use mustard.   DO NOT forget the Dirty Tots!
Fort Worth, Texas
Big Al's Classic Old School Burger:
The Dive Burger Bar is located in an old KFC building, so it's truly like an old dive bar. The service is friendly and the burgers are delicious. The burger is prepared with a 1/2 lb. of a chuck, brisket, and short rib blend, on a soft fresh potato bun. It has fresh lettuce, tomato, pickle, and red onion, and you can also get your choice of fries, sweet potato fries, or black & tan onion rings. Head over and take a dive into Big Al's burger at the DIVE burger bar.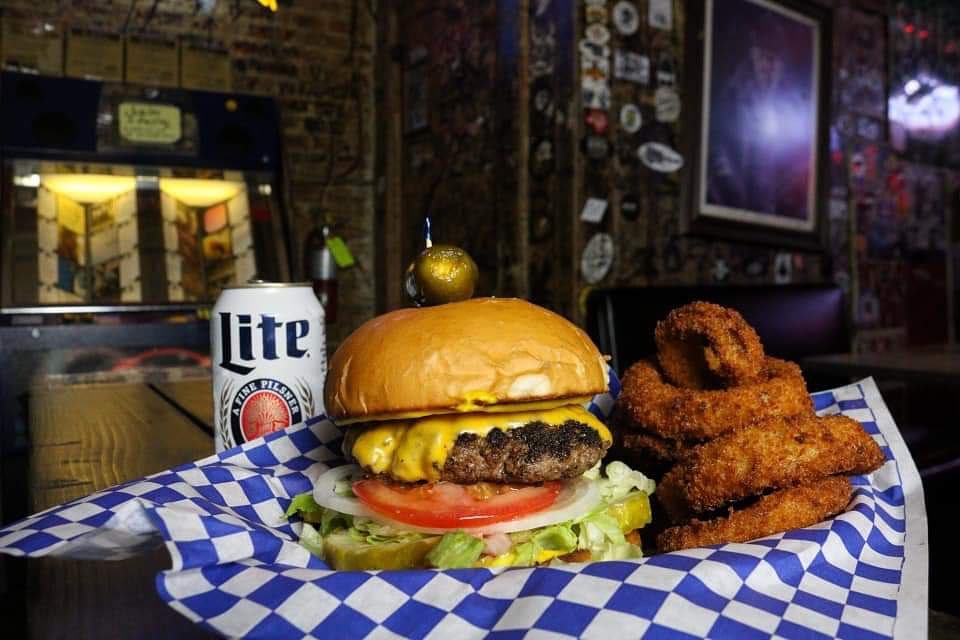 15. Adair's Saloon
Est. 1963 in Dallas Deep Ellum, Texas
Adair's Old Fashion Cheese Burger:
All I can tell you about Adair's Saloon is that I really enjoy eating their burgers. It's a cozy, narrow building with writings all over the walls. They serve old fashion at its finest. The burger is prepared with a juicy beef patty, lettuce, tomato, onion or red onion, pickle, and a soft toasted bun. You can add cheese for the perfect touch. Oh, add bacon too!  
Fort Worth, Texas
B-52 Old School Burger:
A Fort Worth tradition with multiple locations, Tommy's has been slinging award-winning delicious eats for thirty-five years in Tarrant county. I've eaten at two of the three locations and the burgers are always fantastic. I recently tried the Junkyard burger at the Camp Bowie location, but I still prefer the B-52 Old School Double Burger. It's a full one pound of meat! I seem to have a thing for those one-pound big phat meaty burgers. I like this burger with Tommy's fresh, soft, tasty bun, the two meat patties, lettuce, two slices of cheese, and onions. You can't go wrong with Tommy's burger, no matter what time of day it is.
17. Clown Burger
Est. 1963 in Haltom City, Texas
Clown Old Fashion Double Burger:
Located in an old building behind a very large clown sign, they have been around forever. I love this burger! I'm not sure which I love more: the Elvis decor or the greasy old fashion burgers. Wait… Of course, I love the cheesy, gooey, greasy, burgers more – I'm a chow down hound! The burger is prepared with two juicy beef patties, two slices of American cheese, lettuce, tomato, onion, and mustard all on a toasted, buttered bun. Check out Clown Burger for a trip back in time!
18. J. G.'s Old Fashioned Hamburgers
Est. 1985 in Dallas, Texas
J. G.'s Ol' Fashioned:
If you are in the mood for the perfect old-fashioned burger, I highly recommend this one. I've always loved J.G's and have for 10 years now. I don't get the opportunity to go there enough, but when I do… it's chow down time. The burger is prepared with an Angus beef patty, lettuce, onions, pickles, mayonnaise, mustard, and served on a soft, toasted bun. Add some cheese!
Est. 1981 in Dallas, Texas
Chip's 1/2 lb. Old Fashion Burger:
Dallas burger lovers claim Chip's has the best burger in Dallas Park Cities, Lakewood, and Plano. Family owned and operated since 1981, I've been chowing down at Chip's for two decades – I even used to meet my mom there for lunch. Chip's is simply just old fashion awesomeness! The burger is prepared with a juicy 1/2 lb. patty, lettuce, tomato, onion, pickle, mayo, and mustard on a soft, toasted bun. You can add cheese or choose a wheat poppy seed bun if you desire a change. Head over to Chip's and tell'em Trey sent you.
Est. 1950 Mineral Wells, Texas
Woody's Old Fashion Triple Cheese Burger:
There's something about a dark, cozy, old-fashion, post-war hut that makes the burgers taste even better. I absolutely love Woody's! This burger is prepared with two juicy meat beef patties, two slices of American cheese on a toasted bun from the flat top grill. Add jalapeños for the perfect touch! I actually found Woody's just two short years ago and have enjoyed the burgers along with their friendly service ever since.
Weatherford, Texas
The Skinny's Old Fashion Burger:
Oh yes, the famous succulent Fat Burger from old-school burger headquarters in Weatherford. They are creating burger magic at Skinny's, and I love what they're slinging out of the kitchen. The burger is prepared with two beef patties, two slices of American cheese, and it's a full one pound of meat. I loaded mine up with extra lettuce and onions; It was a two-handed burger for sure. If you're looking to add another tasty burger spot then head over to Skinny's and chow down.
22. Don Burger
Garland, Texas
The Old Fashion Double Trouble:
A delicious old-school burger find. Located in Garland, Don Burger is a friendly restaurant with a colorful atmosphere and old-school burgers. The service is super friendly and they have plenty of options on their menu. The burger is prepared with two fresh beef patties, two slices of American cheese, tomatoes, pickles, onions, mustard, and mayo. I ordered mine with mustard, left the mayo off, and added bacon! Go see the team at Don's.
Waxahachie, Texas
The Low & Slow Burger:
Pop's is an old-school burger stand, complete with dinosaurs and old-school decorations. They even play old-school music, which was a nice change. They have a cozy little dining room and a fantastic outdoor patio. The burger is prepared with a soft and flavorful bun, 100% Angus beef patty, juicy crispy bacon, grilled onions, and topped with low and slow BBQ sauce. It was loaded with flavor! Head over to Pop's and grab you a burger and snap a photo with the old dinosaur out front.
24. The Malt Shop
Weatherford, Texas
The Malt Old Fashion Cheeseburger:
Located on the Old Fort Worth Highway, the Malt Shop has been around for decades. I'm fairly certain it's one of the oldest burger and malt stands in Texas. You can't miss the old drive-in building painted pink, or all the folks standing outside waiting for a tasty burger. it's prepared with old-school smashed patties on a flat grill, a toasted and buttered bun, and fresh vegetables of your choice. A simple old-school burger, but flavor-loaded for deliciousness.
25. Grump's Burgers
Est. 2000 Granbury / Burleson / Stephenville, Texas
Grump's Old Fashion Hamburger:
I found Grumps just six short years ago and have really enjoyed stopping in and chowing down. The burger is prepared with fresh Texas beef patty cooked medium-well, lettuce, tomato, pickle, onion, and mustard on a toasted bun. You can add a slice of cheese for the perfect flavor. Grump's is becoming a popular burger stop for many!
BONUS – 26. Green Room
Deep Ellum, Dallas
Green Room Burger:
I found the Green Room in 2018 while strolling around the DEEP. We went inside and everyone was very friendly. After looking at the tasty menu items, I chose the Green Room Burger, which turned out to be the right decision for sure. The burger is prepared on a fresh bun with an 8 oz. fresh meat patty, cheddar cheese, house bacon, and it comes with farm-fresh lettuce, tomato, onions, and pickles on the side. I really enjoyed the flavor of this burger! The house bacon added a unique twist to the burger. Head over to the DEEP and visit the GREEN ROOM. Tell'em Trey sent you!
Best Breakfast Burgers of 2021
WINNER: Best Breakfast Burger 2021
Fort Worth and Burleson, Texas
Breakfast Buddy Burger: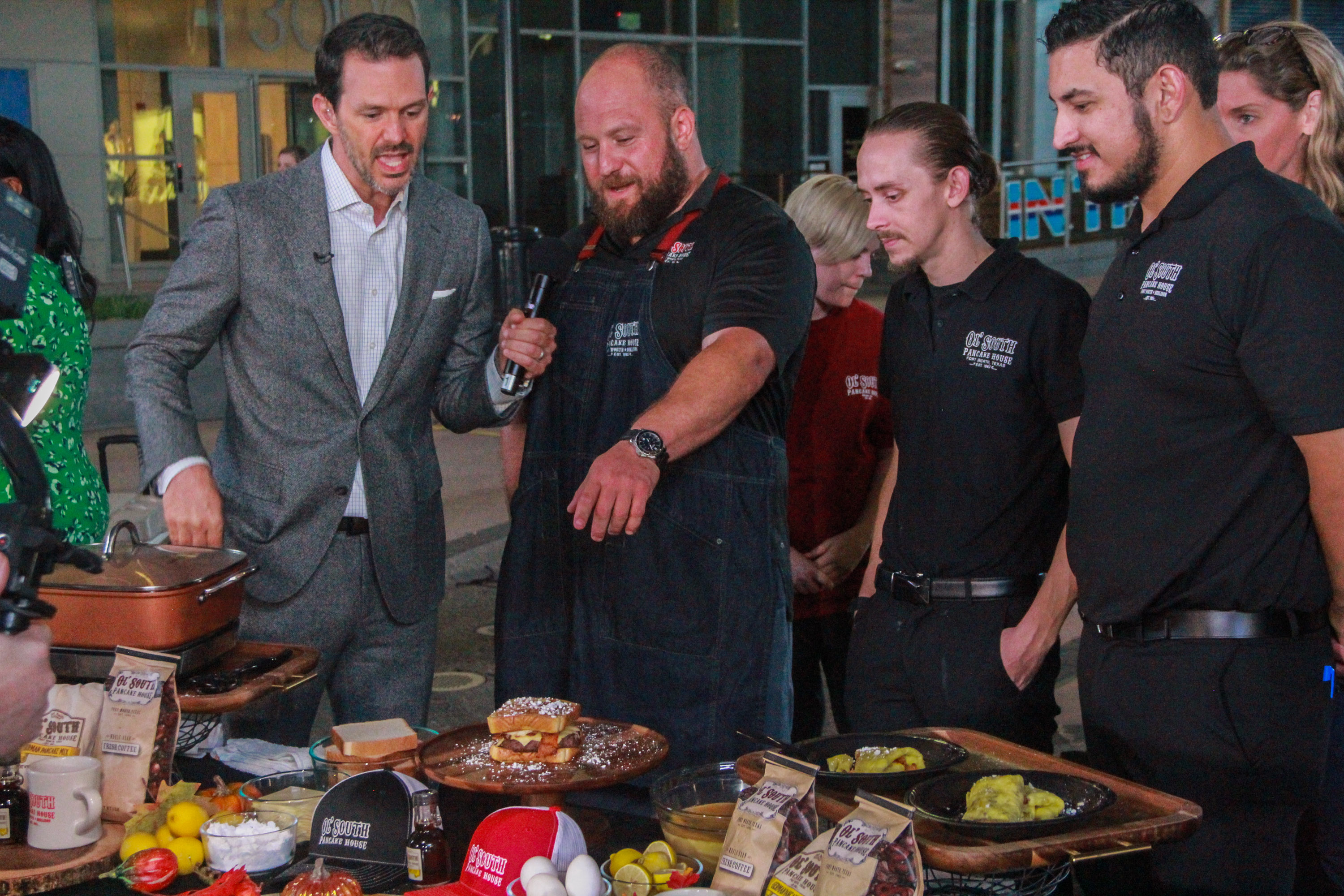 Ol South has been a Texas favorite for decades, slinging creative modern dishes and old-school favorites. The Buddy Burger is loaded with breakfast deliciousness. it's prepared with a juicy 1/2 pound burger patty, pepper jack cheese, Swiss cheese, fresh bacon slices, and a fresh fried egg all stacked between 2 slices of warm fresh French toast. Better pack your bags for a trip to breakfast deliciousville for this one.
Dallas, Texas
Lobby Omni Hotel
Texas Spice Breakfast Sandwich:
The breakfast sandwich at Texas Spice is one of the BEST you will find in Dallas. Prepared fresh to order, and they only use fresh ingredients sourced locally to create a breakfast sandwich loaded with deliciousness. The sandwich had perfectly cooked, soft, flavorful bread, farm-fresh eggs, bacon, and plenty of gooey melted cheese. You can add a burger patty to create a breakfast burger of perfection. They offer amazing customer service and free validated parking for breakfast, lunch, and dinner. Just check the times of operation before you head over.
River Oaks, Texas
Good Morning Burger:
When I saw J's Casa had a good morning burger, I just had to order it. They are a cozy little old-school burger joint listed in River oaks and offering old-school favorites prepared fresh to order. The Good Morning Burger is prepared with a fresh, succulent beef patty, a farm-fresh fried egg, bacon stripes, gooey cheese, fresh onions, and tomatoes, all stacked between two flavor-loaded toasted buns. I Loved this burger – it has a fantastic old-school, flavorful breakfast flavor profile that is pure #Deliciousness.
WINNER: Best BRUNCH Burger for 2021
Jonathon's Oak Cliff & Jonathon's Diner
Dallas, Texas
Chef Jonathan (Chef JON JON)
The NOONER Brunch Burger:
This burger won last year and I could NOT find a better brunch burger than THE NOONER! About four years ago I was driving down Beckley Ave. in Dallas after I had been in the Bishops Art District. I saw the little house-looking diner out of the corner of my eye, with folks lined up to get inside. I hit my brakes, made a u-turn, and went to investigate. It was Jonathon's Oak Cliff, a cozy little diner owned by Chef Jonathon and Christen. They are a husband and wife team that is loaded with passion for the culinary arts and slinging deliciousness that everyone loves to eat. Their dishes are always loaded with flavor, color, and prepared fresh to order. The portions are always Texas-sized and enough to satisfy the biggest appetite for something delicious.
I met them last year and featured them on my live TV and radio podcast. The NOONER was created by Chef Jonathon for all the BRUNCH LOVERS in Texas that wanted a fresh, tasty, meaty, succulent, flavor-riddled breakfast burger. It just tastes like MORE because MORE is all you want after each bite! It's prepared with fresh 1⁄2 LB beef patty, topped with flavor-loaded bacon, a slice of ham, a slice of swiss cheese, American cheese, a fresh sliced flavorful tomato, farm fresh fried egg, and mayo on a soft toasted buttered bun. BAM! BRUNCH GREATNESS GET YOU SOME!
Best Burger Challenges of 2021
The Colony Texas
Chef Kevin Lee  
I'm going to tell you right now: if you don't want to eat massive burgers, DO NOT go to K POP. Every burger they offer is a massive stack of meaty, savory deliciousness. Once you get one of these burgers you will be slinging sauce ear to ear. I tried the 3.5 Pound "Bang Tan Burger", which was loaded with: Eight (1/2 Lbs) fresh Angus beef patties (x5), grilled pineapple (x2), grilled jalapenos, grilled spam patties (x2), American cheese (x6), pepper jack cheese (x4), and fresh house-prepared K3 Sauce that will have you licking your lips in a food coma.
Fort Worth, Texas
Chef Billy Woodrich  
Anytime Burger: "Trey's Big Burger" – prepared with three 1/4 patties, three slices of American cheese, four slices of bacon, loads of pulled pork, all stacked between 2 grilled buttery buns. Top with fresh onion rings and fresh pour-over Queso. Boom! That's all you need… Over a pound of meaty, cheesy deliciousness.
Oak Cliff, Dallas
Chef Jonathon  
Lunch Burger: "The Trey' Double Down" – Two 1/2 pound burger patties, slices of succulent Bacon,  a mountain of mushrooms and grilled onions, loads of cheddar and Provolone cheese, slices of Avocado, and house-prepared Chipotle Mayo, all stacked between a fresh grilled Kaiser Bun. Served with Jonathon's house custom French Fries. With this dish weighing over one pound you better pack those bags this was a trip straight to Burger delicious-Ville.
North Richland Hills Texas
Burger Makers  
Woo-Hoo BURGER TOWN here we come! I tried the "Triple XXXL Triple King Burger" – it weighs 1.5 pounds and is 2000 calories. It's prepared with three 1/2 pound patties, three slices of cheese, and fixings all stacked on a fresh, tasty bun. I added extra cheese and bacon to construct a monster burger. If you can finish this monster burger you can go on their wall of fame. It is flavorful, delicious, and will send you to Burger Town. GET YOU SOME
Dallas / Fort Worth Texas
Culinary Burger Team  
Jake's is a locally owned Hamburger joint that has multiple locations in the DFW metroplex. They have a massive burger they offer for their big burger challenge called the El LOCO OCHA BURGER, which is eight Patties, eight Slices of Cheese, eight Slices of Bacon, fried Jalapeno peppers, and vegetables. This BURGER was R.I.D.I.C.U.L.O.U.S and it is SPICY! if you're looking for a REAL BURGER challenge head over to Jake's Burger and check out the El Loco! I bet you can't finish it!
Trey (Chow Down) Chapman
Trey's Chow Down Best Craft Burgers Flyer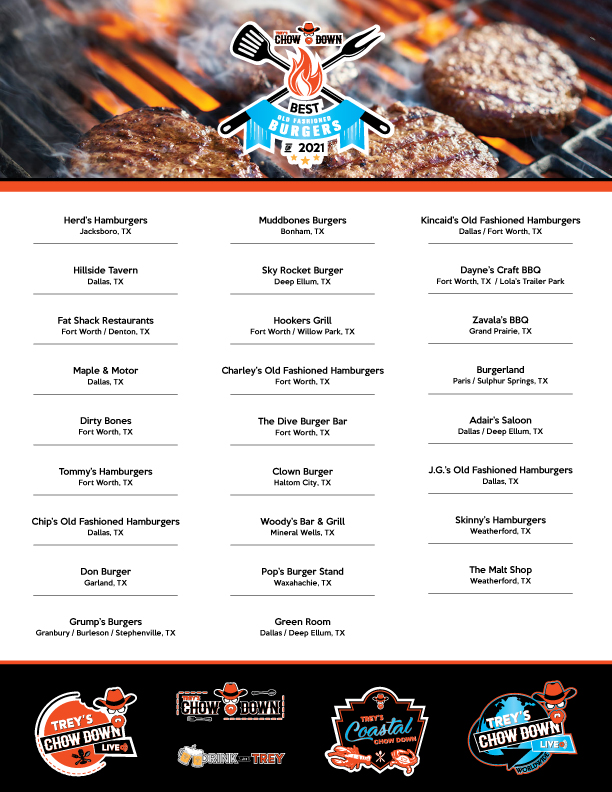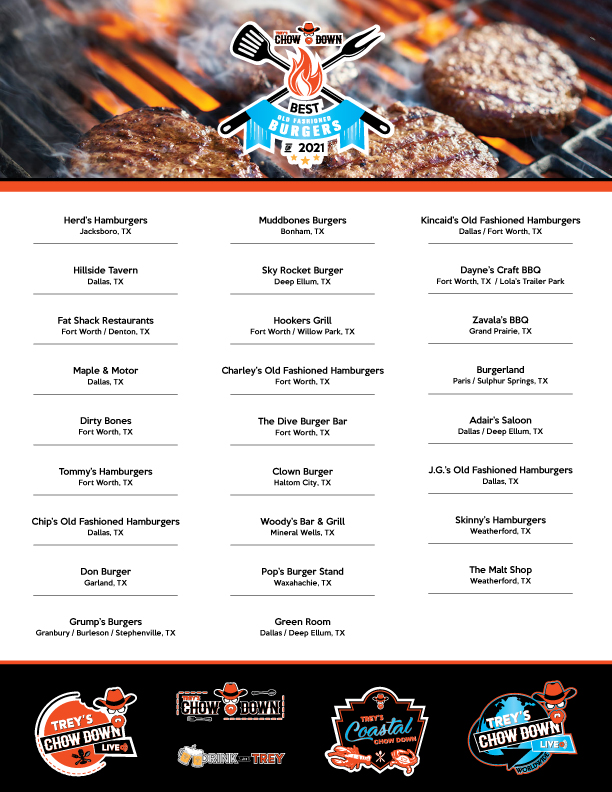 Trey's Chow Down Best Old Fashioned Burgers Flyer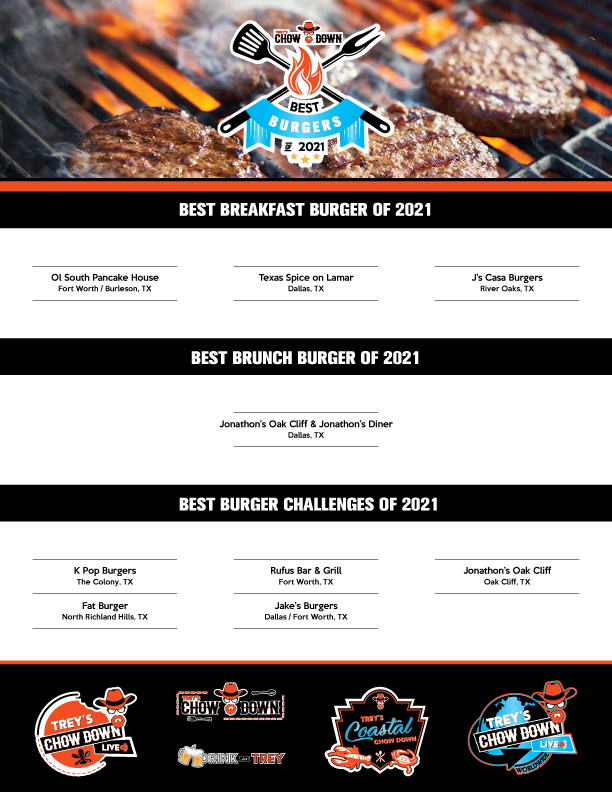 Trey's Chow Down Best Burgers Flyer
Trey ((Chow Down0 Chapman