Houston BBQ Festival 2022 at the Humble Civic Center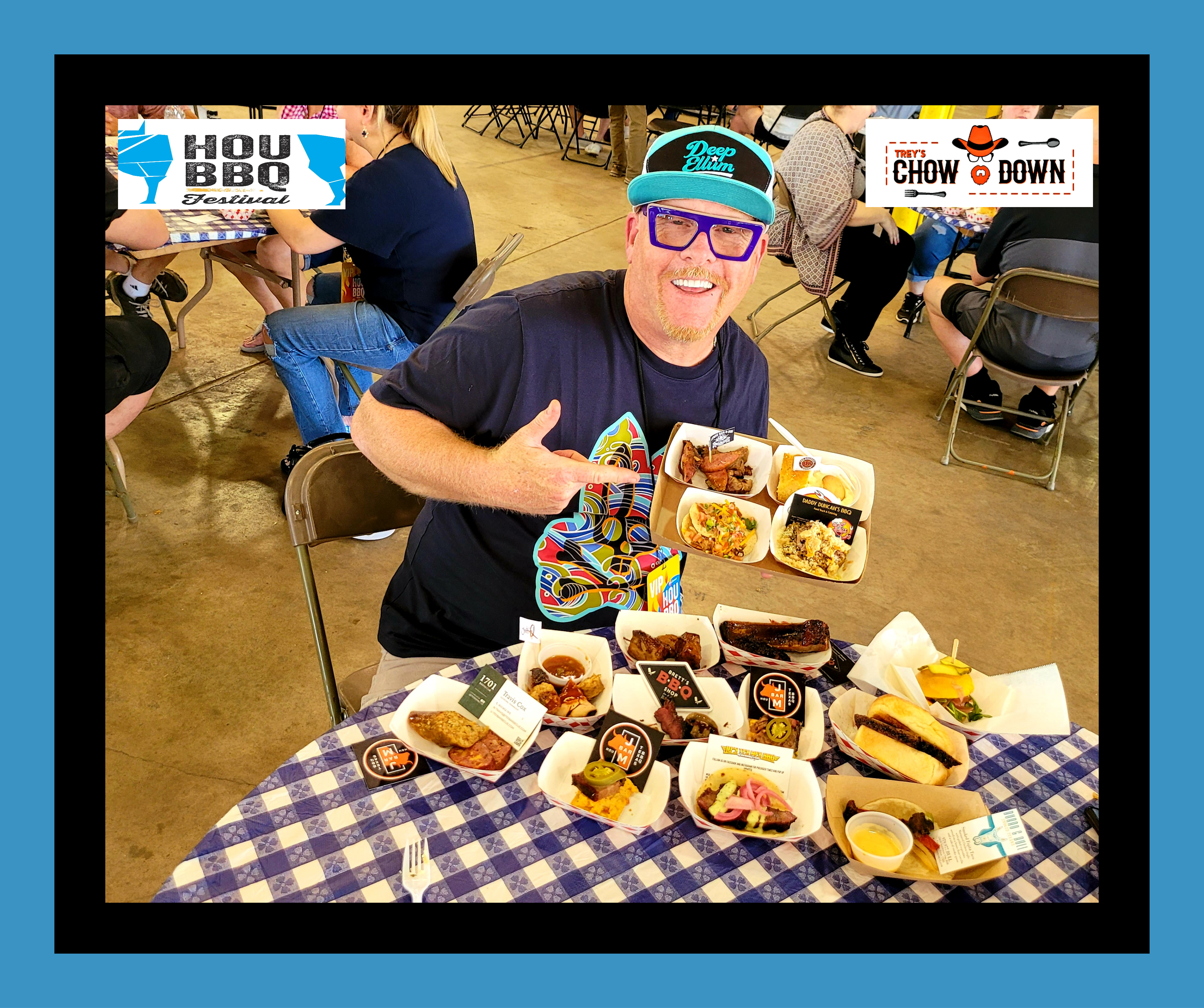 If you ever wondered how popular Texas BBQ has become, you need to look no further than the number of successful BBQ Festivals these days. We've attended four and hosted two in the last 6 months alone, and there have been many more that we just couldn't attend.
Texas BBQ has really made big strides in the last 15 years, and has really surged in the last decade. While traveling around the state and attending events, doing restaurant reviews, and hosting my live TV show and podcast, I've seen so many changes and new ideas, and they've all been for the better. During my travels around the USA, I get asked quite often about the surge in popularity of Texas BBQ. I make my answers brief and easy to understand, because everyone seems to be short on time these days.
To me, the popularity is quite simple: It's the creativity, hard work, and dedication to producing that perfect meaty flavor. It's the TEXAS pride that says, "We're going to be the best, create the best, and sling the BEST Q anyone has ever tasted, or we'll die trying!" You sure can't leave out the competitive nature of Texans – that in its self is simply INCREDIBLE! I guess to put in simple terms you can just say, "Well It's a Texas thing and you wouldn't understand!" LOL. 
They understood 9 years ago when they hosted the first ever Houston BBQ Festival and it's still standing strong today!  On April 3rd, 2022, 28 BBQ Joints, chefs and pit masters attended the 9th annual BBQ festival in Humble. Trey's Chow Down got a tip from some of our followers in Texas about this amazing festival and we took a ride out to Houston to see what it was all about. After 2 years of waiting due to covid, the FESTIVAL WAS BACK! Chefs and pit masters were smoking up Humble, TX and slinging creative, delicious Texas BBQ for everyone to enjoy.
We experienced some seriously delicious dishes and talked to some fantastic pit masters, as well as BBQ lovers from around the state. While we enjoyed all the BBQ that was offered, I wanted to highlight our favorites that were loaded with creativity and deliciousness.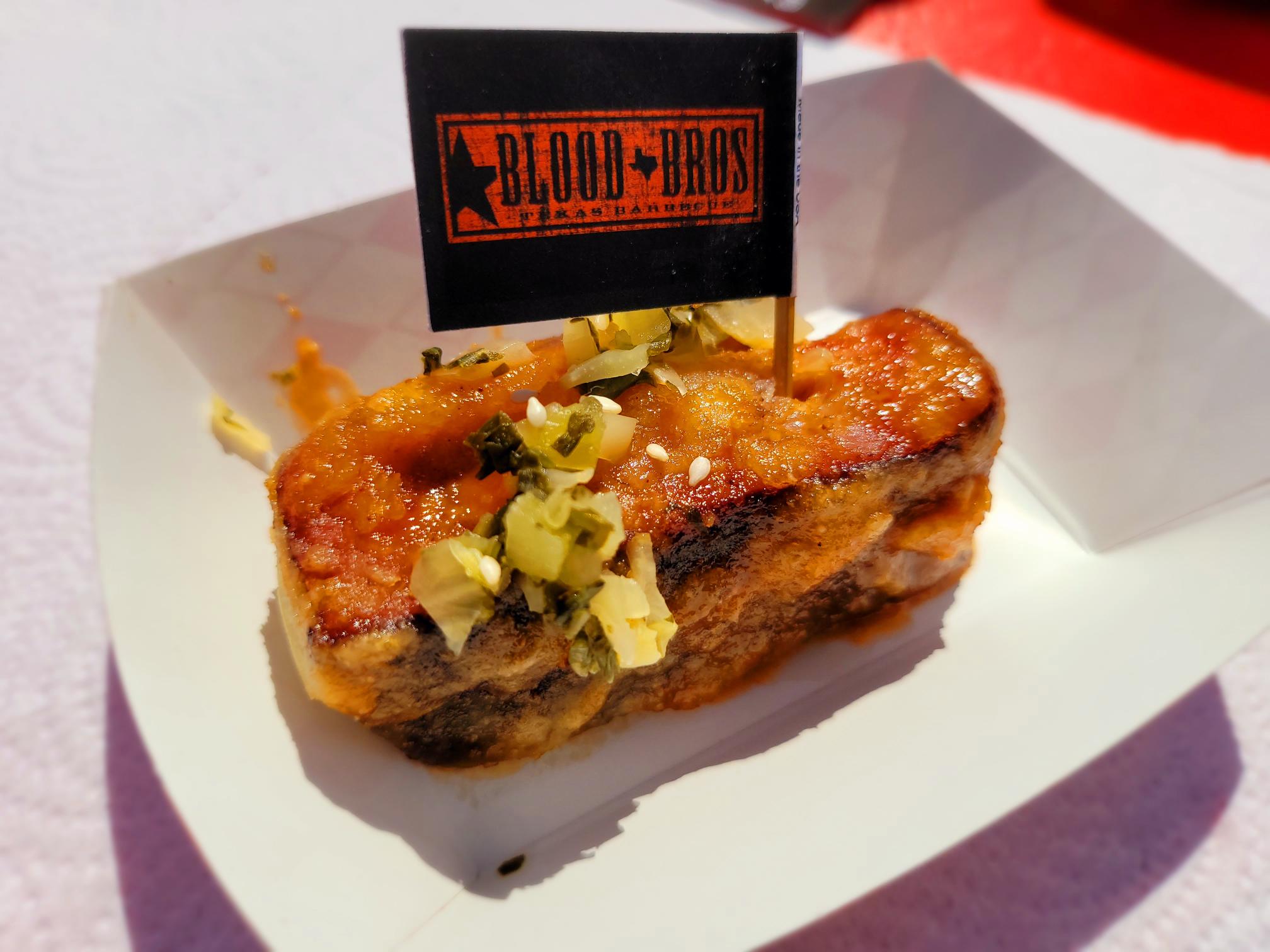 1. Blood Bros. BBQ
Chef Bao's wonderful "Peking Rib"
The rib was colorful, creative, flavorful, and loaded with deliciousness. I really enjoyed the creativity and effort to produce this wonderful dish. Simply put, the Peking Rib was R.I.D.I.C.U.L.O.U.S! #RidiculouslyDelicious. Hats off to Chef Bao for an awesome job! Side-note I ate 3 of these ribs. I couldn't help it. I was like A PIG AT THE FEED TROUGH!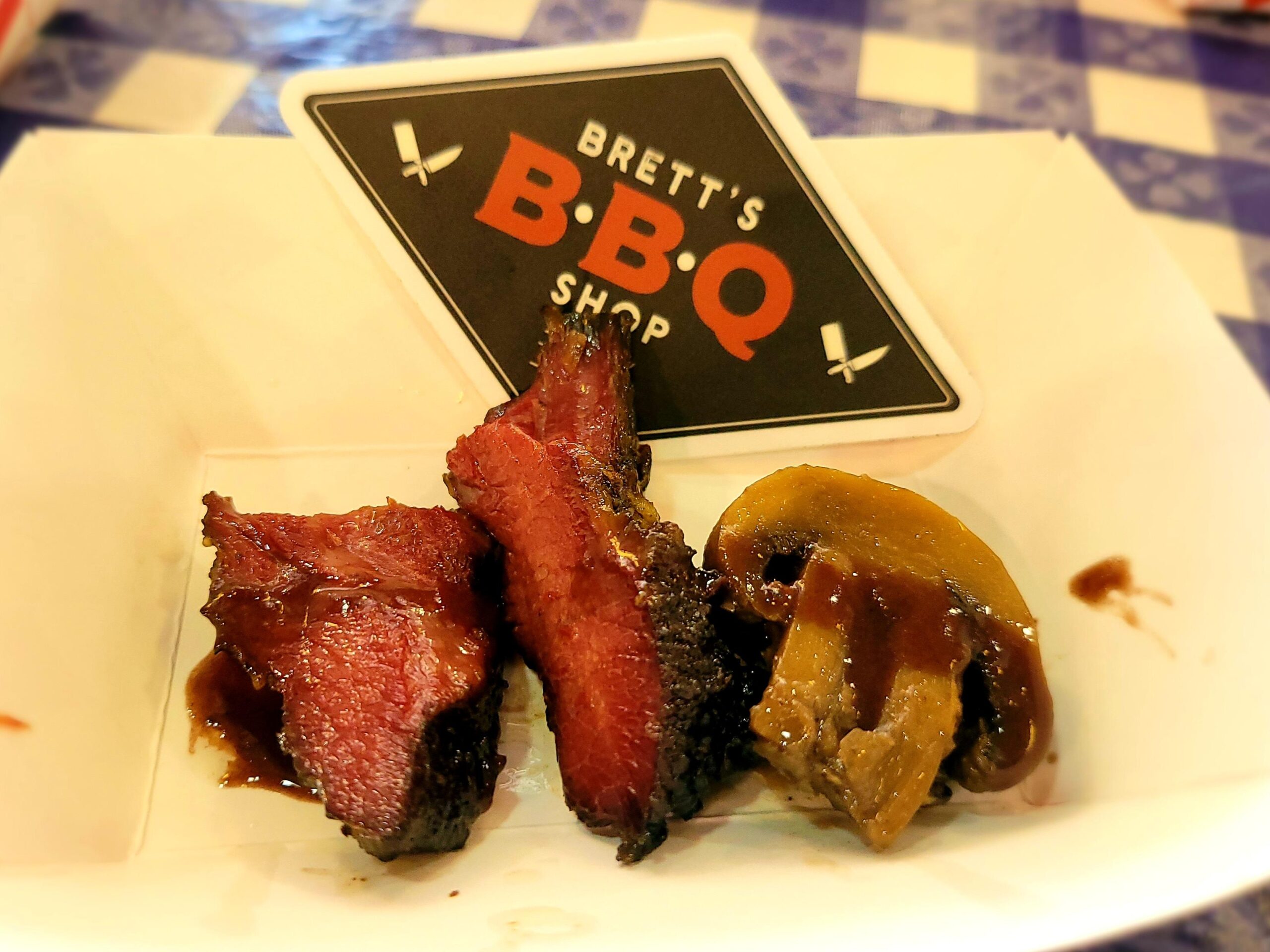 2. Brett's Barbecue Shop 
"The Beef Cheek Confit Dish"
Served with stock-braised mushrooms and a red wine reduction, this was a risky dish to create for a Texas BBQ Festival. When I picked it up, I told Jana this has to be savory deliciousness or people will get the wrong idea. All I could say when I took my first bite was, "JESUS! JESUS! Somebody created and executed an incredibly delicious dish!" Hats off to the chef for taking a risk and creating a dish that was unique, succulent, loaded with flavor! #Stupiddelicious I might have eaten TWO! Just saying.
3. Daddy Duncan's BBQ 
"Smoked Dirty Rice & Pulled Pork"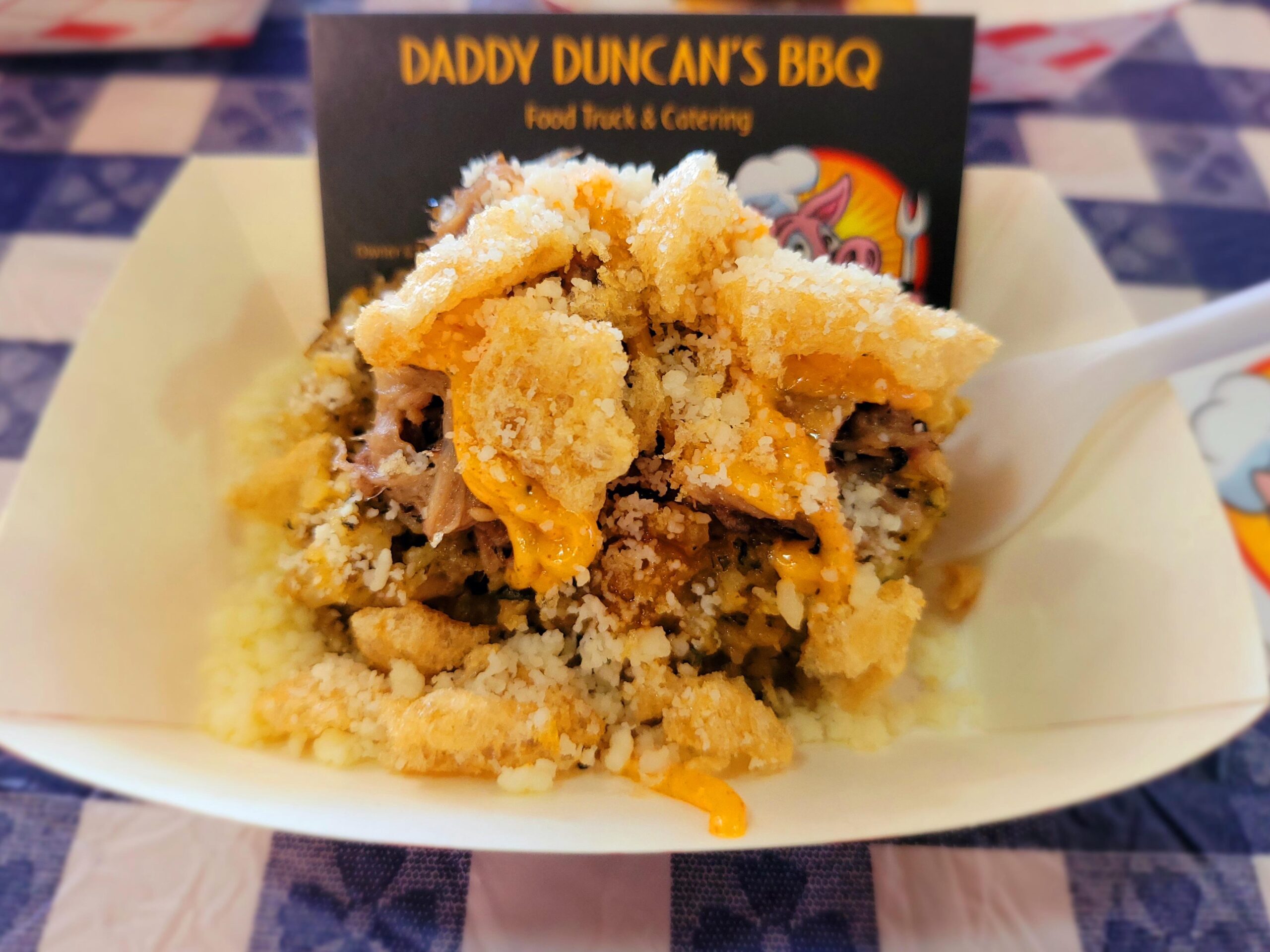 Prepared and topped with fresh Garlic Aioli, Homemade Sweet & Spicy Hot Sauce, Cracklings, and Cotija Cheese. When I saw this dish, I simply had to try it. The wonderful presentation alone helped sell it without even taking my first bite. It was a Texas BBQ dish of epic portions, and my mouth was watering while I walked back to my table. After I took my first BIG bite, I told Jana to run over and get me another one before they were all gone. Absolutely what I expected! A kaleidoscope of flavors that POPPED on my palette with every bite. I think this dish should be named "MORE", because MORE is all I wanted after each bite.
👉 While every dish was delicious, the TOP 3 were off the charts! I want to THANK the pit masters and chefs for all their hard work and dedication to Texas BBQ. It's not easy, and the last 2 years have been difficult on everyone. Thanks so much for showing up and slinging deliciousness.
Chefs and Pitmasters in attendance: 1701 Barbecue, Blood Bros BBQ, Brett's BBQ Shop, Brotherton's Black Iron BBQ, Burns Original BBQ, CorkScrew BBQ, Daddy Duncan's BBQ, Dozier's BBQ, Burro & Bull, Feges BBQ, Gatlin's BBQ, Harlem Road Texas BBQ, J-Bar-M Barbecue, JQ's Tex Mex BBQ, Killen's Barbecue, Lenox Bar-B-Q, Nomad Barbecue, Pinkerton's Barbecue, Pizzitola's Bar-B-Cue, Roegels Barbecue Co, Southern Q, Spring Creek Barbeque, Tejas Chocolate & BBQ, The Brisket House, The Pit Room, Tin Roof BBQ, and Truth BBQ
A SPECIAL THANK YOU to our followers who suggested the festival to us. With 185,000 followers on 11 different platforms, we love getting DELICIOUS TIPS and SUGGESTIONS from all of you. THANK YOU so much for following and enjoying our posts, podcast, TV show, articles and reviews. We will see you at a table soon!
Trey's Chow Down 🙏
Thank you!
Trey (Chow Down) Chapman
Please Follow Us: FACEBOOK, INSTAGRAM, TWITTER, LINKEDIN, TIKTOK, TUMBLR, YOUTUBE, GOOGLE & Trey's Chow Down.com