GOOD DAY CHOW HOUNDS,
The History of the Grilled Cheese Sandwich, posted by "How Stuff Works", will tell you some three-quarters of people who buy sliced cheese make at least one grilled cheese a month. Similar grilled cheese recipes are even mentioned Ancient Roman texts—and, let's face it, the French have been making their famous croquet-monsieurs since the early 1900s. TODAY'S common notion of the grilled cheese is traced back to the 1920s. During this time, an Iowa man now considered "the father of sliced bread", invented a bread slicer that made distributing white bread easy and affordable. Shortly before that, James L. Kraft had patented processed cheese — you recognize the name, of course! Kraft's entrepreneurship pursuit revolutionized the pasteurizing process and ensured that cheese wouldn't spoil, even when transported long distances. By 1914, J.L. Kraft & Bros. Company (the precursor to Kraft Foods) opened its first plant in Illinois. Factory cheese was disparagingly termed "rattrap cheese" or "rat cheese" by the fiercely proud English folks who were proud of their cheddars. It was not considered a delicacy. To them, it was simply a cheap, nutritious, and scalable product.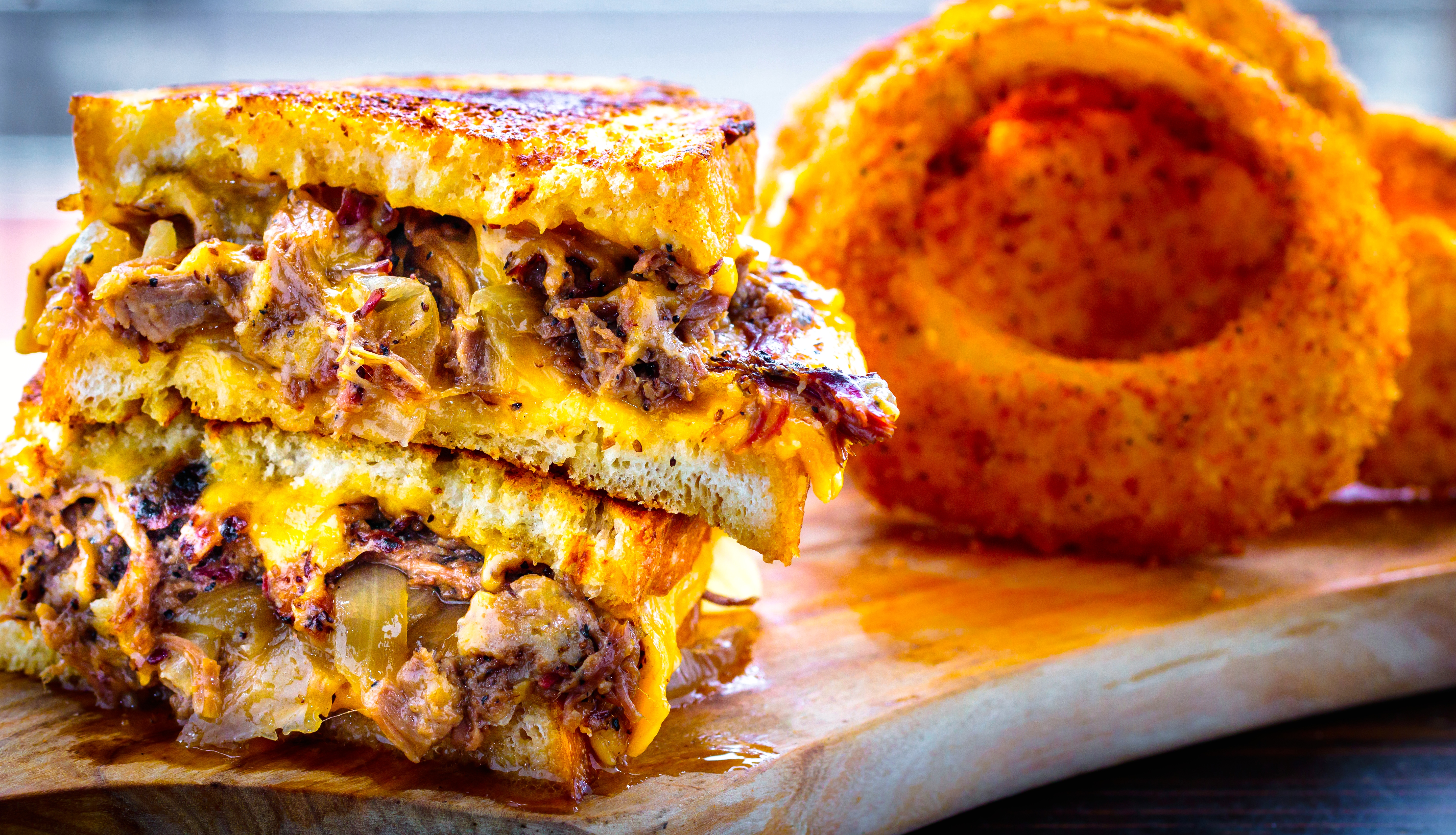 you're reading this article on ""Grilled Cheese Heaven", then I'm guessing you love grilled cheese sandwiches just as much as I do… or more. I'll be honest; I've been eating grilled cheese sandwiches since I could walk! In the summer months of my childhood, I always loved to seek out a delicious grill cheese for lunch. I remember going to the old time drug store, sitting at the bar and ordering a grilled cheese. I would ask for extra cheese because the cheesier, the better. I mean, dripping with cheese. The way to go is with thick buttered bread toasted to a golden brown perfection, over a flat grill or cast iron skillet. Now that… Is a grilled cheese.
Today, I'm still the same. Possibly worse! When I order a grilled cheese, I ask how many cheeses they have in the kitchen, and/or how many types they offer. Depending on the server's answer, I ask for ALL of it. Sometimes it's three cheese, sometimes it's four, and maybe even five! There can never been too much cheese. In my opinion (on the amount of cheese in a sandwich), the more the merrier. The perfection also lies in the toasted and soaked-in-butter bread. I love butter! What is a grilled cheese without the buttery toast and loads of melted cheese running down?
Many chefs have gotten extremely creative in the art of grilled cheese making. Basically, they are taking the traditional sandwich to a whole new level. I like to call this "CRAFT grilled cheeses". There is a variety of choices to add in from the type bread, house-made bacons, meats, tomatoes, house sauces, etc. The modernized grilled cheese is unbelievably delicious and wonderful to look at.
I have been searching for the best places that serve mouthwatering grilled cheese sandwiches. So now, I can bring the fans of Trey's Chow Down a list of my leading choices based on the criteria of a grilled cheese expert; it must be delicious, beautifully put together, and go beyond the traditional sandwich!
Here ya go!
Edwards Ranch, Fort Worth
I love the Press Cafe at Edwards Ranch in Fort Worth on the Trinity River. The atmosphere inside is vibrant and cozy and the outside is truly one of the very BEST in DFW area to socialize, dine, and drink. The grill cheese and tomato soup combo are prepared fresh and packed big bold flavors to create deliciousness any time of day. I've eaten this dish at lunch and midday it's one of my favorites! Head over to The Press Cafe and enjoy some Grilled Cheese greatness.
Dallas 
This big venue (also super cool), is located in Dallas. There is always something going on at Gas Monkey! Celebrity chef, David Hollister, is guaranteed to be servin' deliciousness. They have a "Smoked Brisket Grilled Cheese" made with sourdough break, Tillamook cheddar, bourbon onions, and house smoked brisket. It doesn't get much better than right here. This sandwich will blow your mind! Chef David is always creating awesome dishes that look amazing! (Special THANKS to Chef David Hollister for Grilled Cheese photo)
Sundance Square, Fort Worth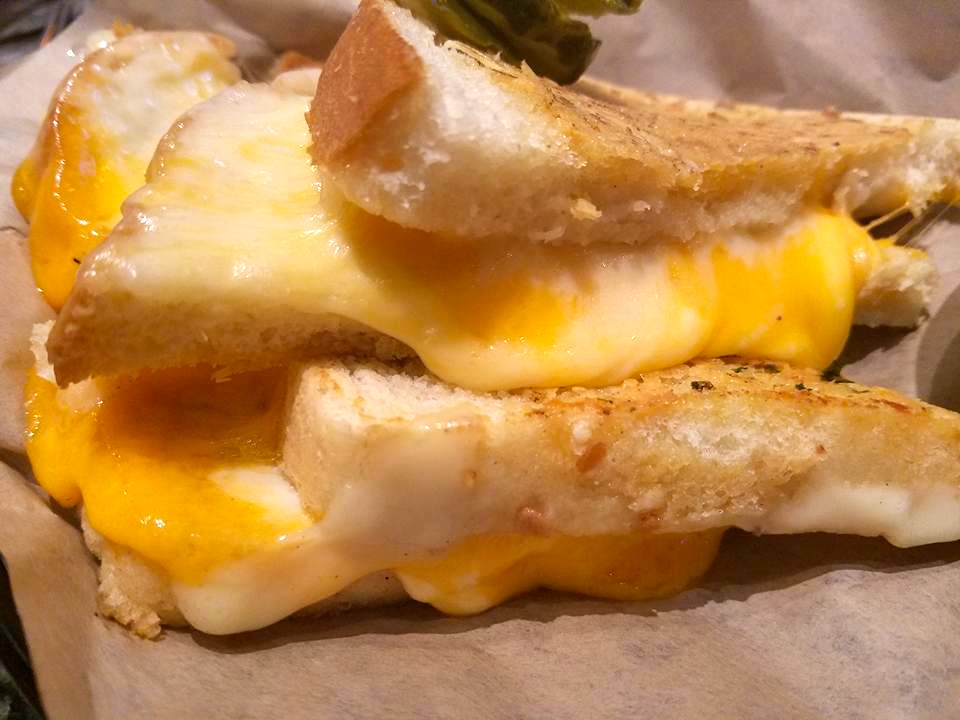 Located on Sundance Square in downtown Fort Worth. The overall atmosphere is great, and has a wonderful view of Sundance Square.  Kyle Baker  and his team are always slinging deliciousness and creativity from the Bird kitchen. Their patio is big! It is the perfect place to socialize with friends and eat. They have a Farm Fresh chef driven menu and awesome "CRAFT grilled cheeses."
Texas Spice / Restaurants On Lamar
Cover Photo From Texas Spice Dallas
When I ordered this grilled cheese I wasn't sure what to expect? When they sat the sandwich down in front of me all I could say is, WOW! At first glance the presentation was mouth watering and the aroma in the air was so good I was mesmerized. When I bit into the sandwich I knew it was worth the drive and the wait. Delicious with every single bite! Check out Texas Spice they have creative chef driven menu prepared with locally sourced farm fresh products and ingredients.
Bedford, Arlington, and Coppell 
Is located in several cities like Euless, Plano, and Addison! The interior is beautiful and you can bring along your dog to this restaurant. The patio is fantastic. Their grilled cheese sandwiches are made with thick bread and loads of cheese. Add a big bag of house cut fries on the side to make it the perfect meal!
West 7th Area, TCU Area, and North Fort Worth 
There are a handful of locations; one off of 7th Street, another on Blue Bonnet Circle TCU area, and one North Fort Worth. Go here for fun times, great music, and cold drinks. Fred's grilled cheese is made on thick Texas toast, buttered and grilled to a golden brown. The cheese is melted to perfection. Love me some Chef Terry Chandler and his Fred's!
Grand Prairie 
Located in Grand Prairie. This is a colorful old school soda fountain shop inspired by the 1950s. They have three different types of grilled cheese, cooked on a flat grill until toasted golden brown. These are delicious and will leave you wanting more! They have names like the, "Steve MCQueen Grilled Cheese,"" John Lennon Grilled Cheese," and the "Hank Williams," fact is, they are SO good you might order one to take home with you. Check them out, and tell'em Trey sent you!
Bishops Art District Dallas 
Is located in Bishops Art District in Dallas. This old school style pub gives off a urban atmosphere. The doors open up in the front so customers can sit at the inside and have a view of the outdoors. They have live music, brunch, and a everyday menu with a variety of choices and delicious flavor profiles. The Grilled Cheese is farm fresh and delicious! Check them out! Tell'em Big Trey sent you!
Bishops Arts District and Mocking Bird Station, Dallas 
Is located in the Bishops Arts District in Dallas. This pub has an inviting atmosphere with friendly folks! They specialize in grilled cheese, so you really can't go wrong with Dallas Grilled Cheese Company. There is a bar with awesome craft cocktails. So bring your friends, socialize, meet business clients, and relax. Enjoy your time here while sippin' on some delicious cocktails and a munching on a delicious grilled cheese!
Trey (Chow Down) Chapman 
Follow our social media for fantastic food, chef, and drank information daily.