GOOD DAY CHOW HOUNDS,
The History of the Grilled Cheese Sandwich, posted by "How Stuff Works", will tell you some three-quarters of people who buy sliced cheese make at least one grilled cheese a month. Similar grilled cheese recipes are even mentioned Ancient Roman texts—and, let's face it, the French have been making their famous croquet-monsieurs since the early 1900s. TODAY'S common notion of the grilled cheese is traced back to the 1920s. During this time, an Iowa man now considered "the father of sliced bread", invented a bread slicer that made distributing white bread easy and affordable. Shortly before that, James L. Kraft had patented processed cheese — you recognize the name, of course! Kraft's entrepreneurship pursuit revolutionized the pasteurizing process and ensured that cheese wouldn't spoil, even when transported long distances. By 1914, J.L. Kraft & Bros. Company (the precursor to Kraft Foods) opened its first plant in Illinois. Factory cheese was disparagingly termed "rattrap cheese" or "rat cheese" by the fiercely proud English folks who were proud of their cheddars. It was not considered a delicacy. To them, it was simply a cheap, nutritious, and scalable product.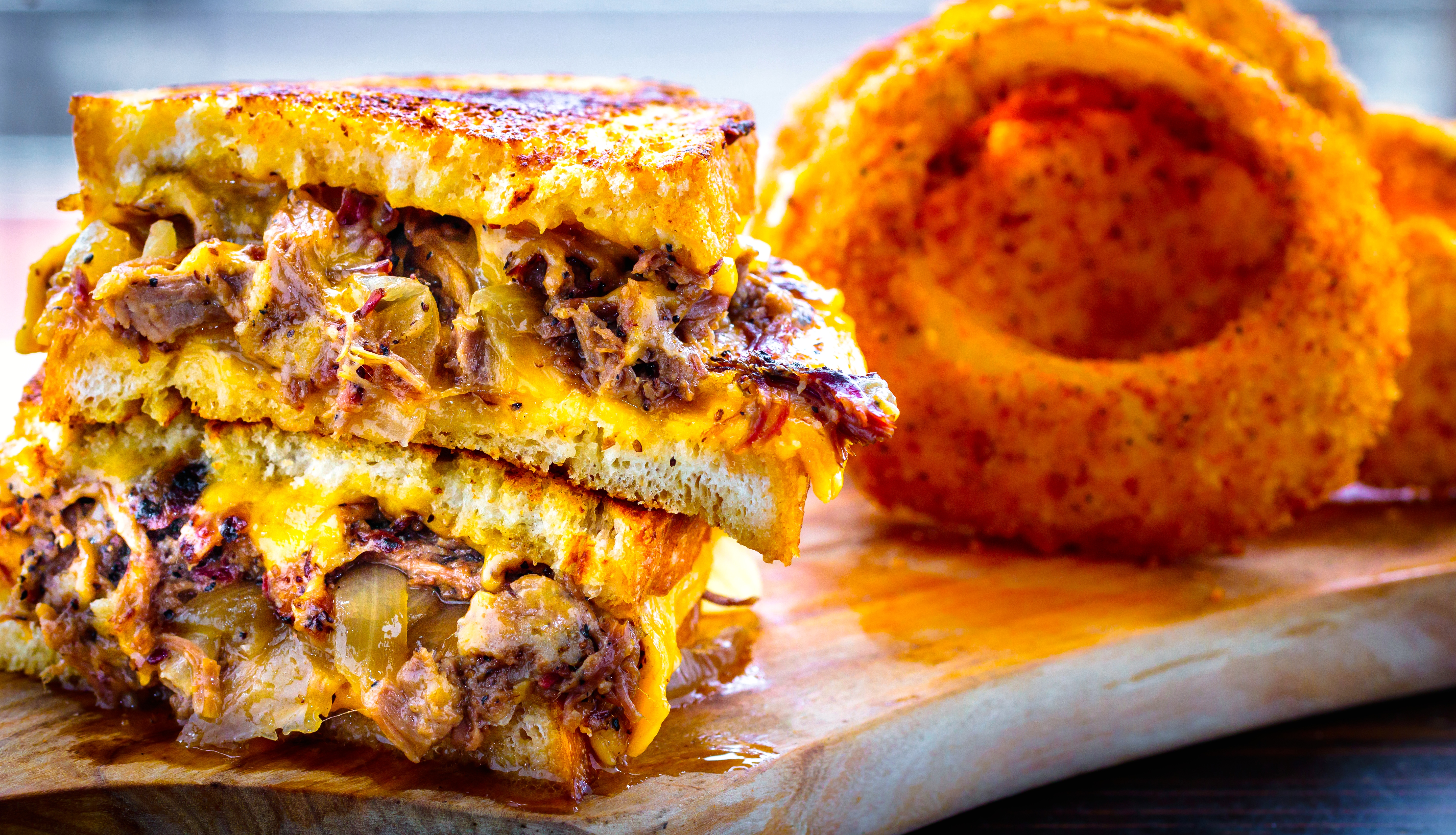 you're reading this article on ""Grilled Cheese Heaven", then I'm guessing you love grilled cheese sandwiches just as much as I do… or more. I'll be honest; I've been eating grilled cheese sandwiches since I could walk! In the summer months of my childhood, I always loved to seek out a delicious grill cheese for lunch. I remember going to the old time drug store, sitting at the bar and ordering a grilled cheese. I would ask for extra cheese because the cheesier, the better. I mean, dripping with cheese. The way to go is with thick buttered bread toasted to a golden brown perfection, over a flat grill or cast iron skillet. Now that… Is a grilled cheese.
Today, I'm still the same. Possibly worse! When I order a grilled cheese, I ask how many cheeses they have in the kitchen, and/or how many types they offer. Depending on the server's answer, I ask for ALL of it. Sometimes it's three cheese, sometimes it's four, and maybe even five! There can never been too much cheese. In my opinion (on the amount of cheese in a sandwich), the more the merrier. The perfection also lies in the toasted and soaked-in-butter bread. I love butter! What is a grilled cheese without the buttery toast and loads of melted cheese running down?
Many chefs have gotten extremely creative in the art of grilled cheese making. Basically, they are taking the traditional sandwich to a whole new level. I like to call this "CRAFT grilled cheeses". There is a variety of choices to add in from the type bread, house-made bacons, meats, tomatoes, house sauces, etc. The modernized grilled cheese is unbelievably delicious and wonderful to look at.