August 18, 2020 is National Fajita Day in the USA!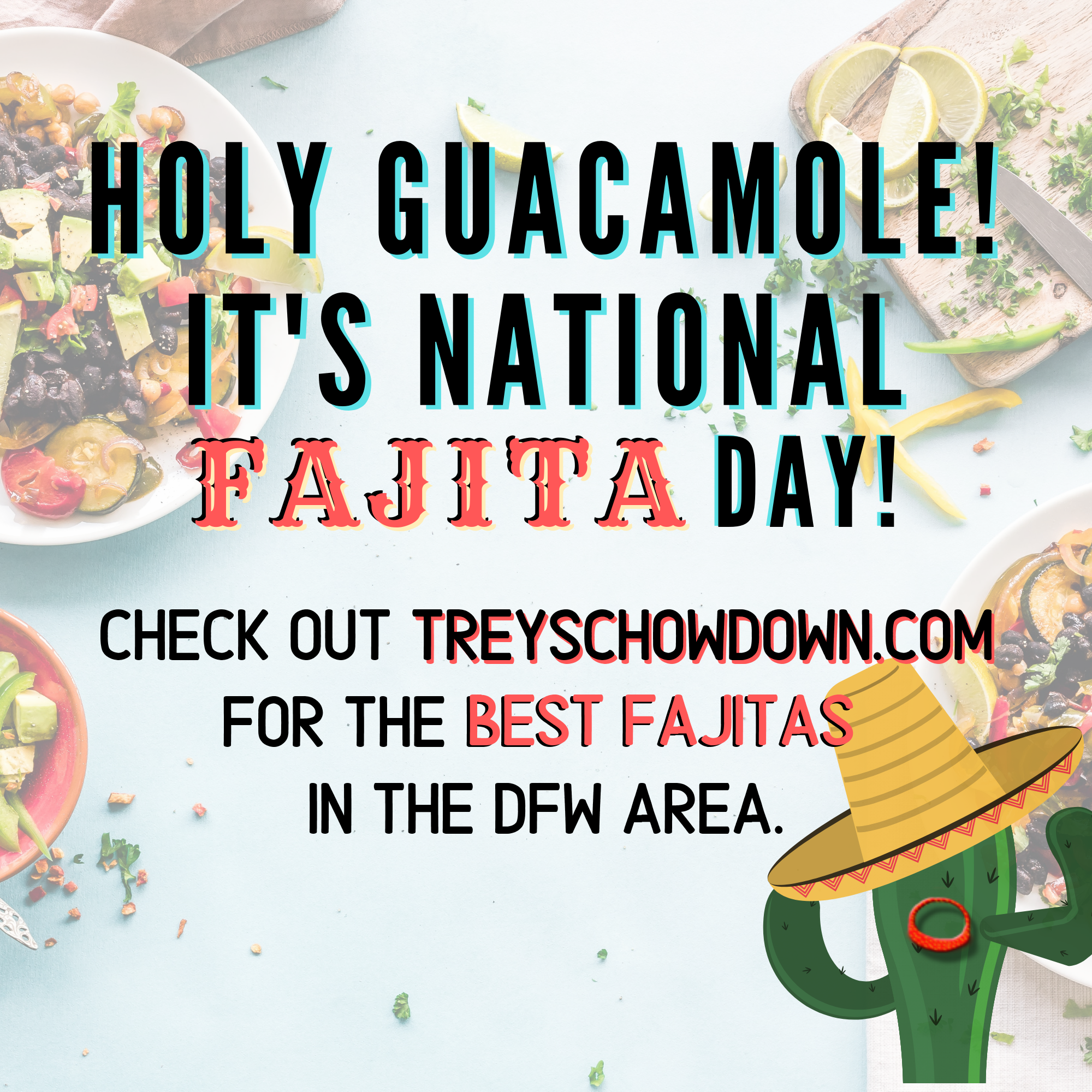 They say the first culinary evidence of fajitas was in the 1930s, along with the Spanish naming.  The cooking style used at that time was by a campfire or directly on a fire pit or in a skillet. Originally, it was made from throwaway cuts of beef by Mexican vaqueros in Southwest Texas. The fajita was developed as an everyday meal in the early 1930s. Since then everyone has fallen in love with the fajita!
Who doesn't just love some succulent delicious fajitas? I think everyone loves fajitas! Well, at least every one I've ever spoken with loves them.
The main issue I've learned about fajitas and the folks enjoying them is everyone seems to always want more meat. Some of the other issues I hear from folks when I inquire about how they like there fajitas is pretty basic. They say fajitas can be dry and have little or no flavor, or they didn't receive enough fixings. Everyone might desire more meat or fixings and eat them differently, use a different choice of corn or flour tortillas, but when it's all said and done everyone loves fajitas.
Every chef, restaurant, or family business that offers fajitas has a different flavor profile. You won't find any particular fajita meat with the same flavor profile! Everyone uses a different preparation process. They use an array of different spices, marinades, marinating processes, and cooking techniques. Some restaurants offer you fixings with your fajitas, and some charge you extra for it.
Back in the 19030s on the ranch lands of Texas, the fajita was created out of necessity. Since that time, I bet they have been cooked a million different ways.
Nowadays, we Texans LOVE our succulent, delicious, and flavor-packed fajitas.
We love them with beef, filet mignon, chicken, shrimp, goat and… You can even get bacon on them too.
Most folks like all the fixings; Cheese, sour cream, jalapeños, grilled onions, peppers, and oh did I say cheese? Yes. Extra cheese please.
I went on the hunt to locate some of the best fajitas the DFW area. I found some delicious places to CHOW DOWN on some Texas fajitas. You won't find any throwaway cuts with the places I located. Simply just delicious succulent fajitas for all to enjoy.
I urged you to try some of these places and enjoy the delicious fajita discoveries I've found for my fellow fajita lovers in Texas. Some of these places are mom and pops, or family operations, which is a lil bit extra special. I truly hope you enjoy.
1st Place
Cabrito Nuevo León
Northside Fort Worth, Texas
It's the cozy little yellow building on the corner in north Fort Worth. I have to say I was shocked but extremely impressed when they sat the fajitas down in front of me. The meat was sizzling loud and there was plenty of it. In fact, it's the most meat I've ever seen on an order of fajitas. They were packed with flavor and so much deliciousness. The service was amazing and the staff very friendly. One of my favorite fajitas of 2019! I would strongly suggest going try these fajitas and don't forget to add in some queso too. I poured the queso on my fajitas before I rolled them up. Yes, it's a bit messy but so damn worth it. This is a true family operation and I love everything about it!  Talk about a flavor rodeo in your mouth – kaboom! #Fajitakaboom
2nd Place
Mi Dia from Scratch
Grapevine / Plano / Addison, Texas
When I first heard about the fajitas from Mi Dia, I told myself that this just can't be correct. Nobody I know serves their fajitas layered with cheese then covered with bacon?  WHAT?! I'm happy to admit I was wrong on this point. They do offer fajitas layered with cheese and topped with big strips of bacon. I was in love with these fajitas. I felt like I struck gold when I ate these. I had mine fixed up with fajita meat, grilled onions, peppers, then layered with melted gooey cheese and topped with crispy bacon. How in the world can you not love this dish? They are loaded with flavor and taste like MORE because MORE is all you will want. I even licked the plate lol! Get to Mi Dia from Scratch and try those amazing fajitas! #baconfajitas
3rd Place
Beto & Son
Trinity Groves in Dallas, Texas
This is a fantastic father-son Mexican joint restaurant concept with an incredibly creative Mexican food menu, Not to forget, their famous liquid nitro margaritas! They have some really fantastic fajitas served with house-made, Cotija Cream Dressing, grilled onions, peppers, and fresh avocado slices, and I add Queso Fresco. You can also add a flavorful liquid nitro margarita, oh yes! Beto & Son is a great spot to eat, drink, and hang out with your friends. Located in Trinity Groves, it has an amazing patio with different seating areas for you to enjoy. This is a fantastic spot with some amazing flavor-packed food. #FatherandSonGreatness
4. Los Asaderos
Northside Fort Worth, Texas
When you're looking for this place just remember it's a bright orange building that doesn't really resemble a restaurant. What you will find here is an extremely cozy little eatery run by the same family for years. The fajitas have an amazing flavor profile and are served with the best hot salsa in Texas. I'm serious now! If you love hot salsa, fresh guacamole, and grilled onions then you need to try this place. The chips and tortillas are also prepared in-house fresh on the daily. All I can say is I've never had better salsa anywhere in Texas, or the USA for that fact of the matter. The fajitas were amazing , and they will make you have delicious foodie dreams. If you don't like real real real hot salsa then do not – I repeat DO NOT – take a big scoop of this. I promise it will set you on fire. This is a real Mexican restaurant find with authentic fajitas. Go try them and you will say #WorthIt!
5. EL Rincon Mexican Restaurant & Tequila Bar
Carrollton and Frisco, Texas
The team at El Rincon just keep on servin' and slingin' deliciousness. Everything they have is loaded with flavors. The service is always first class and the atmosphere is vibrant. The fajitas, or shall I say a fajita fest, is flavor packed meat served with grilled onions and a big side of yumminess. They also have fantastic house prepared cocktails, chips, and tamales. I loved their tamales so much I featured them on my ABC Tamale special last December. So really you're getting a two for one with this place. Awesome award-winning fajitas and tamales. Head on over to El Rincon and tell'em Trey sent you! They just opened their new second location in Frisco off Preston Road and the Sam Rayburn Toll Road.
6. Cardona Foods
North Fort Worth, Texas
Let me tell you about the Cardona Family. Many years, let's just say decades, of the restaurant and Mexican food history. It is located in front of a family factory where you can purchase fresh chips, tortillas, tamales, and so much more. I've been coming to eat here for a long time because the food is truly authentic and amazingly delicious. I love the fajitas, the fresh tortillas, and the house prepared salsa. I tell the staff, "Just keep them coming until I pop"! Oh, and when you leave don't forget to grab you a big bag of fresh chips and tortillas to take home with you. I've already told you how I feel about family restaurant heritage, and Cordona's is just one more of those incredible restaurants for you to try. You will leave saying #I'llBeBack
7. Cafe Herrera on Lamar
Restaurants on Lamar/Omni Hotel Dallas , Texas
This place is not located in the hotel but across the street with five other restaurants beside it, also known as Restaurants on Lamar. There is something to be said for family history, especially when your family has been in the restaurant business for decades. The Cafe Herrera manager is the granddaughter of Mama Herrera, the creator of Herrera restaurants. Since my family was in the restaurant business for over 100 years, I'm a true believer in families that pass down recipes and restaurant heritage. This place felt extra special. The first time I dined here was for brunch and I've been back numerous times now. Everything is prepared in-house and always from scratch. The chips, tortillas, sauces, queso, and of course, the succulent fajitas that are packed with deliciousness. You will love the fixings, sauces, and of course the meat. If you go for brunch on Saturday or Sunday they have an amazing self-serve bloody mary bar complete with different kinds of millionaire bacon. Do yourself a favor and make the trip! I'm in love with Cafe Herrera and the staff.
8. Uncle Julio's
Fort Worth and Dallas, Texas
Everyone knows about Uncle Julio's in the DFW area. If you don't, then you've been living under a rock for 20 plus years. They have some of the best fajitas in the business! I like the filet mignon fajitas served up with all the fixings and some of those hot delicious house-made tortillas. You can't forget, they have some of the best smoky salsa in the area. I love to pile on the sour cream, shredded cheese, grilled onions, and CHOW DOWN. After you finish those fajitas, you might try their big chocolate swinging dessert they offer because of its crazy good sweetness!
9. Los Molcajetes
North Fort Worth, Texas
This place is what I like to call cozy greatness. It's located in a little vibrant strip-mall spot in Fort Worth. They have some fantastic fajitas, margaritas, and other authentic Mexican fares. They also have live mariachi music which is always fun and keeps the atmosphere poppin' with authenticity. The fajitas are served up hot, with farm-fresh vegetables and tasty salsa. If you're looking for some tasty fajitas, music, and authentic Mexican vibes then they have it waiting for you!
10. Alvila's Mexican Restaurant
Dallas, Texas
Avila's has been around for three decades now. It's a family operation slinging authentic Mexican and Tex-Mex dishes that are hard to find anywhere else in the DFW area. Some folks will say they have the BEST fajitas anywhere. In fact, they have been written about on many occasions about how delicious their fajitas taste. I love these fajitas! They are packed with flavor and I always want more to take home. The fajitas are prepared in-house with farm-fresh vegetables and ingredients to create great authentic bold Tex-Mex flavors. I am sure you will fall in love with this dish. The service is always first class, and as I said, it's a very cozy atmosphere. Head over to Avila's and CHOW DOWN on some deliciousness.
11. Mancuso's Restaurant
West Fort Worth, Texas
This is not a Mexican restaurant. The next place on my list normally serves up classic Italian restaurant cuisine, but Chef Michael Mancuso loves fajitas so much that he decided to create some delicious lip-smacking fajitas. Then the famous Mancuso's Fajitas was born. He offers them with all kinds of sauces, but my favorite is the "Fettuccine Alfredo" fajitas. Yes, you heard me correct… I said FETTUCCINE ALFREDO FAJITAS. Get you some of that deliciousness folks. If you love trying something new, then head over and try some of Chef Mancuso's fajita creations.
12. Blue Mesa Grill
Fort Worth, & Dallas Texas
I can say so much about the Blue Mesa in Fort Worth – gorgeous building, BIG beautiful Texas-sized outdoor patio, huge bar, and of course DELICIOUS fajitas. You have to try it for yourself. They have plenty of meat options for their fajitas, and it comes out served in a sizzling hot iron skillet. My personal favorite is the combo of steak, and chicken. It comes served with house prepared tortillas, farm fresh grilled onions, peppers, and all the fixings that will make your mouth take a trip to flavor town. Check out BLUE MESA in Fort Worth and Dallas. They also have fantastic happy hour specials.
Well folks, I hope you enjoy some of these delicious fajita options and restaurants. Every single place on this list is sure to bring you happiness. Have any more recommendations? Feel free to shoot me a message!
Please follow us on all our social media channels, and watch my podcast Trey's Chow Down Live – it's all about chefs, restaurants, fun, and even more deliciousness!
See you at the table!
" Food is an exploration of the pallet!  Try something new! You just might like it! "