Small Business Wednesday – Spotlighting Locally Owned Small Businesses We Discover!
Jackson & Eric Wren  
Located in WACO, Texas, they switched from food truck to storefront during the pandemic and the rest is history. The twin brothers Jackson and Eric Wren are the owners of Nightlight Donuts and Coffee and they've
been slinging donut deliciousness since 2018 and have never looked back.
Trey's Chow Down has been Road Trip'in the USA in search of the BEST DONUTS the USA has to offer. Today we're in Waco, Texas at Nightlight Donuts & Coffee where they believe kindness – not sugar, flour, or a special spice – is the secret ingredient. Kindness is the thing that they believe so strongly in and I think it's awesome, especially in today's crazy world where KINDNESS and LOVE is needed the most!
We received a tip of deliciousness about Nightlight so we made the trip to chow down. They offer some very unique, fluffy, savory, and sweet donuts that are filled with deliciousness. Each bite I took was better than the last – so flavorful and memorable I had a hard time putting these donuts down because each one was served HF&D #HotFreshandDelicious. On top of that, they were vibrant and beautiful.
These were some of the BEST DONUTS we've discovered in our travels around in the USA. I say they're worth a drive from anywhere if you long for a savory, sweet, flavorful and delicious donut. You can view all of the offerings at the website link we have posted below.
https://www.nightlightdonuts.com/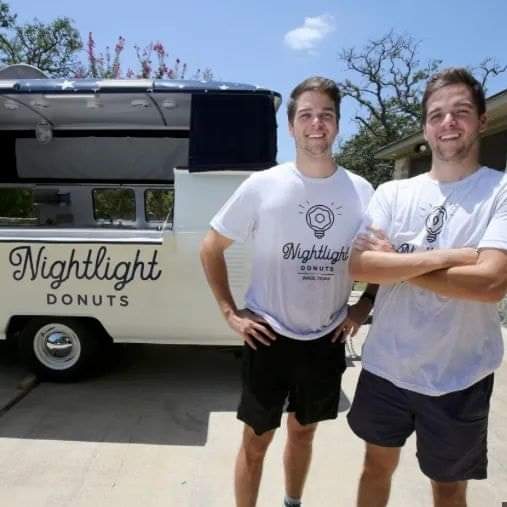 I would highly recommend you take a ride over to chow down on some donut deliciousness. Nightlight is a NEW official Trey's Chow Down APPROVED delicious destination for all donut lovers to enjoy.
Stay tuned for our BEST DONUTS IN THE USA 2023 article.
Hope To Meet YOU AT A Table Soon! Stay Hungry!
Trey (Chow Down) Chapman