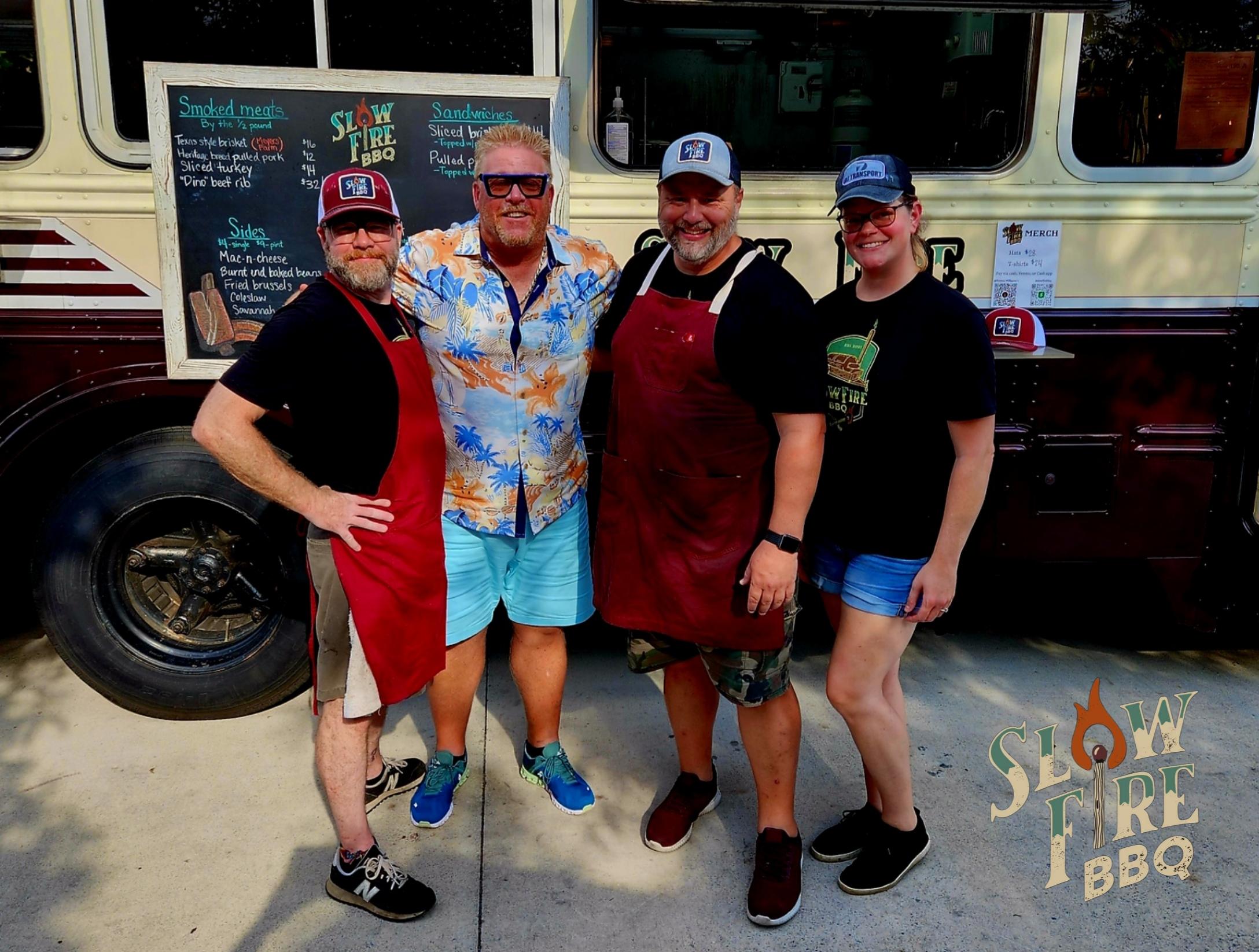 Howdy BBQ lovers! We struck BBQ deliciousness in Savannah.
I just had to start off STRONG because FACTS are FACTS. I travel coast to coast hunting down deliciousness and I was excited to make the trip to Savannah to meet the SLOW FIRE BBQ team. I've heard so much about them through the BBQ world. Their craft BBQ, house prepared sides, fresh sandwiches and CHEERWINE are being talked about coast to coast and for good reason… It's FREAKING DELICIOUSNESS ON THE NEXT LEVEL! 
When I was walking up to the Starland Yard food truck park, I could smell the BBQ aromas wafting over the gate like a big cloud of deliciousness. I thought for a second, "Am I in Texas or Georgia?" That's when I knew I was in for treat.
I walked up to the old converted school bus to meet the Slow Fire BBQ team, who were busy slang'n deliciousness out the windows for all the waiting BBQ lovers. It was hot… real hot, and the humidity was on full tilt. Everyone was hot and sweaty, but nobody cared because everyone was in full BBQ Boogie mode, waiting to chow down on Slow Fire perfection. As I always say: that's the difference between BBQ perfection and just plain old BBQ. If folks are willing to wait, stand, and sweat waiting for their BBQ you know it's pure perfection. I've seen it and I can guarantee that's a FACT!
Pitmaster Terren Williams has paid his dues. Make no mistake about it, Slow Fire wasn't an overnight success – it took years of grinding and learning to understand the BBQ game so he could create a legendary BBQ spot everyone would love. He grew up in Savannah, moved to Atlanta, and went to culinary school. Next, he moved to Dallas, Texas where he figured out real quick what real BBQ was. After visiting Lockhart at Smitty's Market, he was immediately hooked. His passion hit overdrive and the gears started turning.
After staying in Texas for 10 years, learning and honing his craft, he moved back to Savannah and went to work as the chef de cuisine over The Grey for James Beard winner chef Mashama Bailey. When Covid hit, that came to an end and provided the perfect opportunity for him to start Slow Fire BBQ. He sources as much as possible from local farms to use the freshest meats, vegetables and ingredients to create flavor profiles are always HF&D: Hot, Fresh and Delicious. They believe in perfection with everything they serve or they won't serve it.
As always, we tried a big variety of BBQ and sides. Every bite I took had that perfect culinary jingle I like to call BBQ deliciousness. The sides were so savory and delicious they're unforgettable. I was blown away by the offerings, service and the pure BBQ perfection they offer. I can say they have the BEST BBQ in Savannah and the GREAT STATE of Georgia!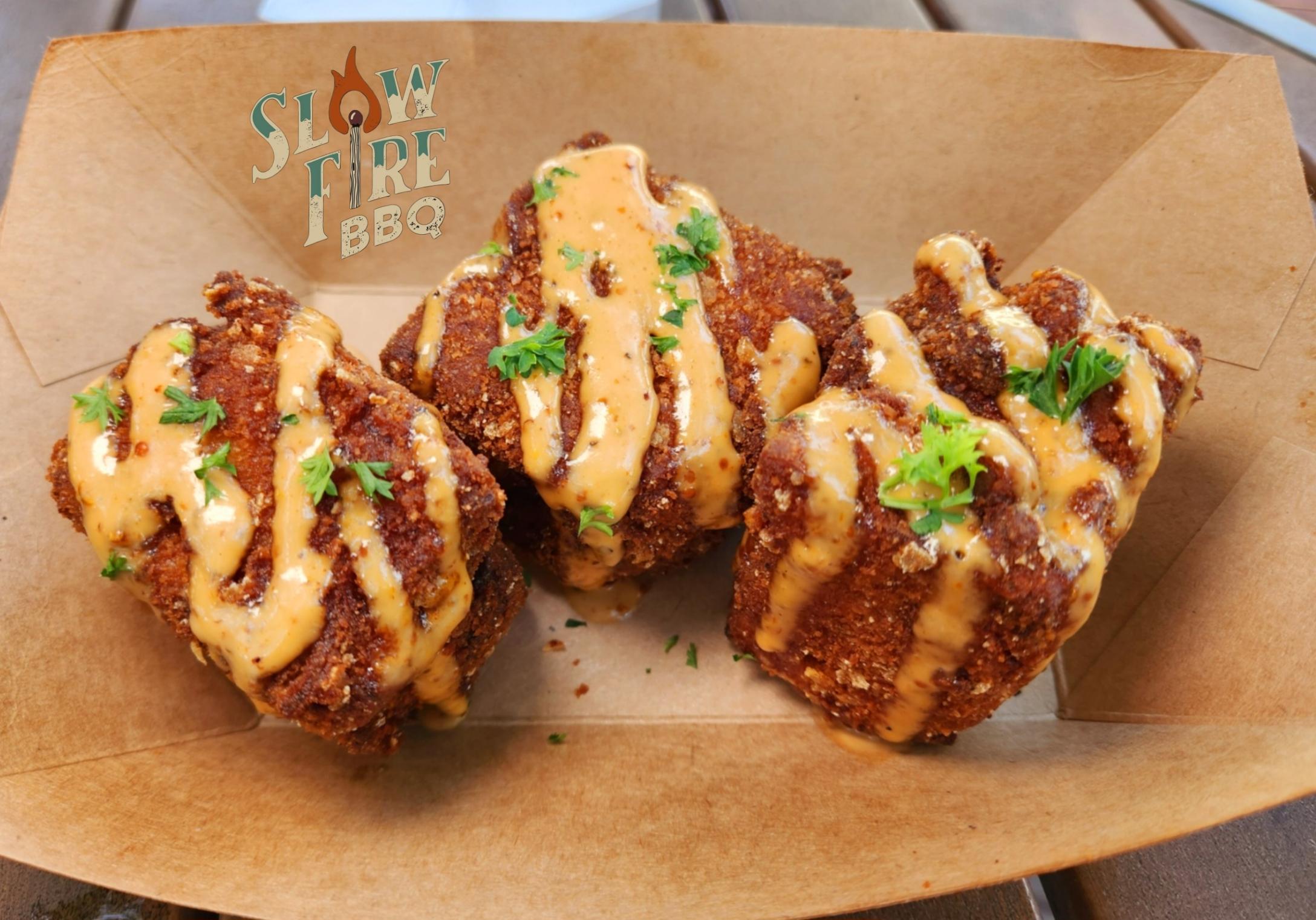 If you're looking for something so delicious that you want to wear it has meat cologne so you never forget it I would HIGHLY SUGGEST you take a ride over to SLOW FIRE BBQ and CHOW DOWN!
Features we enjoyed:  
Fried Brisket Mac and Cheese Squares: Chopped brisket and Mac and cheese breaded and fried, topped with comeback sauce and side of house made hot honey made with local honey
Slow Fire BLT: Fried green tomatoes (locally grown), house pork belly brisket (pork belly seasoned and smoked like brisket), lettuce, comeback sauce, sliced fresh brioche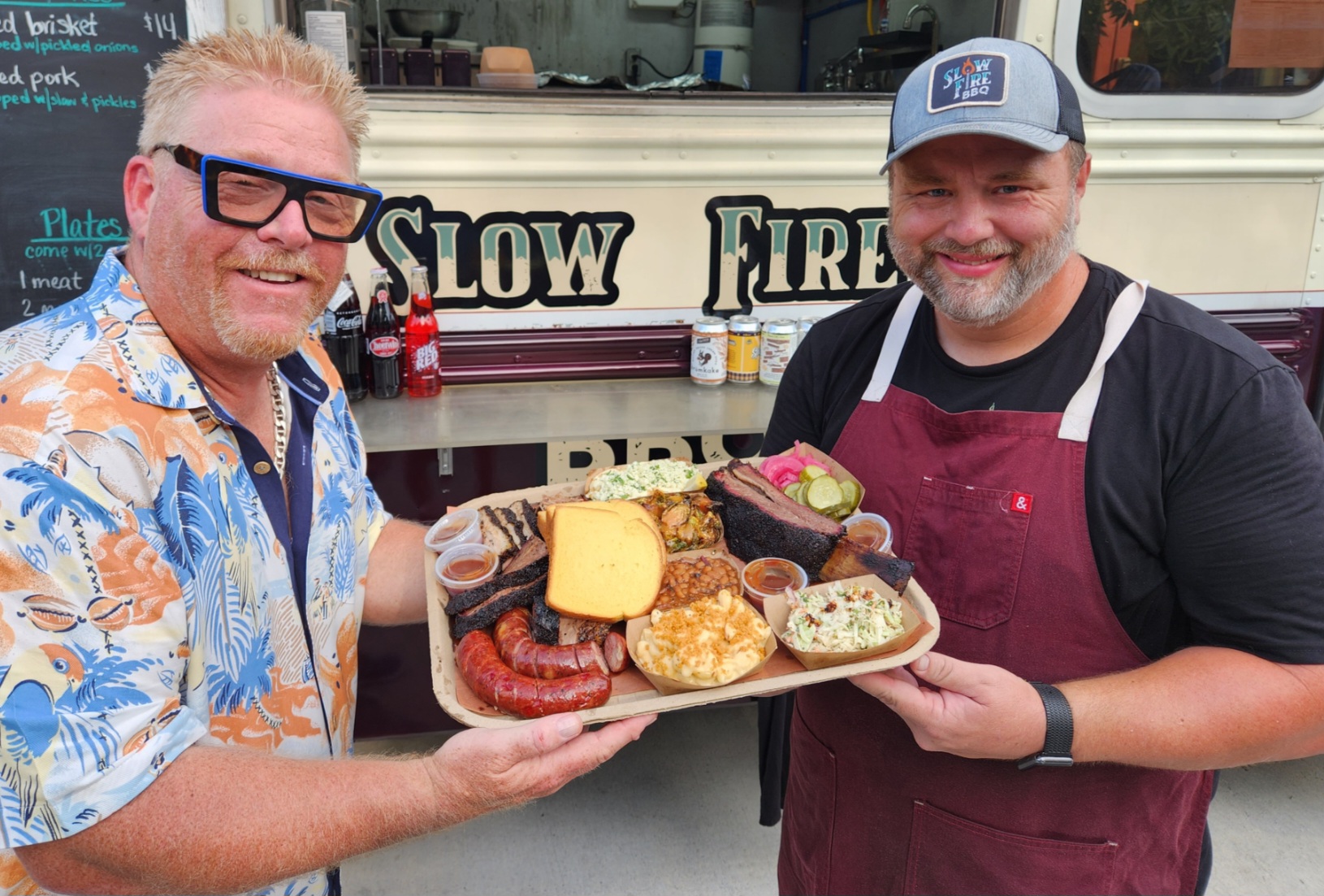 The Trey's Chow Down – Slow Fire Platter: 
Heritage breed duroc pulled pork, sliced Texas style turkey (dipped in butter), and succulent pork belly brisket.
House made sausages:  One was pimiento cheese and the other is a low country boil sausage (made with all the ingredients of a low country boil stuffed in the sausage including locally caught ga shrimp!
Sides were smoked Mac and cheese topped with crunchies, fried Brussel sprouts topped with our house made Asian bbq sauce, coke slaw topped with chili crisp, burnt end baked beans and Savannah street corn (cut corn seasoned with harissa and topped with preserved lemon Mayo, cotija cheese and parsley.
Slow Fire Dino beef Rib. Pretty self-explanatory.  Big PHAT meaty beef slowly smoked to perfection.
They make the pickles, pickled onions and BBQ sauce in house. The bread on our trays is a bread made locally in Savannah.
Slow Fire BBQ is a NEW officially approved Trey's Chow Down USA delicious destination for all food lovers to enjoy.  
Follow our social channels for coast-to-coast deliciousness and unique travel destinations.
Trey (Chow Down) Chapman