Driftwood Texas BBQ Deliciousness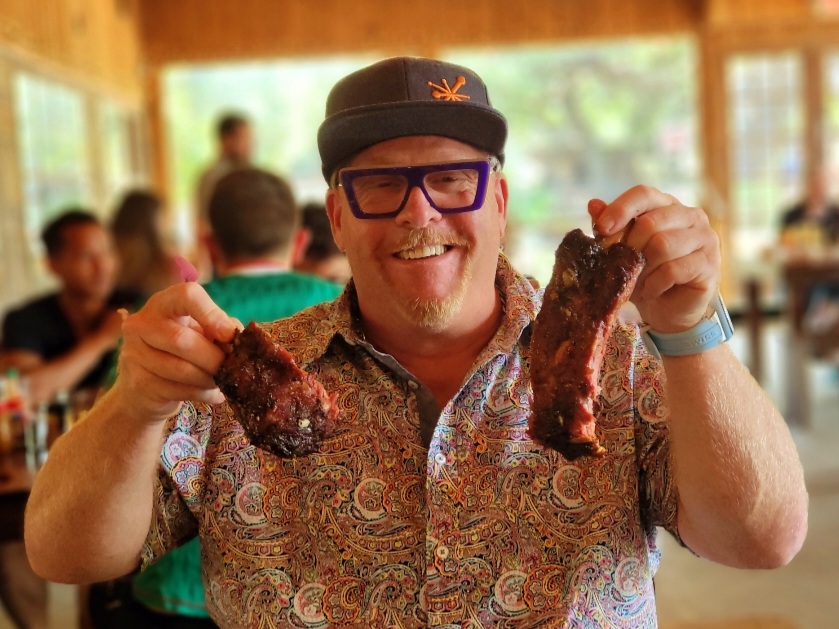 Driftwood is home to the world famous SALT LICK BBQ. As we pulled up I had a realization that any day is the perfect day to enjoy some Texas BBQ! We took a ride over because we're on our MEETS, EATS and SWEETS Tour 2022 on the road to discover deliciousness all over the USA.
The Salt Lick doesn't just serve great BBQ, they offer a TEXAS BBQ experience. They smoke all the meats you can imagine: brisket, pork, beef ribs, buffalo ribs, turkey, sausages, pork ribs… heck, we could go on forever. I'm pretty sure they could smoke anything and it would be delicious. The sandwiches are BIG, and loaded with meat too. They offer one, "Marino's Triple Chop" that is crazy, meaty deliciousness.
Let's also talk about the sweets: a slice of chocolate pecan pie, blackberry or peach cobbler and homemade pecan pie that is just insanely flavorful. You can also get a half tray of cobbler (peach or blackberry) TO GO.
The Texas BBQ is worth the drive alone, but it's the atmosphere that makes you sit a spell. Plenty of inside seating with dining rooms that have an old TEXAS ranch-like atmosphere. The outside seating is truly Texas outdoors as well, complete with big and small trees providing shade over the whole property. They even have an adult-only section with tasty wine and good vibes.
If you follow me you know I'm big believer in overall foodie experiences, and that's what you get when you Chow Down at The Salt Lick. I would highly recommend a day trip for some Texas Deliciousness. It's the worth the drive from anywhere! They are a new official Trey's Chow Down Delicious Destination for all BBQ loves to enjoy.
Hope to meet you a table soon for great conversation and some deliciousness!
Trey ( Chow Down ) Chapman