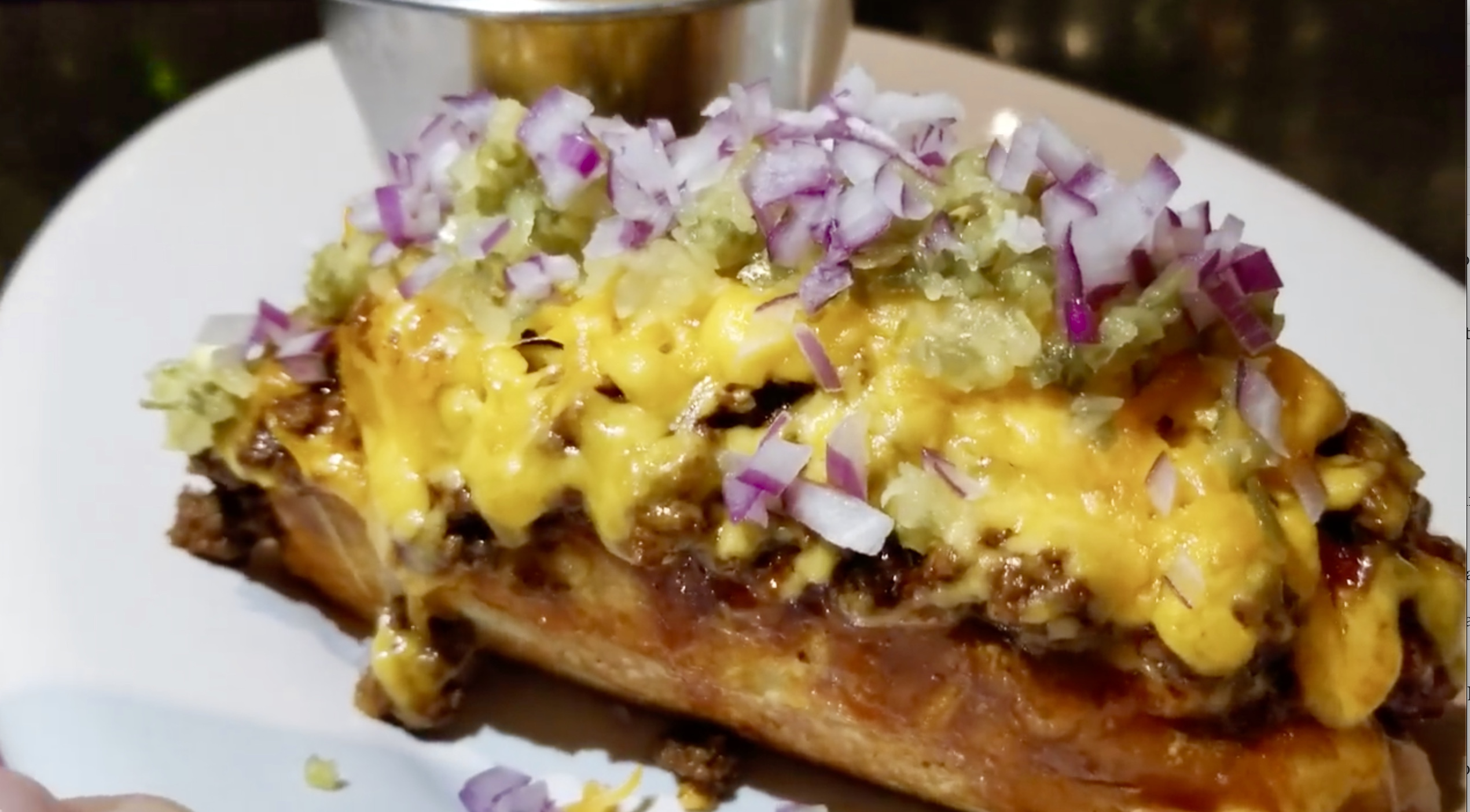 In 1805, the creation of the hot dog is said to be created by the people of Vienna, Austria. The term "wiener" is name after the birthplace Vienna (Wien). As the story is told, the first master sausage chef received his early training in Frankfurt, Germany. He called the sausage the " wiener- frankfurter."
Hot dogs didn't make its way into the USA until 1871 when, Charles Feltman, a German baker opened up the first Coney Island hot dog stand. He sold more than three thousand sausages in a milk roll during his first year in business. I would call that, a HIT dog, right?!
Who doesn't love a big phat succulent hot dog with all the fixings?
I sure do, I don't just like them – I LOVE them.
I don't care where the dog came from, all I know is I've loved hot dogs since I was a child. Not just regular hot dogs but all kinds of different dogs with ALL the fixings; mustard, chili, cheese, relish, red or white onion, nacho cheese, shredded cheese, brisket, even bacon.
Chefs nowadays days have taken hot dogs to the next level. That's why I call some of them Craft Dogs. The most creative hot dogs are created to achieve that special flavor profile a chef is striving to achieve.
They're using custom created buns, meats, sauces, special cheeses, delicious chilis, smoked Texas meats, and of course, fresh creative relishes. The flavor profiles are amazing and these dogs look beautifully picture perfect!
It's hard for anyone to resist the temptation of a mesmerizing hot dog. Especially one that looks incredibly delicious, colorful, and carries a celebrity chef name.  I know I can't resist one! I'm always all in on chowing down on a hot dog. I'm always like, Hot Diggy Dog let's GO!
After eating hot dogs all over Texas, I decided to create a list of some of the best and delicious hot dogs everyone can enjoy. I want y'all to enjoy some of the deliciousness that I fell in love with.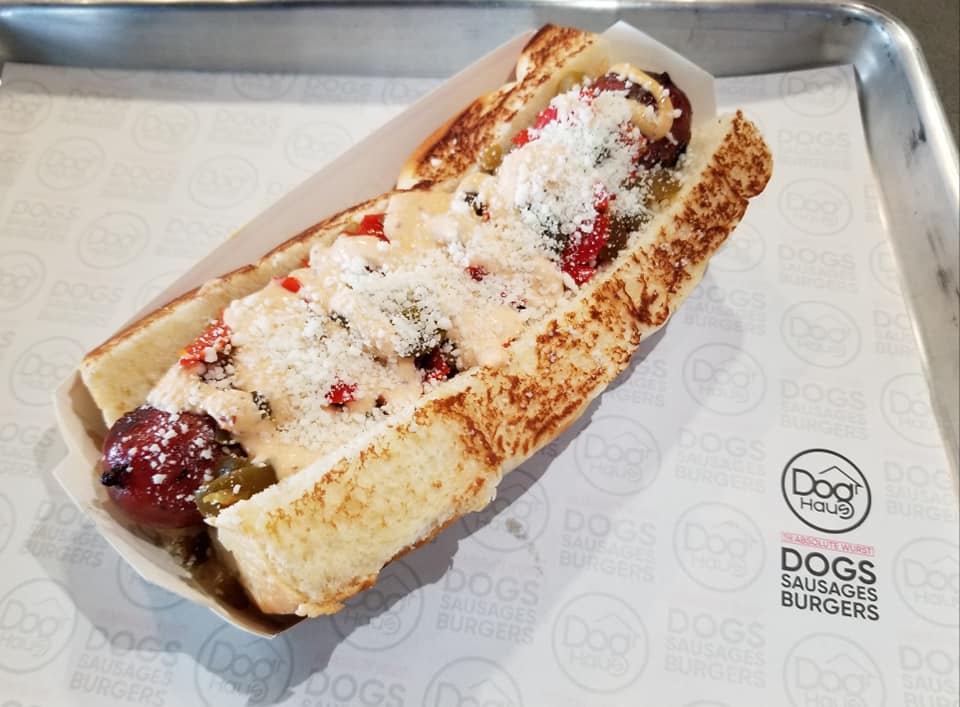 Dallas & Fort Worth Metroplex
I've been a fan of the Dog Haus concept since I took my very frist bite. The Dog Haus is a craft beer, dog, and burger house that offers a creative menu and craft beers. All the menu items are prepared fresh daily at each location. the Dog Haus is a craft casual hot dog concept known for its gourmet hot dogs, sausages, burgers and one Bad Mutha Clucka. Founded by longtime friends Hagop Giragossian, Quasim Riaz and André Vener, the first Dog Haus opened in Pasadena, California in 2010. Dog Haus has garnered critical acclaim for its signature all beef dogs and hand-crafted sausages with no added nitrates, 100% Black Angus beef burgers, and a fried chicken sandwich – all of which are made with hormone- and antibiotic-free meat and served on grilled King's Hawaiian rolls. With the brand's mission to sustainably feed everyone who walks through their doors, Dog Haus also offers plant-based burger and sausage proteins. To chase it down, guests can select craft beers from a tap list emphasizing local favorites and finish their meals on a sweet note with premium shakes.
Fort Worth, Texas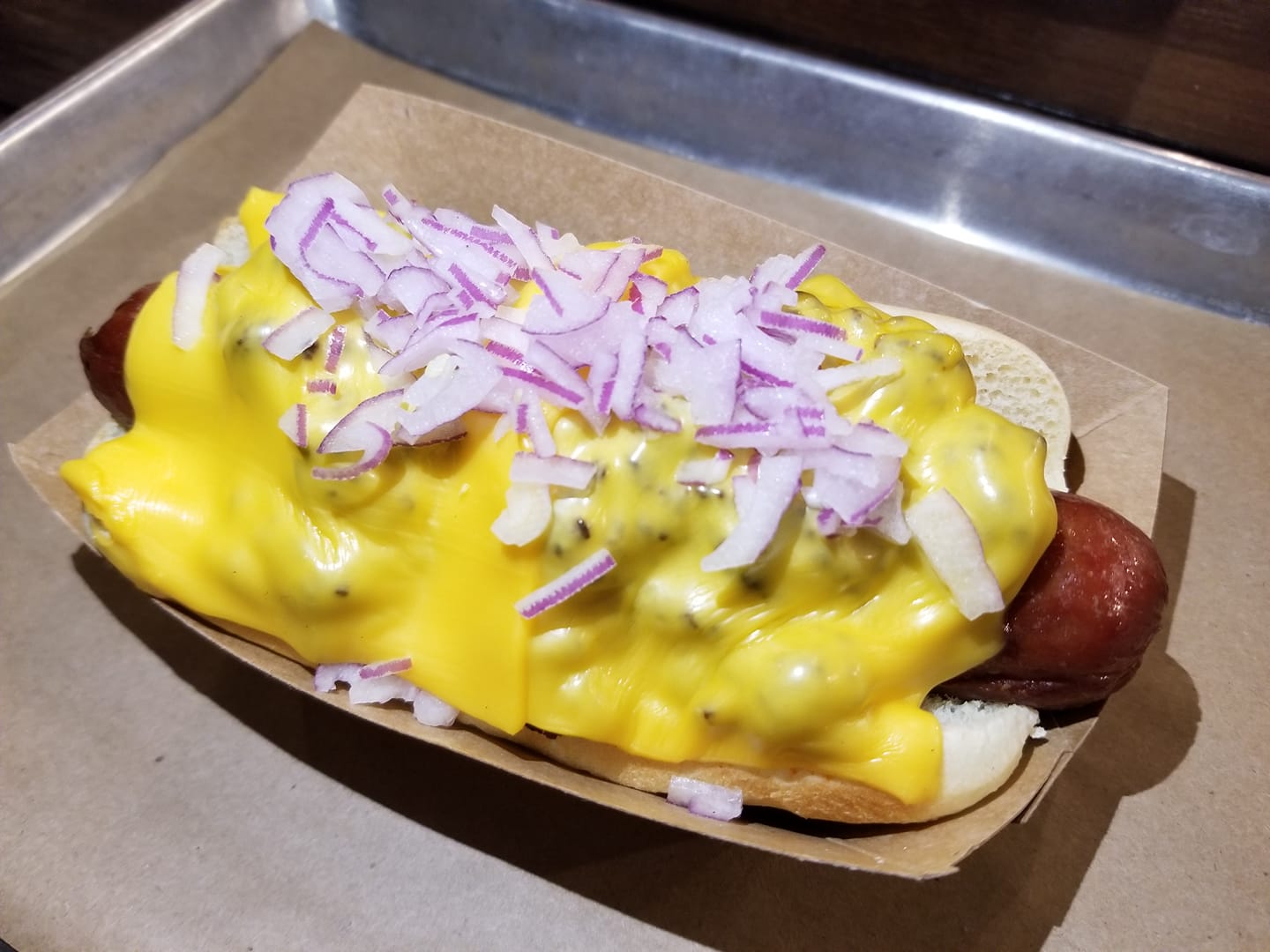 The WASP is a cozy little cafe where you can get lots of knife and fork delights. "The Wasp Dog" hot dog was created by Chef Blaine Staniford. It's prepared with a bakery fresh bun, a phat 44 Farms Weiner, house prepared chili, and dill relish, topped with fresh cheddar cheese and mustard. The flavor profile of this creative dog is one of my favorites. It really pops in your mouth. #FlavorRodeoBaby
Dallas & Plano
"The Knife Dog "was created by Chef John Tesar and oh boy it is simply delicious. It's prepared with a bakery fresh bun, a 44 Farms Phat Wiener, house prepared chili, with some cheese. You can add fresh red onion (which I always do. I love red onions). This dog while simple but packed with flavor. #WorthIt
DFW Area
"The Kincaid All Beef Chili Dog" starts with a fresh bun and a Nathan's All Beef Hot Dog Frank. YUM. This is one of the best hot dog wieners in the USA. They add fresh Texas chili and cheddar cheese. You can add onions and relish, which I always do. This is a good ol' Texas Chili dog packed with flavor. #HotDiggityDog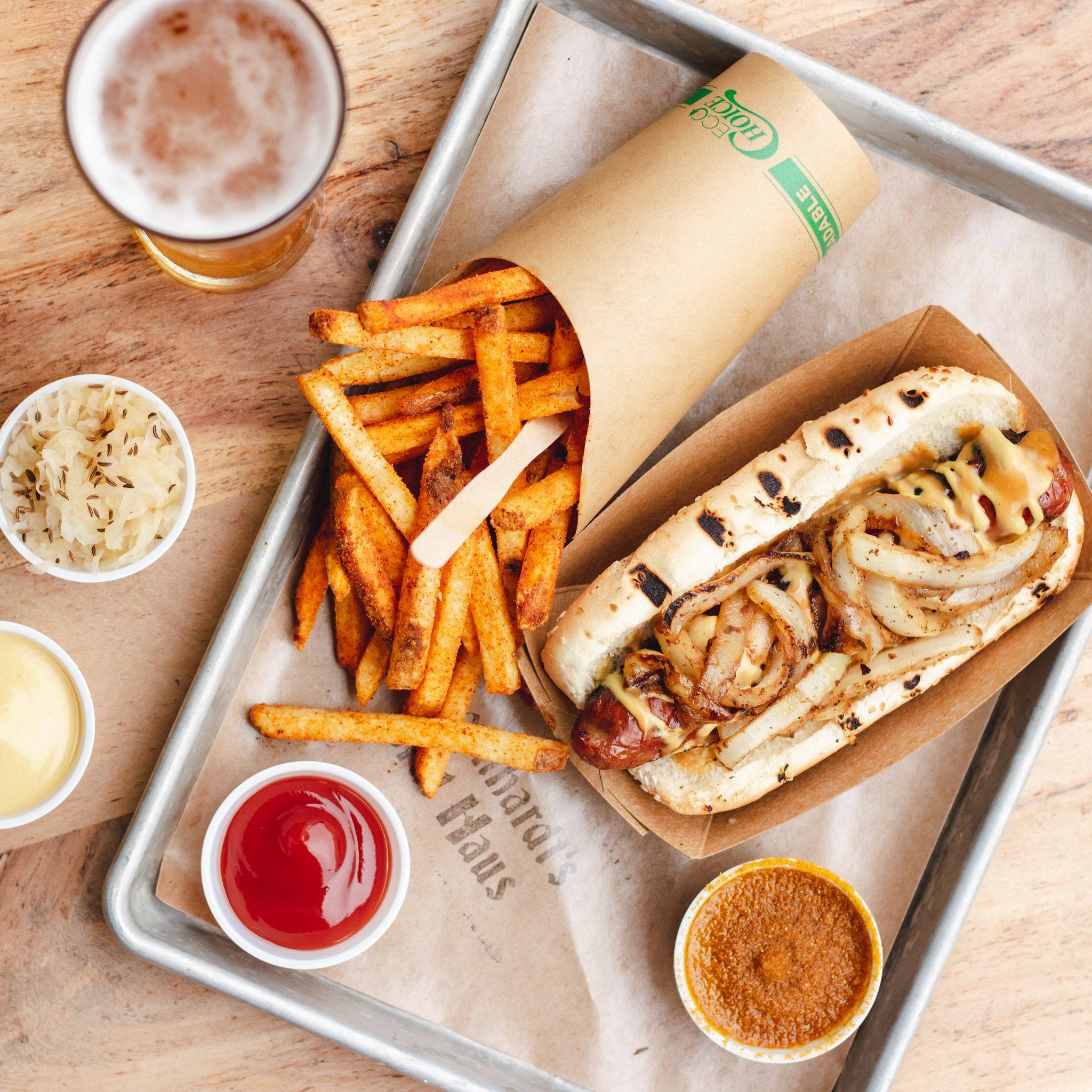 Legacy Hall in Plano, Texas
"Joshua Degenhardt, a German-born second-generation sausage-maker, has expertly crafted the perfect brat. Armed with over 30 years of secret family recipes, the Degenhardt's brats are the real deal."Made by hand to create a delicious flavor profile all it's own.  I get the "SPICY WURST". It's a flavorful and spicy pork bratwurst created from a family recipe bratwurst, served on a European bun with grilled onions. I always add the fresh beer cheese and yes, I get two of the beer cheese. It makes my spicy wurst a cheesy spicy wurst. It's a messy and delicious meal. #ExtraCheeseyGoodness
Hunky's Old Fashion Hamburgers
Bishop Arts District in Dallas, Texas
I love this little old school colorful dinner. The hot dog I enjoy is the "Hunky Chili Dog." Yeah, I said HUNKY lol! It's listed on the Hot Diggy Dog menu. This is another good ol' simple Texas chili dog prepared with a fresh bun, a beef dog, all fresh Texas beef chili, cheddar cheese, mustard, and crisp onion. It's just simplicity at it's best and delicious. #TexasDeliciouness
Crowley, Texas
Nikki D's is an old little gas station joint in Crowley, Texas. Over there, you can find them slinging hot dog and hamburger deliciousness. Once you visit Nicky D's you will have foodie dreams for days. They have "Nicky D's BIG Dog". I really enjoyed this Texas-sized dog. It was prepared with a fresh bun, and phat 1/2 lb All Angus Beef dog. You may add any builders you like to create your own custom dog. It will be guaranteed very delicious. #NDsHotDogHeaven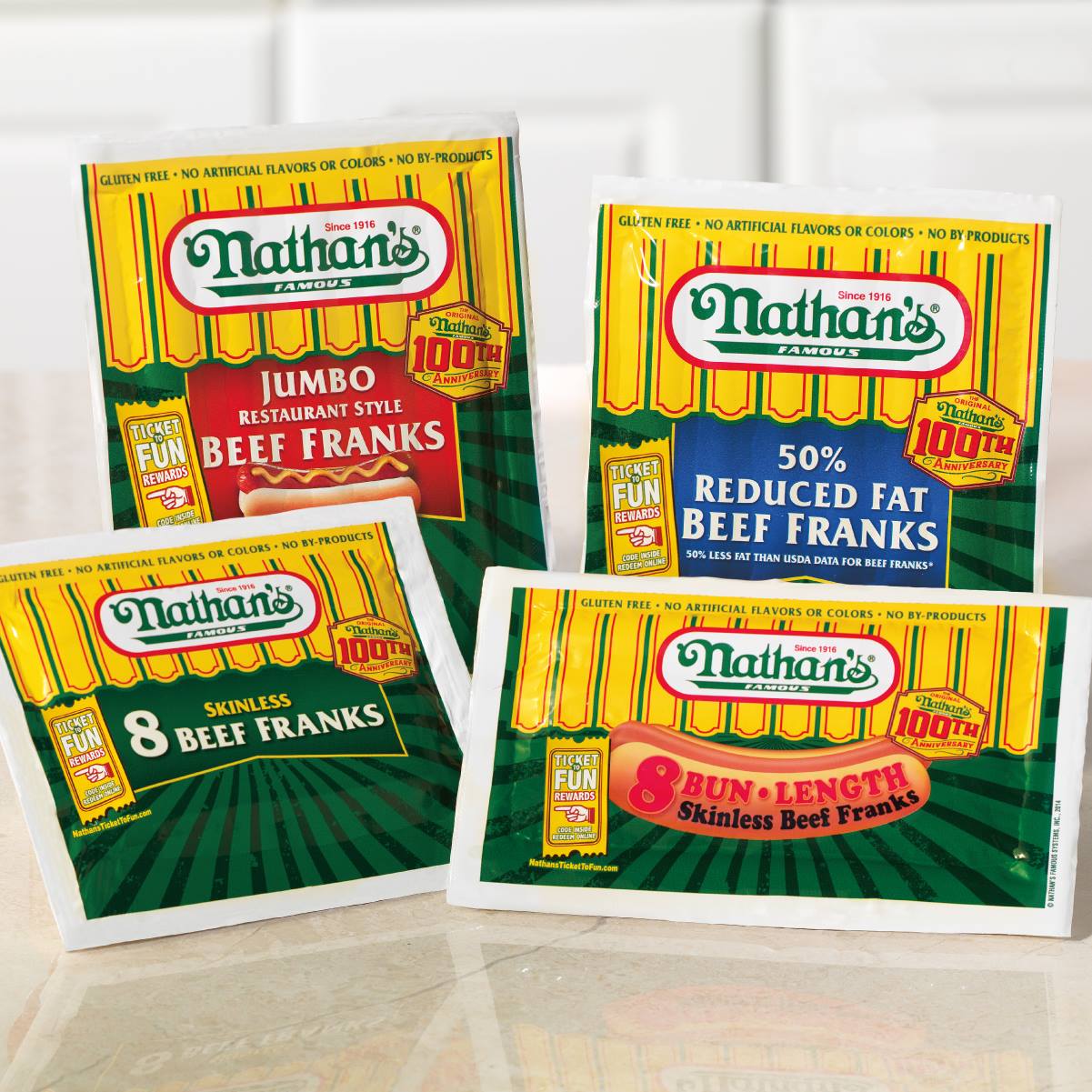 I'm sure your mouth is watering by this point. I have the perfect fix for that! Just visit these local establishments and have fun chowing dog on Trey's Hot Dog Picks.
Aside from the great list of restaurants, I have to tell you about my favorite weiners to grill with at home.
They're famous for flavor; Nathan's Famous Hot Dogs. The Nathan's tradition began nearly over 100 years ago at Coney Island, and now they're delivering taste all over the world.  They're juicy, delicious, and are perfect for a summer barbecue.
Get connected with me on social media, and let me know what you think!
Trey's Chow Down Facebook  Trey's weekly LIVE foodie and chef podcast Trey's Chow Down LIVE 
" Food is an exploration of the pallet! Try something new! You just might like it!
Trey (Chow Down) Chapman