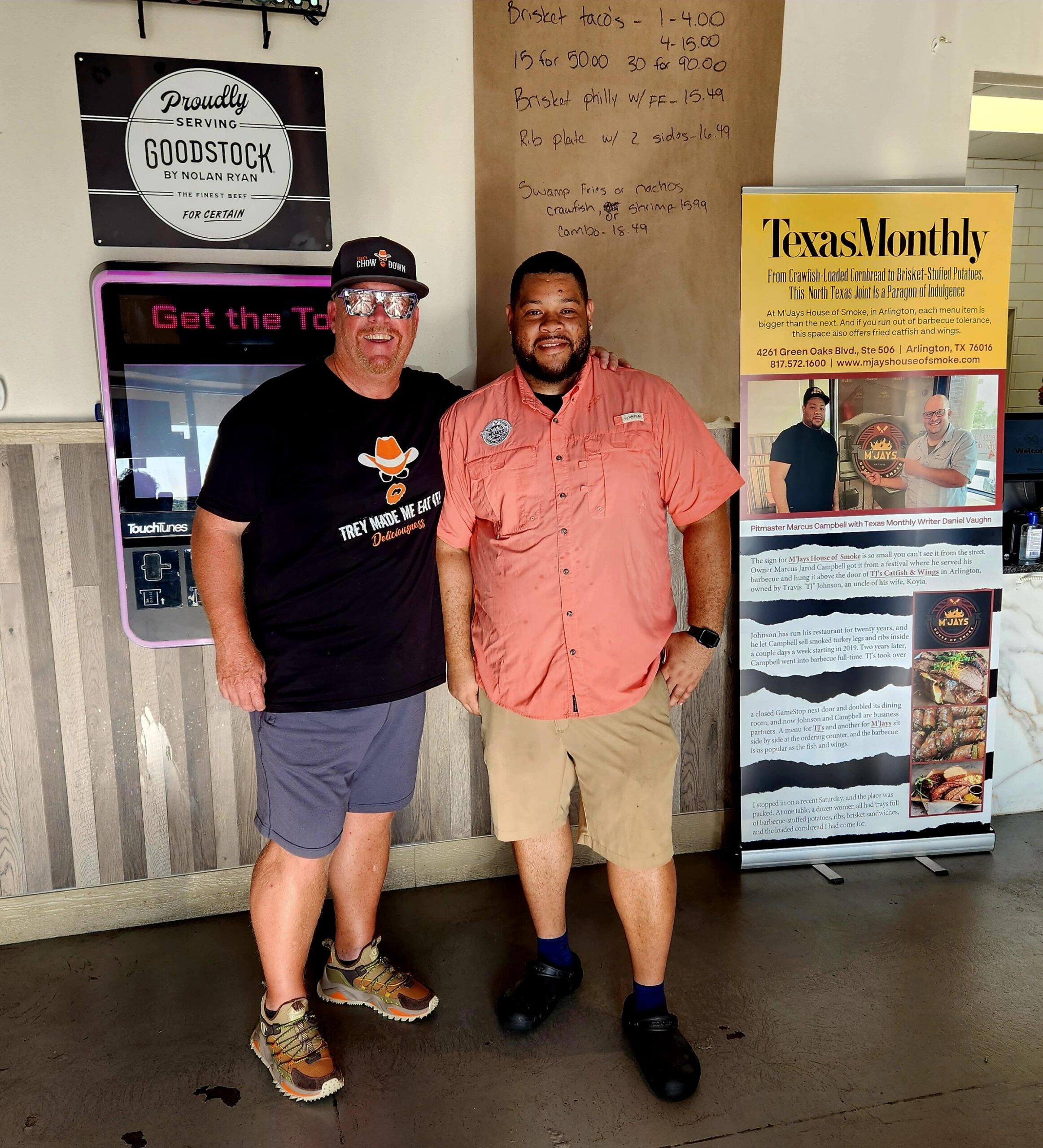 Howdy Chow Hounds!
We discovered something quite special and unique, so we had to share it with the world. This is a restaurant offering multiple delicious features from one location in Arlington, Texas. That's right – multiple features! Everything is prepared in-house using the freshest, locally sourced ingredients, beef, and fish to create some tasty dishes that are unforgettable.
Welcome to M'Jay's House of Smoke and TJ'S Catfish and Wings in Arlington, Texas. Located in the middle of the Fort Worth and Dallas metroplex, they're offering amazing TEXAS CRAFT BBQ, TACOS, CATFISH, CORNBREAD, TEXAS-SIZE STUFFED TATORS, FROZEN COCKTAILS, and MORE. It's a real treasure for food lovers because there is something for everyone and it's all simply SCRUMPTIOUS. 
Owned and operated by the Johnsons, a local Arlington, Texas family. Pit-master and Chef Marcus Campbell, Gwen Johnson, and Travis Johnson formed a partnership after Mr. Johnson (Dad) passed away unexpectedly. They wanted to honor his heritage and the restaurant he left behind. They spent some time remodeling and reopened after about four months for expansion and renovation. The rest, they say, is history because they've skyrocketed the restaurant to stardom, offering incredible customer service and deliciousness.
The TEXAS BBQ was succulent and loaded with flavor. The brisket was crusted and covered with BARK-O-LICIOUS BARK. The sausage was pure perfection, and the tacos tasted like MORE, because more is all we wanted. An absolutely incredible meal!
Now let's talk catfish! It was slightly crispy on the outside and succulent on the inside; cooked to GBD #GoldenBrownandDelicious. Oh, and how about the house-prepared HUSH PUPPIES and corn bread? Perfect.
I know you're already on your way, but if that's not enough, how about a TEXAS sized baked potato? Two pounds of tater deliciousness. If you don't desire a tater, then maybe you would love some Brisket Mac-N-Cheese? They also offer wings and you can choose your favorite flavors. They were cooked just the way I like, FLAVORFUL and DELICIOUS.
If you love to eat and you love big portions loaded with deliciousness, you need to head over to TJ's and M' Jay's and Chow Down. They are a new official Trey's Chow Down Delicious Destination for all food lovers to enjoy. You will Thank me later!
We're always on the hunt for deliciousness coast to coast so follow our social media platforms for daily updates.
Trey ( Chow Down ) Chapman