Good Day Drinking Buddies,
Everyone knows I love to socialize, party with friends, throw back some great shots and throw down some good times. For years people have said, "Nothing good ever happens after midnight." I always say, "They're wrong, dead wrong!" Almost every single memory worth remembering happens after midnight For Me!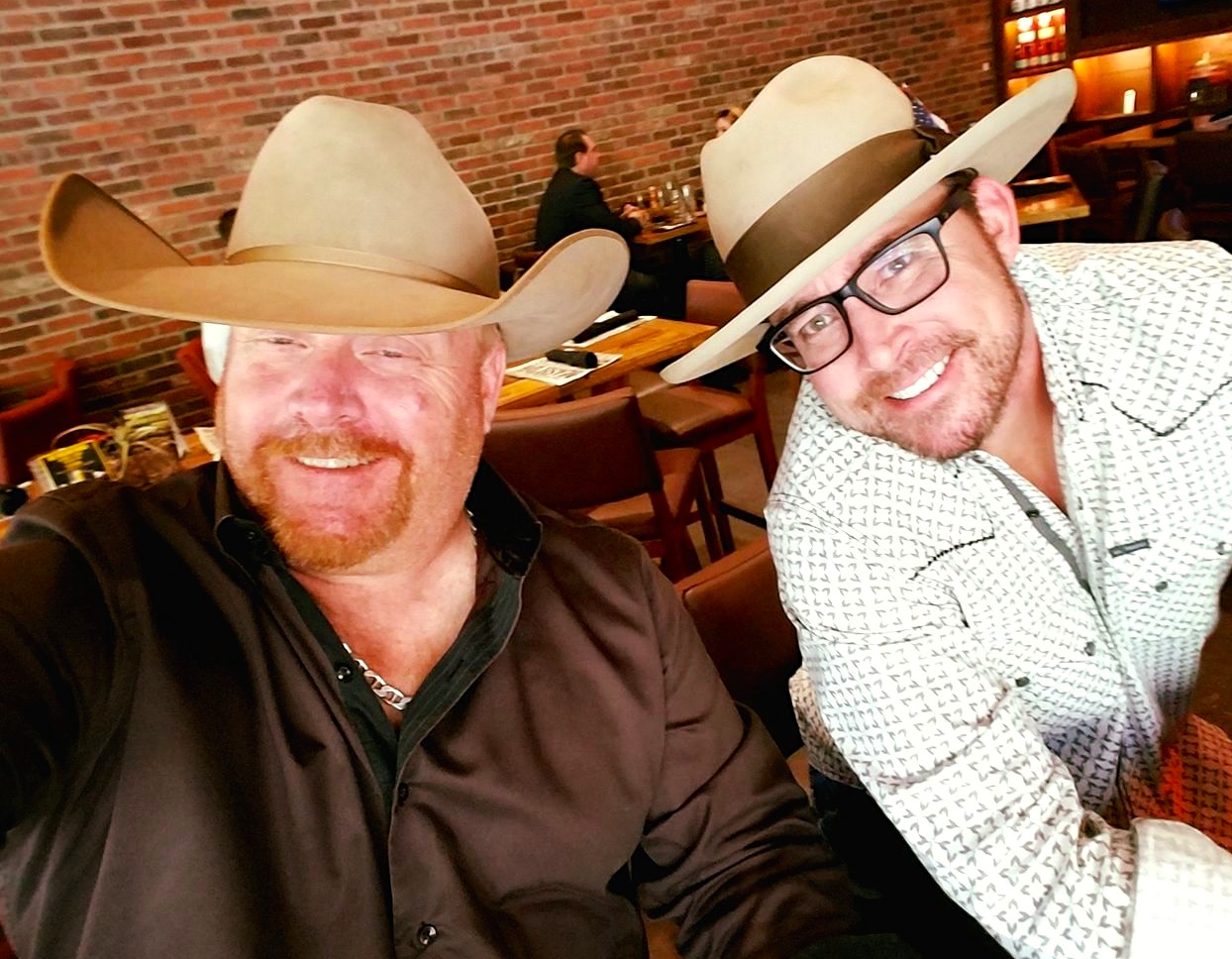 The things that happen, the things I see people do-heck, the things I do after midnight might scare the average person, but not me! I always tell my friends all aboard the Trey Train and let's go for a ride. Leave your troubles at the door step, get on, put a smile on, and let's ride. The way I see it, you can sleep when you're laying in the pine box. Who in the heck wants to grow up anyway? Not me. The way I figure it, you only have one life to live, and you better live it full throttle with no regrets. Get busy living folks!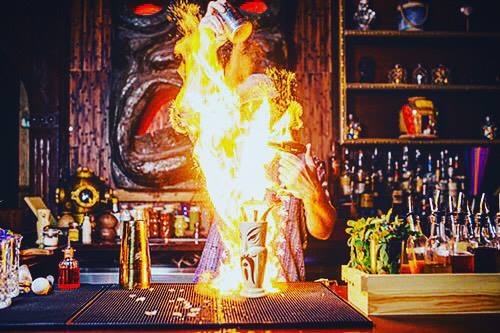 I've listed my favorite places to throw back, throw down some cold ones, sling some shots, drink some whiskey, and tell some lies. All my top picks are PERFECT go-toplaces you need to check out. I would know, after all, I've been drinking, partying, listening to live music, cutting up, throwing down and swapping stories my whole life. I can promise you these places are awesome. I've spent a full year partying, visiting bars, saloons, pubs, clubs, and watering holes all around the Fort Worth and Dallas area and now I'm fixing to spring it on you like a drunk man on a pogo stick!
So listen up buttercups and get ready to jump on the "Drink With Trey" train. We will have some fun, get into some debauchery, live a little, laugh a lot, and have one hell of a time. Oh yeah and the real fun kicks in around midnight, so get on the "Drink With Trey"  train and let's ride this bad boy till the end of the line.
Fred's Original Texas Cafe, West 7th area, Fort Worth; 
Fred's is a hamburger joint by nature, but has live music seven days a week, and the beer is always cold. Fantastic outdoor space, great drinks, and great food with a super cozy atmosphere. I love starting my evenings at Fred's. Be sure to try the "Calf Fries"!
Bar 2909, West 7th Area, Fort Worth;
2909 is a fantastic party spot during the day, afternoon, evening and night. Colorful decor, excellent sound, great TV, picturesque surroundings, wonderful staff, and it's mostly outdoors. I love the big open, colorful outdoor bar area and the big fire place. The vibe here is upbeat, and the fun never stops. If you want to enjoy some lazy days, great afternoons, or long cozy nights, Bar 2909 is your bet.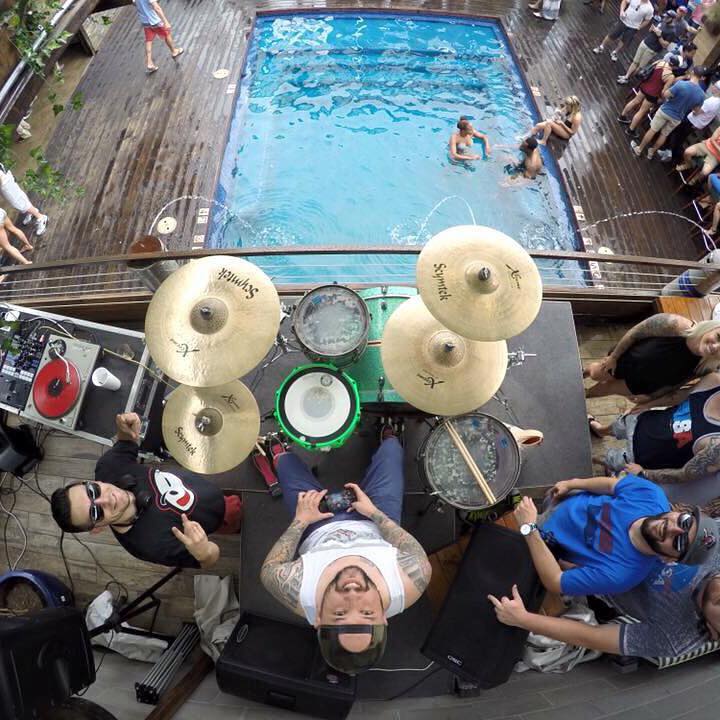 Whiskey Garden 7th Street, (regulars call it, 'WHISKEY!'"), Fort Worth;
Whiskey is a truly amazing work of art. Cool artistic surroundings here. From the gas pump faucets, tire sinks, whiskey bottle light fixtures, and creative decorations to its incredible outdoor area that comes complete with a swimming pool. That's correct, a swimming pool with underwater seats for pool drinking! Fantastic outdoor setting with semi-private tables and a massive wooden deck. Whiskey has plenty of bar space to quickly grab cocktails while still leaving lots of space open for socializing. Bring your suit, your fun times, and head to Whiskey Garden to throw down.
Lola's Trailer Park, 7th Street, Fort Worth; 
The park is outdoors with a small dimly lit indoor area that is ideal for relaxing. Beautiful old trees adorn the entire Lola's Trailer Park. The outdoor stage is visible from anywhere, and the outdoor bar puts out nothing but good vibes. The live music is always impressive and sounds great, the staff is awesome, and the drinks are always flowing. Complete with BBQ, food truck parking, and outdoor games- I love Lola's, and all the awesome bands that play here year round.
Pilikia Tiki Bar, Dallas;
Pilikia is one of the hottest spots in Texas. This tiki bar is truly amazing and worth the drive from anywhere in Texas. Once you enter, you immediately get transported to the tiki party of your dreams. The atmosphere is completely tiki worthy from the skull walls, colorful, extravagant furniture, tiki hanging lights, and the big and cozy patio. They offer creative and extravagant cocktails that honor the tiki mid-century culture.
Reservoir Bar & Kitchen, 7th Street, (regulars call it, "Rez!"), Fort Worth 
Reservoir is the best SPORTS bar in the Fort Worth-Dallas area, nothing else comes even close. Lots of T.V's, a great patio, incredible vibes, big open spaces to enjoy watching sports, awesome service, new food menu, and plenty of spirits. If you're looking for a sports bar with fun vibes and a banging atmosphere, then hit up Reservoir because that's going to be your bar.
The Local, 7th Street, Fort Worth;
The atmosphere at the indoor/outdoor Local is always popping. They have big windows that open up and a large outdoor bar. This combination brings the outdoors inside and the inside outdoors. It has a vibrant, up beat vibe and a cozy feel. They have games, great cocktails, wonderful staff, and love slinging drinks and creating good times.
The Tipsy Alchemist, (regulars call it "Tipsy"), Dallas;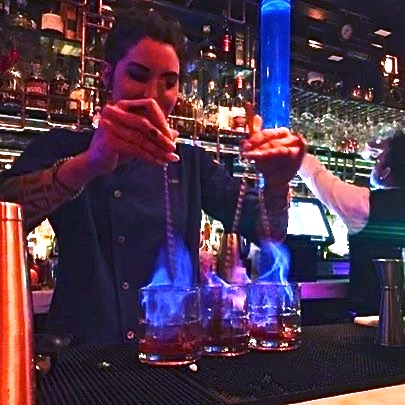 I'm going to tell you now if you haven't had the Tipsy experience, then you haven't lived. The Tipsy's sole purpose is to blow your mind with elevated cocktails through science. They create magic at Tipsy- slinging smoking, creative, and colorful cocktails! When I say smoking, I literally mean smoking cocktails that will blow your mind! This place is a classy, energetic lounge that extends from the creative, craft cocktail bar downstairs to a beautiful Champagne Room upstairs. The Tipsy Alchemist is AWESOME!
Five-Sixty, in the Glass Ball over looking Dallas;
"Sky High Drinking" at its best in this beautiful cocktail lounge that offers 360-degree views of Dallas and beyond. The service is fantastic, the cocktails are strong and creative, and the views are simply incredible for socializing, lounging or closing that next big deal. I love Five-Sixty and the staff!
The Basement Bar, The Stockyards, Fort Worth;
This bar is full of old school stories and tales of yester year. When you walk down the stairs and enter off of Exchange Ave, you'll find a cozy bar, with amazing interior and a vibrant atmosphere. Being a classic, The Basement Bar is truly like no other and offers various types of entertainment and is open seven days a week.
Button's Soul Food & Music, Fort Worth;
You WILL NOT find another place like Button's anywhere on this planet. Every time I enter Button's my knees start twitching, and my feet start stomping. They always have the best Blues and Jazz music around. The sound is incredible and will have you dancing, the award-winning soul food will have you wanting to shake the chef's hand, and a friendly, wonderful staff makes you want to kick back and stay a while. At Button's you want to dance, wiggle, sing, and bust a move- old school style. I love me some Button's!
The Durty Crow, 7th Street, Fort Worth;
It's hard for me to explain the Durty Crow. All I can say is it's down-home cozy, and everyone is your friend there. They have big garage doors that open so that the outside can come inside. They have live music sometimes, which is always good. The staff is friendly, and the customers love to sit and tell Fort Worth's biggest stories. The vibe is friendly, cool, and always welcoming. It's kind of like your local hometown bar. I love getting Durty at the Crow.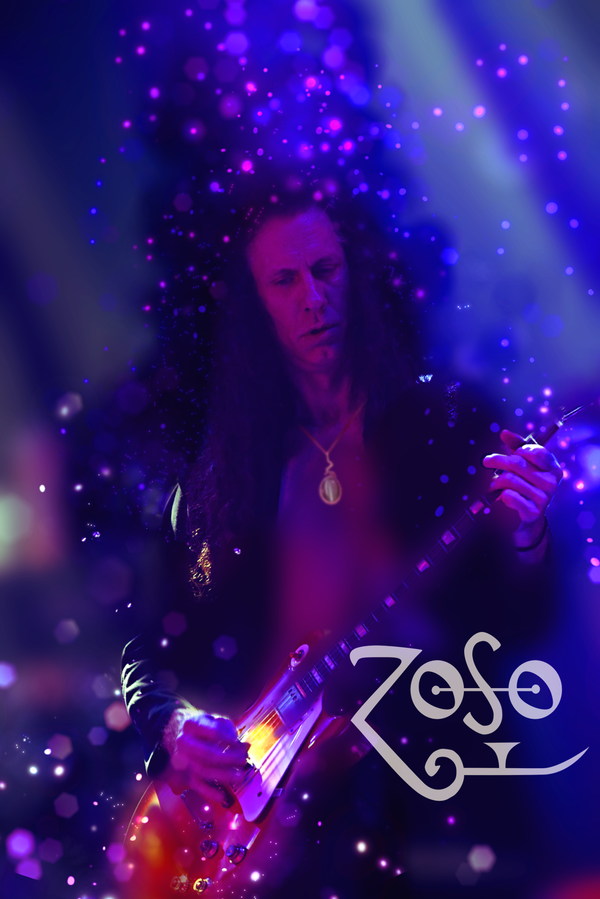 Keys Lounge, Fort Worth;
Known for its nightly music acts, Keys Lounge is a Fort Worth staple. Great Blues, extremely down-home cozy atmosphere, and wonderfully friendly staff. Keys Lounge is always hopping and has some of the best Blues tunes in Texas. If you want to get Bluesy with friends that feel like family, Keys Lounge is the place. They have the key to the blues.
Oscars Pub, Camp Bowie, Fort Worth;
The best way to describe Oscar's Pub is that it has authentic, feel-good bar vibes where everyone knows your name. Oscar's is just a wonderfully friendly place with an incredibly knowledgeable staff and loyal regulars. If you want to relax and crack some jokes, then head to Oscar's Pub and have a ball.
The MAD HATTER, 7th Street;
If you want to talk about a cozy little down-home bar, then my friends, Mad Hatter wins hands down. It's a small, dark and narrow building full of stories and charm. I swear every time I enter this bar, I just want to plop down on a stool and start telling stories because here, everyone is your friend. They have to be! It's too cozy not to be. If you truly want comfortable in a Cheers sort of way, Mad Hatter is your bar.
The Lazy Moose, Magnolia Ave, Fort Worth;
The Lazy Moose is everything most bars hope to be. It is extremely cozy, with a relaxed atmosphere and wonderful peeps. "The Moose," as I call it, has done a masterful job at creating a wonderfully inviting place where the food is delicious, and the cocktails are perfect! They have living room style chairs, tall tables and there is even a piano in the bar. I really can't explain it, you just need hurry on up to slow on down and get Lazy at the moose. Trust me, you will thank me!
Saint Rocco's (Roof Top Bar), Trinity Groves, Dallas;
Saint Rocco's Bar has a fantastic view of the Dallas skyline from the Trinity Groves development. The bar itself is beautiful, colorful, and very cozy. The east side of the bar is entirely open, and you have amazing views of Dallas and the new Trinity Groves Bridge. They have a lot of couches set up like a living room with coffee tables. I'm going to say at least 15 different "living room" seating options, not including the extra chairs. They also have large H.D. T.V. screens projected on the back walls for sports games and events. It's a large, cozy, atmosphere that you can feel very comfortable in and socialize for hours. Every time I get there, I hate leaving and always end up hang out a little longer than planned. The staff is friendly and great at slinging cocktails. And if you're hungry; they have some great Italian pizza and a small menu from Saint Rocco's downstairs. If you're near Dallas, Fort Worth or Austin be sure and hit up Saint Rocco's Roof Top Bar. Check out their Facebook page for updates and make sure it's not closed for a private party that evening!
Magnolia Motor Lounge, West 7th, (regulars call it "Mag's"), Fort Worth;
"Mags" is famous for its live music and good times. They offer a large variety of music on any given night. The sound is always on point, and the bands are always great. Most evenings they feature 2 or 3 acts, some acoustic, which are always great and some full band. They have fantastic service and slang those cocktails like Dale Junior races his cars- fast and smooth! They have a chef who whips up a great menu, and specials that change every month! "Mags" has lots of shows, and all of them are good. I can't remember ever having a bad time at Magnolia Motor Lounge! When you get there, throw the door open and tell 'em Trey sent you!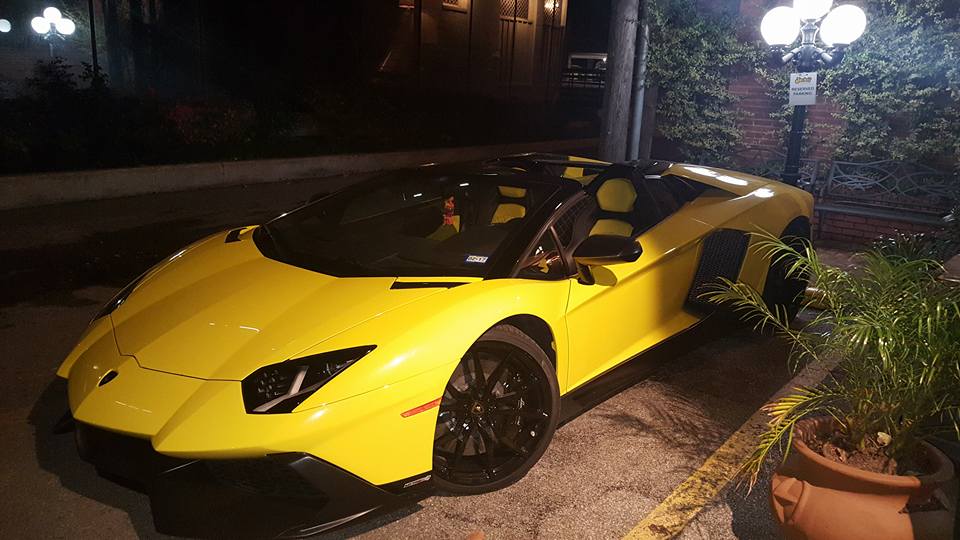 Javier's, Dallas;
If you are wondering where to go to smoke some great cigars, drink some incredible cocktails, and look at some awesome cars- I will tell you; Javier's, of course. Javier's is a Dallas institution, one of which that has a bar, cigar bar, and that also serves excellent continental Mexico City cuisine. The decor is traditional Mexico chic with big chairs and vibrant furniture, and on the floor, there are handmade clay tiles that complete that old school Mexico atmosphere. The customers are always looking sharp, and the service is first class amazing, and on any given day or evening you can see all kinds of unbelievable cars lining the parking lot. Lambo's, Hot Rods, Bentleys, Custom Porches, you name it- Javier's has it. I love Javier's and all it offers to help you escape with a cigar and a smile!
Silver Leaf Cigar Lounge, Sundance Square, Fort Worth;
Silver Leaf is tucked away in the Sundance Square Development in Downtown, Fort Worth. "The Leaf" as I like to call it has an incredible selection of cigars and spirits. The atmosphere is upscale and downright chic. It still doesn't matter if you dressed in jeans, a suit, or a tux, it is all the same here- it's cowtown! They have great furniture, TV's, classy decor and excellent service! If you wanna smoke a great cigar, stop in and the cigar aficionado will fix you up! They have great cocktails and slang 'em with the best! They know cigars and good times at "The Leaf!" Tell ' em Trey sent you!
Well, my drinking buddies, I hope you enjoyed my picks because I sure have this last year and will continue to for years to come! Holler at me if you see me at any of these "Drink With Trey" favorites. Let's do a shot, have some fun and snap a selfie!
Love Y'all and God Bless,
Trey Chapman
Like and follow our pages for drink, food, and extremely fun times! "Trey's Chow Down"     "Drink With Trey"     "Trey Chapman"