Hello Brunch Lovers,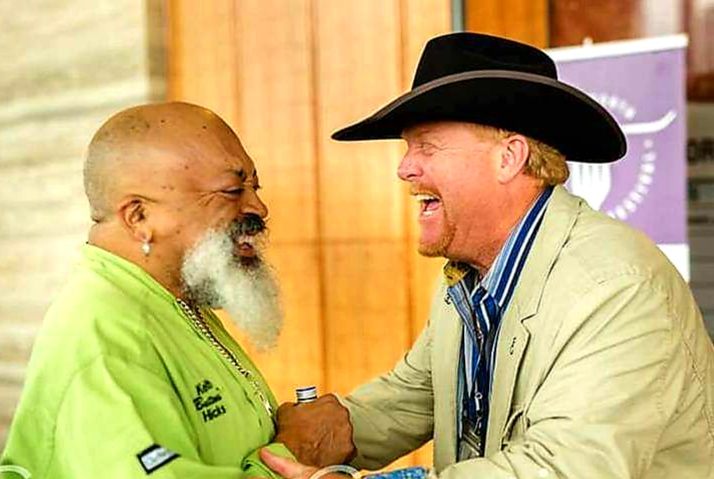 WOW! What a year it has been! I would have never believed that thousands of restaurants would close, changing the industry forever. That is exactly what happened in 2020, and things are still changing by the day.
I spent all year twelve months visiting brunch spots, chowing down and visiting with chefs. I felt it important to wait until the end of the year to release my Best and Unique Brunches in DFW on GOOD DAY FOX 4 because I wanted to be sure that all of the restaurants were open and slinging deliciousness for everyone to enjoy. Some of my favorites have closed permanently, and some temporarily due to COVID-19. It was sad that I had to delete restaurants off this years list. We must support our local restaurants, chefs, and service folks by visiting their restaurants, ordering TOGO, or for delivery. They need us now more than ever, especially since it's the holiday season.
I love any meal that's loaded with a delicious culinary JINGLE! But, truth be told, I'm in love with brunch because it has a certain vibrancy to it. You can brunch early or late and enjoy some chef-driven tastiness because there is no set time for brunch. I've seen people bunch at nine am, and I've seen them brunch a three pm. it just doesn't matter. What does matter is that the brunch is made with a creative spin and is prepared HFD #HotFreshandDelicious.
Brunching has become a social event that has taken America by storm in the last decade. It's no longer just a millennial thing; it's become an event and a destination. When folks head out to brunch they are looking for delicious dishes, a vibrant atmosphere, great service, and tasty cocktails. It is a time to socialize, enjoy a meal, a cocktail, and at times some great music. When I brunch I make it count because I love the art of brunching.
I have big brunch parties at times. I'll invite folks to come out and enjoy brunch with us, where we sling back cocktails, chow down, and swap lies. I remember after one of my famous Trey's Chow Down brunch parties, a friend asked me if we could talk for a minute after brunch. He looked a bit serious, so I was concerned and said of course we could talk. Let me set the scene: We were so full we had to drop our belts a few notches and we might have had a few cocktails (or what I consider a few, lol). We walked over to the corner of the restaurant and he said, "Bro I just can't do this anymore!" Confused, I replied, "Do what? Eat, drink, and have a great time?" He looked me directly in the eyes and said, "Yes! I can't do any more three or four-hour brunches I just don't have the time!" We had a good laugh – I told you I took my brunch seriously!
Now that you understand what brunch means to me, I want to highlight some of my favorite destinations for everyone to enjoy. I will list my favorite dishes, but anything created by these chefs and their culinary teams will be amazing. No more hit-or-miss, these options are all fantastic and will most certainly make you a brunch lover if you aren't already.
BEST BRUNCHES ON FOX NETWORK.
Chef: Stefon (Mr.Creative) Rishel
Dish: Tiramisu French Toast
Cocktail: Any Craft Cocktail
If you don't know Chef Stefon then let me introduce you to Mr. Creative. I have no idea what drives the creativity in his head – he's like a mad scientist, whipping up such inventive dishes. Every brunch lover should run, not walk, and try some of his award-winning dishes. Everything that is created at Wishbone and Flynt has that tasty culinary jingle you're looking for. Any dish you pick will be served HF&D #HotFreshandDelicious. My favorite dish is the Tiramisu French Toast. It's incredibly savory, sweet, original. You will leave wanting more because it's just a R.I.D.I.C.U.L.O.U.S. dish I can promise you that! All I ask is that you don't blame me if you're slobbering on your pillow while having Tiramisu French Toast sweet dreams!
Beto & Son Trinity Groves Dallas 
Chef: Beto & Beto
Dish: Green Chili Carintas Hash
Cocktail: Nitro Margarita
What can I say about this dynamic duo that hasn't already been said? Beto and Son is a true destination where you can enjoy some of the most creative and fresh Mexican brunch dishes you've ever experienced. Every dish is loaded with originality, color, and flavor. Their food is so good you will have naughty food dreams during your post-brunch nap. I'm talking real naughty: cheesy, savory, and luscious. I do LOVE the Green Chile Carnitas Hash it's loaded with creativity, hash browns, peppers and onions, green chile, eggs, pico, avocado, crema, queso Fresco and Brunch-Deliciousness.  It's really hard to pinpoint just one dish from this father and son team because everything is just so damn delicious! I'm just going to say this: everything tastes like MORE because MORE is all I want from Chef Beto and Chef Beto. Please don't forget the award-winning Nitro Margarita.  
Chef: Adam West aka (Batman)  
Dish: Brisket Brunchalattas
Cocktail: Any Craft Cocktail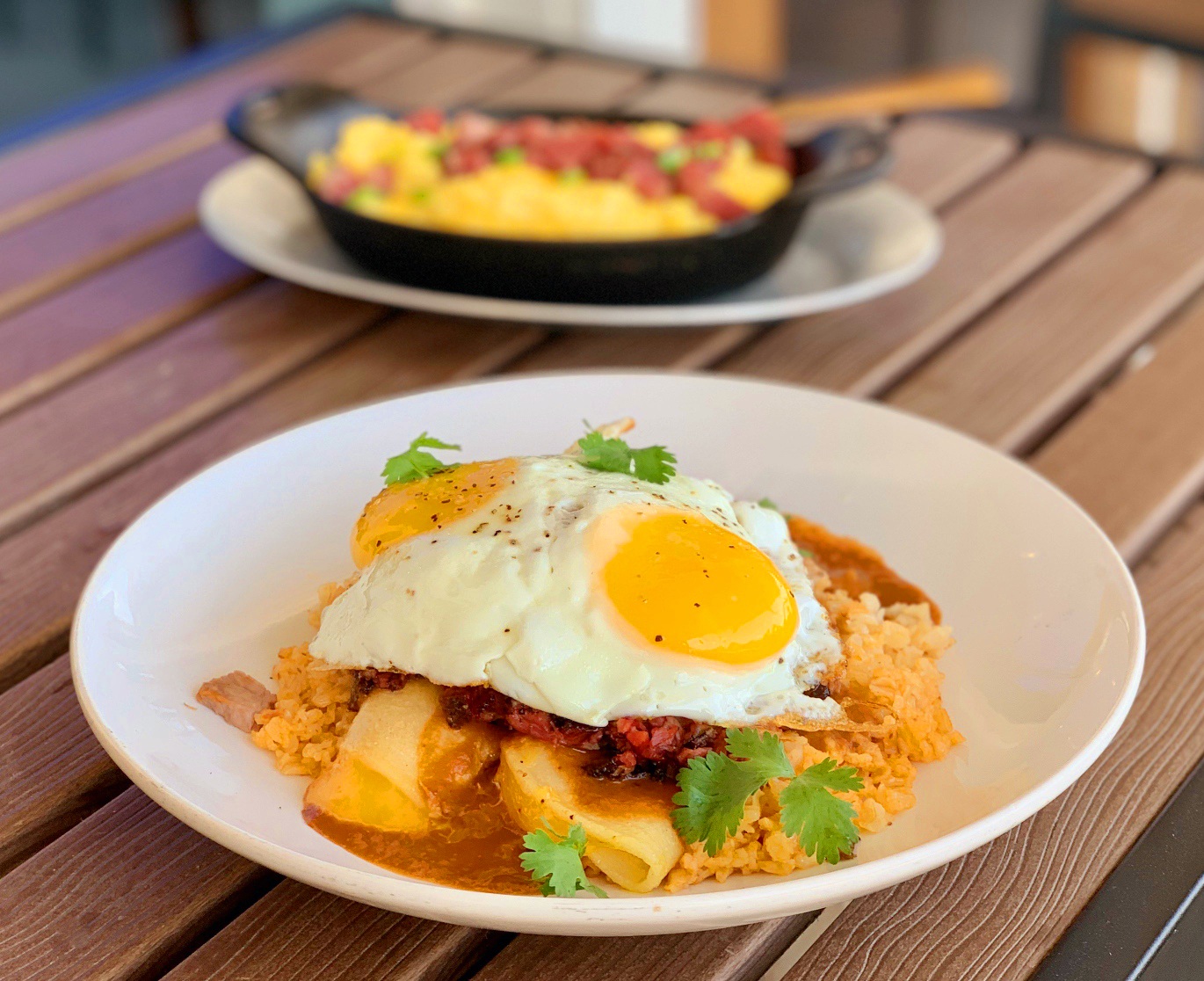 Don't let the name fool you – they serve much more than barbecue. Restauranteur Matt Hamilton and Chef Adam are creating magic in the kitchen. They are slinging award-winning barbecue, delicious sides, creative sweet treats, and brunches filled with delightfulness. Every brunch dish I've eaten was incredible, but the Brunchalattas had a big "Karate Chop of Flavor!" It's worth the drive from anywhere in DFW to have brunch at Local Yocal and see the beautiful old restored building where it's located. If you see a chef running loose with a cap on his Chef's coat, don't worry. It's just "Bat-Man Chef Adam" slinging that brunch deliciousness all over Local Local.
Chef: Keith (Crazy Kat) Hicks
Dish: Chicken & Waffles
Cocktail: Bloody Mary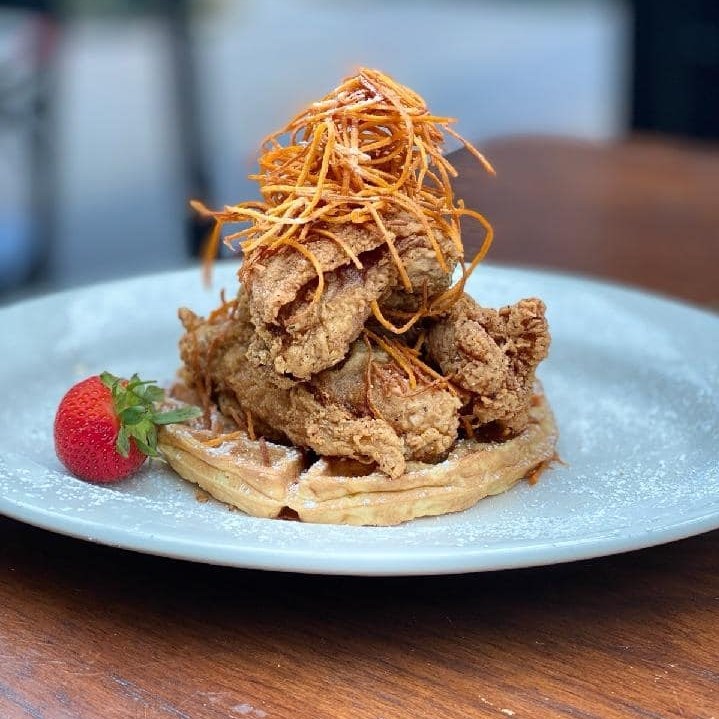 My man Chef Hicks (Crazy Kat as I like to call him)… Talk about a Chef that is full of soul, great vibes, plenty of creativity, and is always slinging deliciousness. I fell in love with Keith and his cooking over a decade ago and I just can't ever get enough of his cooking. He adds a lot of heart and soul to his dishes and his passion for sharing his food and tasty craft cocktails with anyone and everyone is unmatched. He didn't invent chicken and waffles, but he damn sure perfected it and made it his own. If you love to brunch, please head out to Burleson and chow down on some of his sweet and savory chicken and waffles. They will be a flavor explosion in your mouth that you will never forget. Don't forget to try his Texas-size fresh pretzels and award-winning bloody marys while you're there. You can thank me later!
Jonathon's Diner & Jonathon's Oak Cliff  
Dallas Bishop Arts District  
Chef: Jonathon (Danger Dog) Erdeljac
Dish: Danger Dogs
Cocktail: Purple Drank
Oh boy! I'm not sure if I can describe this vibrant, jolly chef that is full of so much culinary passion. He loves to create culinary delights and feed everyone. Every time I walk in and see that big smile on Jonathon's face, I can see his passion for food and drink. Every dish I try takes me on a culinary roller coaster of flavors, but my go-to is the Danger Dogs. These bad boys are turkey sausage hand dipped and cooked with his house prepared pancake batter. It's served with house spicy mustard and sweet syrup for dipping. If this doesn't scream, "brunch!" then I don't know what does. If you pair the Danger Dogs with Chef Jon's Chicken Fried Steak Dish, 2 eggs, and brunch potatoes  you've got a REAL TEXAS BRUNCH! He also loves to create tasty craft cocktails that are full of "I'LL HAVE ANOTHER PLEASE!" If you love brunch in a cozy but vibrant little atmosphere head over to see Danger Dog Jonathon and his culinary team for some Brunchy Goodness. Be sure and grab one of those tasty "Purple Drank Cocktails", or maybe two or three. Your choice depends if it's SUNDAY FUNDAY!
Restaurateur Johnny Di Francesco
Dish: Orange-Ricotta Pancakes
I've never met the culinary team at 400 Gradi, but I still love their delicious brunch and the lively atmosphere they have to offer. It's new to me they opened in 2019 and bust onto the Dallas restaurant scene like a rocket! But, they're putting out some culinary delights that are loaded with flavor. The first time I smelled the aroma of the Orange-Ricotta Pancakes I was hooked. This brunch dish is what I like to call Ridiculously Delicious! You just can't put your fork down. This is a pancake topped with a warm orange honey butter, Fior Di Latte Gelato, mandarin sorbet, and fresh fruit. It's R.I.D.I.C.U.L.O.U.S.!
Chef: Blaine (Mr. DELICIOUS) Staniford
Dish: Pork Shank Carnitas
Cocktail: Bloody Mary
THE Wasp, as I like to call it, has been a favorite of mine since it opened. I was there on opening day and I've been many times since then. I've almost worn a path into the concrete going through the front door. Chef Blaine has been slinging deliciousness in Fort Worth for years now. The other day I told him his new name was Mr. DELICIOUS! Everything he puts in front of me is always delicious, but my favorite is a new dish called Pork Shank Carnitas. You can smell the dish before it even arrives, like a Pork Cologne.  These pork carnitas are served with Charro beans, jalapeño slaw, avocado, and corn tortillas. I was hooked after the first bite.  I immediately requested more tortillas and an extra serving of those incredible house-prepared beans. Beans so good I wanted to take a bath in the bean juice. If you're looking for a new brunch spot, head over to Little Red Wasp and chow down. Just remember that I warned you about how delicious it was!
Chef: Culinary Team
Dish: The "OG" and Deep Ellum TOTS
Cocktail: UNADULTERATED JOY
If you're looking for a creative brunch spot in Dallas then I have the spot for you. They offer two stories of brunch deliciousness with a vibrant atmosphere, including a live DJ on Sundays. The first time I visited Harlowe for brunch I fell hard for the fantastic service, upbeat music, and fresh food. I've been back two times since and even attended a media dinner right before COVID-19 hit Texas. Harlowe was closed temporarily, but they're open for business once again, and ready to create chef-driven fresh brunch dishes and colorful tasty craft cocktails. I love sitting on the patio upstairs and chowing down on The "OG" and some of those #StupidDelicious Deep Ellum Tots. The "OG" is toast topped with cheesy soft scrambled eggs, house hot sauce, bacon, and onion jam. The tots are topped with braised pork shoulder, white queso, and a sunny egg. You are guaranteed to have tot dreams after you leave because you will be craving more of them every day of your life because they are simply #StupidDelicious.
Chef: Nathan "Magic Man" Tate
Dish: Spicy Chicken Biscuit & Monkey Bread
Cocktail: Young & Illegal
If you drive with your windows down on Greenville Ave. in Dallas, you'll know when you're close to Rapscallion due to the aroma from the kitchen. It hovers over Greenville Ave like a cloud of deliciousness. He's famous for a variety of freshly prepared dishes and he's passionate about creating farm-fresh dishes using locally sourced ingredients. His entire menu is full of brunch masterpieces, but his Spicy Chicken Biscuit is an unforgettable kaleidoscope of flavors it's just divine. We're talking a crispy chicken thigh on a house buttermilk biscuit with a spicy honey-maya sauce. If you're in the mood for something a little sweeter, you can't go wrong with Gammy's Monkey Bread. It's freaking delicious and you will love it! They also offer from-scratch fresh craft cocktails that will set your cocktail senses on full-tilt boogie. You're going to fall hard for the RAPSCALLION.
Yellow Rosa Cockteleria Deep Ellum Dallas  
Chef: Randall Braud
Mixologists: Aaron Wang
Dish: Bistek Y Huevos
Cocktail: Winter Sour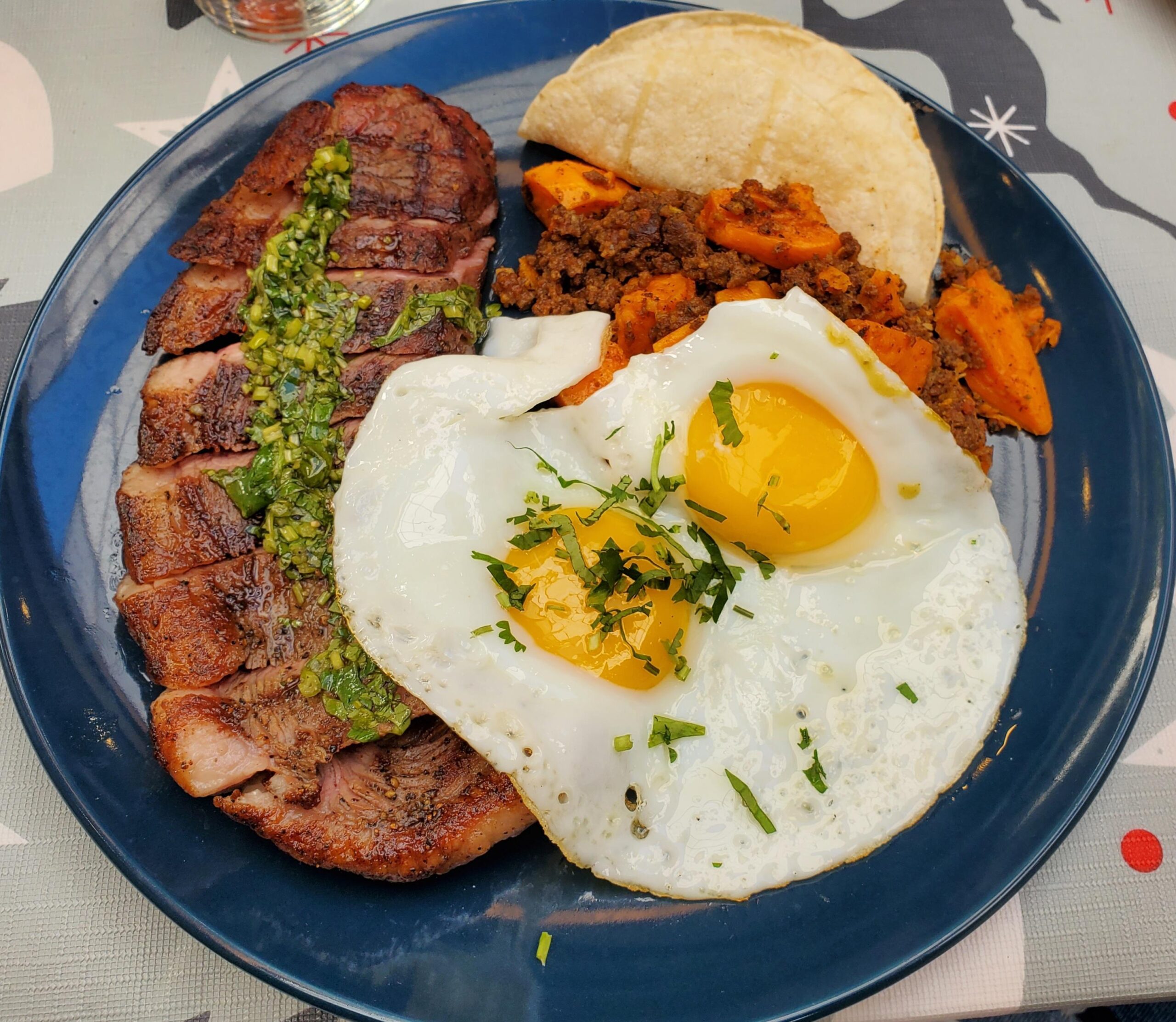 They just opened a few months ago and have already been noticed as a place to be in Dallas. I've visited three times in just a few months and have really enjoyed the amazing and unbelievably cozy atmosphere. The restaurant is inspired by the beaches of Tulum and cantinas of San Miguel de Allende. Yellow Rosa has the look and feel of one of Mexico's best-known cultural destinations in Dallas is already becoming a favorite destination for food lovers. It has a vibe all it's own and you will feel like you've been teleported to Tulum. The dishes are chef-driven, prepared from scratch, and they only use fresh, locally sourced ingredients. They also have one of the BEST and most talented mixologists creating colorful and tasty craft cocktails. My favorite brunch dish is the Bistek Y Huevos (sous vide picanha with cilantro chimichurri, sweet potato chorizo hash, and 2 sunny-side-up eggs) paired with the craft Winter Sour cocktail. It's insanely delicious and will make you reconsider every other brunch dish that you've ever eaten. It's that delicious!
Restaurants On Lamar  
Chef: Jason & Omni Culinary Team
Dish: Corn Flakes French Toast Sticks Fresh Berries
What can I say about this creative dish? If you follow me, you might have seen a video I posted several times this year featuring this amazing culinary delight. This is one of those WOW dishes when you first see it. The presentation is just pure culinary artwork. The flavor is truly magical from the first bite to last. I love this dish so much that I've eaten it on four different occasions this year. It's a perfect brunch item and when paired with some bacon it's an unbelievable flavor combination you will never forget. They have a fantastic patio, which is perfect this time year due to Texas winters.  " Corn Flake French Toast is truly a magical culinary delight on your palette!"
Chef: Culinary Team
Dish: Shrimp and Grits
Cocktail: Bloody Mary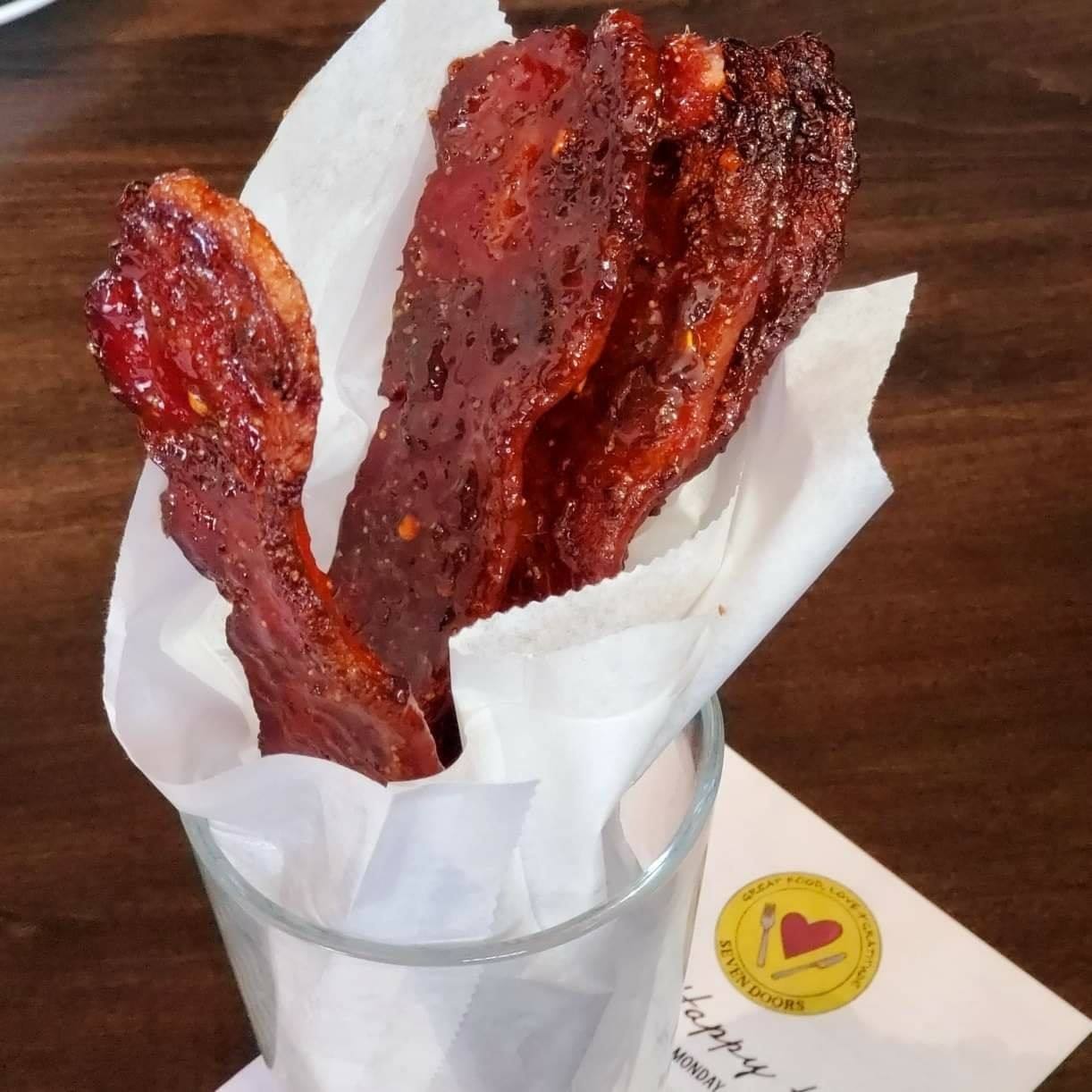 Drake's Yoke is located just west of Fort Worth in Willow Park Texas. It's a cozy little city with friendly folks and some delicious chow. Drake's offers a wide variety of delicious brunch dishes and a fantastic brunch bloody mary that is Texas-sized. I've tried several dishes from Drake's, but my favorite is the Shrimp and Grits. Oh man, talk about a flavor rodeo in your mouth. This is blackened gulf shrimp with brisket au jus and stone-milled jalapeno grits. This dish will have you screaming, "Yeehaw! Can I have some more please?" It is loaded with that savory punch you desire in a brunch dish. Don't forget that big bad bloody mary while you're there!
Chef: Jacob "Smiling" Quintana
Dish: 70/30 Hangover Burger & Man CANDIED Bacon
Cocktail: Barrel Aged Old Fashion w/Candied Bacon
Seven Doors opened in July of this year during the Pandemic and have been setting the Colony on fire. They are a chef-driven, from scratch concept that believes in creative eats featuring layered flavors, tasty craft cocktails, and plenty of deliciousness. Chef Jacob and his culinary team believe in only using fresh ingredients to achieve some bold flavor profiles. The first time I tasted his candied bacon I went nuts. I had two orders; I couldn't stop eating it. It has a candy apple-like texture, with a slightly chewy crunch but not overly sweet. It's lick your fingers delicious. The 70/30 burger is a patty made with a fresh ground beef and bacon blend, American cheese, a fried egg, hash brown, farm-fresh lettuce, crispy onions, and sweet pepper jam. My mouth is watering right now as I write this. Are you seeing a pattern with bacon and Smiling Chef Jacob? Get to brunch at Seven Doors and Chow Down!
Owners: Jake and Janie Burkett
Dish: Rough Night Biscuit
Cocktail: Fruity Peddles Cocktail
Back in 2018 I was driving through the Plano area and saw a sign which read Biscuit Bar. I slammed on my brakes hard and hung a right so quickly, that everything in my seat flew into my floorboard! Don't tempt me with a fresh hot biscuit sign because you're going to lose that fight. I consider myself a biscuit inspecting professional; I can put away more biscuits in a day than most people could eat in a year. Everyone has his or her poison and mine is a fresh, soft, flaky, buttery, flavorful hand-prepared biscuit. I might have a few other poisons too!
The Biscuit Bar offers some creative and delicious biscuit options that you won't find anywhere else. I'm in love with the Routh Night Biscuit and Monte Cristo. Both of these biscuits are loaded with flavors and just GBD #GoldenBrownandDelicious. There is no other way to describe the flavor profiles. The Rough Night Biscuit is prepared with southern fried chicken, burger patty, ham, turkey, pulled pork, crispy bacon, tots, cheddar and house-made sausage gravy. It's just R.I.D.I.C.U.L.O.U.S. The Monte Cristo is prepared with ham, smoked turkey, jack cheese, on a french toast biscuit, with strawberry preserve. Good Lord it's a flavor rodeo in my mouth. When you add the loaded cheesy Tater Tots and throw in the Fruity Pebbles Cocktail I'm done!
Chef: Culinary Team    
Dish: Smoked Brisket Machaca  
Cocktail: Todo el Dia Rosè
What can I say about this vibrant and colorful restaurant and management team? I just LOVE this place. It's a true brunch destination where you can enjoy some extremely colorful dishes that are loaded with brunch-o-licious flavor. The service is always first class and friendly; they really want your experience to be perfect!  Every dish is loaded with HUGO's flavor and originality.  Their flavor profiles are lip-smacking, foot-stomping delicious. They offer a LIVE DJ that stands in a restored colorful Volkswagen bus on the patio slinging tunes. My favorite dish is Smoked Brisket Machaca with house-smoked grass-fed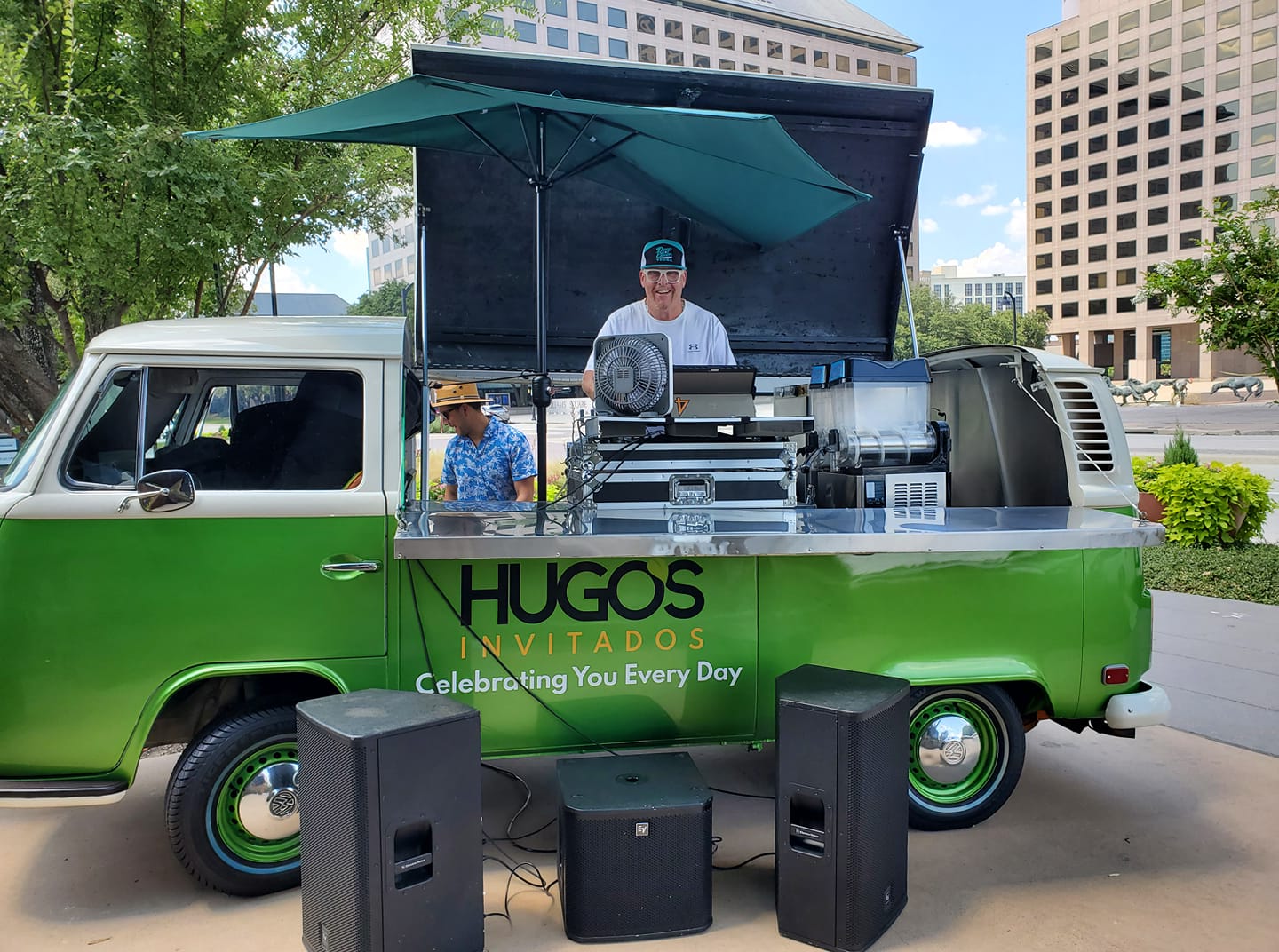 brisket with scrambled eggs, roasted chayote squash, potatoes, peppers, & tomatillo sauce. Is your mouth watering yet for some of HUGO's deliciousness?
Fort Worth On The Bricks  
Dish: Huevos Rancheros & Pecan Waffle
Cocktail: Bloody Mary
Lucile's has been around since Camp Bowie actually had horses and wagons walking and rolling down the bricks. That's not true, but it sounds good! However, they have been around a long time and are considered a Fort Worth staple. I can't remember the first time I had brunch at Lucile's but It was many years ago. It was so delicious and memorable I've been returning ever since. It says a lot about a restaurant and the culinary team that they can consistently sling deliciousness for years and keep folks happy and bellies satisfied.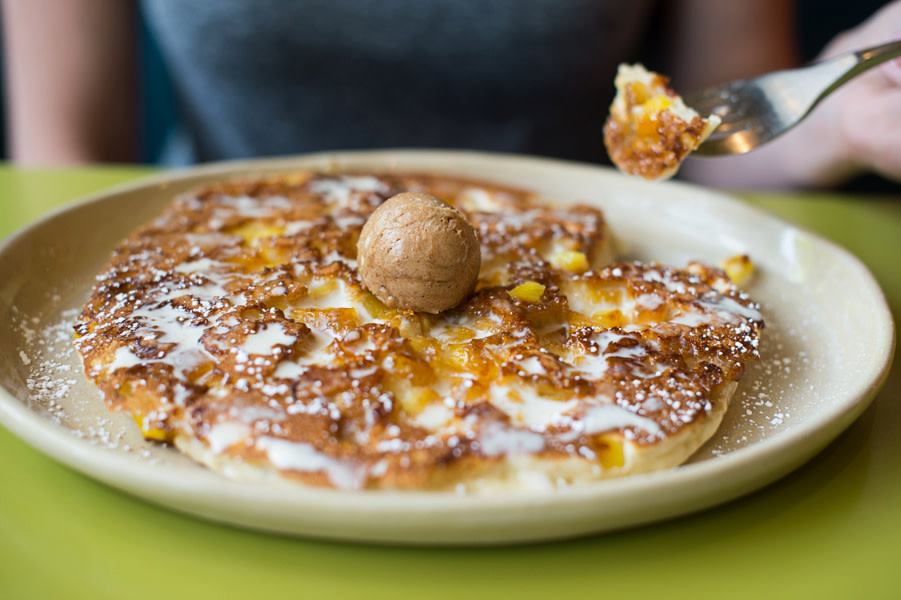 The brunch menu is packed with creative from-scratch dishes that everyone will love. They believe in using fresh ingredients to create a flavor rodeo in your mouth with any dish. I've had a variety of dishes from Lucile's but my favorites are the Huevos Rancheros and the Pecan Waffles. The Huevos Rancheros is prepared with two farm fresh eggs over easy on a fresh crispy flour tortilla and topped with loads of cheddar cheese, fresh pico de gallo, green chili sauce, and sour cream. I'm telling you right now to go ahead and take your socks off when you order this dish because they're coming off anyway when they're blown off from the explosion of flavor. I say that with a lot of sincerity because I love this dish. The Pecan Waffles are prepared fresh and are served HF&D #HotFreshandDelicious. The aroma alone is so intoxicating that you will never forget these waffles – I can promise that. Just remember I warned you about your socks!
Chef: Culinary Team
Dish: Pineapple Upside Down Pancakes
Cocktail: Any  
"Founded by brothers Jon and Adam Schlegel, Snooze was born on April 2, 2006, in Denver, Colorado seeking to evolve the A.M. dining experience through culinary innovation, an eclectic and energetic atmosphere, and comfortable and friendly service."
They opened in Dallas Fort Worth three years ago and I was excited to have a Snooze AM Eatery opening restaurants in the area. I've visited the locations in Fort Worth and Dallas and both restaurants had bright colors, stylish furniture, and a vibrant atmosphere. I was very impressed with the decor, the friendly staff, and the creative and fun menu. They only believe in farm-fresh products and locally sourced ingredients. The Pineapple Upside Down Pancakes with caramelized pineapple chunks, housemade vanilla crème, and cinnamon butter are just S.T.U.P.I.D #stupiddelicious. They also encourage folks to create their own dishes with personal twists! You can't beat that! They also serve cocktails, which is pretty hard to beat as well. If you are looking for a fun and upbeat place to have some breakfast/brunch, then head over to a Snooze AM Eatery. Be sure and read the entire menu because they have some fun and creative items! Tell'em Trey sent you over to chow down. on some #snoozeeaterydeliciousness.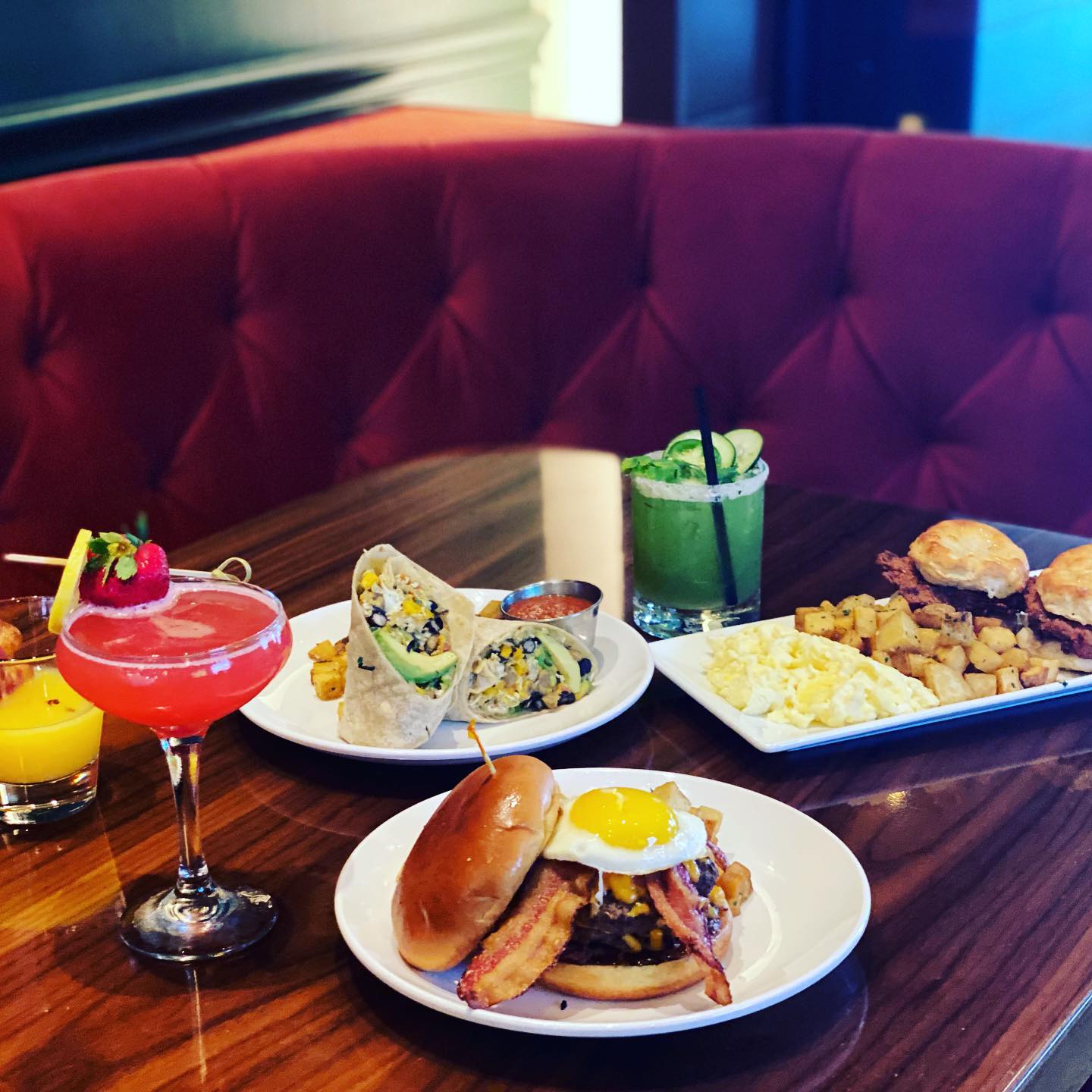 Chef: Culinary Team 
Dish: Brunch Burger  
Cocktail: White Each Rose' 
Probably one of the most beautiful restaurant and bar concepts in the DFW area. They are located in Deep Ellum and this place is just magical. The first time I walked up to Ebb and Flow I remember telling Jana my gosh this place is beautiful! I love loud colors and vibrant but cozy atmospheres and this place just NAILED IT! It's hard to explain unless you visit and feel the vibrant impression it leaves upon your soul. The surroundings are so inviting and the furnishings so comfortable you just never want to leave. My favorite dish is the Brunch Burger, prepared with two beef patties, bacon, farm fresh fried egg, smashed tater keg, cheese, and jalapeño jam all on a buttered brioche bun with freshly roasted taters. You better pack a change of clothes when you head over because you're going to want to stay all day and enjoy SUNDAY FUNDAY  with amazing food and the magical surroundings.
Fixe Southern House Fort Worth   
Chef: James (Soulful) Robert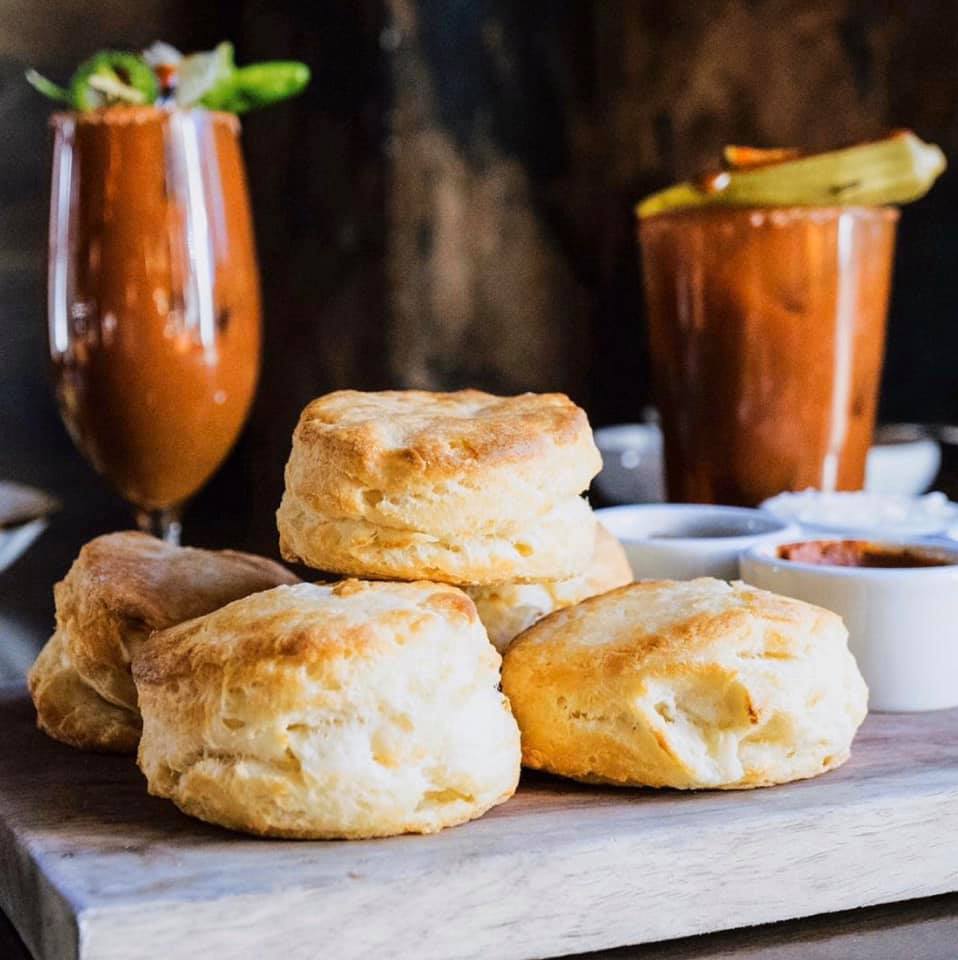 Dish: The Standard Biscuit & Fix Biscuits
Cocktail: Bloody Mary   
 They offer an extremely cozy and inviting atmosphere that makes you feel at home. It feels just like you're visiting a friend's home in the south. If you ask Chef James and the culinary team they will tell you that they're passionate about fresh food that offers lots of flavors. Fixe is a fantastic restaurant concept that features from-scratch, southern-style dishes. I've visited Fixe on three separate occasions and each dish has been a party in my mouth. They offer a wide variety of menu items but I'm in LOVE with those flaky, butter biscuits served GBD golden brown and delicious. The Standard Biscuit is loaded with layered flavors and prepared with Tender Belly bacon, farm fresh egg, savory American cheese, and some of Chef James Fixe Southern House Hot Sauce. It's #Legendary that's all I need to say. When you pair it with an order of the Fixe Biscuits with that savory whipped Steen's Butter and sweet local honey it just gets #StupidDelicious! Check out Fixe and chow down on some #Legendary biscuit deliciousness.
Vaqueros Texas Bar-B-Q Grapevine  
Pitmaster: Trey Sanchez
Dish: Brisket & Beef Cheek Tacos 
Drink: Any Hop and Sting Brew  
If you're looking for incredibly delicious craft BBQ tacos paired with a craft beer then I have the brunch spot for you. Vaqueros BBQ is slinging award-winning brisket and beef cheek tacos that are #stupiddelicious. I can tell you these tacos will send your taste buds on a flavor rodeo! I know because the first time I had them that's exactly what I said, "Damn it these are #stupid it's just not right for a taco to be this delicious!" You can find them at Hop and Sting Brewery in Grapevine. The brewery is serving up tasty craft beers in a cozy and friendly environment.  If you looking for a unique taco and beer experience that you will never forget, head to Hop and Sting, grab a cold craft beer and some stupid delicious tacos.
Chef: Gabriel DeLeon  
Dish: ARRACHERA Y HUEVO ESTILO D.F.
Cocktail: Any Craft Margarita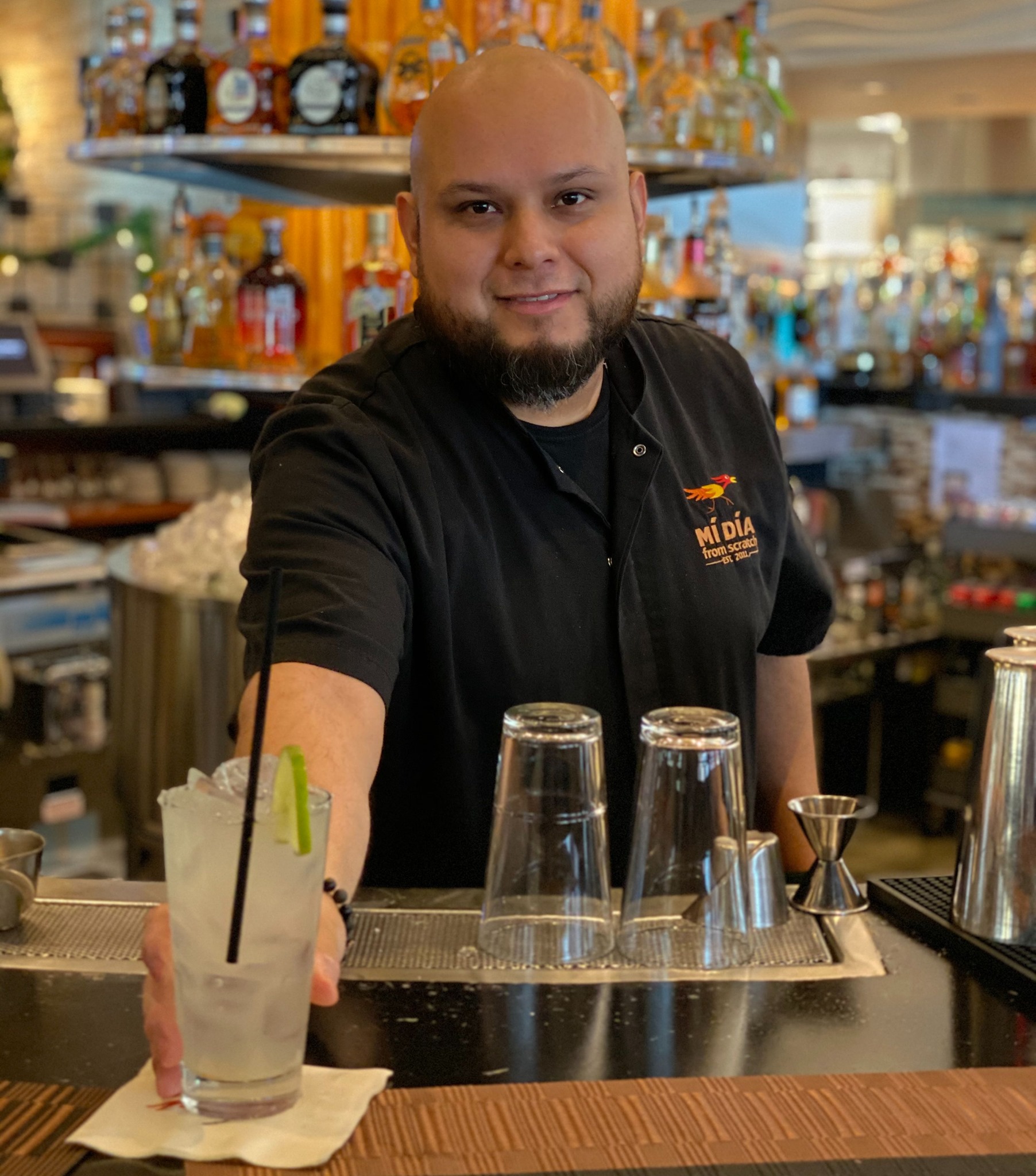 Chef Gabriel has an awesome story and he's slinging creativity and deliciousness at Mi Dia. The first time I visited Mi Dia I had their Chipotle Fajita dish layered in cheese and covered in bacon. It is still one of my favorite fajitas of all time. When I saw they offered a brunch menu, I knew it was going to be full of creative and fresh dishes and a truckload of savory brunch deliciousness. The ARRACHERA Y HUEVO ESTILO D.F. just sounded like sexy food to me. In my decades  in the food business I've learned that if food sounds sexy, you can bet it will be delicious every time. The ARRACHERA Y HUEVO ESTILO D.F. is prepared with wood-grilled skirt steak, potato chilaquiles, fried egg, topped with chile arbol reduction, street corn, peas, queso fresco, crema & pickled onions. Served with Oaxacan black beans. WOW! If that doesn't have the sound of deliciousness creeping into your foodie senses then I don't know what does. Trust me, you need this sexy delicious dish in your bunching life! Don't forget to pair it with a Canyon Road's Sunrise.
Holy Crust Trinity Groves Dallas  
Dish: Texas Breakfast Pizza
Cocktail: Any
Holy Crust is a new pizza concept located in Trinity Groves offering delicious craft pizza, drinks, and wine. They use from scratch dough and farm-fresh vegetables and ingredients to create some bold and delicious flavor profiles. Their menu is simple but executed to perfection. Trinity Groves has it all and Holy Crust fits right in. My favorite is the Texas Breakfast Pizza, prepared with fresh dough, black bean puree, sunny side eggs, ground sausage, crispy jalapenos, plenty of shredded mozzarella, and chorizo glaze. WOW! If that doesn't get your taste buds in hyperdrive then nothing will. Check out Holy Crust and I guarantee you will be impressed.
Click the link below for the BEST Bloody's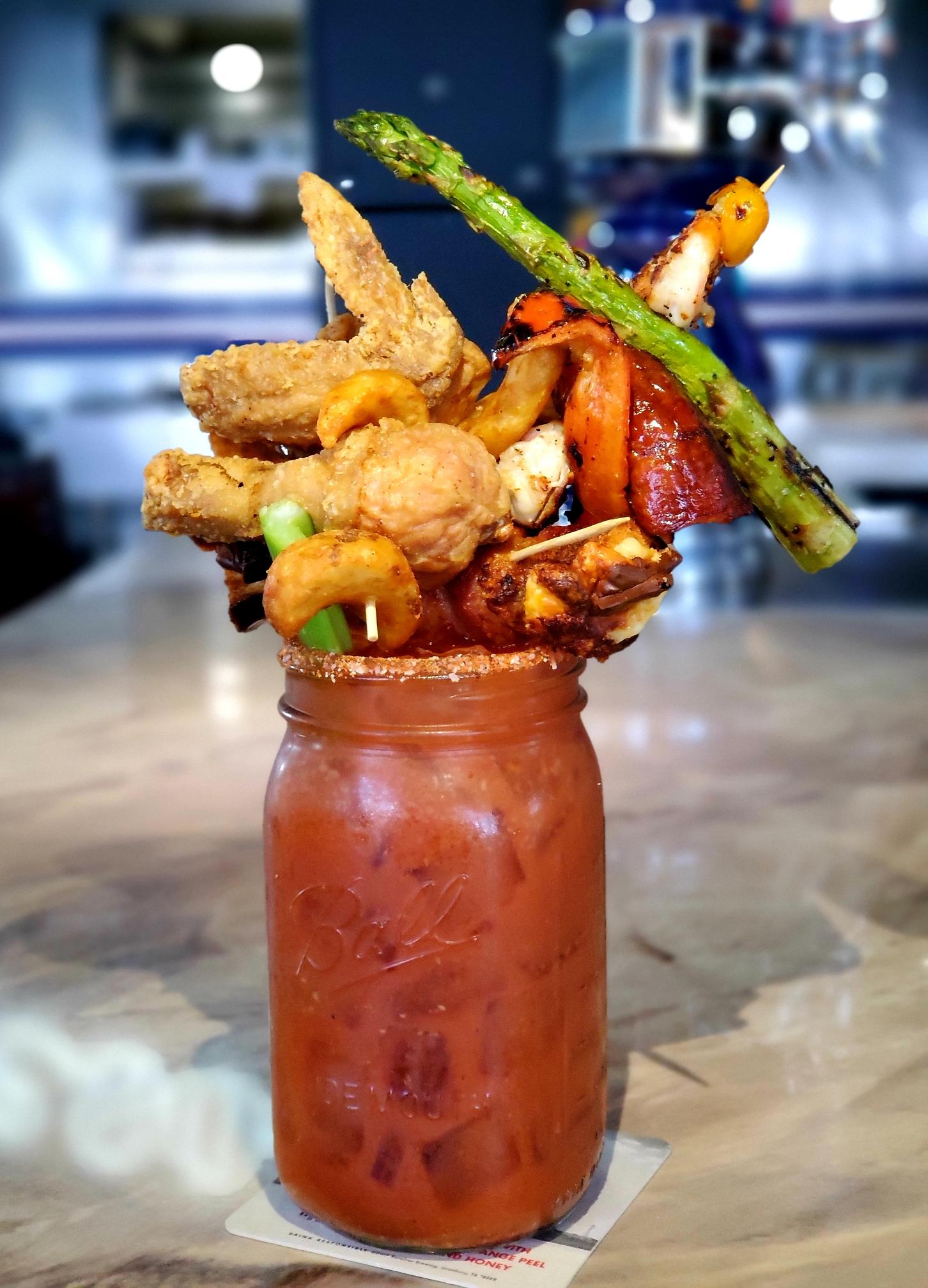 If you love brunch, you will have a fantastic and delicious time at any of my favorite brunch places. It's very sad for me because there have been many places closed permanently this year and it's devastating to the restaurant industry in Texas and the entire USA. Please support local. I appreciate you reading and following our delicious foodie adventures. 
Please follow us on any social media platform.
Trey's Chow Down LIVE TV and PODCAST  shows with Brunch Chefs: