Howdy Y'all!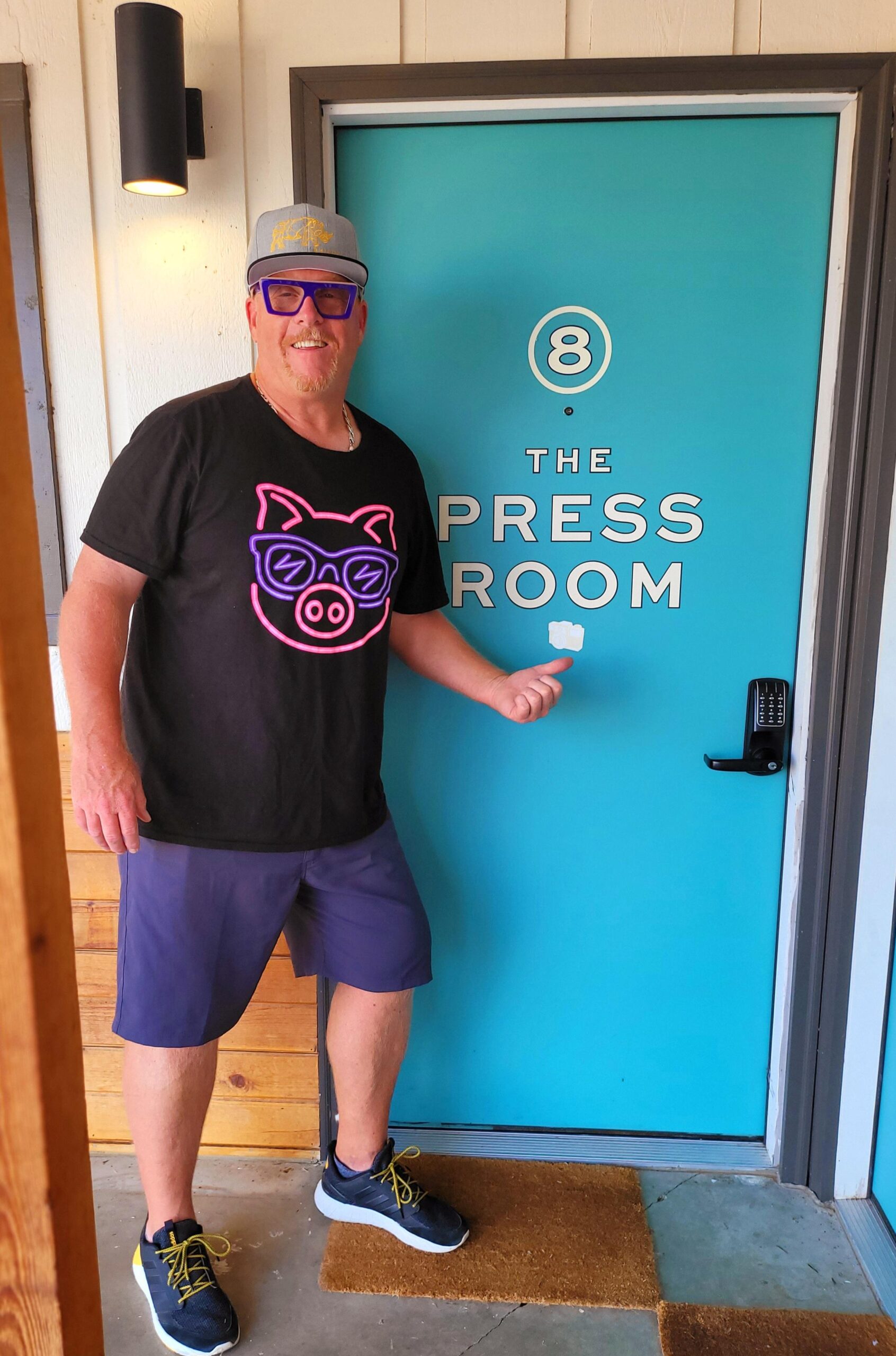 If you're new to our site, my name is Trey and I specialize in locating creative and talented chefs, delicious dishes, tasty cocktails, and unique travel experiences that everyone should enjoy around the USA.
I heard about this cozy little 1960's Motor Lodge located in the beautiful Hill Country of Texas, right down the road from President LBJ's Ranch – the Texas White House, as they called it. These days when we get a tip, or hear about new place to visit, we must investigate before striking out on the adventure, just to be sure it's what we're expecting.
We did our homework and discovered it was originally built in 1964. This restored L-shaped motel combines modern luxury with a retro twist, featuring 12 remodeled rooms and 4 private cabins — faithful to their mid-century modern roots – along with five RV sites.
Interested, we loaded up and headed for the beautiful Stonewall Motor Lodge in Stonewall, Texas, right next to Fredericksburg, Texas. It's such a beautiful, quaint, and relaxing drive. We reserved the PRESS ROOM to spend the weekend in and enjoy the Hill Country.
When we arrived and I laid my eyes on the lodge I knew we had made the CORRECT decision. It was perfect! A shining star located roadside like the OLD Motor Lodges from the 1940, 50, and 60's. Completely refurbished with roof top deck added, nice colorful and cozy rooms, big showers, comfortable beds, outdoor living areas and the big outdoor barn area. This was complete with sitting areas, a bar, fans and windows to view the wild life. They also had an outdoor fire pit and grilling area under big Hill Country trees and loads of deer. I'm serious when I say loads of deer – we counted 10 and one big Texas buck on our first outing to the barn. The next morning when we looked out of the window, I saw so many deer we couldn't count them all. It was magical!!
I reserved the PRESS ROOM because I firmly believe that every travel experience should include some history, education, and fun, with a dash of deliciousness and a few tasty cocktails. When you have that combination it's sure to be the PERFECT travel experience.
The Press Room was awesome. If these walls could talk… Once reserved for the Press Corps hoping to snap a shot of President Lyndon B. Johnson during visits to his ranch, this room is steeped in the history of the nearby "Texas White House". It has a little kitchenette with a table and all kinds of historical photos. It's cozy and has PLENTY OF ROOM.
We unpacked, settled in, and started enjoying the wonderful Lodge. We went out back and enjoyed talking to the deer (a one-sided conversation), listening to music and discussing our incredible day with BLAKE the engaged " Southern White Rhino." But, that's another story and one you don't want to miss. Later on, we got some wine and headed to the rooftop overlooking the hotel and surrounding area. We really enjoyed the outdoor living room and discussing the cars and trucks as the rolled by. What a fantastic day we had, and ending it looking up at the TEXAS star BIGHT night made it perfect.
I don't know about you, but Jana and myself love staying in cozy old beautiful places. Stonewall was extremely nostalgic, cozy and quaint, and not to mention affordable. There is just something about pulling up, getting out of your car, and walking into your room. Not having to deal with loads of people, big parking lots, elevators, and miles of concrete if you get my drift. It was a nice change of pace, bringing things back to a simpler time. (Boy times have changed but NOT at STONEWALL.)
If you're looking for a different experience that's truly a change of pace and one that's unforgettable, you need to book a stay and enjoy some time at the beautiful STONEWALL MOTOR LODGE. You will thank me Later! 12 stars out of 10 for these travelers.
Hope to see you on the road or at a table soon! Love y'all!
Trey and Jana
Please follow our social media for updates on restaurant reviews, deliciousness, travel and our TV shows and podcast.