Howdy Travel Partners!
As we travel the USA coast to coast in search of comfortable and unique destenations we're sometimes extremely surprised but what we discover. That's exactly what happened when we checked into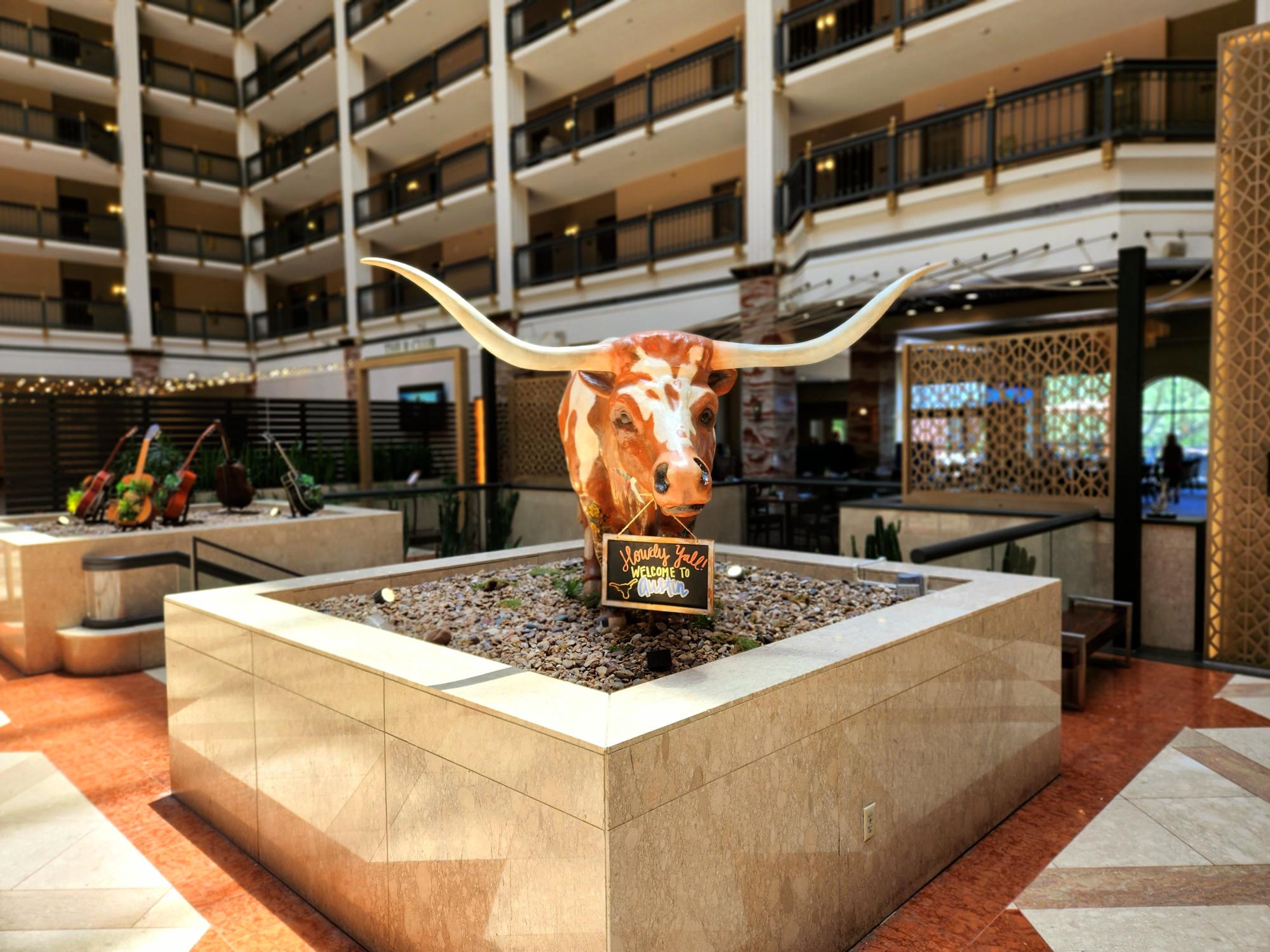 the NEW Renaissance Austin located in North Austin. We discovered a world of bliss and beauty so perfect that it took us by total surprise. From the time we entered the front doors our weekend was filled with plush accommodations, tasty craft cocktails, delicious chef driven eats, beautiful views of the Texas Hill Country, and an outdoor entraining mecca complete with two pools.
The hotel went through a BIG and COMPLETE restoration, modernizing the guest rooms and suites. All of the accommodations are simply stunning, colorful and vibrant, featuring stylish décor, local artwork, and thoughtful amenities. Everything is TEXAS chic, and represents Texas music, fun and an active life style. From the hanging guitars to the cattle and livestock artwork, it's TEXAS BEAUTIFUL, but also extremely inviting and very comfortable to enjoy a long weekend.
You can enjoy all-day dining with chef driven farm-to-table cuisine and craft cocktails at the Knotty Deck and Bar. There is dining available in the beautiful dinning area, at the bar or outdoors on one of the multiple decks. Oh, and you can't forget the LUCKY PONY for poolside Texas inspired craft cocktails or fresh snacks. We found the dining and snacking options to be truly unlimited and always fresh and delicious.
Let's talk about all of the incredible outdoor entertainment areas. They have four different patio areas on different levels, complete with fire pits, lounging areas, swinging chairs, games… all shaded with trees and landscape. A great feature was the mist machines in the trees, keeping you cool when you're not enjoying the NEW pool area.  Speaking of which, they have two pools. Yes, two pools! One is located inside with a hot tub and the new pool is outside, offering a sundeck, hot tub and plenty of lounging areas to enjoy the outdoor life. They've added a fantastic music system to enjoy some good tunes with fresh craft cocktails so you can chill and get lost in time. When you spend time outside it's like your miles away from the big city, even though it's right there. The outdoor area is made for relaxation and good times, which allow you to recharge and enjoy life and that's exactly what we did!
There is so much to discover at the NEW Renaissance Austin because it's close to many venues and surrounded by Hill Country scenery. It offers North Austin charm and it celebrates the local character of Austin and the state of TEXAS. You can enjoy Savor Texas-inspired American fare at Knotty Deck & Bar, or lift your spirits with coffee, tacos and tequila from Choza. Enjoy the fitness center with the state-of-the-art Peloton room, 24-hour fitness room or one of our two sparkling pools. The scenic outdoor spaces are ideal for large or small events. You can easily explore North Austin from the hotel, just minutes from the Domain, the Austin Greenbelt and downtown Austin. A refreshing and unforgettable hotel experience awaits you at this four-star Renaissance hotel in North Austin, Texas. 
They're a NEW officially approved Trey's Chow Down Travel destination and a MUST Visit for anyone looking for a overnight, weekend, or a staycation with family and friends. It's Austin's NEW paradise for relaxation, fun or entertaining. Hope to see you poolside soon enjoying North Austin's beautiful Hill Country.
Travel well and stay hungry!
Trey & Jana (Travel Hounds)