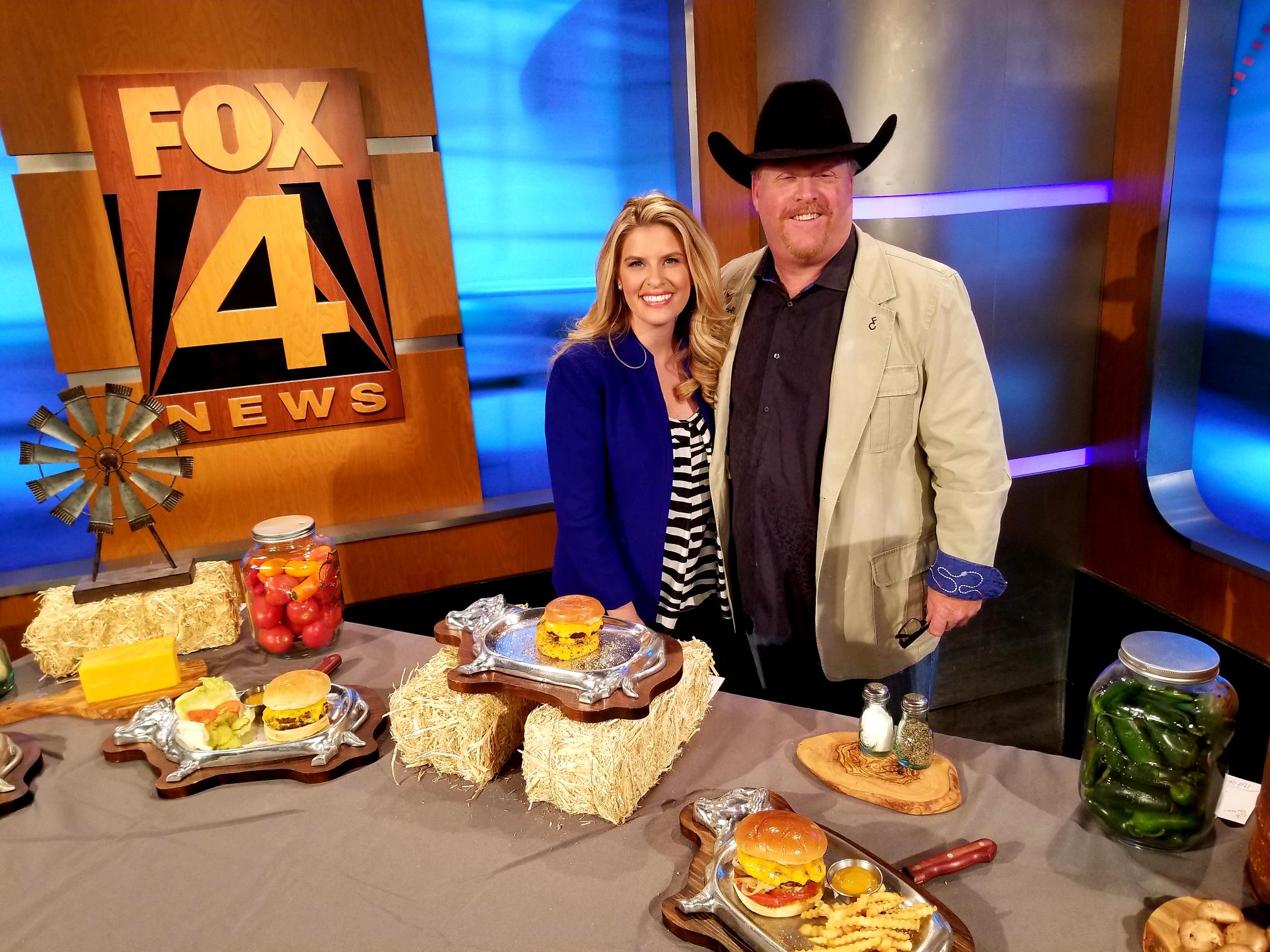 This years list was crazy! We chowed down on 120 burgers and visited over a 100 different burger joints and restaurants to complete our list.
For the past five years at Trey's Chow Down.Com we've researched and compiled a list of the best burgers I've eaten that year. The first year it started at Fort Worth Magazine with what I thought was the best burger I ate. As time went on, more and more folks would ask me what I thought about this burger or that burger. In 2017, I increased my dedication to research and the number of burgers for the list. I had to increase the list to the TOP 15 BURGERS in DFW because there are many places promoting and selling delicious burgers. I needed to be fair, accurate, and credible. Our "Best Burger List" has become so popular (251,000 views in 2017) that I've decided to make some changes for 2018 and for the future of our Trey's Chow Down Best Burger Contest. I've created TWO NEW burger categories and a BEST ALL AROUND WINNER for 2018 and beyond.
The NEW categories will be as follows:
–    BEST OLD FASHION Burger
–    BEST CRAFT Burger
–    BEST ALL AROUND Winner
I truly love a delicious burger but the beef industry has changed so much in the last five decades. I felt I needed to make the decision to create the NEW categories for fair judging and a TRUE BEST BURGER LIST.
To me, a CRAFT burger is completely different in creation and flavor profile. They can be prepared with delicious creative toppings, a variety of expensive fresh meats, premium aged cheese, with a fancy bakery fresh bun. A craft burger can get expensive depending on how it is created. When it comes to craft burgers my flavor profile has a wide range. I will try anything to see what kind of burger deliciousness a chef has created to achieve the number one tasting burger in the burger wars. There are lots of crazy flavor profiles for craft burgers. Plenty of the craft burger creations have the ability to send your taste buds to the flavor rodeo and have you screaming giddy up with each bite.
An OLD fashion burger has tender beef, farm fresh vegetables, and a soft toasted buttery bun. It is a simple burger. The flavor profiles on a CRAFT burger can get complex, bold, and extremely delicious. A plain old fashion burger flavor profile is simplistic in nature, but if prepared correctly, with fresh beef and ingredients it can be packed with juicy deliciousness. When I want a good old fashion burger I prefer a fresh bun toasted with butter, a little garlic, a pinch of sea salt, and freshly ground pepper on a juicy ground beef patty with a slice of cheese melted on top. Then I let the hamburger juices and melted gooey cheese run down both sides of my mouth while I'm chowing down on my burger of choice.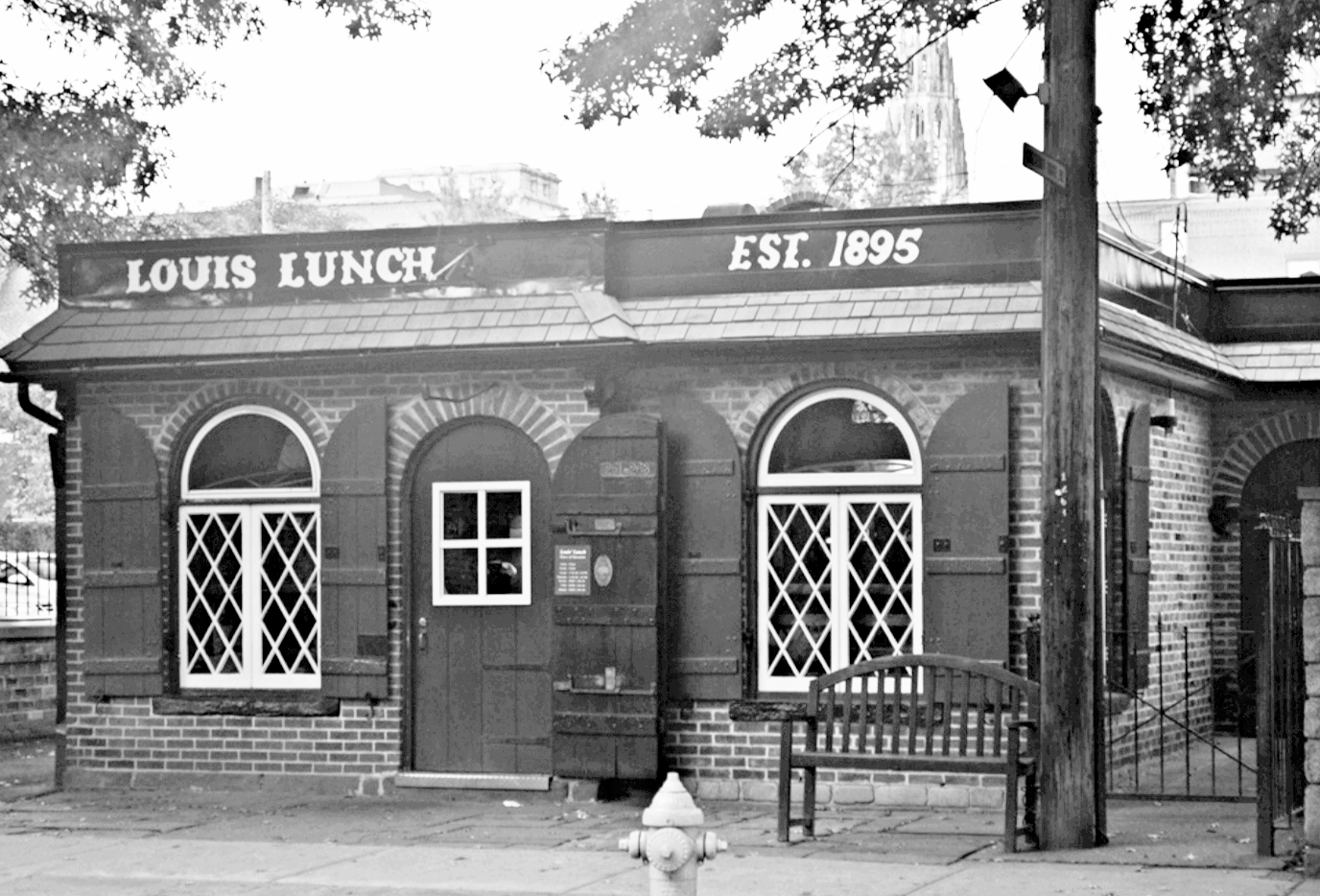 The type of beef that restaurants and chefs are using today is truly unbelievable to me. Being in the ranching and beef business all my life I would have never thought we would have so many fresh meat choices to choose from. We have chefs using a wide range of different types of fresh meats and cuts then combining them together to achieve the desired flavor profile. The amount of meats/proteins are endless. There seem to be no boundaries when it comes to creating the perfect burger. Some of the popular proteins, beef and cuts being used are, Angus, Hereford, Brangus, Kobe, American Style Wagyu Kobe, American Kobe, Japanese Wagyu, Chuck, Short Ribs, Round Steak, Tenderloin, Filet Mignon, New York Strip, Ribeye, Brisket, Bison, Lamb, heck even fresh Tuna for Tuna Burgers, and many other combinations including bacon/pork. We could go on for days about combinations of various proteins, meats, and meat cuts being used. Everyone is looking for that special real deal burger flavor profile to make his or her burger number one in the burger wars.
Growing up in the restaurant business and offering burgers at all our family restaurants I've become a real burger freak over the years. For over 100 years every restaurant we had offered burgers of some sort. When I was a boy we owned Quality Meat and Provision Company in Fort Worth, Texas. My granddad opened Quality Meats in the 1940's and it was still open when we sold it in the early 1980's. I worked there every summer with my grandma and my uncle John. I performed all kinds of duties at the meat company. My favorite thing to do was unload the fresh sides of beef (they were very heavy). I would put them on the hook and slide them down the rail. I would push the swinging sides of beef into the meat cooler where they would be checked for quality then butchered by the experienced and professional meat cutters. On occasion, I would help load the meat in our fresh hamburger patty machines and make fresh hamburger patties. After the meat was ground up and passed into patties we would stack them in the boxes and seal them. We would then deliver them to our family restaurants and customers restaurants to be cooked and consumed. I had a little flat grill in a back room where I would sneak some of the fresh patties, cook them only using salt and pepper, and add some cheese. Of course, this was just a Trey-test to make sure they were delicious and ready to be served with the Chapman family name. I worked in our family restaurant operations and was involved in research, development, and new menu creations of all kinds for decades. When I was in high school my dad requested we work at all kinds of different hamburger joints to gain experience in the restaurant field. My burger history and education is quite extensive. I might as well have a Master's Degree in hamburgers.
Having so much history with hamburgers, I've always wondered when and where the hamburger was created. According to Congresswoman Rosa DeLauro, the hamburger was first created in America in the 1900's; it was simple, ground beef patty between two slices of bread. There are several different versions of stories of when the hamburger was invented- one version is that of German cook, Otto Kuasw- who created a very popular "sailors' sandwich" made of a fillet of beef fried in butter, served with a fried egg, between two toasted buns.
Now that I ponder on it, why would it matter to me how or where the hamburger was created, I just love a great burger. I can't begin to explain how many burgers I've eaten in the last 12 months. At Trey's Chow Down I receive all kinds of messages, comments, and emails about where I should try a burger. While I do have folks that I trust that eat burgers and will communicate to me how awesome they are, I have to try them myself at least twice before they make our list.  The list is then ready to be printed, and posted for all to enjoy.
I hope you love our Trey's Chow Down Best Burger List of 2018 I really enjoyed trying, chowing, and researching this year's winners. I suggest you go on a burger venture and try all of these burgers!  Please remember NOBODY pays us to be on our list. I have strict guide lines I use when making my burger picks. I can't, and won't, be swayed for any reason on my personal beliefs.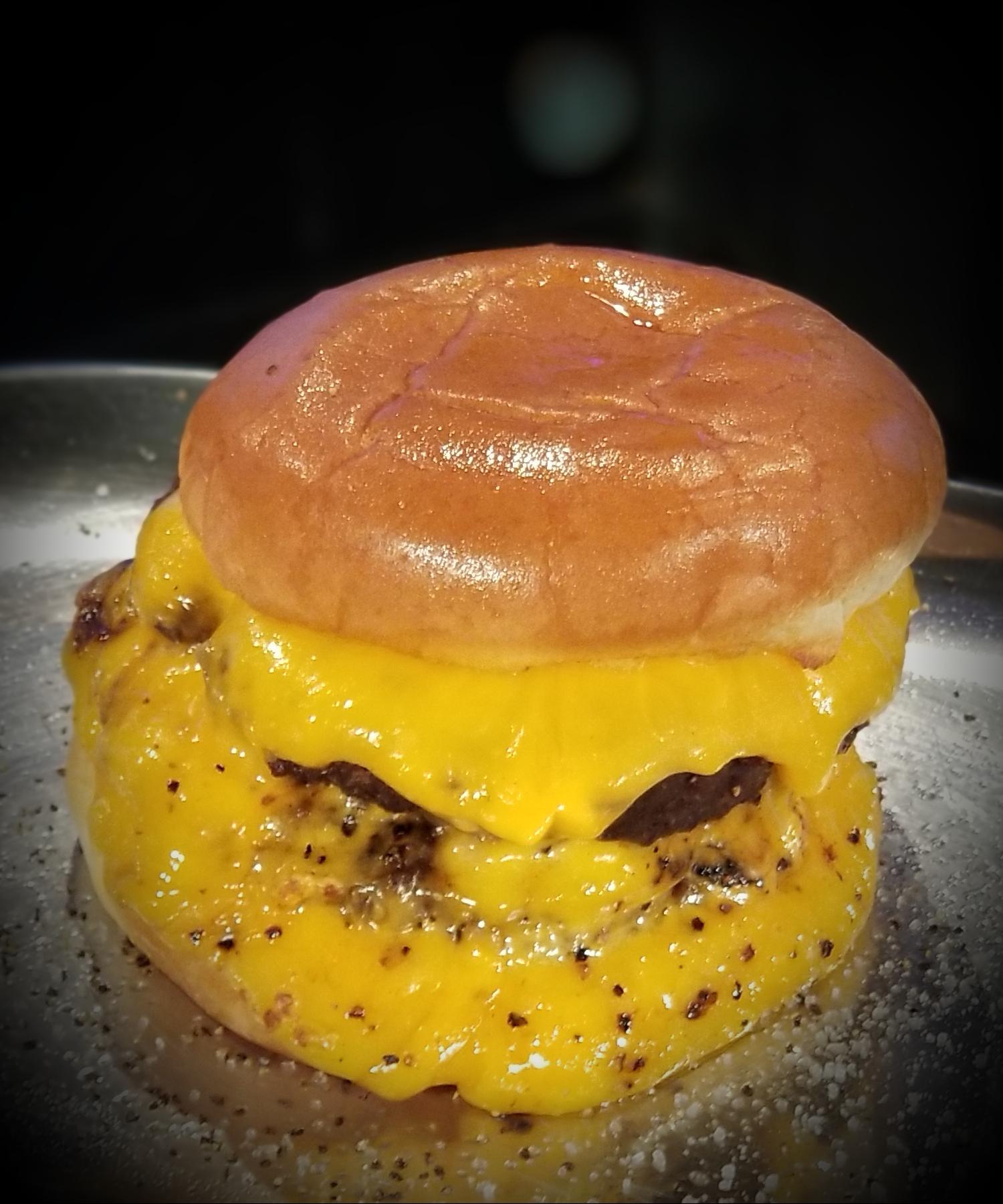 WINNER: Best All Around Burger for 2018
Knife Burger in Plano/Dallas, Texas
The Double Ozersky Times Two Burger:
Created by Chef John Tesar of Knife Dallas, named after the late food critic and writer Josh Ozersky from Dallas. The Double Ozersky is truly a masterful burger! It's simplistic but riddled with flavor. When you bite into this burger and the flavors hit your pallet… You can say nothing but "Give me another bite". It will put a smile on your face and fill a void in your burger-loving heart. It's prepared with two 44 Farms beef patties,  two slices of cheese, farm fresh red onion, and a bakery fresh bun. I added tomato and lettuce to my burger.  This burger has 3 important elements: The first is they use 44 Farms delicious beef patties, the second is the patties are cooked on an old school flat grill, the third is they put the farm fresh vegetables on the bottom which effects the flavor profile and makes it better. When the beef patties cook on the grill they soak in their own juices, which in my opinion generates the perfect flavor profile. Then they add the cheese on the patties while they are cooking on the flat grill melting the cheese into gooey deliciousness on the patties. When you take possession of this burger it's warm, fresh off the grill, and smells like heaven. I can say without hesitation, this is truly one of the best burgers I've eaten in five decades of life. Chef John just killed it with the Double Ozersky Burger it's just "Stupid Delicious!" When you get this burger don't play on your phone, don't talk with anyone, and don't mess around. EAT this burger while its HOT the flavor profile is perfect this way. You will THANK me later.
WINNER: Best Craft Burger of 2018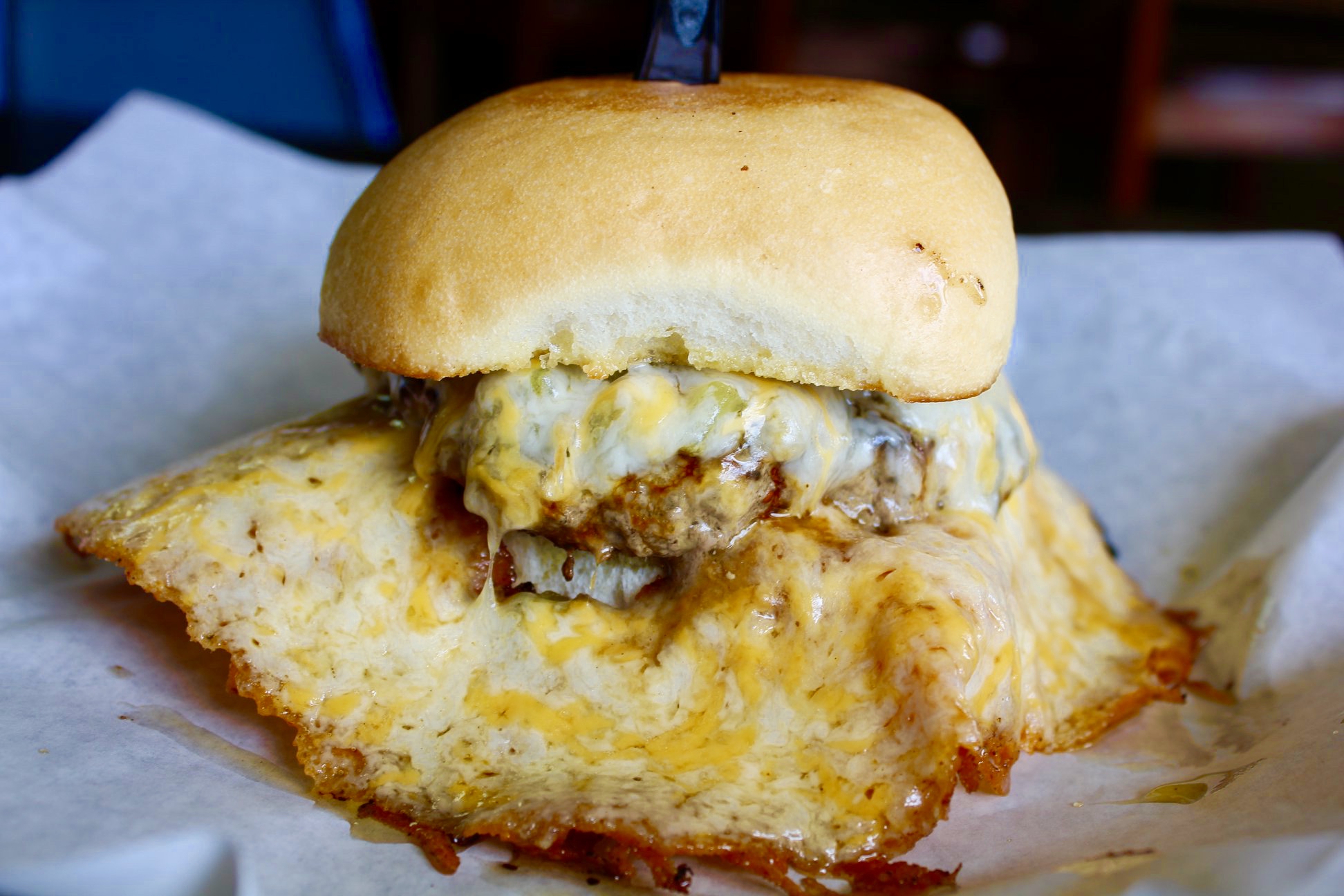 Fuego Burger in Benbrook, Texas
The House Fuego Burger:
Created by Carlos and Christie Rodriguez, the House Fuego Burger looks like a piece of art and smells like heaven. If an artist like "Picasso" was going to create a burger that looked like artwork and tasted delicious it would definitely emulate this burger. It has a colorful bun with a BIG phat beautiful fresh melted cheese skirt surrounding the entire burger hanging off the bun about 2 inches in circumference. First, we eat with our eyes and this burger impressed me so much when they delivered it to me my mouth was literally watering before my first bite. In the words of Carlos and Christie "If loving cheese is wrong, then I don't want to be right"! The burger is prepared with a 1/2 pound delicious beef patty cooked on a flat grill soaking in its own juices, house prepared roasted jalapeño pepper mayo, fired roasted green chilies, and a generous helping of melted cheddar-jack cheese to create cheesy goodness that surrounds the burger. With each bite you take the juicy burger patty combined with all that gooey cheese will melt in your mouth and send your pallet to the flavor rodeo. What an awesome burger!!!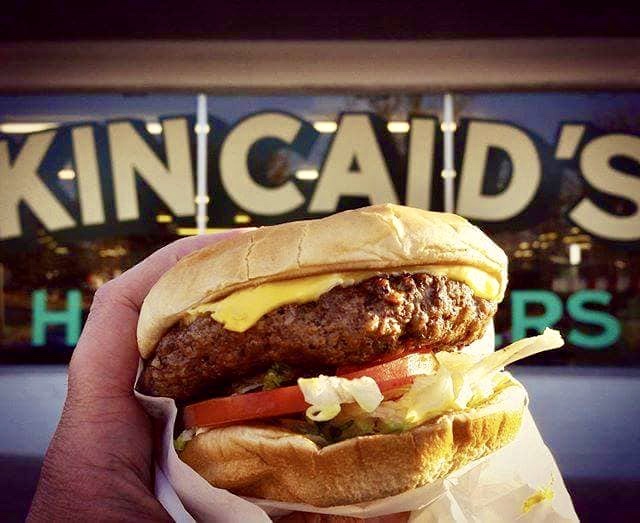 WINNER: Best Old Fashion Burger for 2018
Kincaid's Old Fashion Hamburgers Fort Worth & Dallas, Texas
The Regular Kincaid Cheese Burger:
Created by Mr. Kincaid in 1946 in an old grocery store in Fort Worth, this burger is one of the original best burgers in Texas. They've won so many awards at Kincaid's they're running out of room to hang all of them. I've been eating and chowing down at Kincaid's for five decades. I always visit the original location in the old grocery store location off Camp Bowie in Fort Worth. The old location has charm and is extremely cozy. If you ask me the atmosphere at Kincaid's makes the burgers taste better. I always say, "Food tastes better with a story", and Kincaid's has a great story. My granddad was friends with Mr. Kincaid they talked business and beef a lot back in the day. Both of these men were part of the early history in the beef business when Fort Worth, Texas was taking shape. It's hard to explain the flavor profile of the Kincaid burger except to say, "It's just DANG DELICIOUS"! It's the true definition of an old fashion hamburger and has kept its same flavor profile all these years. My buddy "The Music Legend" is someone who has lived in Fort Worth for decades, Robert Gallagher says, "It's the best damn burger, period"! It's prepared using a fresh bun, all-natural Black Angus beef (preservative, hormone, and additive free) ground fresh daily. It's layered with farm fresh tomatoes, lettuce, pickles, onions and cooked on my favorite an old school flat grill in its own juicy juices. Again, vegetables are placed on the bottom of this burger which changes the flavor and makes it better. Remember, "It's just DANG DELICIOUS"!
The BEST Craft and Old Fashion burgers for 2018 are listed below. All of these burgers are fresh, delicious and packed with flavors. The craft burgers will have more detailed information and description of the burgers. A delicious old fashion burger is simplistic, so the descriptions are minimal. 
Best Craft Burgers of 2018
Fred's Texas Cafe (3 locations) in Fort Worth, Texas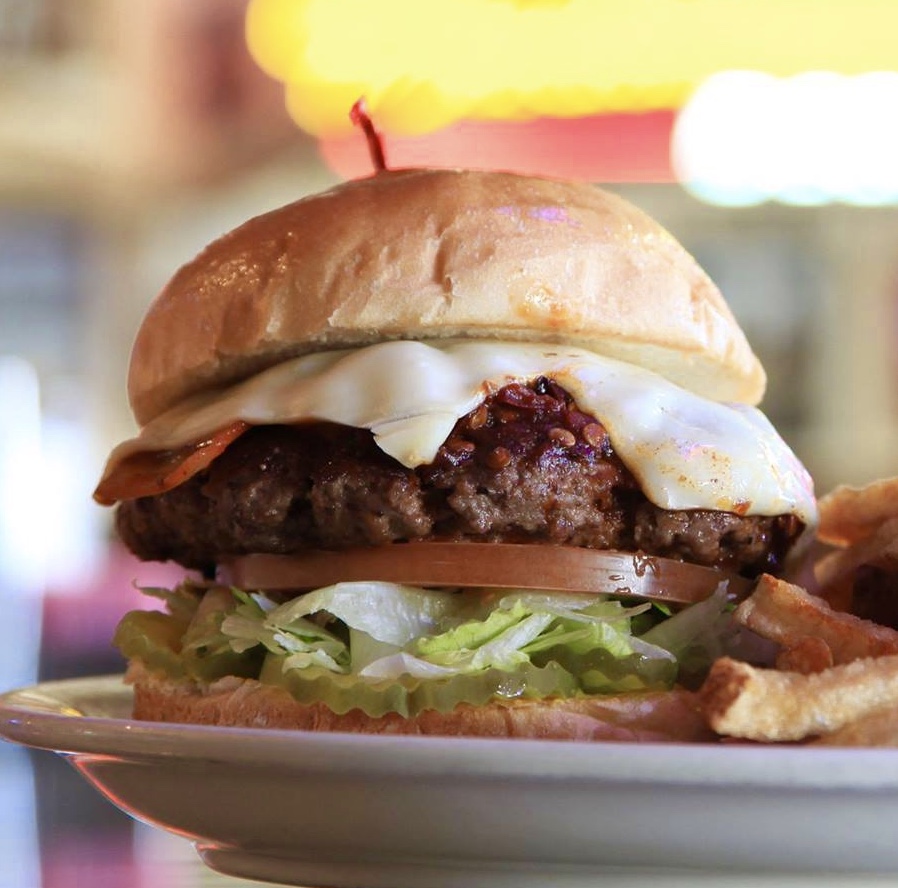 The Diablo Burger: 
House prepared spicy chipotle sauce, grilled onions, melted gooey Swiss cheese, farm fresh pickles, lettuce, tomato, and mustard served on a fresh soft buttered bun. I love the flavor profile of this burger. It's tasty! I've eaten at least six of these this year! I just couldn't get enough. The creator of this amazing burger is outlaw Chef Terry Chandler of Fred's Texas Cafes and Ought Zero Chuckwagon Catering. Chef Terry is a fantastic cowboy chef that loves the old west and cooking for folks. Love me some Fred's!
Clay Pigeon Food & Drink in Fort Worth, Texas
The Clay Pigeon Burger:
Prepared with fresh hand ground beef from prime ribeye and New York strips. A fresh bakery buttered bun, farm fresh lettuce, tomato, onions, house prepared Clay Pigeon garlic aioli and served with hand cut French fries. Chef Marcus Pasley created the Clay Pigeon Burger. He is the owner of the famous Clay Pigeon and is an award-winning chef who creates amazing cuisine representing many cultures. Chef Marcus literally has no boundaries on what he can create and sling out of his kitchen. Marcus is one of my favorite chefs! It's truly his life's passion to cook delicious creations for all to enjoy.
Whiskey Cake Kitchen & Bar in Plano and Los Colinas, Texas
The OMG Burger: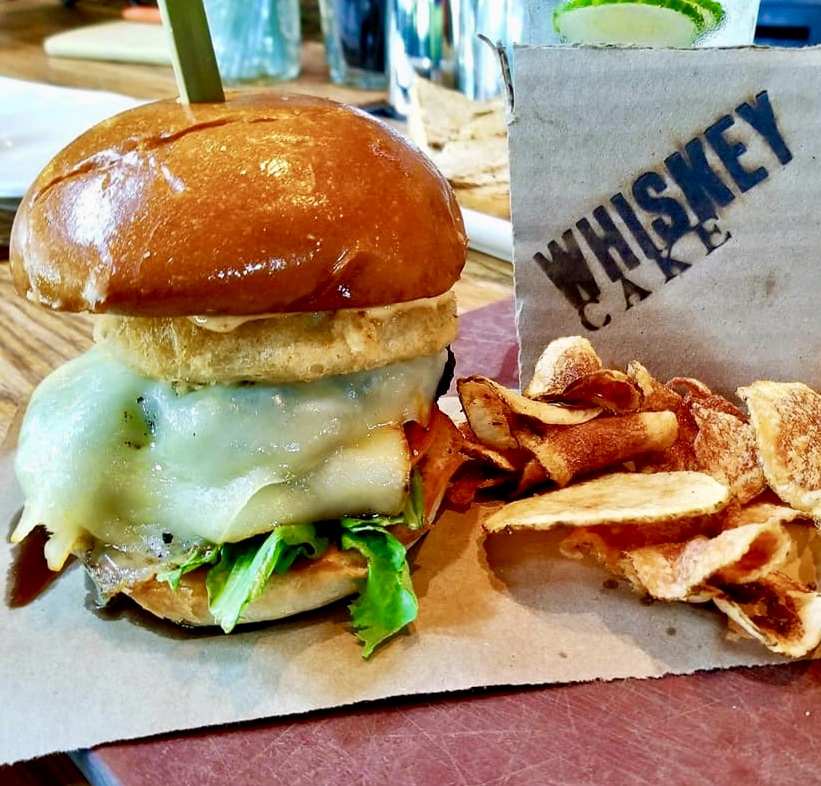 Prepared with goodness! This burger has house prepared beer battered onion rings, roasted criminis, muenster, house prepared grain mustard, red chili mayo, lettuce, and tomato, all on a fresh challah bun. The OMG Burger has loads of fresh ingredients and when combined creates a BIG bold flavor that just rocks your taste buds. Also, the homemade chips on the side are delicious too. When I bit into this burger for the first time my spidey foodie senses went CRAZY! I know why they call it the OMG Burger.
Jonathan's Oak Cliff in Dallas, Texas
"THE NOONER" Burger:
I love how cozy this place is when you walk in and sit down. The burger is prepared with a fresh soft bun, 1/2 pound of a juicy beef patty, ham, Swiss cheese, American cheese, farm fresh sliced tomato, then topped with a farm fresh egg and succulent bacon slices. OH YES! This burger is juicy, delicious, and looks like "more please" because that is what you want with every bite, MORE! Is there anything better than chowing down on a burger and grease running down both sides of your mouth? NOPE ain't nothing better!
M & O Station Grill in Fort Worth, Texas
The King George Burger: 
Holy Molly, the burger God's visited M&O to help create this big bad boy! Prepared with two or 3 juicy meat patties, two or 3 slices of cheese, with bacon & BBQ caramelized onions. All the trimmings then stacked between a bakery fresh bun. You get a generous portion of M&O's hand cut french fries too. This burger looks incredible with all the gooey cheese melted and running down the sides for this burger. It's beautiful, artistic, big, and packed with flavor. I really enjoyed this bad boy burger! You can have it prepared with 2 or 3 patties and slices of cheese, it's your choice.
Rapscallion Restaurant in Dallas, Texas
The Rapscallion Burger:
Prepared with a special 80/20 blend of certified Hereford Beef, three cheese pimento cheese, house pepper bacon, farm fresh lettuce, tomato, onion, dill pickle, and house prepared creole mustard,  served with Rapscallion spiced sweet potato chips. All served on bakery fresh brioche bun with black sesame seeds. You can also add a farm fresh egg if you desire. I think the egg really adds to the flavor profile of this amazing burger! The egg really makes it pop on your taste buds, POW! This delicious burger is the creation of Chef Nathan Tate. He's creat'in, cookin' and slingin' deliciousness all over Dallas. I visit Rapscallion often just to make sure I'm not missing any of Chef Tate's delicious creations. I was introduced to Chef Tate's creations two years ago and I've been in love with his cuisine ever since.
Dutch's Legendary Hamburgers in TCU area/Fort Worth, Texas
The Bacon Blue Cheese Burger:
Oh MY! Prepared with a juicy beef patty, fresh bacon, a generous portion of blue cheese, farm fresh tomato, onion, house prepared chipotle mayo, and it's all on a bakery fresh bun. Dutch's uses a fantastic bun to me because it has the flavor profile of a Hawaiian sweet bun. It really creates a unique flavor for this burger. I love the flavor of the blue cheese on this particular burger and it's not over powering. Get to Dutch's and chow down on this burger! I would add the tator tots and glass of TX Whiskey and water.
Bacon Jam Burger: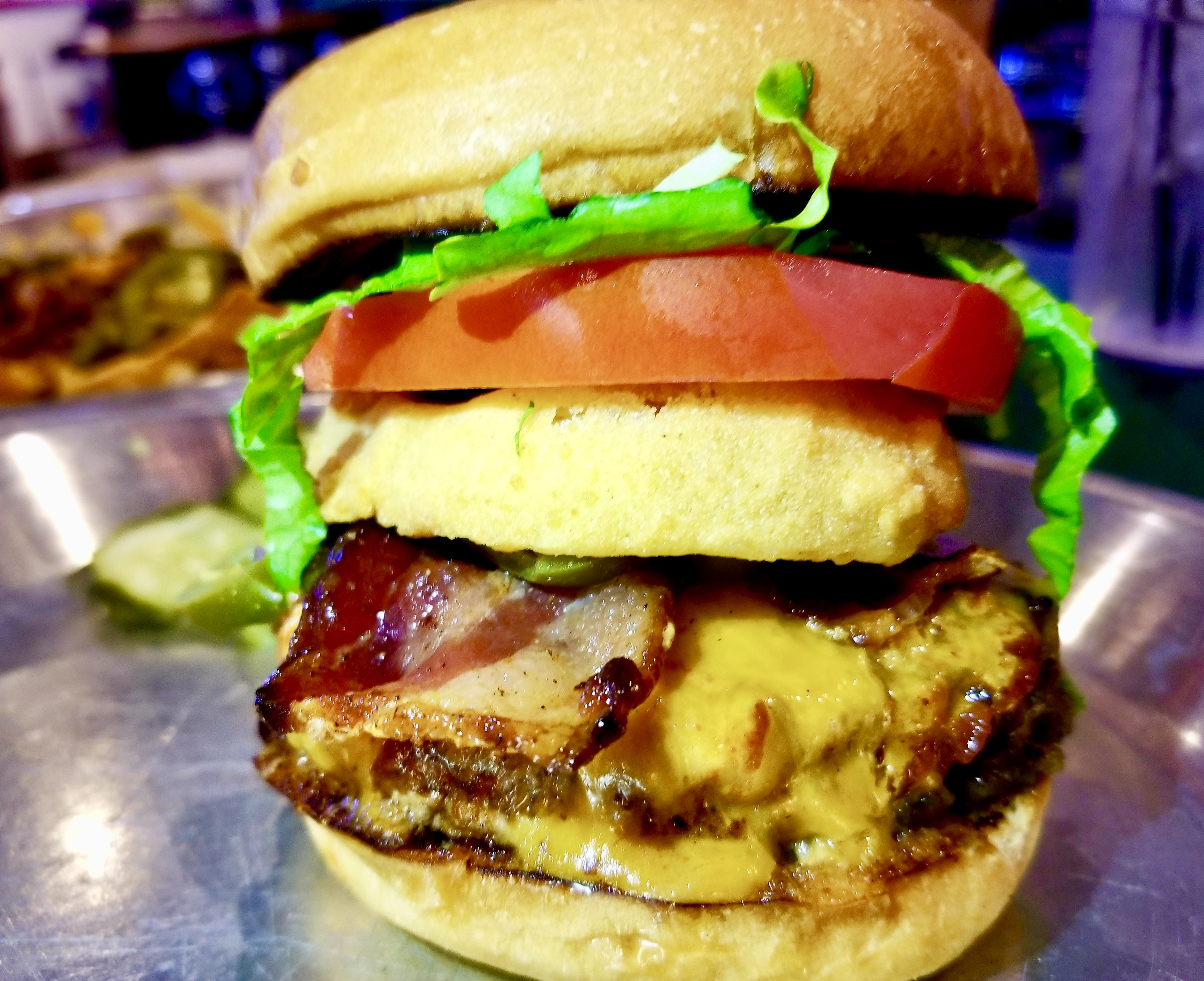 Prepared with two fresh juicy burger patties, Tillamook cheddar cheese, fresh house prepared BACON JAM, and dijonnaise, served on a bakery fresh potato bun. When I tasted this burger for the first time I was like, WOW! It has a unique flavor profile and is worth the drive from anywhere in Texas. Chef Spoon created this burger and he loves hanging out at Smoky Rose and slinging deliciousness to all is foodie fans. Smoky Rose has an incredible patio one of the BEST in the DFW area. Chcek out Smoky Rose and tell Ol'Chef Spoon I said: "to sling you a good'un!"
Red's Burger House in Azle, Texas.
The Twisted Oak Burger:
Prepared with a juicy "GRASS FED" grass finished 1/3 pound beef patty, garlic butter, provolone, and smoked Gouda cheese, caramelized onion, fresh leaf lettuce, mayo, and all stacked on a bakery fresh bun. I've been to Red's a dozen times! It's a cozy little burger joint you will fall in love with. The flavor profile of this burger is lip smacking delicious. Look for the little red and white cottage in Azle then go chow down!
Rodeo Goat in Dallas & Fort Worth, Texas
The Cowboy Murrin Burger:
 It's prepared with applewood smoked bacon, farm fresh beef steak, tomato, shredded lettuce, fried onion, cheddar cheese, pickle chutney, house prepared BBQ sauce, and all stacked on a soft fresh bun. This burger was created at Rodeo Goat and named after Fort Worth cowboy, Steve Murrin. It's packed with flavor and screams Fort Worth! Check it out and chow on this delicious burger! BE sure to wear your boots it makes it taste better.
The Swiss Pastry Shop in Fort Worth, Texas
The Farm To Market Burger with Cheese:
Chef Hans, you have to LOVE this jolly creative chef. I truly think chef Hans was born to create burgers. This burger is prepared with a fresh eight oz. juicy Texas Akaushi beef patty, farm fresh pickles, lettuce, tomato, and onion all stacked between a Swiss Pastry Shop fresh baked bun. Yes the buns are baked RIGHT THERE on location! Chef Hans creates magic and deliciousness at his world-famous Swiss Pastry Shop. He cooks up a lot of different hamburgers with insane toppings and crazy flavor profiles. They are always creative and have big bold flavors. We love Chef Hans and his crazy super delicious burger creations at his world-famous Swiss Pasty Shop.
Maple & Motor in Dallas, Texas
The Maple & Motor Cheeseburger: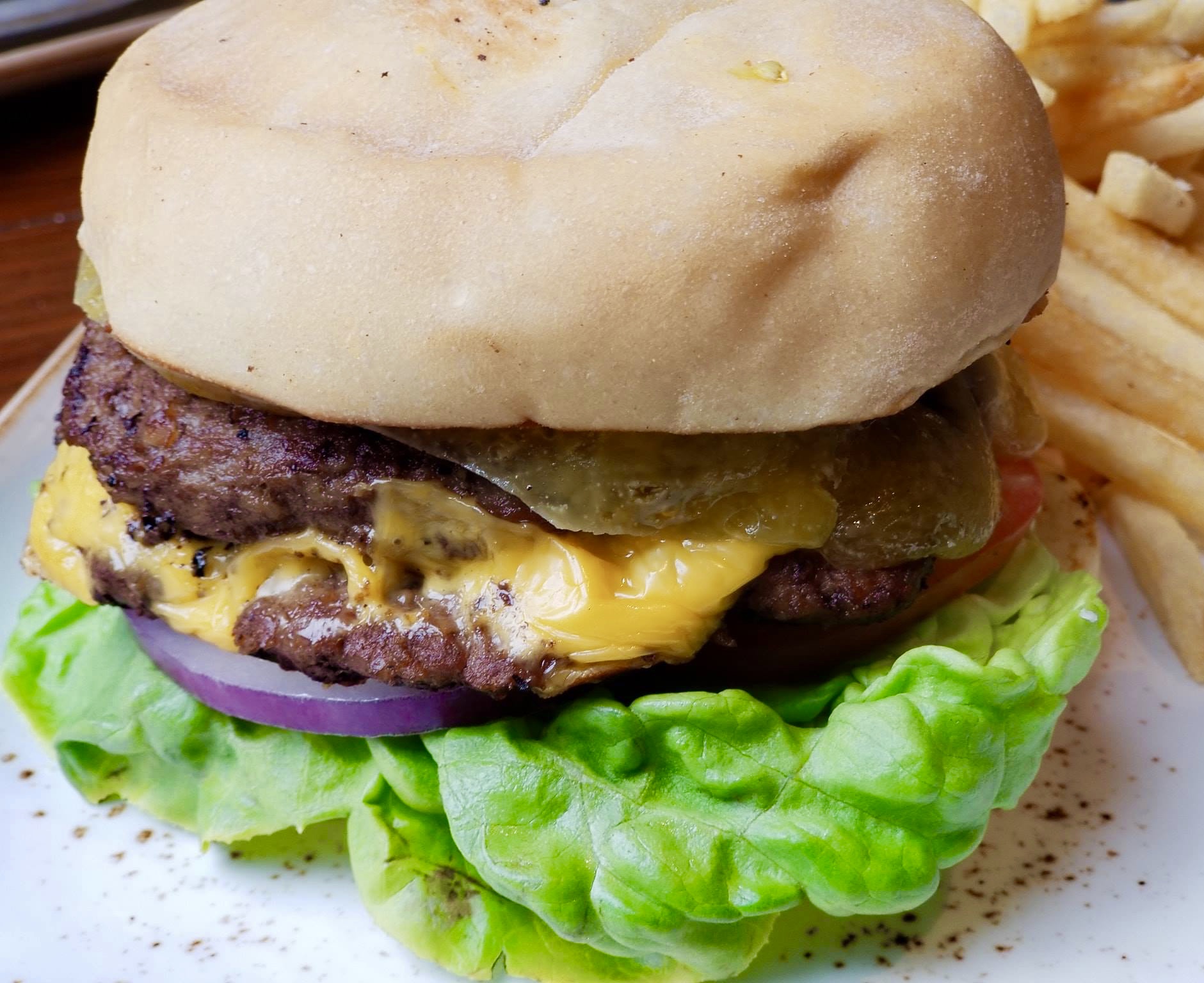 Prepared with a half-pound hand-formed burger patty from a proprietary blend of chuck and brisket with a 70:30 fat content, farm fresh lettuce, dill pickle, red onion, and a fresh buttered grilled-shined bun. Maple & Motor Burgers are cooked on a flat grill in their own juices. The cheese on this burger is melted to perfection. I love this burger (and any burger) that Maple & Motor creates. They have a cozy atmosphere in a little old gas station building. When you get a chance head over to Maple & Motor for some deliciousness! They have been featured on Diners, Drive-In's and Dives, and Steve Harvey's Show as the BEST BURGER in America.
Texas Spice Restaurants on Lamar in Dallas, Texas
The Texas Burger:
Prepared with a juicy Texas beef patty, redneck cheddar cheese, smoked jalapeño relish, farm fresh red onion, lettuce, tomato, and all stacked between a bakery fresh wheat brioche bun. Again, the vegetables are on the bottom under the meat which changes the flavor and makes it better.  This burger has a fantastic fresh flavor profile. It's a delicious down home Texas burger that you will want to have again and again. If you add the fresh french fries and throw some of their house prepared bacon on the burger it will WOW you! Chef Enrique Chavez loves creating deliciousness from farm fresh products and ingredients to create delicious flavor profiles at Texas Spice that you won't and can't FORGET! Texas Spice is a delicious destination NOT to be missed for Brunch, lunch, and dinner. It's located at Restaurants on Lamar.
Chef Blythe's Southern Bistro in N.R.H., Texas
The Big Nasty:
Prepared with a 1/2-pound juicy patty, melted cheddar jack cheese, grilled onions, grilled jalapeños, red tomato, jalapeño ranch dressing, and nacho cheese Doritos all on a fresh soft bun. This burger was created by  Chef Blythe and has a flavor profile all of its own. Chef Blythe called me and said "come check out THE BIG NASTY!"" "Ok chef I'll be right over to see what this is all about". The burger is truly packed with flavors, and of course messy, but it's worth the mess. Just ask the server for extra napkins!
The Barn Cafe in Paris/East, Texas
The Trey's Chow Down Double Double: 
Prepared with two or three fresh ground beef patties-your choice, two or three pieces of American cheese-your choice, farm fresh tomato, onion, and lettuce stacked between two toasty buttered buns. The burger patties are cooked in their own juices on an old school flat grill. If you really want to blow this burger flavor profile through the roof add some of Chef Zane's cooked bacon to the burger. This burger was created by Chef Zane and named after Trey Chapman for his love and knowledge of burgers. This burger is TEXAS SIZED very delicious and stacked high with goodies. If you want a BIG PHAT TEXAS BURGER, head to Paris, Texas it's just 2 hours EAST of Dallas. You will find the Barn Cafe East of town where you can chow down on some Texas deliciousness.
 The Best Old Fashion Burgers Of 2018
Charley's Old Fashion Hamburgers Est. 1992 in Fort Worth, Texas
Charley's Big'Un Burger: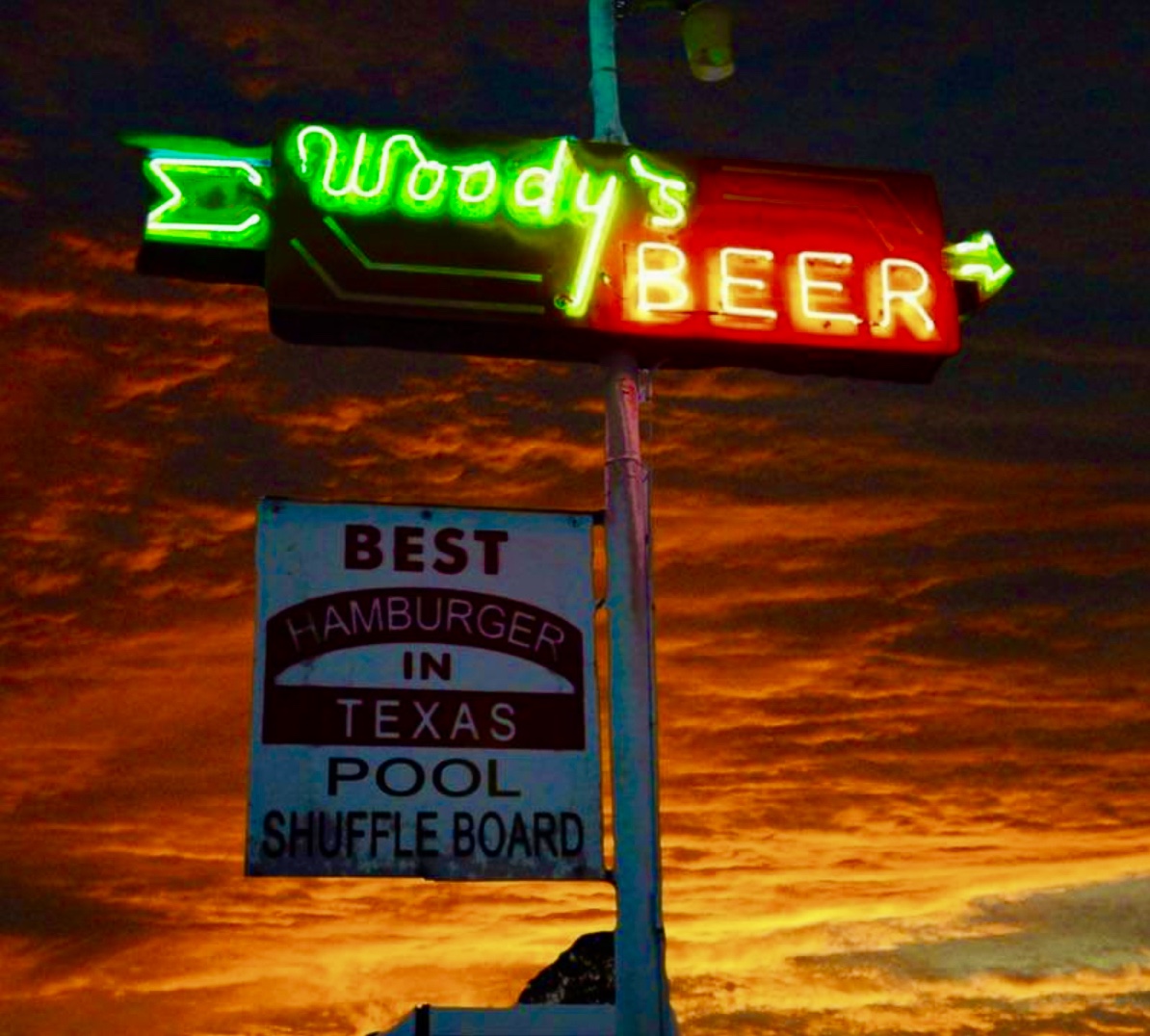 Prepared with two juicy beef patties, two slices of American cheese, one slice of Swiss cheese, two strips of bacon, one slice of Canadian bacon, and served on a toasted buttered bun. Oh yes, Charley's is always on point and juicy. You better have a napkin, wait… Three or four napkins actually!
Woody's Bar & Grill Est. 1950 Mineral Wells.
Woody's Double Burger:
Prepared with two juicy meat beef patties and two slices of American cheese on a toasted bun from the flat top grill. Add jalapeños for the perfect touch! I actually found Woody's just last year and have enjoyed the burgers along with the friendly service. There's something about a dark, cozy, old fashion post war hut that makes the burgers taste even better. I absolutely love Woody's!
Grumps Burgers Est. 2000 Grandbury / Burleson / Stephenville, Texas
Grump's Hamburger: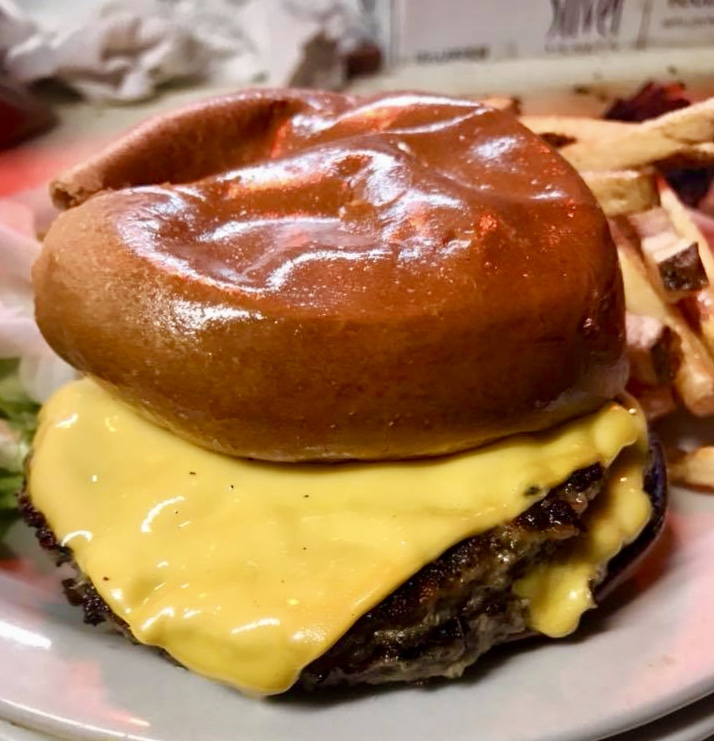 Prepared with fresh Texas beef patty, cooked medium-well, lettuce, tomato, pickle, onion, and mustard on a soft toasted bun. You can add a slice of cheese for the perfect flavor. I found Grump's just five short years ago and have really enjoyed stopping in and chowing down. Head over to Grumps!
Billy Oak Acres BBQ in Fort Worth, Texas
The Billy Burger:
Prepared with two delicious fresh beef patties, two slices of American cheese, and is served on a delicious bakery fresh bun. You can add bacon and all the fixings if you want. This burger is about as old fashion and flavorful as it gets. It's really really REALLY delish. I love going to Billy's because the atmosphere is always upbeat and I can eat some ribs too lol! Chef Billy Woodrich is a Texas Pit Master and Chef that loves slinging deliciousness and great BBQ. (We filmed a Trey's Chow Down T.V. episode at Billy's which you can view by clicking the link.)
J. G.'s Old Fashion Hamburgers Est. 1985 in Dallas, Texas
J. G.'s Ol' Fashion:
Prepared with an Angus beef patty, lettuce, onions, pickles, mayonnaise and mustard served on a soft toasted bun. Add some cheese for some extra deliciousness. For the perfect old fashion, I recommend this one. I've always loved J.G's and have for 10 years now. I don't get there enough, but when I do… it's chow down time.
Roy Pope Grocery Store Deli Est. 1943 in Fort Worth, Texas
Roy Pope Burger "Bob's Bad BOYEE":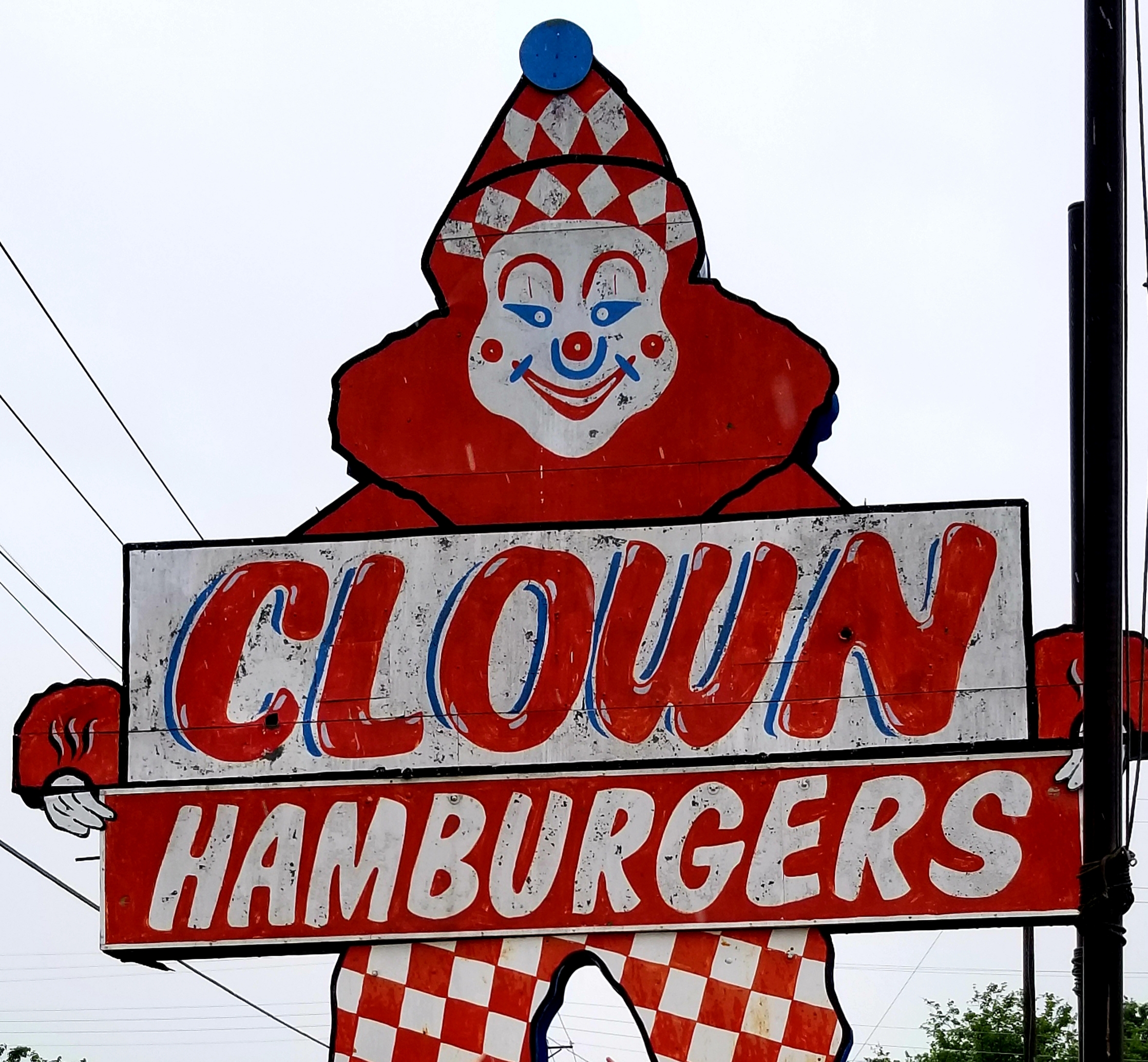 Been chowing down at Popes for decades. It's a big fat fresh ground beef patty, farm fresh lettuce, tomato, and onion served on a bakery fresh bun. Their ingredients come from their fresh produce department. I've been chowing down on these burgers for four whole decades. They are always deli-fresh, made to order, and the service is first class no matter what!
Adair's Saloon Est. 1963 in Dallas Deep Ellum, Texas
Adair's Burger:
Oh Man, I love Adair's! The burger is prepared with a juicy beef patty, lettuce, tomato, onion or red onion, and pickle served on a soft toasted bun. You can add cheese for the perfect touch. All I can tell you about Adair's Saloon is that I really enjoy eating their burgers. It's a cozy, narrow building with comments and writings all over the walls. They serve old fashion at its finest. Oh, add bacon too! I ask a guy to add bacon one time and he added what looked like a 1/2 pound. I was like DAM SON, come on with it!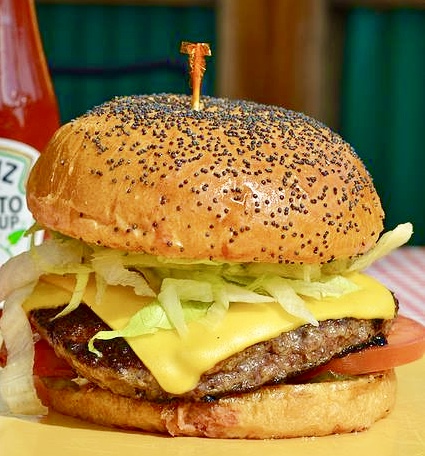 Chip's Old Fashion Est. 1981 in Dallas, Texas
Chip's 1/2 lb. Burger:
Chip's Yes! Just Old Fashion Delish. The burger is prepared with a juicy 1/2 lb. patty, lettuce, tomato, onion, pickle, mayo, and mustard on a soft toasted bun. You can add cheese or choose a wheat poppy seed bun. Chip's is simply just old fashion awesomeness!
Clown Burger Est. 1963 in Haltom City, Texas
Clown Double Burger:
When I saw the BIG Clown sign on the side of the road I hit the brakes hard. I can't began to explain this burger joint. It is truly an original and something you just HAVE to SEE and VISIT. The burger is prepared with two juicy beef patties, two slices of American cheese, lettuce, tomato, onion, and mustard all on a buttered toasted bun. I love this burger! I'm not sure if I love the Elvis decor more, or the greasy old fashion burgers more? Wait; of course, I love the cheesey gooey greasy burgers more. I'm a chow down hound!
Griff's Hamburgers in Haltom City/Grand Prarie, DFW Texas
Griff's Giant Cheese Burger: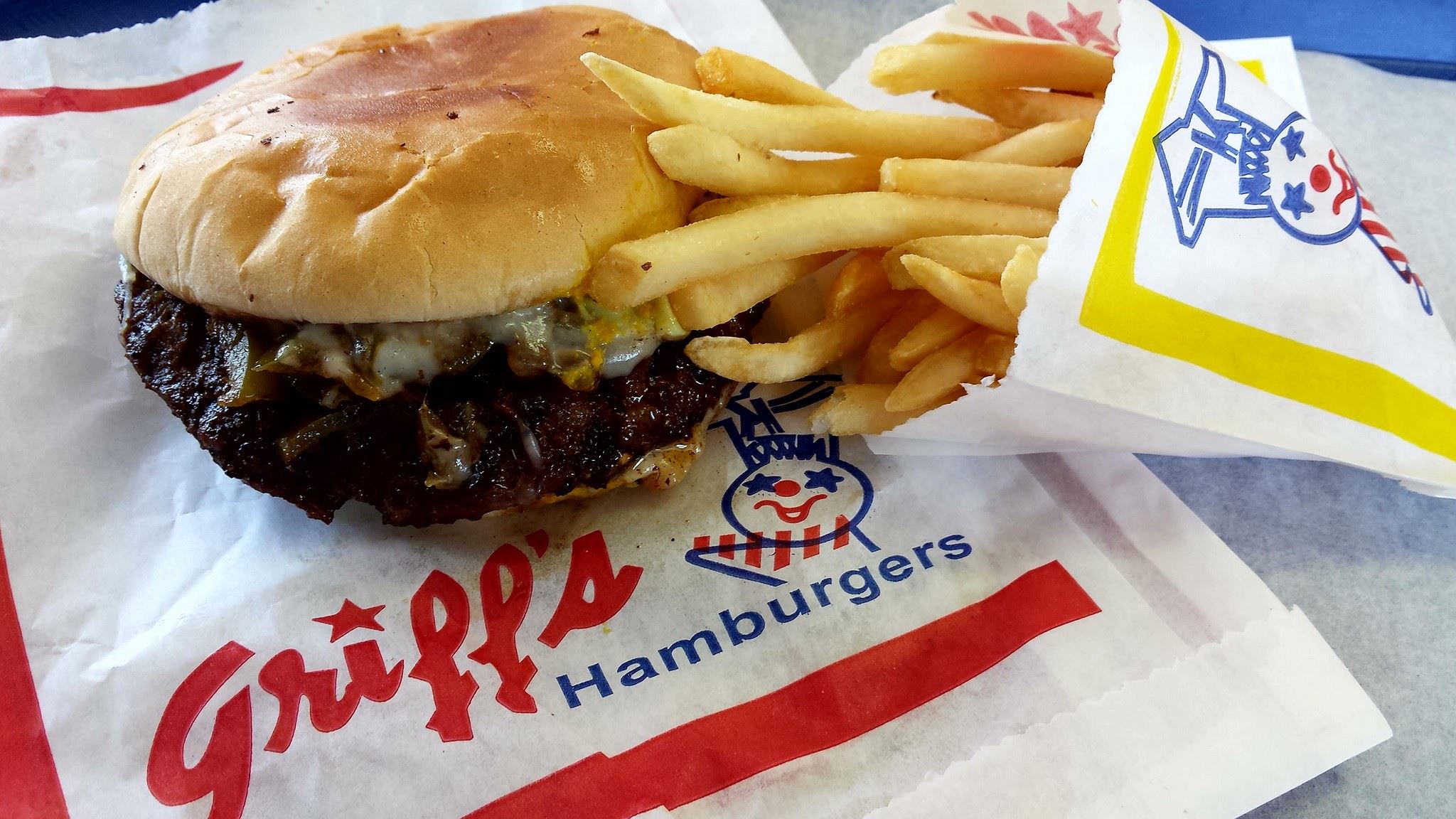 I remember eating Griff's burgers with my mama when I was just a handsome little Texas lad. They are a TEXAS land mark. The burger is prepared with a juicy beef patty, melted American cheese, lettuce, tomato, pickle, onion, and mustard on a toasted soft bun. While some consider them to be fast food, they have a great old fashion burger! I think Griff's is an old fashion burger paradise in this fast-paced world! Add the tater tots or fries for extra perfection!
Well, folks, I hope you enjoyed our list!  I strongly encourage you to visit each one of these fantastic burger places and try all the burgers listed. I enjoy reading and hearing about comments from folks who LOVE an awesome burger. The great thing about this year's contest is we have every type of burger listed. It represents various flavor profiles from chefs and old fashion burger ideas from the 1940's to modern day. You won't find anything like this burger list in the DFW area. Share, like, comment, and let me know what ya think!
You may post photos or comments on our facebook at Trey's Chow Down or forward them to Trey@TreysChowDown.Com I welcome the comments and photos.
Much love,
Trey (Chow Down) Chapman
Side Note: BurgerFi is now OPEN in North Fort Worth and is super delicious. They didn't make the list because they weren't open yet. I visited a corporate store in Florida last summer 2 times to write my article. Please read the article and visit BurgerFi. https://treyschowdown.com/burgerfi-excellence-true-bombdigity-delicious-burgers/