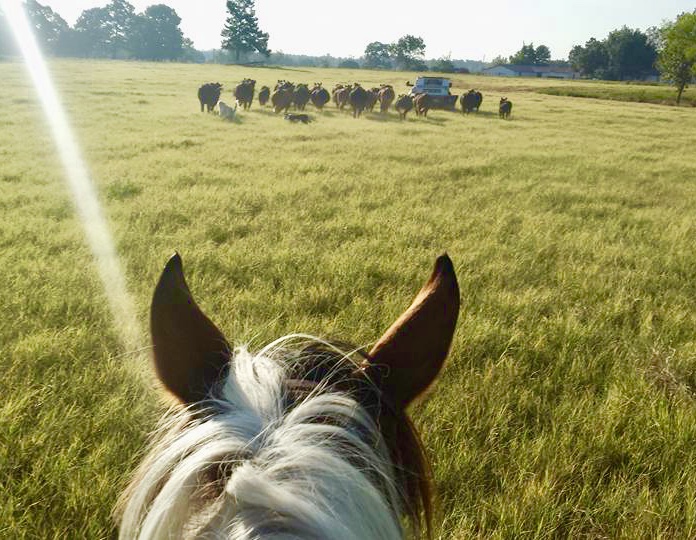 It's that time again foodies, chowhounds and beef lovers! I've been on the hunt all year for a delicious steak dinner and boy… Have I found some great places this year. I'm back with some of my old favorites along with some new places where you can find the BEST STEAKS. We are in our 3rd year now of Trey's Chow Down Best Steak Articles and this year is better than ever. Last year, 2017 our Best Steaks article had 49,000 reads so we are full of excitement about this year's NEW list. I couldn't make all the steakhouses but I sure tried. Sit back, turn off your television, radio, and any background noise, because you need to retain everything you're about to read in my BEST STEAKS OF 2018 article. You better grab a bib and put it on before you start reading this article. If you're anything like me you might have saliva dripping from your mouth while you read this article of deliciousness.
You're going to learn about some of my family history, steaks, delicious appetizers, and where you need to eat some superior beef this upcoming year.
Over the course of our foodie history, steaks have changed so much. The type of beef restaurants and chefs are using today is truly remarkable. Being in the ranching and beef business all my life, I would have never thought three decades ago we would have so many fresh meat choices to choose from today. We have chefs using a wide range of different types of fresh meats and cuts. There seem to be no bounds when it comes to creating the perfect steak. Some of the popular beef and cuts being used are Angus, Hereford, Brangus, Kobe, American Style Wagyu Kobe, American Kobe, Japanese Wagyu, Tenderloin, Filet Mignon, New York Strip, Kansas City Strip, Ribeye, T-bone, Flat Iron, and the big bad Tomahawk. We could go on for days about cuts, thickness, and types of beef.
Dry aged has made a big return to the marketplace too. Dry aging is a unique process in which unwrapped cuts of beef are stored in a room where there is consistent monitoring of temperature, humidity, air circulation, and bacteria level. Whether you choose dry-aged, or wet-aged, has actually become quite a debate these days among chefs and foodies alike. Dry aging has centuries of tradition on its side. My granddad had his own massive dry age cooler at our meat company and sold plenty of them. Wet-aging is really the new kid on the block and it's being tested by many. Time will tell how it works out in the marketplace.
I always say, "Food tastes much better with a good story". So, sit back and enjoy!
When I was a boy, my granddad would eat steak for breakfast, lunch, and dinner. He was in the ranching, restaurant, and meat business so he loved to eat. His cuisine of choice was BEEF! My dad was the same way! When I was younger we would cook steaks for breakfast, or if I was at Quality Meat & Provision Company our meat business I would cook myself a steak or a hamburger in the early a.m.. Being from Texas and growing up in the restaurant and ranching business I don't think I had much choice. Back in those days if you ate chicken they looked at you funny, and you might even get a lecture.  Beef, beef, beef is what was for dinner.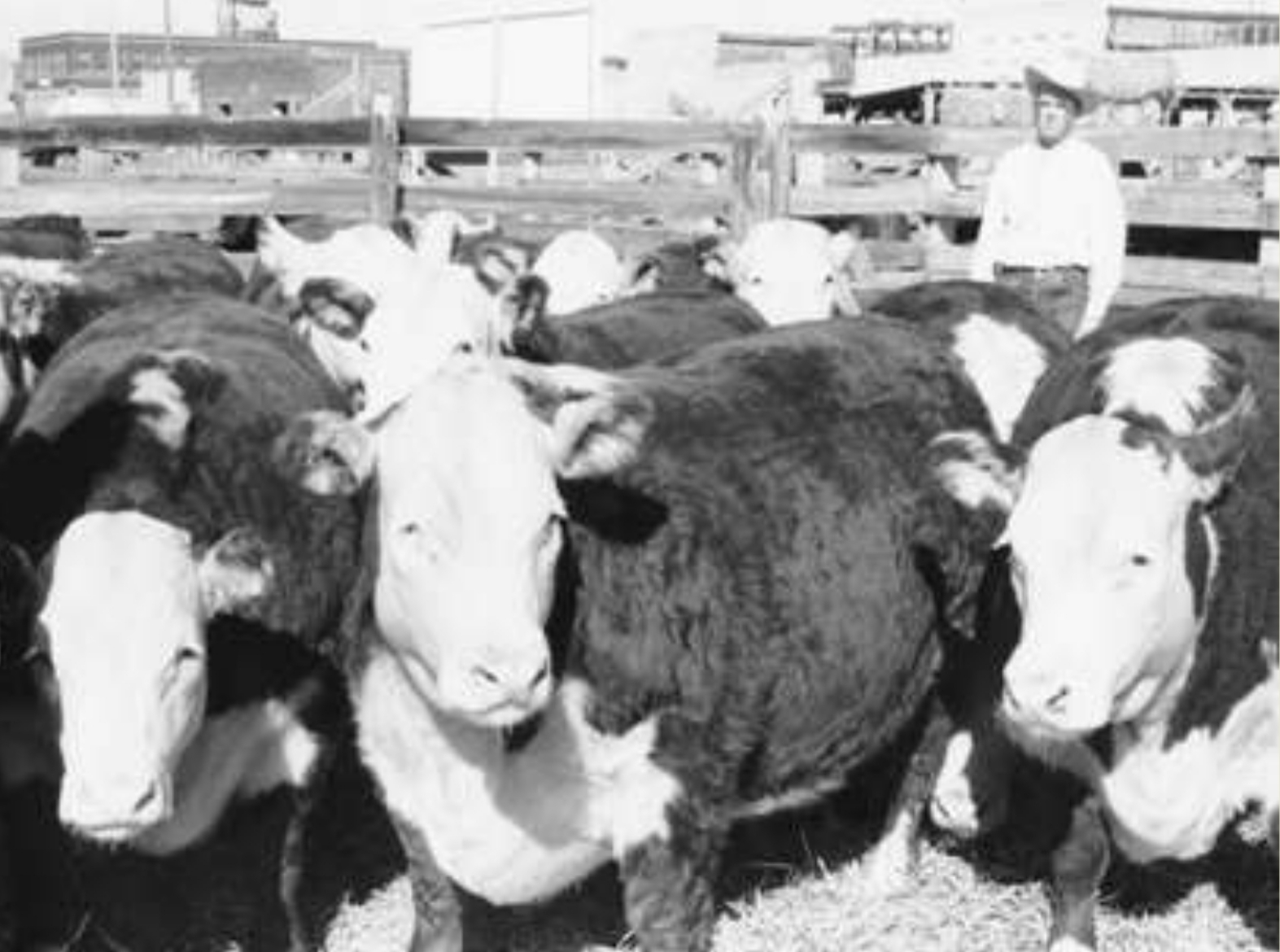 I really enjoyed working on the ranch and at the family meat company. I took pride in unloading the big sides of beef off the trucks and hanging them on the rail. After I hung them, I would push them down the rail into the cooler meat processing area. I was always fixed on the butchers cutting, slinging, and deboning those big sides of beef. I would ask all kinds of questions about the beef and cuts. I'd watch them sling those knives around like a NINJAS. It was intriguing and awesome to watch those men work. They were dressed in all white pristine uniforms and long white thick aprons. They had plastic shields around their waste over the aprons and they wore steel mesh gloves and mesh guards all the way up their arms. These men were seriously dedicated, and they could really cut some beef! It was a skill that was truly amazing to watch them perform duties, cutting, chopping, and slicing. I grew up to learn a lot of discipline through their hard work. After they would finish with the beef sides, we would seal the steaks, box them, and move them in the cooler so we could deliver them to restaurants and customers. One really cool thing about my granddad was he sold meat to all the casinos back in the day. He dealt with many gangsters that owned those casinos along Old Jacksbro Hwy. History is what our world is built on, and I love our family beef history.
When I got older, my dad requested that I get a job in other restaurants to gain experience about operations and about working outside the family business. Of course, I wanted to work with the family, but dad insisted, so I did. I worked for Steak & Ale Company, The Balcony Restaurant, The Carriage House Restaurant, and a few others. I learned a lot about steaks and cuts working for those folks. Later on, I worked in management and was a trainer for Whataburger, Wendy's International, Jack-In-Box, Pizza Hut, and Little Cesar's Pizza Company.  I lived in Kansas, then Texas, and then California while working for other corporations. In all, my combined work experience with other restaurant corporations totaled 16 years before returning the Chapman Restaurants, Chapman Fast Foods, and Dairy Queens of west Texas.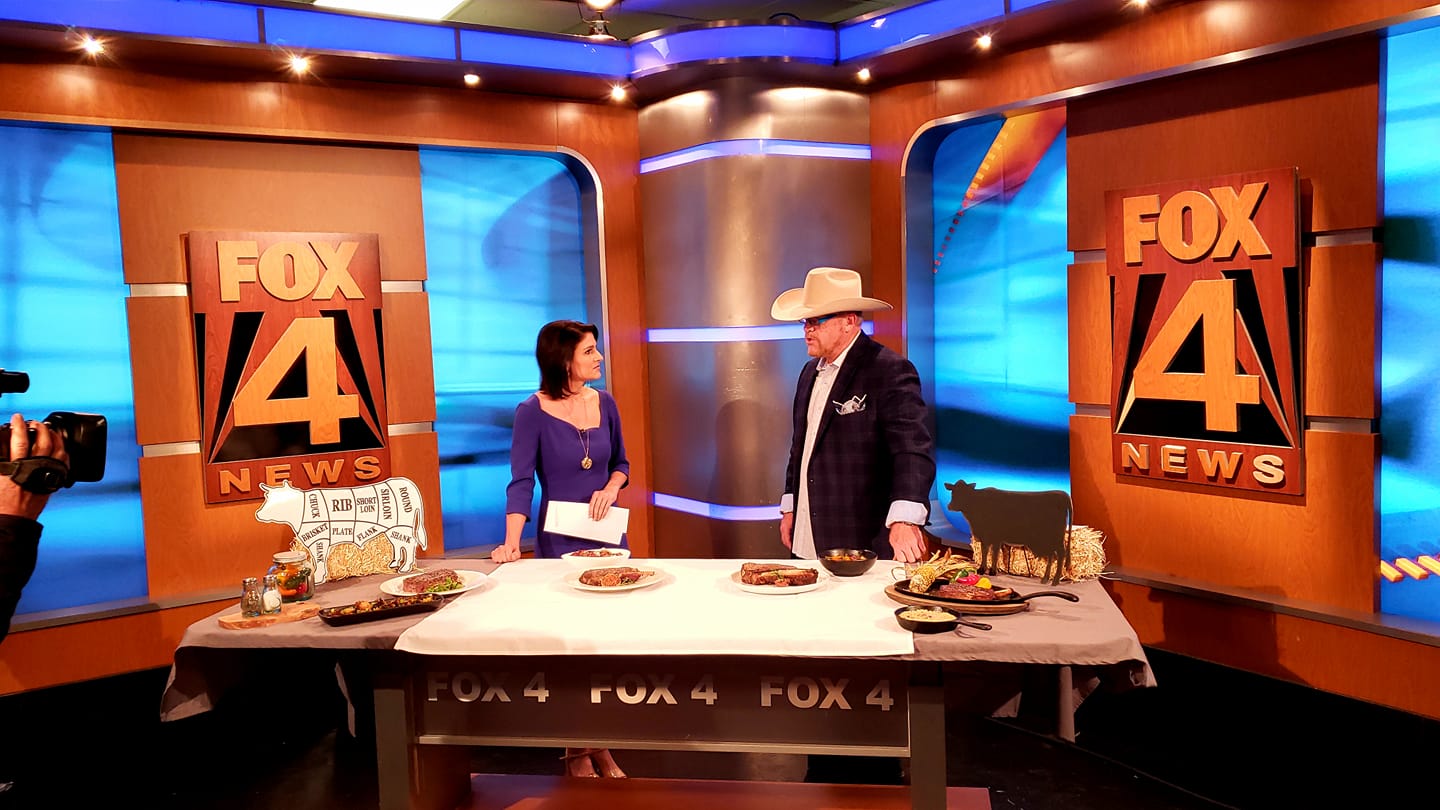 What I learned about the food business, operations, training, front and back of the house, and bar service I will never forget. It added to my skills and knowledge in the restaurant industry. It was truly valuable and gave me the tools necessary to create Trey's Chow Down Brands and my foodie website.
Traveling and eating steaks sounds like a dream come true to most folks. Truth is, it's a job that requires me to go out report and review on chefs, restaurants, and cuisine. I am dedicated and passionate to be the best for my audience. When I decided to create my BEST LIST for Hamburgers, Steaks, Breakfast, and now pizza, I wanted my choices to be the BEST of the BEST no excuses. I really had no idea the amount of work and research it would take when I decided to create these lists. That's why I spend a full 12 months locating new restaurants, finding chefs that love to cook. I eat everything on my lists. If someone tells me how delicious something is, I always try it myself before the dish makes it on our food site or social media.
So here we go, buckle buttercup! Let's learn about some delicious appetizers and steaks.
FIRST…. Let's talk about appetizers that matter before we get to the delicious steaks.
You can find some amazing appetizers at these steak restaurants listed below. I like to call them pre-steak eats! Enjoy, folks!
BEST pre-steak eats for 2018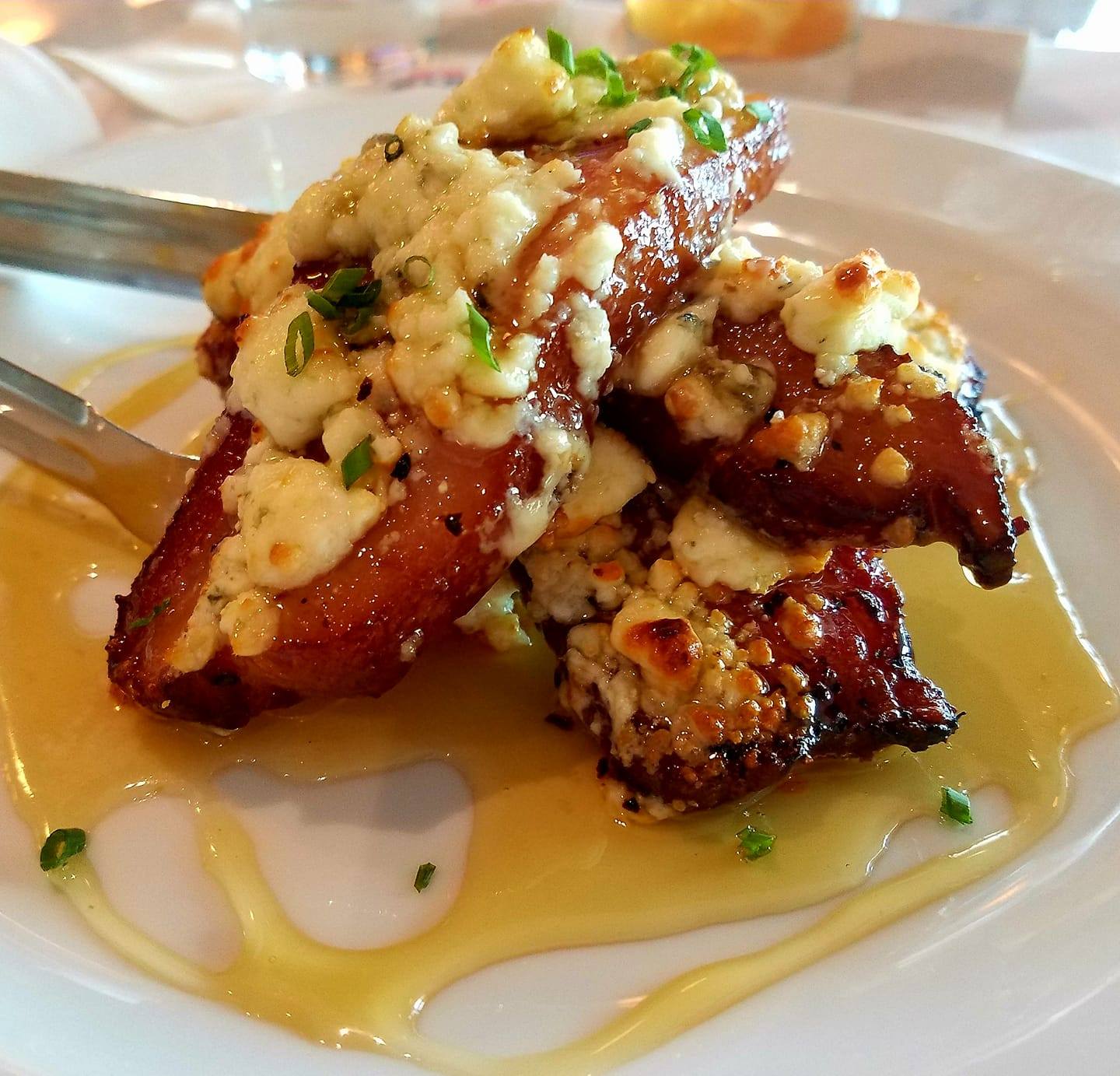 B&B Butchers & Restaurant Fort Worth & Houston: B&B Butchers & Restaurant Fort Worth & Houston: has a bacon appetizer I'm in LOVE with. It's called "Chef Tommy's Bacon". You have to try it! Tommy's Bacon is prepared with Roquefort blue cheese and truffle infused honey. This dish will send your taste buds to the FLAVOR RODEO and fill your belly with delight. I truly wish I could convey through my writing how delicious this dish taste, but I don't have the words. Saddle up for the flavor rodeo with each bite! Tell'em Big Trey sent you!
Grace Restaurant: Located in Sundance Square. They have an appetizer that I love because it involves tartare. It is Beef Tenderloin Tartare – 2 year aged cheddar, tomato aioli, puffed grains, and pine nuts. So delicious you will want another and Chef Blaine won't let you leave hungry I promise.
Knife Steak House in Dallas & Plano: has a "Bacon Sampler Platter" that will impress any bacon lover. It is a bacon tasting feast consisting of 5 varieties of bacon that will melt in your mouth. I could smell the bacon as they sat it on our table. My mouth was watering before I took the first bite. It's watering as I write about it! Chef John is dedicated to his craft and loves slinging deliciousness.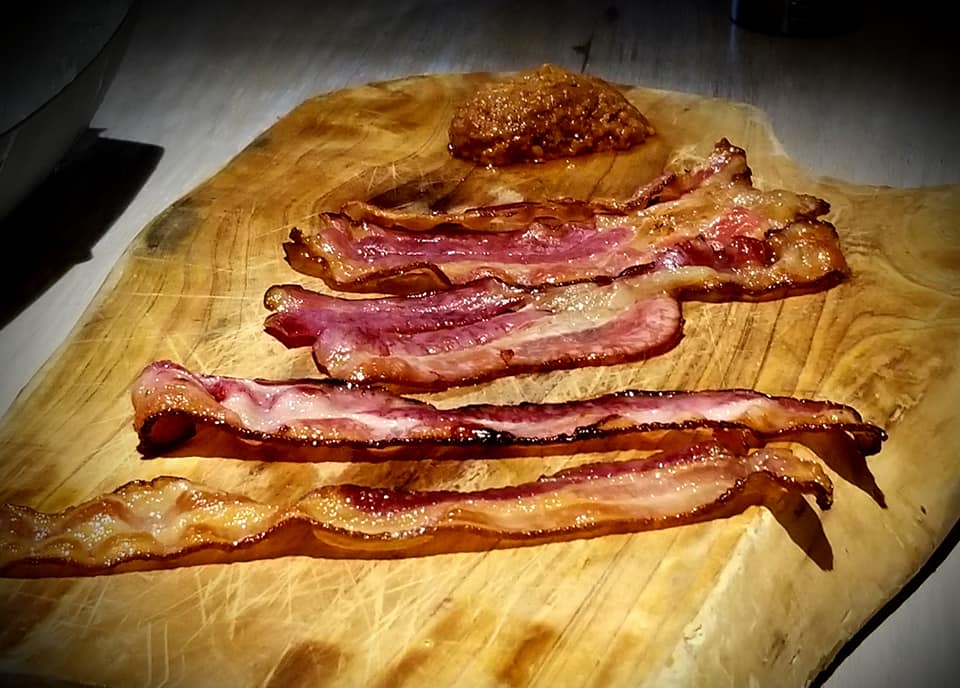 Michael's Cuisine on Upper West 7th: has a fantastic appetizer that is made to order and prepared with fresh Texas quail. They're called "Quail Pops"! They're delicious and packed with flavor. Chef M.T. loves this dish and you will too.
J2 Steakhouse in Lewisville: has a creative appetizer that was packed with flavor. Foie gras 3 ways -seared, torch on, mousse. It's served with some fresh baked bread too and the presentation is incredible. Truly delicious! Chef Pauley loves his creation and it shows.
Del Frisco's Double Eagle Steak House: has a one-pound bacon appetizer that goes by the name "Thick-cut Nueske's bacon au Poivre".  Topped with a Bourbon Molasses Glaze and farm fresh peppers. Superb!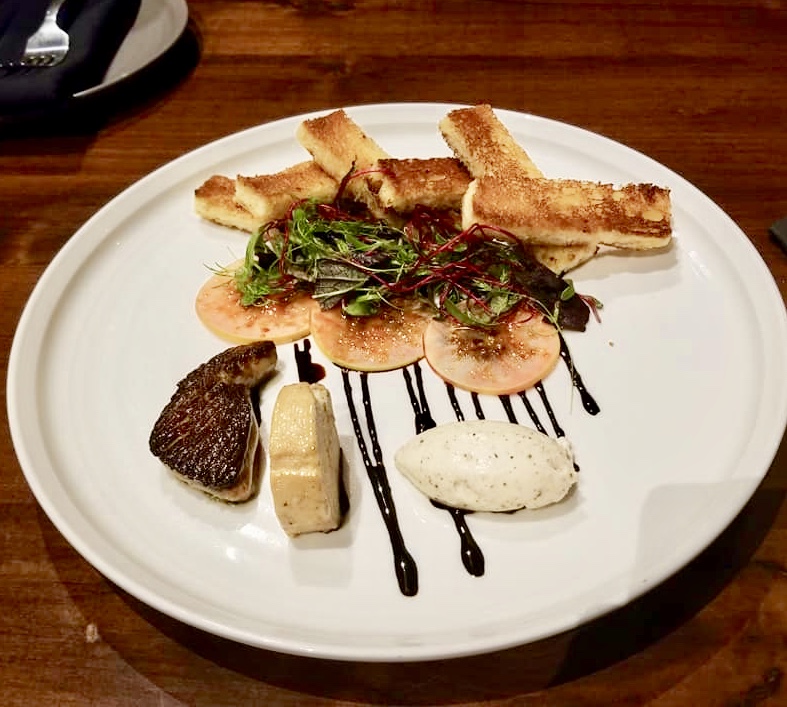 Capital Grille Steak Houses: has an amazing pre-steak appetizer that goes by the name of "Prosciutto Wrapped Mozzarella", with farm fresh vine-ripened tomatoes and delicious house bread! This dish is so yummy that you will want to slap everyone. Your mama, your grandmamma, your granddaddy and maybe even some folks you don't even know.  Chef Derek knows when I walk in because I always order 2 of these dishes. Yes, it is that delicious. If you don't believe me, TRY IT!
Wolfgang's Steakhouse: The Beverly Hills California location has an appetizer that I love. It is farm fresh, house-made mozzarella, Texas size beefsteak tomatoes. Served with your choice of dressing; house vinaigrette, Russian or Roquefort. This dish was so fresh and flavorful. It might be the beautiful Beverly Hills fresh air and the sites and sounds of California but this dish is banging.
Horse Shoe Hill Steak House: Located in the Fort Worth Stock Yards! This place has several great appetizers packed with flavors. The "Texana Deviled Eggs", "The Bob Armstrong dip" with house-made chips, and "Calf Fries" are few of my favorites.  Chef Grady has some fantastic dishes that just scream southern and cowboy flavors.
NOW let's differentiate the types of steaks!
 Porterhouse
This particular steak is actually two-in-one. Many consider it to be the "king" of steaks.  On one side you have a New York strip and on the other is filet mignon. This is thicker cut steak. It has much more of the tenderloin compared to the loin portion. It can be grilled, sautéed, broiled or pan-fried.
T-Bone
This steak is named after its T-shaped bone. It's similar in appearance to the porterhouse, but with a smaller portion of the filet mignon side. T-bone steaks are cut closer to the front and contain a smaller section of tenderloin. They are best grilled or broiled to medium-rare temperature. The meat near the bone tends to cook more slowly than other parts of the steak.
New York Strip
This is a classic at any quality steakhouse. It has an excellent amount of marbling, is tender and flavorful. Many people prefer this cut cooked rare, or blue, showcasing the delicate flavor and naturally tender texture. Internationally it is called a "club" steak. In the United States and Canada, it is known as New York strip, strip loin, shell steak, or Kansas City strip steak. The New York strip steak is ideal for grilling.
Filet Mignon
This is the most tender cut off the cow. It's not the most flavorful steak since it does not have a bone attached, but it can be wrapped in bacon or served with your favorite sauces and spices. In France, this cut is called filet de boeuf, which translates to beef filet. It can be broiled or grilled, but remember to cook this cut quickly to seal in all the goodness.
Rib-Eye
The rib-eye has long been a favorite of steak lovers worldwide due to its luscious marbling, which allows the meat to be very tender and juicy. The rib-eye is a boneless cut. When the bone is attached it is called a rib steak. These steaks should be cooked quickly by grilling or broiling.
Tomahawk steak
 is a cut of beef ribeye that has five or more inches of extra rib bone for presentation purposes. It's called a "tomahawk" cut because the steak with the long bone resembles a single-handed axe.
Dry aging is a process whereby beef carcasses, primals, and/or subprimals are stored – without protective packaging – at refrigeration temperatures for long periods of time to allow the natural enzymatic and biochemical processes that result in improved tenderness and the development of the unique flavors.
PLATINUM WINNER: Best Steak House of 2018: 
Dallas & Plano, Texas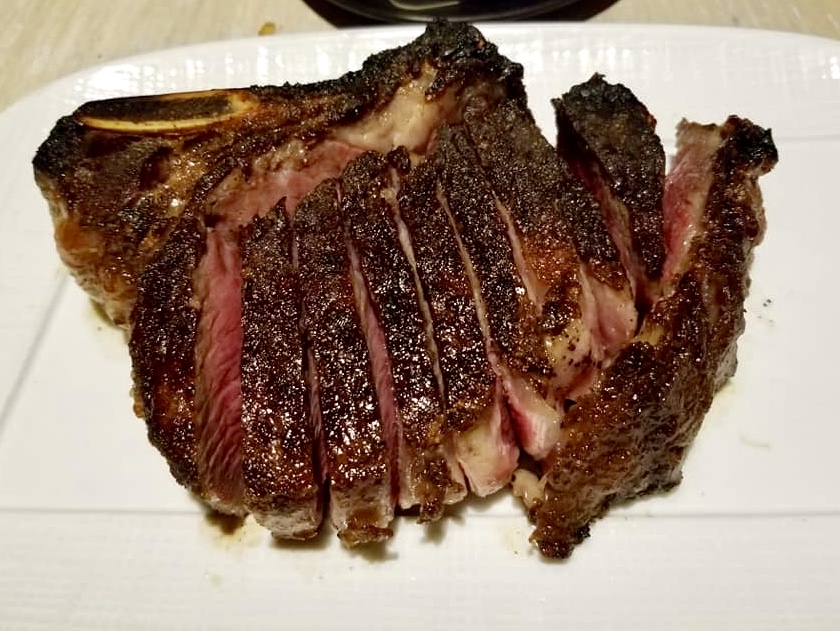 Chef John Tesar has done a masterful job at creating a steakhouse that exceeds all expectations of what a steak dinner experience should be. He offers a Texas-sized variety of meats and cuts where a true steak connoisseur will feel like a kid in a candy store. His "Bacon Sampler" appetizer melts in your mouth with each bite. They have custom-crafted desserts, cocktails, and appetizers that will make your mouth water and your pallet dance. One of the BEST offerings at Knife is a dry age cooler. It is mesmerizing. You can stand at the window slobbering while you glare at the meats dry aging second by second.  John's dry aged beef has a different flavor profile compared to what I've tasted. Their dry age process makes for a very intense flavor, creating hints of blue cheese, truffle & popcorn butter. In my opinion, John's flavor profile created at Knife is different and it's addicting.
If you ask John about his dry age meat locker, this is how it's explained;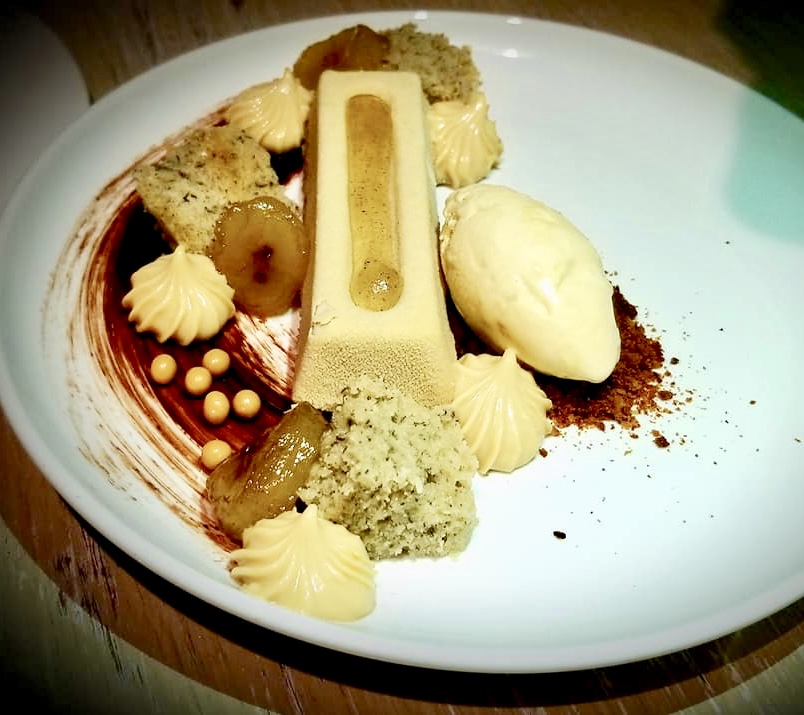 "By dry aging our prime steaks instead of wet aging we are able to create a more flavorful dining experience. The process involves placing the steaks on racks in our temperature controlled display case, which is held at a constant temperature of 36 degrees and 40% humidity. This causes a crust to form on the outside of the meat, sealing in the steak juices. The natural juices of the meat contain an enzyme that breaks down the tissue resulting in a tenderer piece of steak. At the end of the aging process, our on-site butcher cuts away the crust formed by the dry aging process leaving only the bright red and very flavorful meat that we then cut into the portions we serve. The process makes for a very intense flavor with hints of blue cheese, truffle & popcorn butter. Aging on the property and butchering the meat ourselves along with the personal relationships we have built with the local farms have given us an incredible amount of control over the product."
I truly enjoyed the flavor profile and John's dedication to the culinary experience you will receive when you dine at Knife. The flavor profiles are simple to explain in 2 words… STUPID DELICIOUS! That's the simplest way to explain a John Tesar steak or his signature burger, Stupid Delicious! We tried a few different cuts but loved the DRY AGE steak flavor profile. I dare anyone to eat one of his steaks and come up with a better term.
GOLD WINNER: Best Steak House of 2018
Sundance Square in Fort Worth, Texas 
I've written two articles in the last few years about Grace and Chef Blaine because everything this place offers is creative and packed with flavor. I use the word "creative" a lot, but there really isn't any other way to express what they provide! The atmosphere is incredible, rich, and classy. Grace has one of the best patios in town. The service is first class and always on point. One of my first culinary experiences with Chef Blaine was about 5 years ago. I was told he had some amazing "escargot" that he was very proud of. Now listen, I'm not a big snail eating kinda guy. I tend to stick with other culinary delights! I went to see Blaine and I ask him about this amazing "escargot." Before I could finish inquiring about the dish Chef Blaine said, " HANG ON. WE WILL BRING SOME RIGHT OUT FOR YOU"! Well, I had to try it. I couldn't refuse something he was so proud of, could I? The escargot was AMAZING. We ate two orders that evening. From this moment on, I was forever hooked on Grace and Chef Blaine's culinary creativeness. If you ask Adam Jones he will tell you "GRACE delivers a dining experience like no other in Fort Worth." Their wedsite states, "Adam, is known as the city's host for the unparalleled level of hospitality and service in his restaurants, invites you to enjoy Modern American Classic fare, created by award winning Chef Blaine Staniford. In a comfortable modern setting that embodies the city's energy, guests can enjoy the outdoor terrace on Main Street and a spectacular bar featuring house made seasonal cocktails with a separate menu for bar snacks. Glass-enclosed temperature controlled wine cellars house a selection of Old and New World wines." Grace offers different cuts of meat and creative sides. Any cut you choose, or type of beef, will be perfect. It's a tough decision, but my favorite cut of meat is the 20 oz prime dry aged bone-in ribeye or the 44 Farms filet. If you haven't tried Grace, you're missing out! Be sure and have a cocktail on that wonderful patio.
 SILVER WINNER: Best Steak House of 2018 
Old Downtown in Lewisville, Texas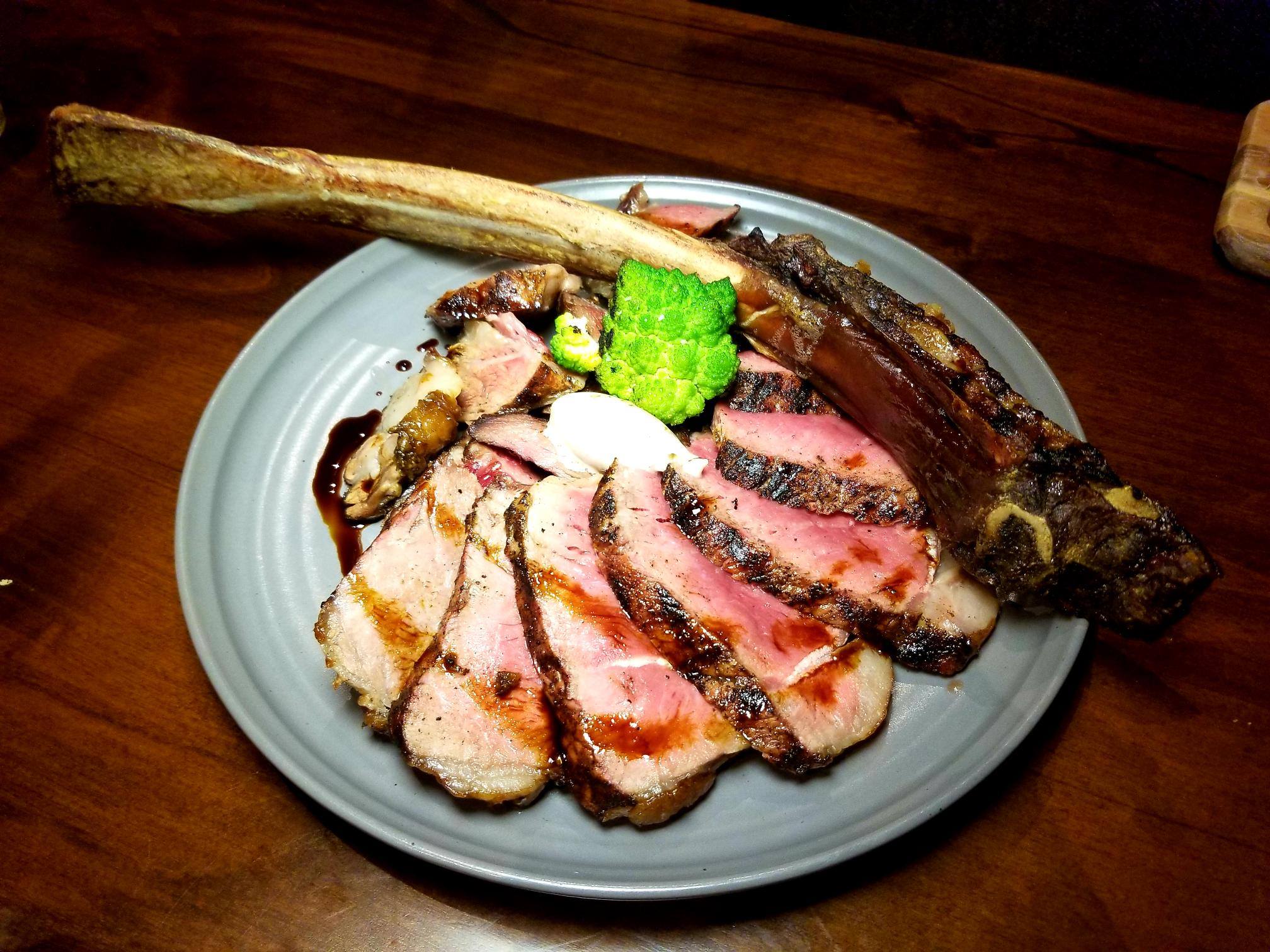 If you're a steak LOVER, do I have a place for you! Here's some deliciousness served with a historical background you will surely enjoy. J2 was created in an OLD 1886 Grist Mill building. The atmosphere here is cozy and fantastic. Chef Polly took me on a kitchen tour and I loved what I saw. They have a new beautiful kitchen, complete with a separate pasta and dessert creating room. The side area has a row of three coolers. One cooler is full of only locally sourced fresh vegetables. The second cooler is a dry age cooler, which is full of delicious dry aging meat. The third has a variety of deliciousness. There's a meat cutting cooler area where a young man was preparing and wrapping some Beef Wellington. Being the restaurant business all my life, I was impressed with the cleanliness, organization, and how fresh everything looks in the coolers. When we sat down to eat they offered us several menus to view for dinner. They also have some custom house prepared craft cocktails that looked amazing. The website states,  "After operating for 124 straight years, the Lewisville Feed Mill at 119 E. Main St had seen its fair share of history & reinvention. There is something special about what the Polser family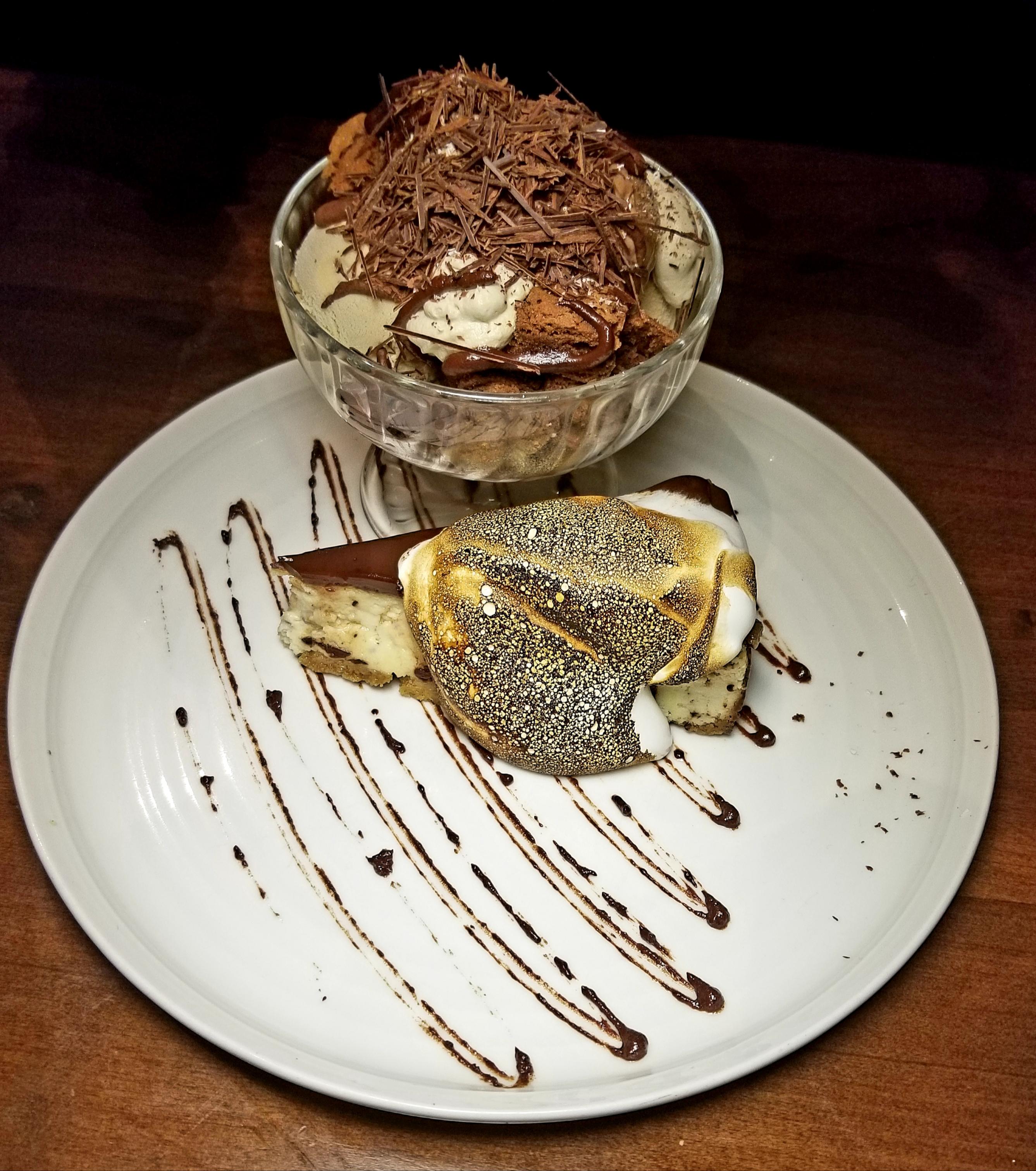 created back in 1886, that lends itself to preservation. It's rare to find a restaurant that feels so comfortable in its own right and place- so written into the lore and landscape of a neighborhood and it seems it has always been at that address. Today, J2 Steakhouse serves elevated Texas fare with a selection of dry aged beef, aged in-house, in the heart of downtown Lewisville. It is kept up by a staff who strives to maintain an unobtrusive sense of hospitality & service." I love this history! We tried so many dishes I thought I was going to need a dolly to wheel myself outside. They steaks were juicy and delicious. We ordered the 60-Day Dry-aged Tomahawk Ribeye and Wet-Aged NY Strip with 7-chili demi glacé and bone marrow butter. It was superb! The historical factor in the Old 1886 Grist Mill building combined with the tremendous amount of old artifacts creates an alluring atmosphere that makes it hard to leave. Chef Pauley and the team at J2 have created true Steakhouse MAGIC not be missed by any steak lover.
The BEST Steak House Winners For 2018
B&B Butchers & Restaurant
Chef Tommy Elbashary
Fort Worth & Houston 
When I walked into B&B for the first time and saw the butcher market, my foodie senses were standing at full attention. I fell in love the moment I tasted the food and enjoyed some incredible customer service. The menu at B&B is full of delicious and creative offerings. I decided to order " Chef Tommy's Bacon " appetizer and give that a try. When they delivered the dish to me, the aroma alone should have been outlawed! Yes, it smelled that good! Everything I tasted from that point on was pure deliciousness. I found it hard to stop eating. I wanted one of everything on the B&B menu. I can't give you a favorite, so you can't go wrong with anything "beef" at B&B. Chef Tommy is slinging deliciousness like a steak ninja. Trust me, you will fall in love. Just watch out for the B&B Ninja lurking about, lol!
Chef Marcus Paslay 
Fort Worth, Texas
What can you say about Clay Pigeon?.. Everything is farm fresh and creative. It's everything you want and more! You'll enjoy every single bite of steak. Clay Pigeon offers a variety of different cuts. Just ask the server for help or review the menu before heading over. They change the menu seasonally, so get ready for something incredible to eat. The atmosphere is wonderful, cozy and Texas friendly. They pride themselves on wowing the customer. The dining room has a date-friendly vibe and a wine cellar for a fine dine night. I truly love everything I eat at Clay Pigeon. My favorite cut of meat is the prime Angus steak 8oz. eye of ribeye. Also, the CP Burger is one of the best you will ever have! The roasted garlic aioli is WOW. I fell in love with this burger two years ago and can't stop thinking about it!
Red River, New Mexico
 Texas Reds has been a favorite of mine going on thirty plus years! I do miss the original two-story old time building, but the food is still as excellent as always. It has a cozy fresh mountain feel to it. I've always loved their steaks and baked potatoes. They're packed with flavor and cooked to perfection. At first, I thought my love for this restaurant was purely for the vibes they gave. Over time I realized it wasn't only that but also the great steaks and friendly service. Deliciousness in every bite. My favorite cut if the special New York steak cut THICK. When you're in New Mexico, make plans to try Texas Reds. It's a must!
Chef Derek Venutolo / Fort Worth
Located all over the U.S.A.
Capital Grille a wonderful and very friendly bar area. Overall, this has a has a very rich and cozy feel. It is like it's own little cozy tavern BUT with award-winning food, wine and spirits. There is an awesome wine display to marvel over. It has a Texas-sized inventory. The dining room has a certain southern charm feel to it. This makes you want to stay for a while. The service is phenomenal and they love the customers to death. Capital Grille, or as I like to call it CAPITAL, is truly a place to be. Walk in, grab a glass of wine and socialize. Then dine on a delicious meal. Maybe enjoy it all out on the patio and enjoy this wonderful life.  My favorite cuts of eat from CAPITAL are the 8oz filet mignon and the 14oz bone-in dry aged New York strip.
Miami & West Palm Beach Florida 
The Butcher Shop always has farm fresh cuts of meat. They pride themselves on the quality cuts of meat and prepare them to perfection. You can enjoy the fresh Miami air while you dine on deliciousness. The beer garden is always fun and exciting. Service is perfect and you can catch everyone enjoying his or her time there. My favorite cut of meat from here is the bone-in rib eye. When you're in Miami stop in here and chow down.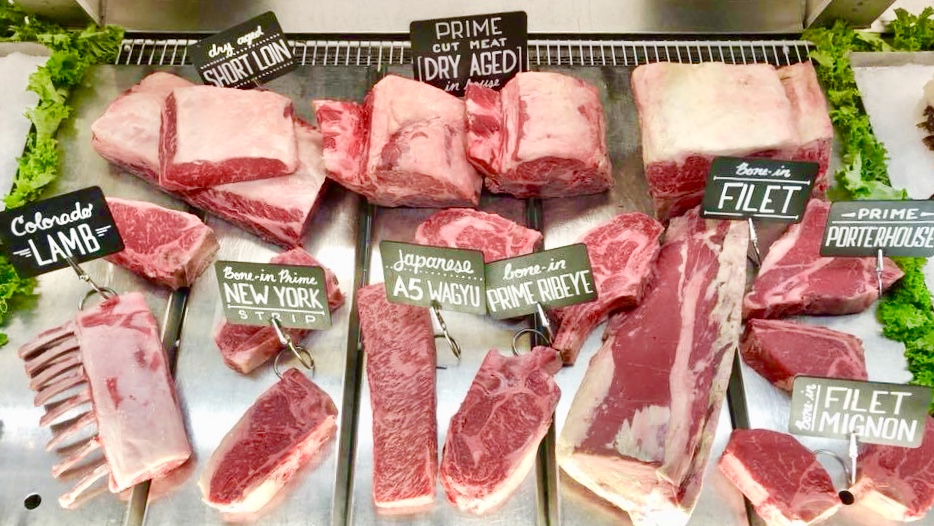 Dallas & Houston, Texas 
I've dined at both locations Dallas and Houston. Pappas Bros Steak House is best described as deliciousness! They opened in 1998, and honestly, I've been going ever since then! Back in my NASCAR days, we would take a helicopter to Pappas, eat then fly out to Texas Motor Speed Way for the races. This place is perfect. They have a large selection of beef and cuts. If you're looking to impress someone, close a deal or make something happen then take them to Pappas. They will have an incredible time. My favorite cut of meat at Pappas is really anything, but I do love the three peppercorn steak. MY MOUTH IS WATERING NOW!
Michael's Cuisine on Upper West 7th
Chef M.T. Michael 
Fort Worth, Texas 
Michael's Cuisine has been around for so long that I consider it to be a Fort Worth staple. Chef M.T. aka Michael Thomson works hard to keep his menu offering different dishes depending on the season, and he gives back to the community in so many ways. This cozy restaurant is located on upper West 7th. It has fireplaces, Texas décor, and an old-school Fort Worth feel. I truly love everything Chef M.T. creates and slings out the kitchen. I especially adore his appetizer "Texas Quail Pops", and for my favorite cut of meat… It would have to be the "Cowboy rib eye" because it is so delicious, tender and juicy. I always want to order an extra to take home with me! When you have time to check out Michael's, tell'em Trey sent you!
Chef Jon Bonnell 
Fort Worth, Texas 
Bonnell's…where do I start with the famous Bonnell's? I can tell you Bonnell's has been one of the driving forces in the great Fort Worth steak and exotic cuisine business for years. The dishes that roll out of the kitchen at Bonnell's are always incredible (to put it mildly). Everything on the menu is packed with flavor, farm fresh and locally sourced ingredients! I love dinning with Chef Bonnell because he has a true passion for Texas. One of my favorite appetizers he offers is ANYTHING, and I mean that sincerely. My favorite cut of meat would be the Wagyu rib eye from rosewood beef in Ennis, Texas. This particular cut is aged in house for 35 days. The flavor really pops in your mouth and will have your taste buds dancing the Texas two-step. Check out Bonnell's and tell 'em Big Trey sent you!
Chef Troy Guard 
Denver, Colorado 
I truly love this place in downtown Denver. Named after the chef's daughter, Grace Troy Guard, as created magic in Denver. This steak house has an amazing display of its award-winning interior, big fire grills, oyster bar, spaciousness and a wide selection of beef. It is truly a masterpiece. The cuisine is creative, the steaks are farm fresh and packed with deliciousness. My favorite cut of meat is the 18oz. dry aged bone-in NY strip. The service is first class, and even worth a round flight trip to Denver just to dine here for the evening. Guard and Grace is always on point.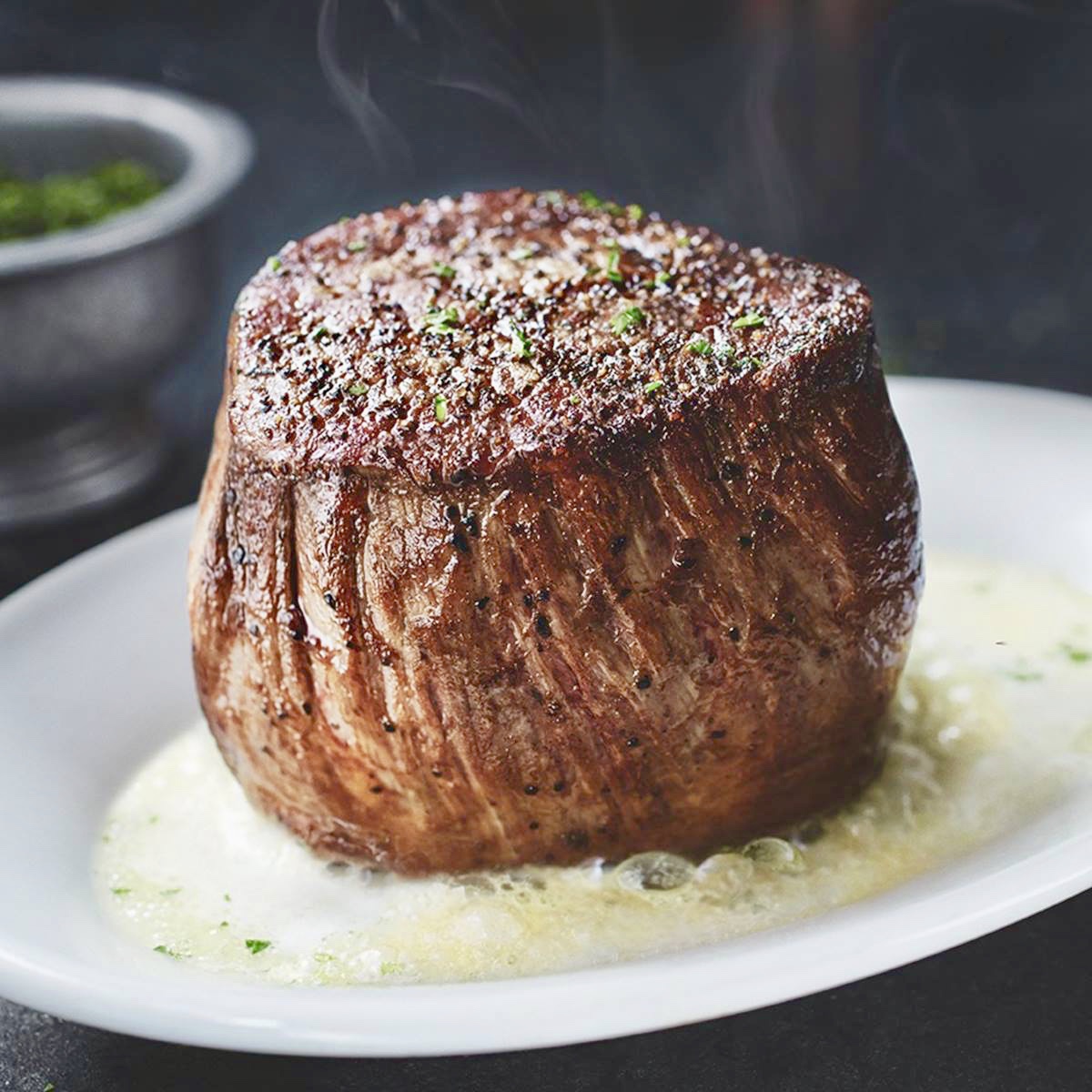 Located all over the U.S.A.
I've always loved the cozy atmosphere at Ruth's. Over the years, I've dined at their Florida, Texas, Nevada, Louisiana and California location. An 1800-degree broiler cooks the steaks, creating a flavorful sizzling steak. I love this cooking process. My favorite cut of steak from Ruth's is the juicy 8oz tenderloin. If you're not in the mood for steak, then you're in luck because Ruth's has one of the best chicken dishes in the U.S.A. I highly recommend the stuffed chicken breast with oozing cheese.
Located all over the WORLD
While they have multiple locations in the USA and abroad I've only eaten at the Beverly Hills location two times.  It has a very cozy atmosphere with some fantastic lighting and doors that open up to the street. Both times I've enjoyed my dinner all the doors have been open bringing the wonderful California evening inside, and creating a fantastic dinning experience. I always love the fresh air and the street sounds when dinning in Beverly Hills.  If you view the website it will state that after 4 decades of experience, it is fair to say that Wolfgang Zwiener learned his craft well. Taking the core principles from his years as Peter Luger's head waiter, Wolfgang didn't just duplicate an exceptional steakhouse; he improved upon it making Wolfgang's Steakhouse extraordinary.  Wolfgang's Steakhouse is serving lunch and dinner seven days a week including all major holidays. I enjoyed the Porterhouse and some amazing wine from the nice glass wine cellar. I would make plans to join a Wolfgang's for dinner they have plenty of locations and you will enjoy every bite.
Fort Worth and Arlington, Texas
Mercury Chop House is a cozy steak house with dim lights, soft live music, great steaks, friendly service, and a down-homey atmosphere. I've always loved Mercury and all it offers. My favorite cut of meat is peppered steak served with mashed potatoes and the vegetable medley. The restaurant located in Arlington is high a top in a building with wide windows and great views. If you haven't been to Mercury, make sure you make plans today.
Del Frisco's Double Eagle Steak House
Located all over the U.S.A.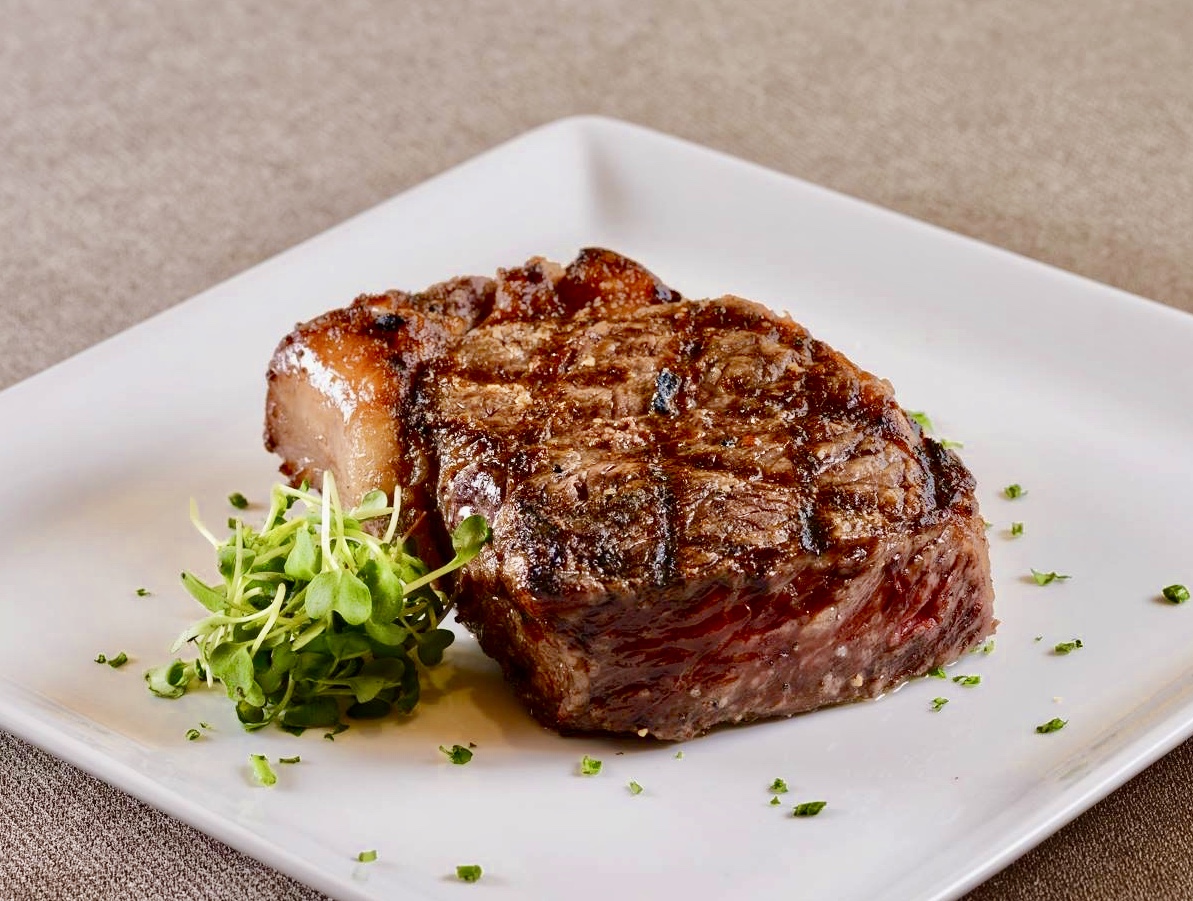 Del's is always at the top of everyone's list for great steaks and a classy rich atmosphere. They offer incredible service, creative menu items, great cocktails and lots of delicious beef options. I love the big thick bacon appetizer, thick-cut Nueske's bacon au poivre with a bourbon molasses glaze. It is super delish. My favorite cut of meat at Del Frisco's is the 14oz. boneless akaushi wagyu ribeye. Check out Del's today and start living the dream.
The Edge Steakhouse at Westgate Resort
Las Vegas, Nevada and Park City,Utah
I really love the Edge Steakhouse for it's extremely cozy and contemporary feel with bright interior colors. The menu is first class, creative, and the beef cuts are melt-in-your-mouth DELICIOUS. The staff is very friendly and the service is perfect. I eat at Edge Steakhouse every time I'm in Las Vegas. It's a must! My favorite cut of meat is the 14oz. wagyu beef New York strip. So good… you will be in steak heaven.
Hunter Brothers H3 Steak House
The Stockyards in Fort Worth, Texas
H3 is truly a one-of-a-kind steak house with it's own special flare. The historic stockyards of Fort Worth set the perfect cowboy atmosphere for this cozy restaurant. It has one of the best steak house cocktail bars in the U.S.A. You can sit on saddles while you drink Buffalo Butt Beer and socialize with some real cowboys. The beef cuisine is fire-grilled with wood, which produces a fantastic and unmistakable H3 flavor. The aroma floats around H3 of the live hickory wood fried grill. It is simply awesome. My favorite cut of beef is any steak they offer cooked on their hickory wood grill. Don't forget the "9-Miles Of Dirt Road Dip"! Oh my gosh it's so delicious, it is what dreams are made of.
Chef Grady Spears 
Fort Worth, Texas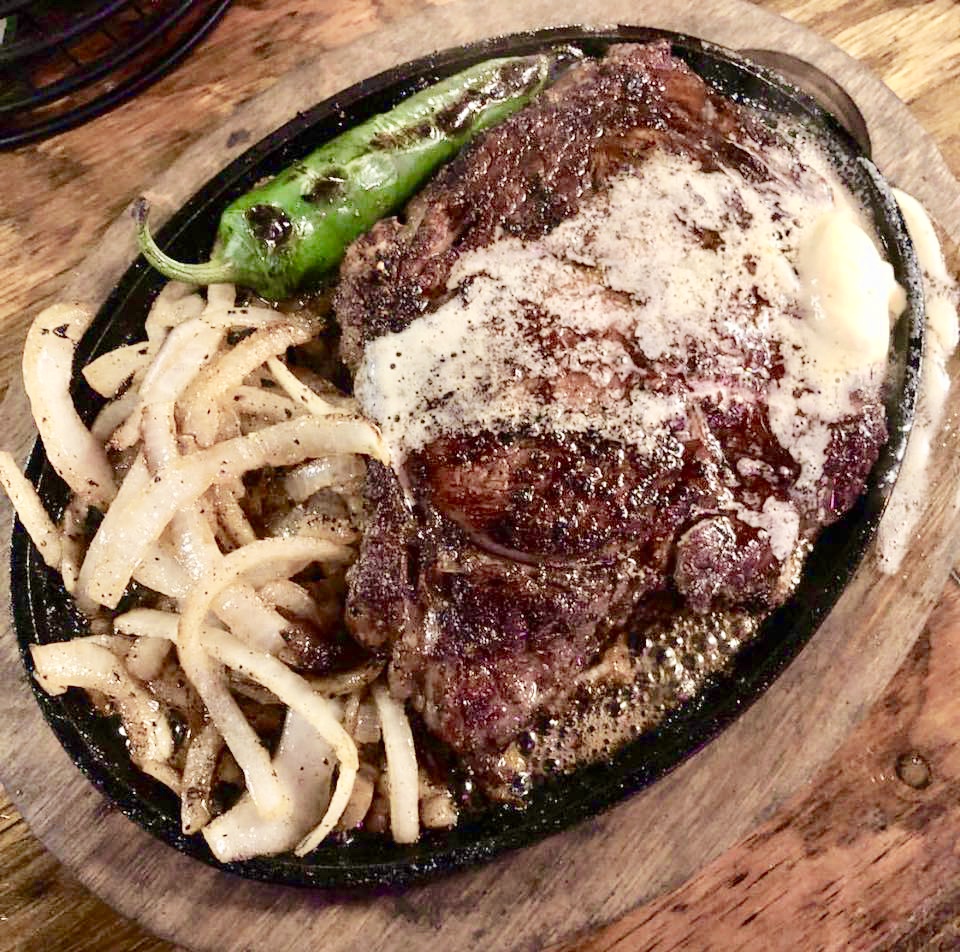 My, my, my… Horseshoe Hill. Where EVERYTHING is so delicious you will think you're dreaming. You will need to ask someone to pinch you, smack you or step on your foot because you will not believe how flavorful your meal is! This is a cozy, quaint little steakhouse and eatery. Even though it is charming, it will blow your mind away. My favorite cut of meat from the Hill is anything they offer. If you're not in the mood for steak, the try the award-winning chicken fried steak. The experience from Horseshoe Hill will last a lifetime. You'll be telling all your friends and returning for a second, third, and fourth time forsure!
Chef Zane 
Paris, Texas 
 The Barn Cafe is truly a down-home country-cooking cafe. Not only do they offer delicious hand-cut steaks, they have a variety of house-made cuisine by country Chef Zane. Chicken fried steaks, delicious chicken, pork chops… and their hand-cut steaks on Friday and Saturday nights are truly amazing. The service is casual, friendly and served with a smile. The steaks are big and packed with flavor! The house-made desserts are always excellent and ready to please. Check out the Barn Cafe in Paris, Texas. It's worth the drive if you wanna see some beautiful country outside the DFW area!
DFW Area and Stephenville, Texas  
When you enter Hard Eight you can see all the cooking areas and smokers rolling with beef cooking. They have a separate cowboy grill area where you can watch your steak cooking over an open fire. You choose the meat and they will cut it fresh and throw it on their grill. You can watch out the cook or be seated at your table and they will bring it to you when it's ready. It's very hard to walk past all the other deliciousness foodie offerings at Hard Eight before you are seated. I would suggest getting some old horse blinders and strap them on so you can walk to your table without filling your plate full of smoked meats and sweet treats.
——————————————————————————–
Thanks again for your love and support for Trey's Chow Down! Hope you enjoyed! Share this with your foodie friends and have a great rest of the year, folks!