Wow, what a year 2020 was for the restaurant and service industry, and not in a good way. Thank goodness it's over and we can move on down the road.
If you follow me then you know I'm extremely passionate about food, drink, creative chefs, awesome service folks, and the restaurants and grub pubs that host us. Last July I started pondering on what I could do to help support local restaurants, chefs, and the service industry. Something that was different, exciting and fun!  I wanted to create something special that hadn't been tried before. After tossing a few ideas around, the big light in the oven came on, and there it was, swirling around in my brain like berries in a blender. A fantastic and outrageous idea!
I created an outrageous, Texas-sized over-the-top menu full of unique, creative, colorful, delicious, and some massive dishes. These dishes would have to be Chef-driven, very large, creative, and delicious. A few are just simply unique but also delicious. True foodies and couples will love these dishes. They can be shared, used as food challenges, or just eaten because you love food. Whatever the reason, this menu sparks your foodie senses and will make you want to take a trip straight to Delicious-Ville. #Deliciousville
I got together with ten North Texas chefs to discuss my ideas, and some of those chefs even created new and special dishes just for the new Trey's Chow Down Menu. I also located dishes that had already been created but would fit with the new menu. We have everything from breakfast to dinner;  Burgers, BBQ, Seafood, Steaks, and more!
I made trips all over North Texas and tried every single dish myself. I watched the dishes being created and then I chowed down like a pig at the trough. What I ended up with was some unbelievably amazing dishes that are not only delicious and creative, but they are memorable as well. Dishes you can't and won't forget!
When you see these dishes, they are visually R.I.D.I.C.U.L.O.U.S! Every single person will say something like, "OMG, WTH Is That!" Believe me – I know because that's all I've heard for the last eight months while working on this new menu.
I'm asking each of you to please enjoy one or more of these dishes and reshare this article to help support local restaurants and chefs. I want you to have fun and enjoy these Texas-size eats and your trip straight to delicious-Ville. 
Time to saddle up and chow down my chowhounds!
The Colony Texas
Chef Kevin Lee  
I'm going to tell you right now: if you don't want to eat massive burgers, DO NOT go to K POP. Every burger they offer is a massive stack of meaty, savory deliciousness. Once you get one of these burgers you will be slinging sauce ear to ear. I tried the 3.5 Pound "Bang Tan Burger", which was loaded with: Eight (1/2 Lbs) fresh Angus beef patties (x5), grilled pineapple (x2), grilled jalapenos, grilled spam patties (x2), American cheese (x6), pepper jack cheese (x4), and fresh house-prepared K3 Sauce that will have you licking your lips in a food coma.
Fort Worth & Burleson
Chef Rex Benson
Breakfast Dish: "The Texas Chow Down" – Prepared with four eggs, two ham steaks, six slices of bacon, a 1/2 pound of golden brown hashbrowns, loads of American and Cheddar cheese All stacked between two texas shaped Belgium waffles. The breakfast Gods are smiling on this NEW special created breakfast dish!
McKinney, Texas
Chef Adam West aka Batman 
Anytime Burger: "The Hamilton" – It's prepared with 1/3 lb. House-ground wagyu beef, house-smoked prime brisket, smoked jalapeño cheddar sausage, three slices of bacon, loads of cheddar cheese, farm-fresh grilled onions and jalapeños, with some creamy mayo. It weighs over one pound! Loaded with meaty deliciousness. You wouldn't think all of those different proteins would work to combine the perfectly flavored massive burger, but IT DOES!
Oak Cliff,  Dallas
Chef Jonathon  
Brunch Dish: "Chicken Bang Bang" – Prepared with Chef Jon's special Fresh Chicken Fried Chicken, then tossed and smothered in a house prepared Citrus-Ghost Pepper Glaze. Served atop a mound of house prepared Cheesy Grits with two Eggs and a simple fresh house Cilantro Slaw. Holy Brunchness Weighing over a pound this was unbelievable and I couldn't even finish it. It was served HF&D #HotFreshandDelicious.
Fort Worth, Texas
Chef Billy Woodrich  
Anytime Burger: "Trey's Big Burger" – prepared with three 1/4 patties, three slices of American cheese, four slices of bacon, loads of pulled pork, all stacked between 2 grilled buttery buns. Top with fresh onion rings and fresh pour-over Queso. Boom! That's all you need… Over a pound of meaty, cheesy deliciousness.
North Texas Area
Restauranture Dallas Hale  
All-day seafood: "THE HEAVYWEIGHT" – prepared with two lbs. of SNOW CRAB, two lbs of SHRIMP, one lb. Of KING CRAB, two fried FRIED CATFISH FILETS, eight FRIED SHRIMP, eight CORN, twelve POTATOES, twelve SAUSAGE,  fresh FRIES, and loads of HUSHPUPPIES. Wow, a seafood experience like no other! Seven pounds of smack you in the face seafood deliciousness. Feeds five to six PEOPLE and is market priced.
Dallas Texas
Chef John Tesar  
Dry-Aged Steak: A 240 Day Dry-Aged 103 Niman Ranch Rib Eye. This steak is massive and loaded with deliciousness. I've eaten it and featured it on my Fox network TV special. You won't find a better steak. The numbers break down: it's thirty-two ounces, or two pounds, of meat heaven. If you love steak you need this in your life.
Oak Cliff, Dallas
Chef Jonathon  
Lunch Burger: "The Trey' Double Down" – Two 1/2 pound burger patties, slices of succulent Bacon,  a mountain of mushrooms and grilled onions, loads of cheddar and Provolone cheese, slices of Avocado, and house-prepared Chipotle Mayo, all stacked between a fresh grilled Kaiser Bun. Served with Jonathon's house custom French Fries. With this dish weighing over one pound you better pack those bags this was a trip straight to Burger delicious-Ville.
Lewisville Texas
Jackie's Culinary Team  
Breakfast Dish: "One Pound Biscuit and Gravy" – Wow! Prepared with a one-pound house biscuit, house sausage gravy and served with butter and extra gravy. It is savory, creamy, lip-smacking, party-in-your-mouth delicious. You ever had a one-pound biscuit? They also have pancakes the size of your head!
Dallas Texas
Chef Mike 
Breakfast or Brunch Dish: "Chicken, Bacon, and Waffles " – Prepared with a freshly fried chicken breast and loads of crispy bacon, served on stacked house-prepared Belgium waffles, then topped with fresh strawberries and house prepared cream puffs. A Texas staple combined with a Canadian staple and BAM! Just downright ridiculous.
Burleson Texas
Chef Keith Button Hicks  
Brunch Dish: "Texas Bloody Mary" – Chef Keith Button Hicks is slinging deliciousness with his one of a kind chef-driven bloody Mary that is loaded with southern eats. Prepared with two chicken wings, two bacon-wrapped shrimp, a house-prepared stuffed pretzel, asparagus, house prepared Chunk of Andouille Sausage, Various Peppers, vodka, farm-fresh celery, olives, and house-prepared mix. This has that culinary jingle you're looking for in a brunch dish. Check it out and sling it back.
Fort Worth Texas
Pitmasters Chris and Ernie 
When you think of Texas BBQ, MEATY SUCCULENTNESS always comes to mind. Low and slow smoked meats that are prepared with passion. Chris and Ernie have come up with an outrageous sandwich that has all the Texas BBQ you need. The "South Side Slammer" – prepared with house-smoked bologna, thick house-smoked brisket, tangy pulled pork, and stuffed jalapeno peppers. This sandwich embodies the word "EXCESSIVE ", and I love that word. The more meat the better!
Strawn Texas
Owner Chef Mary  
Boys and Girls, ladies and gentlemen, now hear this: If you love big, thick, flavor-loaded homemade chicken fried steaks with mashed tators then head to Mary's in Strawn, Texas. You won't find a better, bigger, gravy-loaded chicken fried steak than at Mary's. I swear this steak and tators with gravy must weigh over 2 pounds! It's prepared fresh when you order it and served HF&D #HotFreshandDelicious. Make the drive and arrive at deliciousness! I KNOW YOU CAN 'T FINISH IT. I DARE YOU! I choose to use the ( Texas Country Report Video because it was so GOOD!)
Round Rock Texas
Donut Culinary Team  
I left early one morning around 4:30 am to make the drive to Round Rock, Texas for some sweet, savory, flavor-loaded, and the biggest donuts in Texas. One donut is the size of a dozen. Yeah, that's what I said. Twelve donuts in one! Now that is Texas-size. You can get them glazed, or chocolate frosting or you can get 1/2 and 1/2. This donut is just STUPID BIG and Stupid Delicious. Make the drive and have some fun – you will enjoy it. I loved it!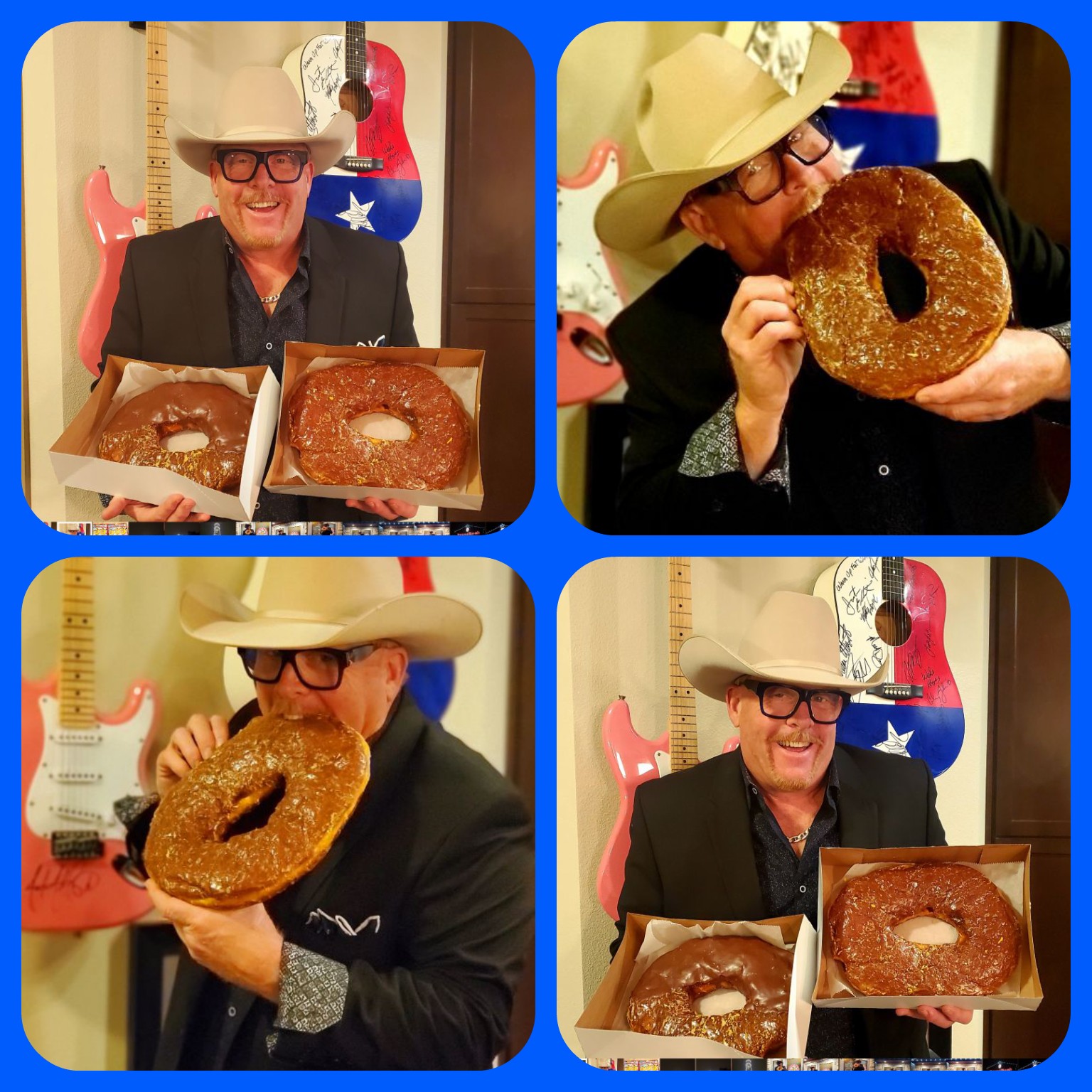 North Richland Hills Texas
Burger Makers  
Woo-Hoo BURGER TOWN here we come! I tried the "Triple XXXL Triple King Burger" – it weighs 1.5 pounds and is 2000 calories. It's prepared with three 1/2 pound patties, three slices of cheese, and fixings all stacked on a fresh, tasty bun. I added extra cheese and bacon to construct a monster burger. If you can finish this monster burger you can go on their wall of fame. It is flavorful, delicious, and will send you to Burger Town. GET YOU SOME.
Fort Worth Texas
Chef Juan  
Let's talk burrito perfection. Who wants a TWELVE INCH breakfast or lunch burrito? That's what I said: a foot-long, one-pound Burrito. Chef Juan is slinging fresh and delicious burritos that are prepared fresh to order. I ordered a twelve-inch burrito which was prepared with fresh barbacoa with all the fixings and hand prepared tortillas. It was absolute burrito perfection – be sure and grab some hot sauce too.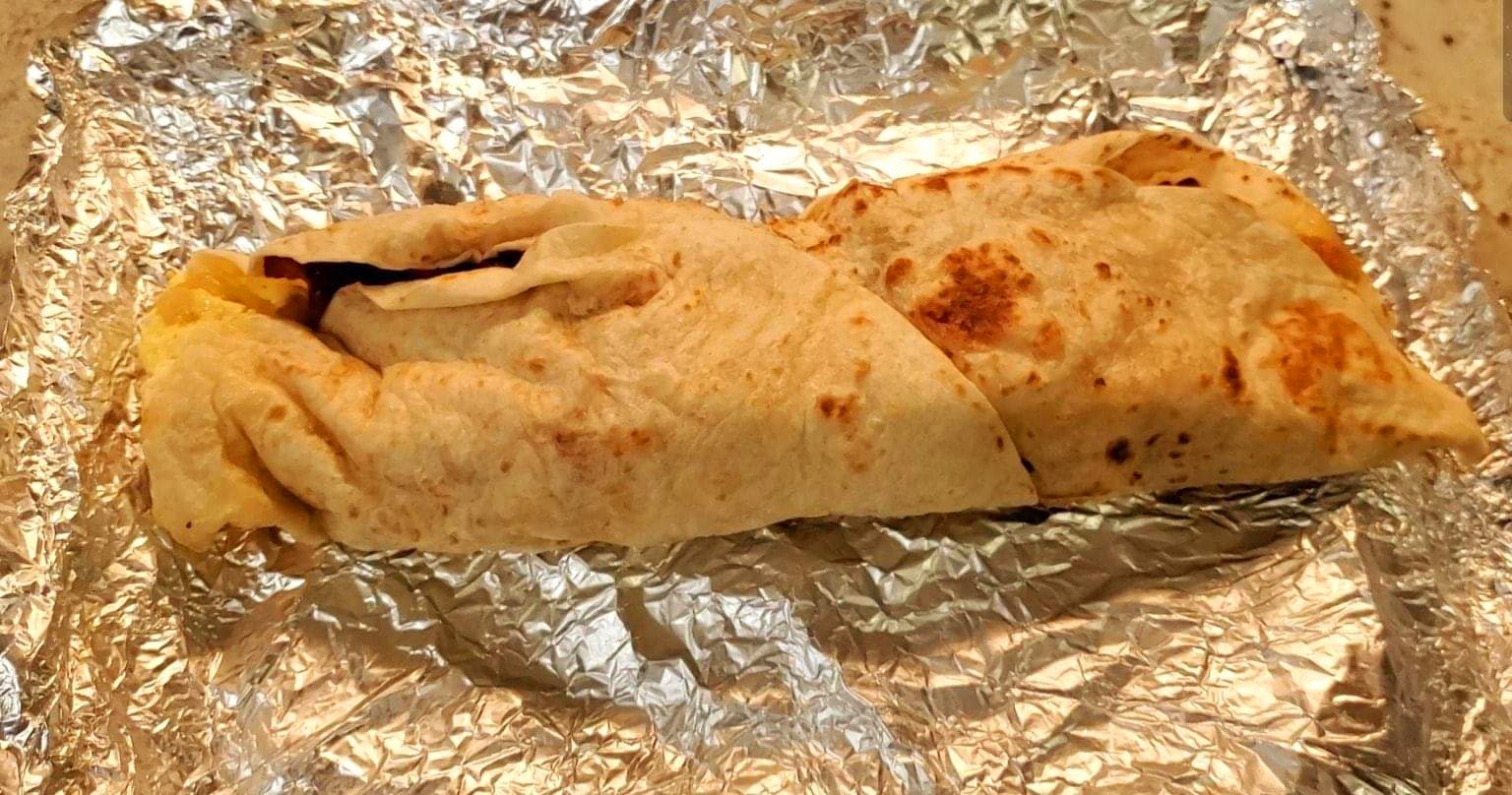 Dallas Deep Ellum Texas
Working Pitmasters  
The NEW Terry Black's BBQ in Deep Ellum has an amazing dining room, an incredible outdoor patio, and a second upstairs outdoor patio dining area. They offer fresh prepared Texas BBQ that is delicious. The BIG T-REX looking BEEF Rib is what I want to talk about. Over 1.5 pounds of Texas BBQ MEATY SUCCULENTNESS. If you love Texas BBQ YOU CAN'T go wrong with this Beef Rib. You will have a flavor rodeo in your mouth and a smile on your face when you finish this dish. Just #StupidDelicious.
Fort Worth, Texas
Restaurateur Sammie & Sammie Jr. 
Pork Chop Craziness lives at Sammies on Belknap in Fort Worth. They call it Pork Chop Fridays. I just call it a massive pork chop coma, because after you eat this deliciousness it's nap time, baby – lights out! They start with a 1.5 to 2-pound pork chop, season it, and low smoke it to pork chop perfection. It's succulent, meaty, deliciousness that is bursting with flavor and I know this because I couldn't stop shoving it in my mouth. Check it out at Sammies and don't forget the house prepared Sammie's sauce!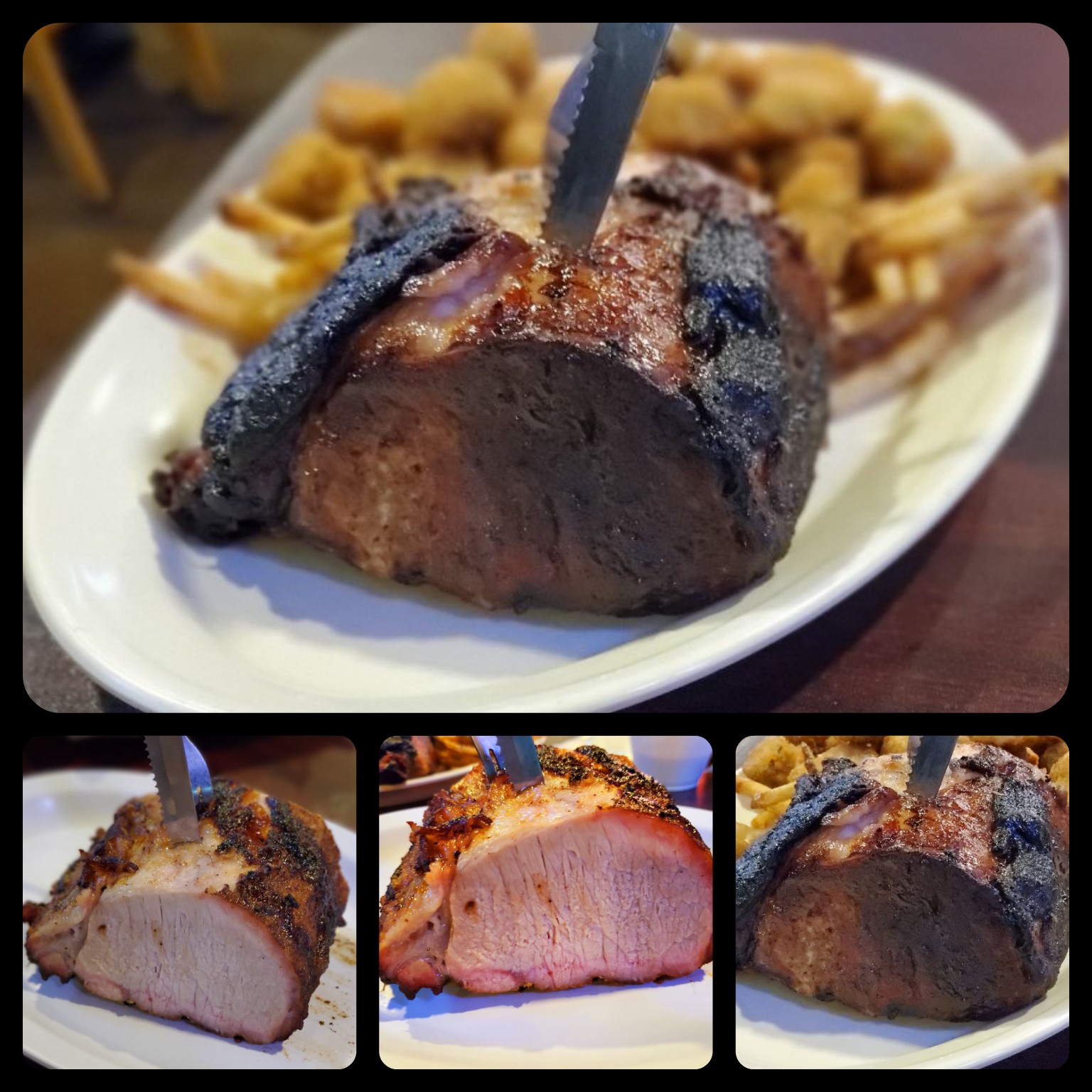 Dallas / Fort Worth Texas
Culinary Burger Team  
Jake's is a locally owned Hamburger joint that has multiple locations in the DFW metroplex. They have a massive burger they offer for their big burger challenge called the El LOCO OCHA BURGER, which is eight Patties, eight Slices of Cheese, eight Slices of Bacon, fried Jalapeno peppers, and vegetables. This BURGER was R.I.D.I.C.U.L.O.U.S and it is SPICY! if you're looking for a REAL BURGER challenge head over to Jake's Burger and check out the El Loco! I bet you can't finish it!
Dallas Texas Omni Hotel
Restaurants on Lamar
Sushi Culinary Team  
Although it is temporarily closed due to CoV-19, I wanted to still highlight this dish because they will reopen soon. The Black Ship Little Katana Fresh Sushi Boat. The boat is filled with various sushi options of your choice, and it has plenty of choices. My best judgment is it weighed over two pounds when I picked it up. Everything in the sushi boat was so tasty and fresh. We really enjoyed each piece of sushi offered in the boat; it was massive and two of us couldn't finish it. A seaside boat of sushi deliciousness!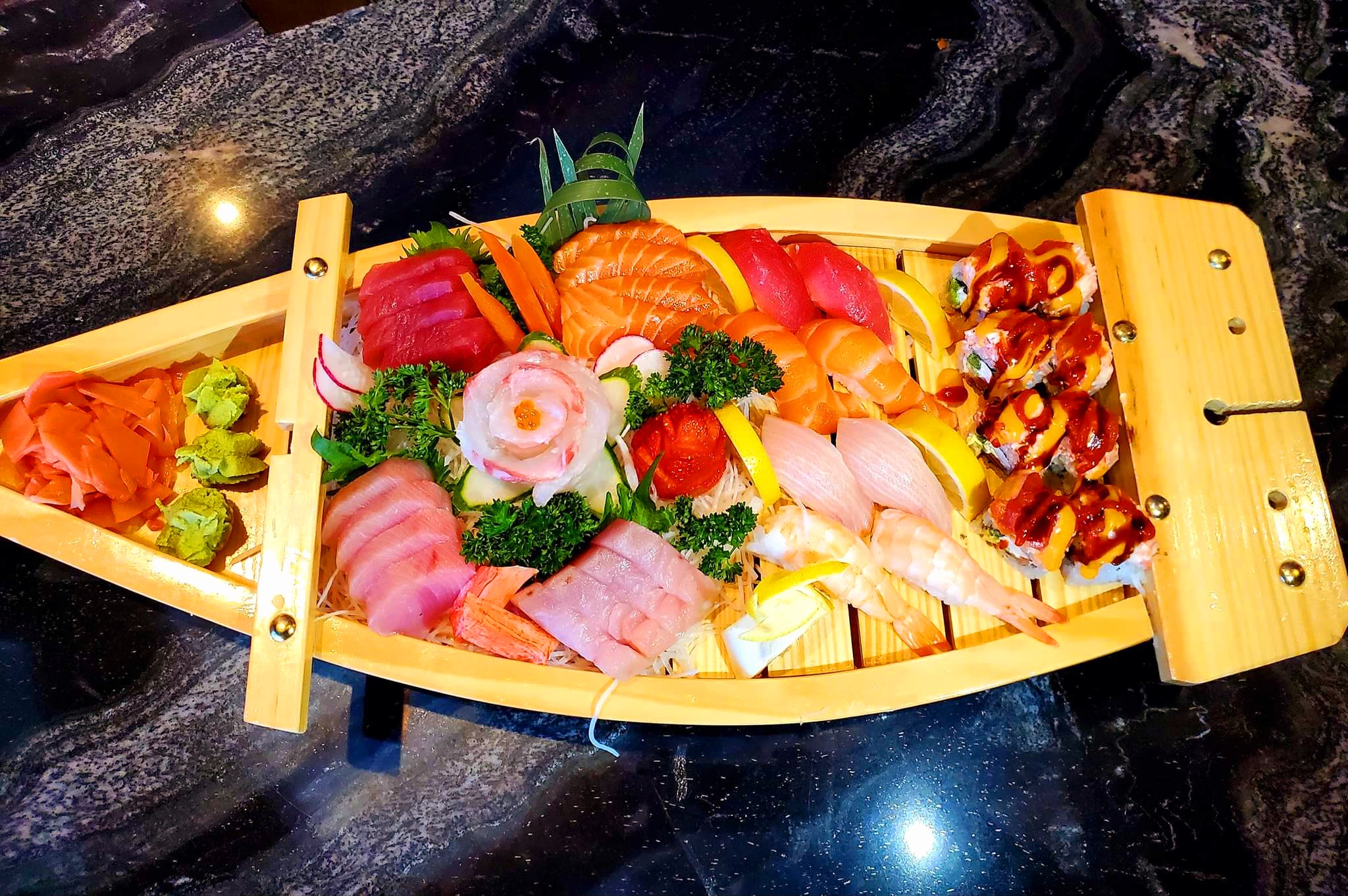 Cleburne, Texas
Culinary Hot Dog Team   
All-day dogs and sides: "BIG BAD 2 FOOT POPPY DOG" – prepared with one lb. of hot dog fixings, soft tasty buns, loads of cheese, sport peppers, two 12" Vienna Beef Franks and comes with chips and a drink. This dog is not only delicious it's fun to eat and always prepared fresh to order. It can feed one to three people.
DFW Metroplex Locations
Pizza Zealots  
Reaper Roulette Pizza Challenge: Order any LARGE pizza and you're ready to take Zalat's spicy pizza challenge? Zalat has sourced some of the hottest sauces to put this insane challenge together. They're talking Scoville units eons beyond sriracha, even hotter than that last Tinder swipe, you get the picture. Here is how it works?
1. Order any pizza for delivery or pick-up on their website, our app or a 3rd party delivery app.
2. Add on "Reaper Roulette" to the pizza for only $2.50
3. We add a few drops of hot sauce to only ONE secret slice.
4. You and your shelter-in-place roomies or family can get to play a little game of pizza roulette to see who picks the slice.
It's one of the BEST foodie games worth playing. We played LIVE on our T.V. show and it was fun. I DARE YOU!
DFW Metroplex Locations
Biscuit Bar Culinary Team 
Anytime Biscuit: A Texas size biscuit that goes by the name of "The Rough Night." This thang is crazy it's prepared with all the goods. A big fresh southern fried chicken breast, a juicy burger patty, slice of ham, slice of smoked turkey, some pulled pork, few slices of crispy bacon, tater tots, plenty of cheddar cheese, and house-made sausage gravy to pour over the top. It's crazy biscuit that will send you to the flavor rodeo. I dare you!
Fort Worth, Dallas & Denton, Texas
Chef Ito Takao Culinary Team
Unique isn't the world for this dish from Chef Ito Takao. I love this place and have been chowing down here since they opened. They offer ramen & other traditional Japanese dishes on the menu at this modern izakaya-style restaurant. They prepare everything from scratch only using farm fresh Ingredients and vegetables. The GODZILLA challenge is RIDICULOUS extremely spicy. I dare you to try this challenge! Just watch the video from Chef Ito Takao Hanabi.
Downtown Grapevine, Texas
Pitmaster Trey and Pitmaster Team
Pitmaster Trey and his Vaqueros Texas Bar-B-Q team or slinging the unique "BBQ BIRRA TACOS." These tacos are stuffed with their house smoked succulent bbq beef and loaded with flavor. Served with their famous " Beef Concome' Sauce " which takes hours to create They are truly "Stupid Delicious! " I like to call them JUICY TACOS because when you dip them in the beef sauce they become extremely juicy. Located at 
Hop and Sting Brewery
in Grapevine Texas you can also enjoy some flavorful and unique craft beers with your tacos.
As you can see folks, these dishes are absolutely some of the most UNIQUE and BIGGEST dishes you will find in North Texas. Nearly every restaurant needs support right now and I'm asking each of you to get in your vehicle, on your horse, on a bus, on a bike, or whatever it takes to try some of these delicious dishes.
Be sure and post some photos and tag us @Trey's Chow Down and Hashtag us @ #TreysBigChowDownDishes for a chance to win cash prizes and food. To win you must Hashtag us in a photo – we will have several drawings. 
Thanks,
Trey (Chow Down) Chapman