It's been chilly outside a few days this month. Anytime it's cold I start thinking about delicious savory chili.
If you follow me, you know how much I LOVE beef or proteins like chicken and pork. That being said winter and the cold time of year always screams CHILI to me with plenty of proteins for that downhome southern comfort feeling.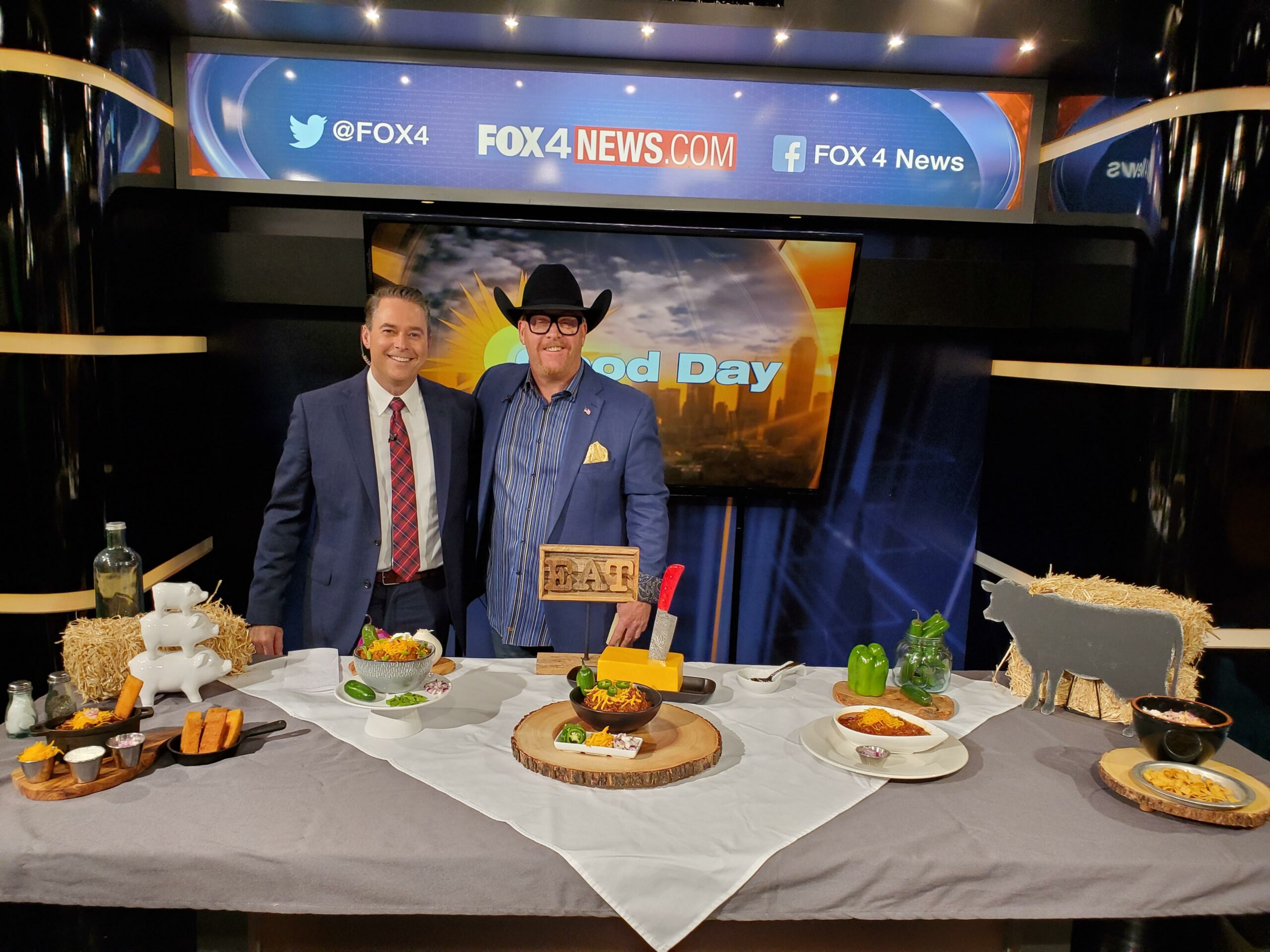 Today chefs prepare chili with various types of proteins. They use ground beef, smoked brisket, smoked rib meat, bacon, or pork belly, venison, some even use chicken!
Gone of the days of old where chili just had ground beef.
The possibilities are truly endless when chefs are trying to create the tastiest chili dish.
You can't forget vegan chili… Some folks just want chili without the beef! To each his own. I just want everyone to enjoy some lip-smacking, toe-tapping, knee-jerking chili of their choice.
When I eat my chili I get a bowl of flavorful chili top it with massive amounts of cheese, some onions, jalapenos, and a dash of my favorite hot sauce. I get cozy and start chowing down on my favorite chili.
If you research chili you will find that is was proudly introduced in Texas, yep San Antonio.
"An old legend holds that immigrants from the Canary Islands brought a recipe for chili with them when they settled in San Antonio in the early 1700s. Historians do know that chili was a popular meal amongst cowboys and pioneers on the Western frontier. In the 1880s, chili stands became popular in San Antonio selling chili citywide."
When I spoke with the producer at Fox we discussed locating the BEST chili in North Texas so everyone could enjoy some of the best chilies during the 2019/2020 winter months.
I spent weeks locating and trying chili all over the North Texas area.
There are so many creative and talented chefs preparing flavorful and delicious chili these days it wasn't hard to locate some savory chili dishes that everyone can enjoy.
The hard part was testing and eating it all. If you want to create the best possible chili experience for an article or a TV program for folks you have to try it all.
You can't internet food and hope it's delicious. Although a lot of writers do this I feel it's extremely important to try it.
You have to get chili all over your chin. Let it run down the sides of your mouth and feel the deliciousness roll across your pallet. There is just something about savory chili juice running down the sides of your mouth and sometimes even dripping on the table. You know, the C.D.G. factor as I like to call it. If you don't know what C.D.G. means let me explain. It's clearly the " Chili Drip Grease Factor".
The biggest question is still BEANS or no BEANS. That is a big question in Texas. People will fight over the beans or no beans issue.
I love beans and always have just not in my chili. I'm a true Texan so I would say NO BEANS in my chili. That being said I judge a lot of chili and I've eaten a lot of chili that has beans.
Beans change the flavor profile and do add a different flavor but some folks still swear by NO BEANS.
Well, my chili chow hounds I've located some creative savory chili dishes that are truly delicious in the North Texas Area.
Any of my choices below will give you the C.D.G. Factor aka the "Chili Drip Grease Factor."
I encourage you to try them all and let the grease run down your chin.
My chili choices or geographical located in North Texas area ONLY! 
Argyle, Texas
Pitmaster Bryan
Fresh Brisket Chili
Just north of Fort Worth in Argyle, Texas, 407 BBQ is slinging flavorful award-winning craft BBQ, delicious sides, and some savory chili that is loaded with flavor. The first time I tired Bryan's chili I fell in love with the flavor profile. I've loved it ever since and will drive to Argyle Texas aka North Fort Worth to CHOW DOWN on it.
Omni Hotel Lobby
Fort Worth, Texas
Omni Culinary Team
Fresh Elk Chili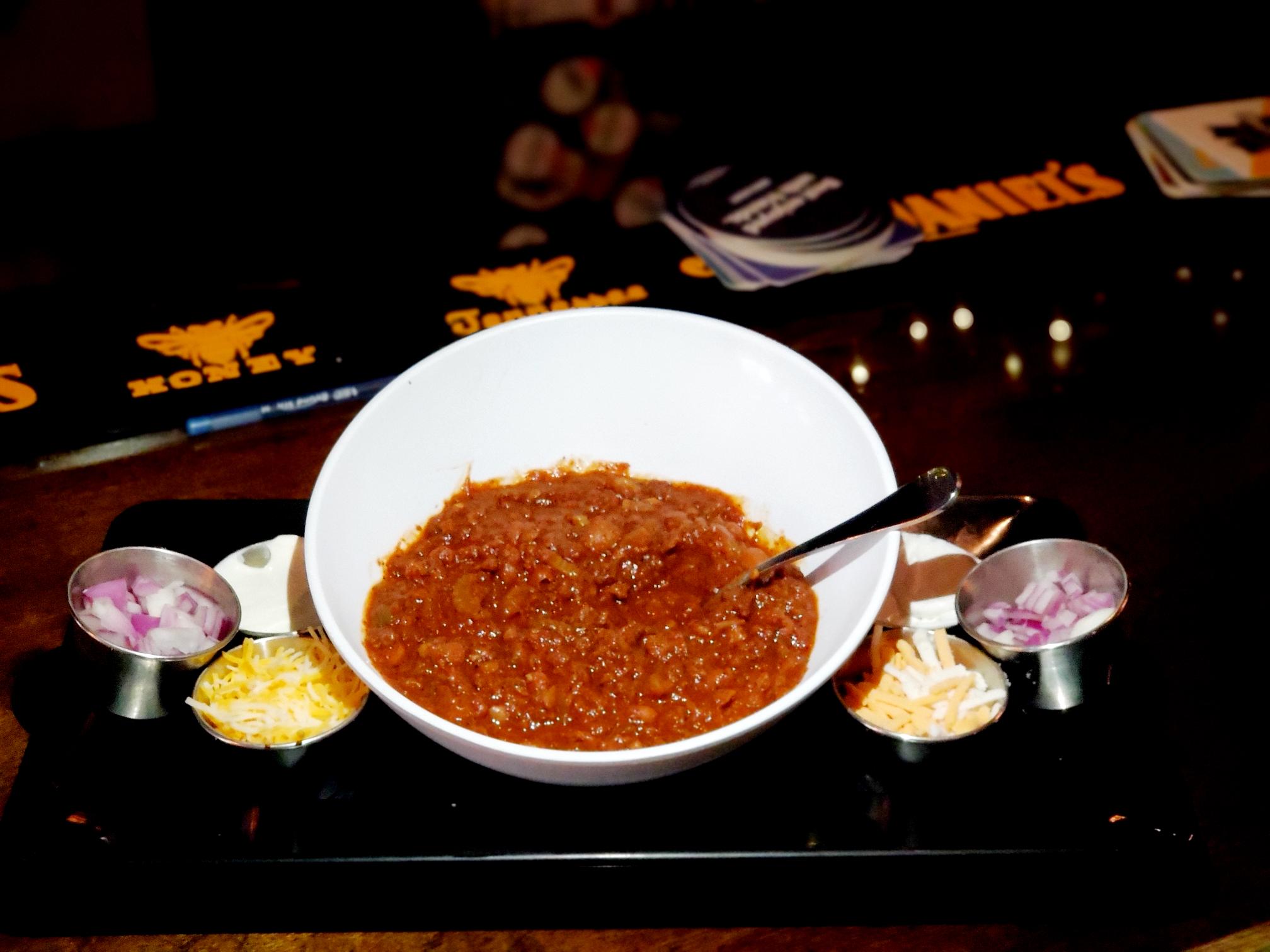 I know what you're thinking… Omni Hotel? Yes, the Omni hotel. They create deliciousness at Whiskey & Rye. It's a chef-driven concept using fresh ingredients to create bold flavor profiles. They have a fresh Elk Chili that is slap your mama good. Elk Chili: it's prepared with Ground Beef and Ground Elk meat and then they add fresh bacon too. It prepared with other various fresh ingredients then Topped with Cotija Cheese, Pico de Gallo, Cilantro. Come on baby it's lip-smacking delicious.
Deep Ellum
Dallas, Texas
Anvil Culinary Team
Vegan & Beef Chili
The Anvil Pub is a fantastic cozy little spot in the middle of Deep Ellum. They have a Chef driven menu and create some amazing flavorful dishes… They have award-winning Chili. They also have award-winning bloody Mary's too. I can see you now. A savory bowl of fresh chili and a big bloody Mary, WOW!
They have two chili options a beef and a vegan chili. I've eaten both chilis enjoyed them. They're loaded with flavor and deliciousness. The vegan chili is also incredibly tasty. I was shocked at how much I enjoyed the vegan option!!! Check out Anvil and Chow Down.
Arlington Texas
Pitmaster Brandon
Rib Meat Chili
If you haven't tried Hurtado Barbecue, then you haven't lived. They have a little place located in downtown Arlington where they are slinging deliciousness on the street. Their new building is under construction and will be ready soon.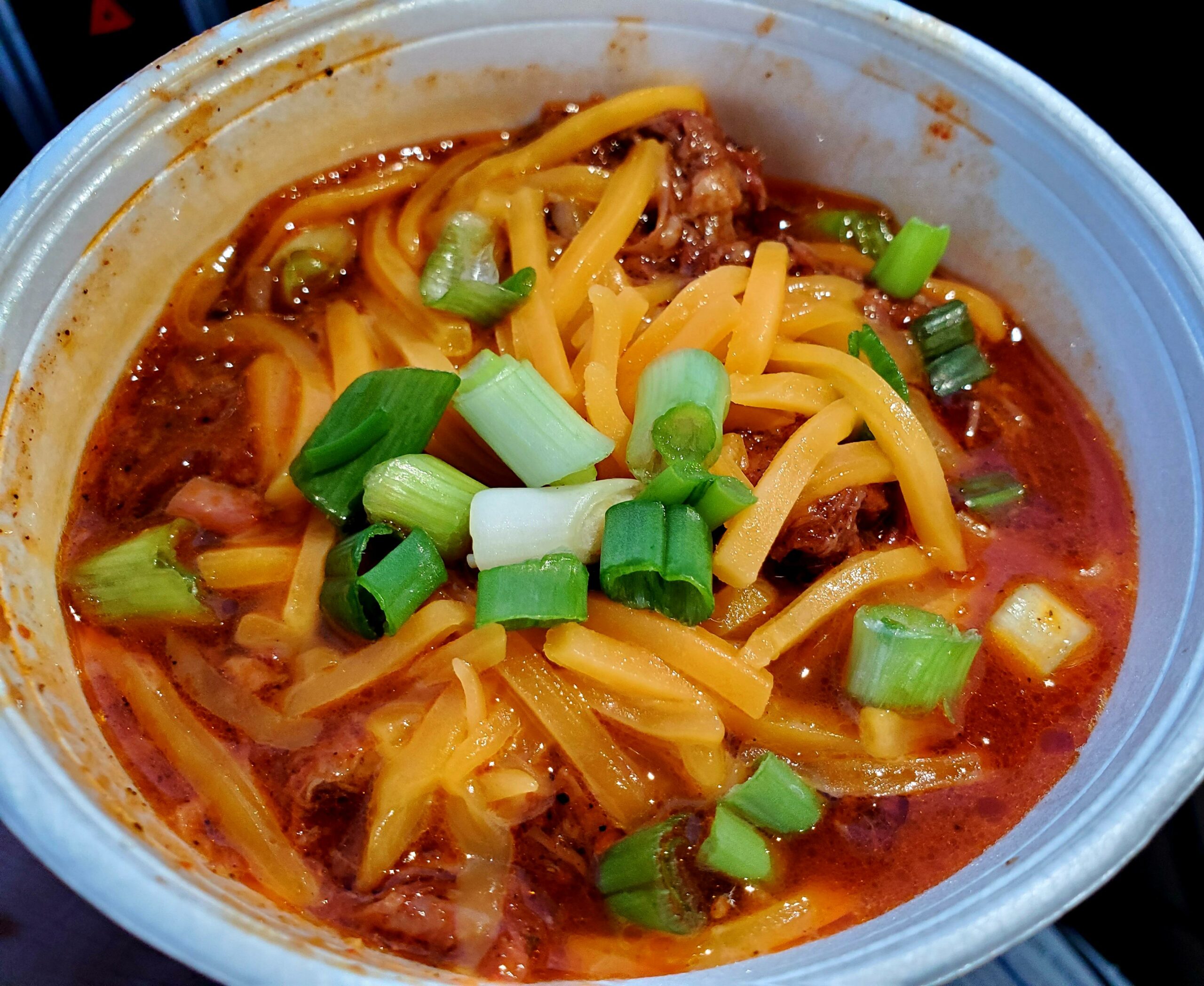 They have some savory chili using Hurtado smoked rib meat and some other secret ingredients. They offer you cheese and green onions to top it with. I would suggest getting two orders because you are going to love it. I licked my lips all the way home! It was that tasty.
Weatherford, Texas
Chef Clint
Beef Chili
Chef Clint has been featured on several TV programs and is creating chef dream deliciousness at the new Full Circle Ranch Grill.
His passion for cooking really shines through on his chili. It is loaded with flavor! He uses bar cattle company grass-fed beef, cayenne pepper, chipotle, Arbol chilies, and some other secret ingredients that will set your taste buds at attention. Like I said, it's loaded with flavor and Chef Clint is all about bringing Flavor Gods to each bite.
Fort Worth, Texas
Traffic Circle
Pitmaster John
Brisket Meat Chili
Both Pitmaster John Sanfords Sr. and Jr. have been slinging BBQ deliciousness for years. They are in the top 50 BBQ joints in Texas every year. They took that award-winning BBQ and created some award-winning chili that you will fall in love with. The flavor profile is what I like to call Damn Delicious. That's all you have to know! They love feeding folks and making them smile with each bite. Go get some chili and let it drip down your chin you will understand after that first bite.
Downtown Dallas, Texas
Omni Hotel Lobby
Chef Gregory
Beef Chili
Here we go again with the Omni folks. Omni has some amazing talent in their kitchens. I don't care what kind of Chef works for the Omni Hotel organization, every single chef they have is creative and passionate about food and culinary experiences for everyone to enjoy.
Chef Gregory at Texas Spice is no different. His culinary team uses fresh vegetables and ingredients to create bold flavor profiles like the Texas Spice Beef Chili. I'm in love with this restaurant, the chili, the staff, and the wonderful vibrant Texas atmosphere they offer each guest who walks through the doors. You can also dine outside on their wonderful patio. When you get time to head out to Texas Spice. When you arrive scream out Trey sent us to CHOW DOWN!
Old Town
Burleson, Texas
Chef Kieth
Soul Glow Beef Chili
My man! The talented and creative soul food Chef Keith Button Hicks is slinging soul food chili deliciousness all over Burleson. I can't begin to explain the passion and drive this chef has for creating soul food with love. In the words of Keith, "When you add LOVE into the food it creates magic".
I've known Keith for a long time and everything I eat that comes from his kitchen is truly magical. Each bite will dance across your pallet like little food angles are in your mouth. The flavor profile of his chili is no different.
I asked Keith, "Why is this chili so good? What in the hell is in this chili?"
He looked at me with that smile and said, "Trey, you know cuz it's the love, the Soul Glow!"
I said, "Ok Keith Baby like usual LOVE!"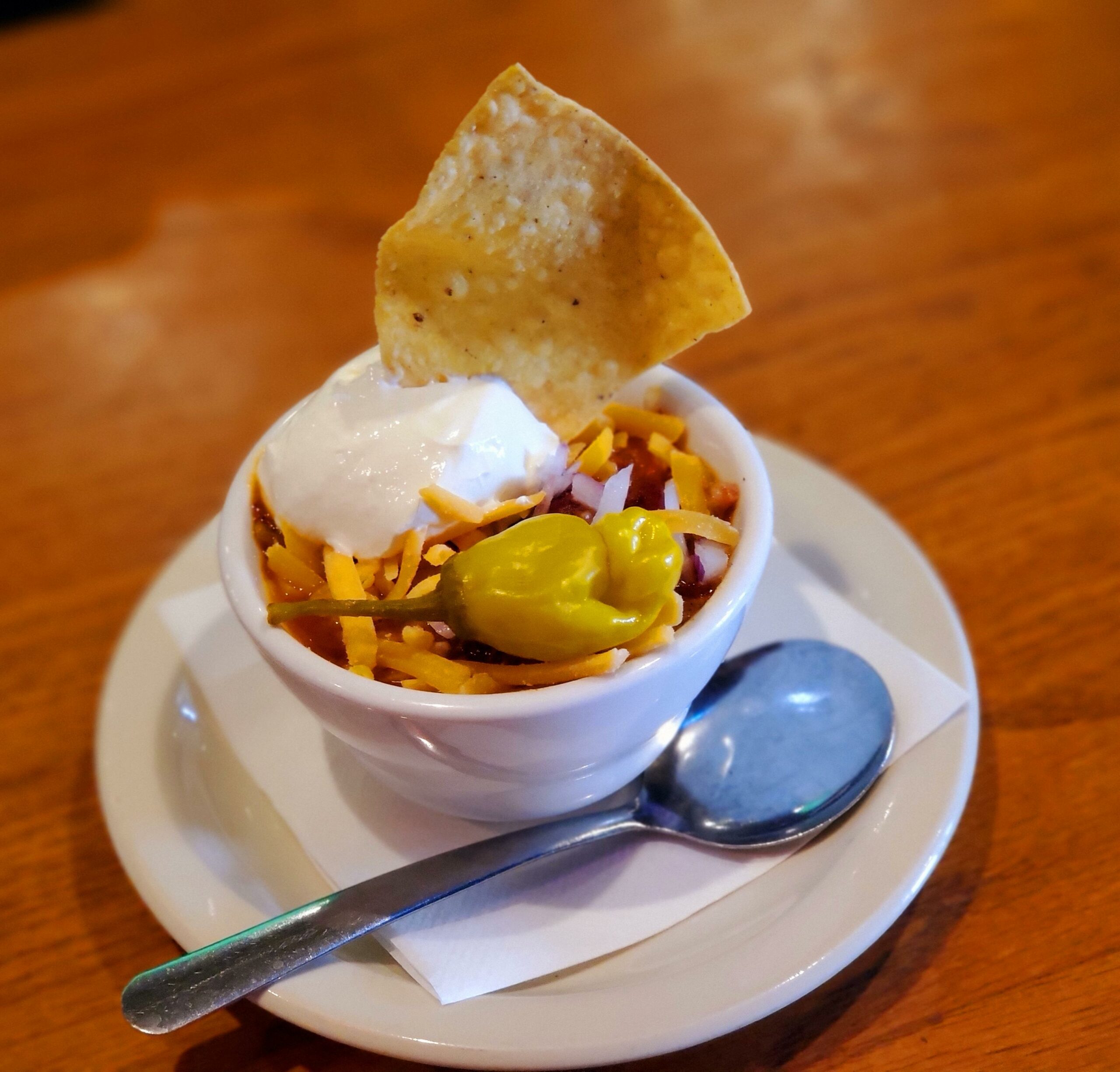 I'll tell you what it's called it's called passion folks and everyone needs to make a trip to the NEW RIM in Burleson and get some Soul Glow Beef Chili.
Dallas/Fort Worth, Texas
Various locations
Pitmaster Creations
They are a chain restaurant but offer various BBQ items and chili that is flavorful and delicious. They have a unique back story which I love. If you know me you know I believe food always tastes better with a story.
In the early days, Red Hot and Blue had only ONE portable, an outdoor smoker in which all the meats were smoked. The Alexandria Virginia county health department didn't allow outdoor smokers so whenever the smoke was billowing high; a health director inevitably arrived and asked them to turn it off. Pitmaster Sonny McKnight was Red Hot and Blue's very first employee and he recalls how he would load the portable smoker onto his truck and drive for hours until the food was cooked to avoid confrontation with the health director.
"After a couple of hours on the freeway, I'd come back and we'd unload the meat at the restaurant."
Now if that's not a great story I don't know what is.
They offer some flavorful fresh prepared chili which you can order in a cup or a bowl. You can add cheese sour cream, and peppers. It comes topped with a fresh tortilla chip. I'm sure you can get more, just like I did. Hell, this is Texas boys and girls who doesn't want to dip tortilla chips in their chili? I sure do! Chips, Chili and cheese, yeehaw! Giddy up my chili lovers to the nearest Red Hot and Blue to grab you some of their fresh Pitmaster chili.
Fort Worth, Texas
Pitmaster Driven
Panther City Team
Panther Island is new to the Barbecue scene in Fort Worth. Not new to winning acclaims for incredibly delicious barbecue. They have been so popular they've already upgraded their location and have a new brick and mortar location on the southside of Fort Worth.
Their Barbecue is winning hearts all across Fort Worth and their chili is no exception. Prepared in house and it's loaded with flavor. The flavor of deliciousness. I would order some brisket and
then a bowl of chili. What more could you want for a cozy comforting snack? Chili and brisket, boy that just sounds awesome.
Paris, East Texas
Chef Zane
Beef and Bean Chili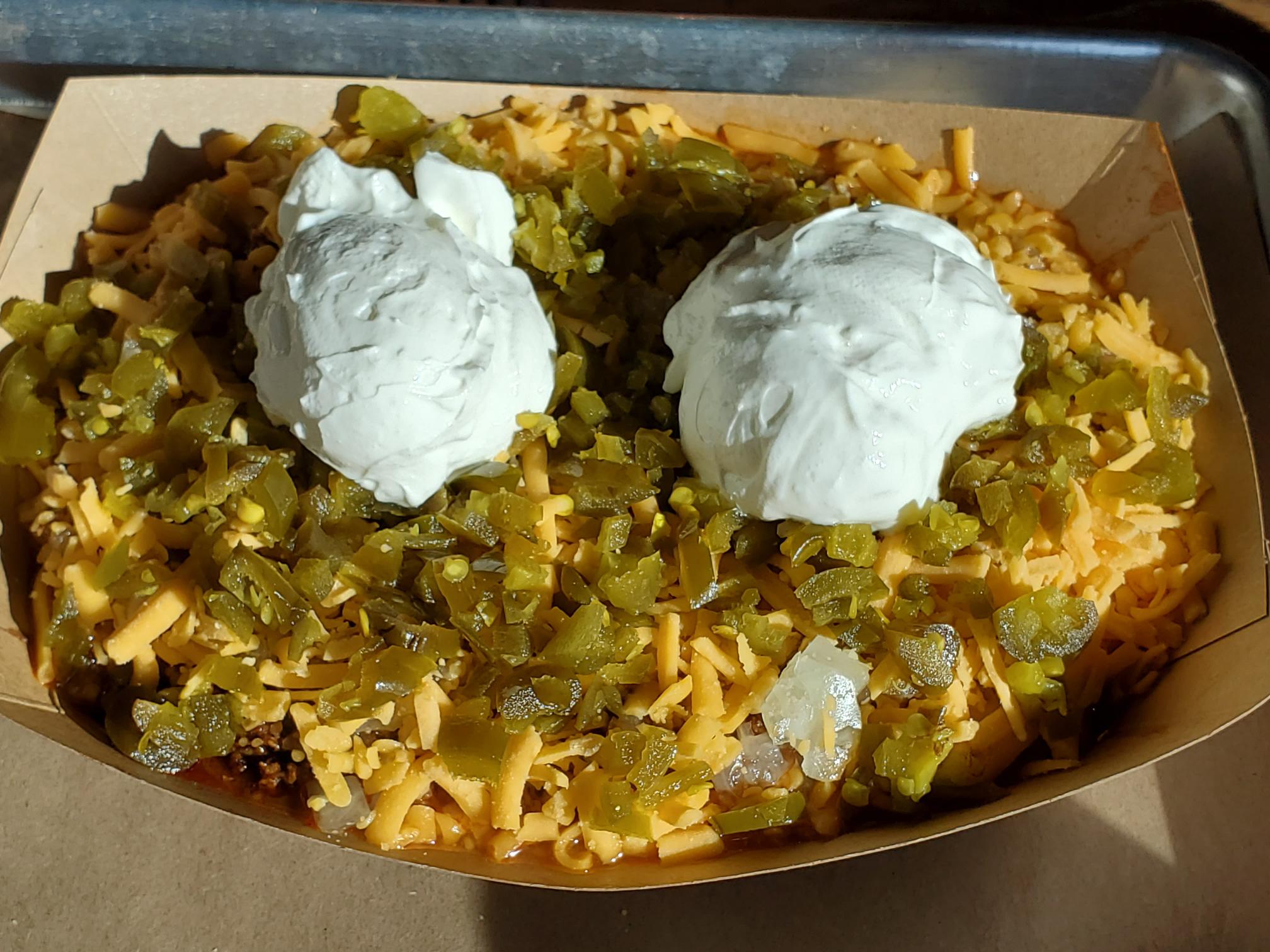 Let's talk about real authentic southern cooking from Mrs. Chef Zane. She prepares everything in the house and it's always fresh and loaded with flavors. She's a real southern Chef with those cozy southern recipes we all know and love.
Her chili is loaded and I mean loaded with flavors. It's a 40-year-old secret ingredient recipe that even includes coffee. She won't tell you everything that it includes. She will let you have as many bowls as you desire because you won't be able to stop eating it.
What you need to do is order her chili and be sure and grab some of those house-made rolls or biscuits then get one of her house-made southern. Desserts. YEAH, BUDDY! DELISH
River District
Fort Worth, Texas
Pitmaster Travis 
Brisket & Pork Chili
Pitmaster Travis is already known as a Fort Worth BBQ legend for creating "Pork Burnt Ends" an introducing them to the world of BBQ. It would stand to reason that he would add pork with his brisket to create a delicious and flavorful chili. I had them smother it with onions, cheese, and chopped jalapeños to create savory deliciousness. I didn't stop eating it until it was gone! Head over to Heim and try this award winning chili.
Thank you for following and reading our article. Please follow us on social media for more GREAt Chow Down spots.