Trey's Chow Down TRAVEL heard about this incredibly cozy Palm Springs-style resort that's a throwback to the retro classics. Located in the Hill Country, it's an overnight retro dream close to Fredericksburg, Texas that we absolutely LOVED!
The Blue Skies Retro Resort is located approximately 3 hours from DFW and 1.5 hours from San Antonio and Austin. They're nestled between the Texas Wine Trail and Enchanted Rock on TX Hwy 16, where the possibilities for fun, relaxation and adventure are endless.
The fully refurbished retro trailers are cozy, colorful, fun and clean. Each trailer offers WI-Fi, a small refrigerator, retro record player, a couch, kitchenette, and small bathroom. They also have an outdoor entertainment area with a fireplace (wood is included!) and a pool. It's all you need for a quick, affordable get away.
ACCOMMODATIONS 
Offering five Shasta trailers with private yards along with additional private bathrooms with vanities and outdoor showers, a pool and a covered pavilion for you to enjoy!
Each trailer offers:
Keyless entry
Full bed featuring a Casper® mattress
Luxury linens and pillows
Keurig single cup coffee
Fridge
Microwave
Sink
AC/Heat
TV
Bluetooth radios and record player with records
Private yards
*19ft trailers have an additional twin bed in the back that also offers extra seating
The sunsets and sunrises are impeccable and the skies are a bright blue, so no need to even wander off the property as it provides a unique resort experience all on its own.
If you're looking for an affordable and fun getaway, I would HIGHLY recommend a trip to BLUE SKIES RETRO RESORT. You will thank me later for the fun and relaxing time you will enjoy.
Disclaimer: I can't be held responsible if you have TOO MUCH FUN!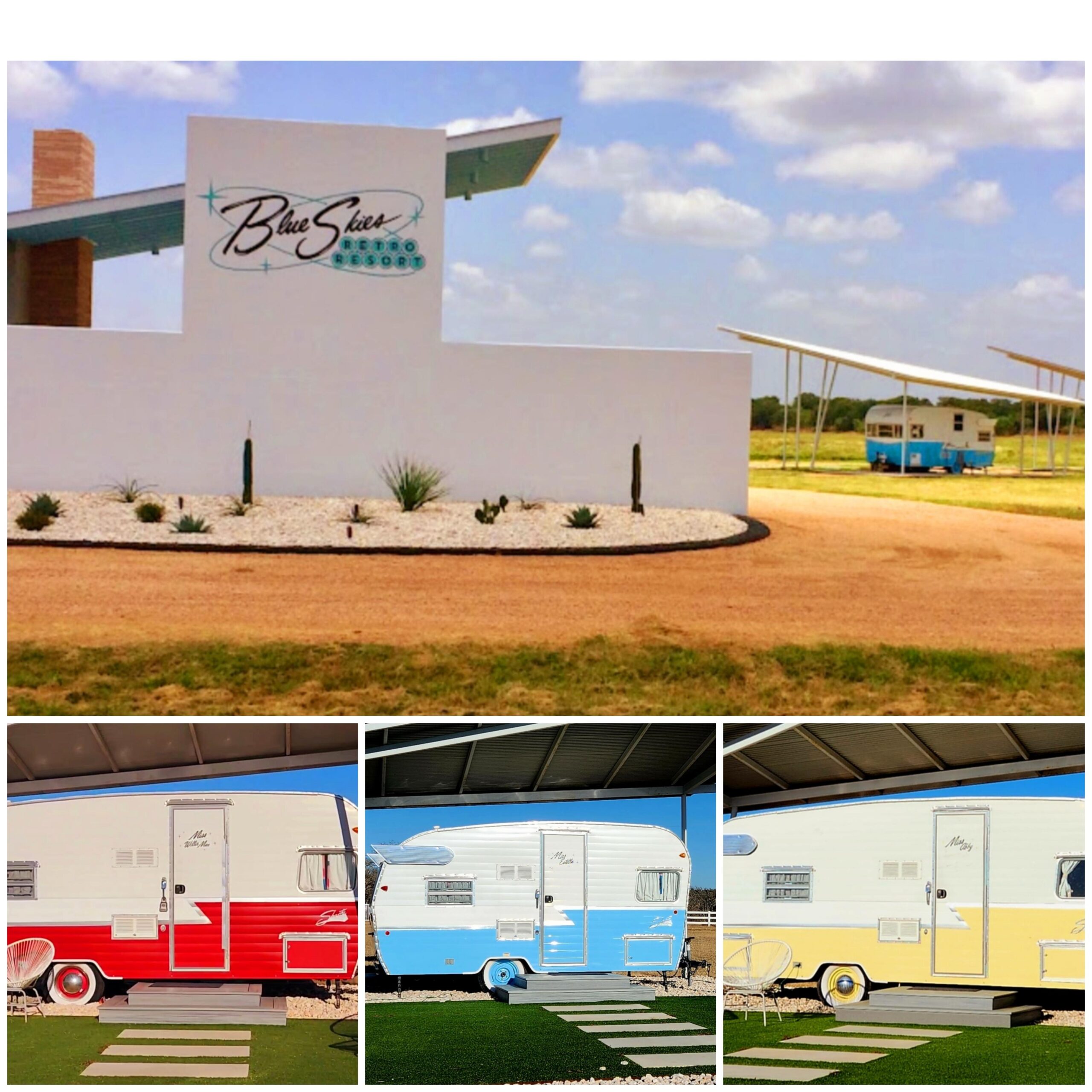 Please follow our social media channels as we discover creative chefs, tasty eats, savory sweet treats and unique travel destinations around the USA!
Trey ( Chow Down ) Chapman