Saturday, September 4, is International Bacon Day 2021
Everyone dreams about bacon!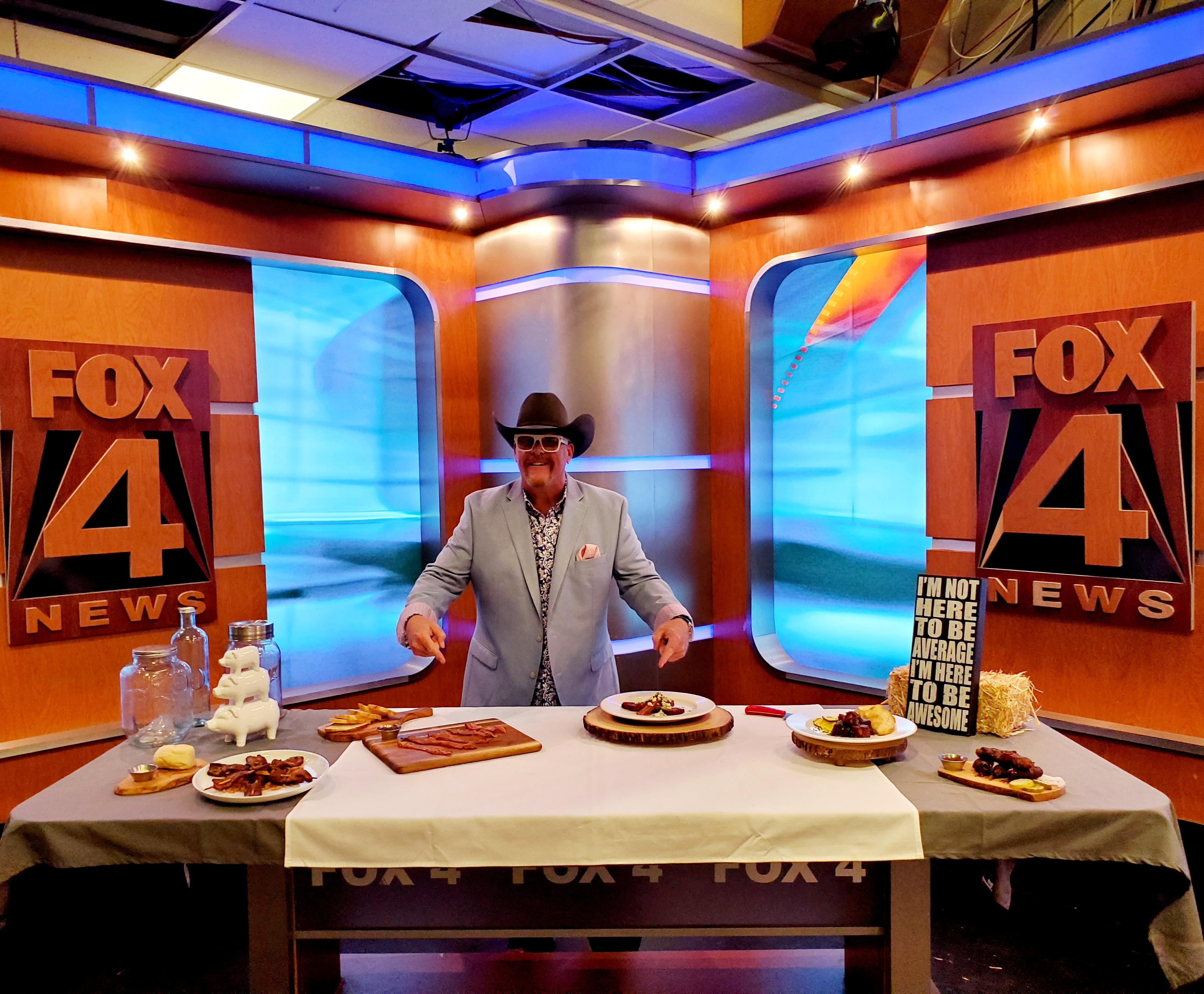 When Trey's Chow Down saw there was an International Bacon Day and it was a real thing my mouth started salivating and all I could think about was how delicious bacon truly is.
Have you ever eaten a bad piece of bacon? I think not! No matter how it's cooked, (soft, crispy, medium, or rock hard) bacon is always perfectly delightful.
Ever since 1500 B.C. folks have been eating and enjoying bacon. That's a long time ago, but it just goes to show you how much everyone loves bacon.
Bacon's history dates back thousands of years to 1500 B.C. The Chinese were curing pork bellies with salt. Basically, they were creating an early form of what we know today as bacon.
I'm shocked about how long ago bacon was being eaten and was created. I wonder how the first bacon fry went down. Here piggy piggy! Come here piggy piggy! Come over here let's see if we can fry some of your body parts up? Seems legit to me lol!
Now that I'm thinking about it, I bet they could smell bacon frying a mile away and come strolling by to see what that delicious aroma was. I'm sure smelling that bacon for the first time set their foodie senses into overdrive. Well, of course, they didn't call it bacon at that time but we will play along as if they did.
The first bacon fry must have not only been a mess, but also an exploration to try and figure out how to eat these creatures we call pigs. You know it smelled delicious and they were like, "YES that smells soooooo good"!
Today we have all kinds of various bacon flavors, thickness, bacon dishes, and bacon farmers who create some of the world's best bacon right here in the good ol' U.S.A.
When I spoke with the Fox producers about Bacon Day, it was clear that everyone loved bacon and we need to locate some of the best bacon dishes in the DFW area.
I sought out to locate some of the best bacon dishes for all my fellow food lovers to enjoy and boy… Did I find some great dishes to eat. If you love bacon you will love this article and my choices.
( The Cover Photo)
Fort Worth & Houston, Texas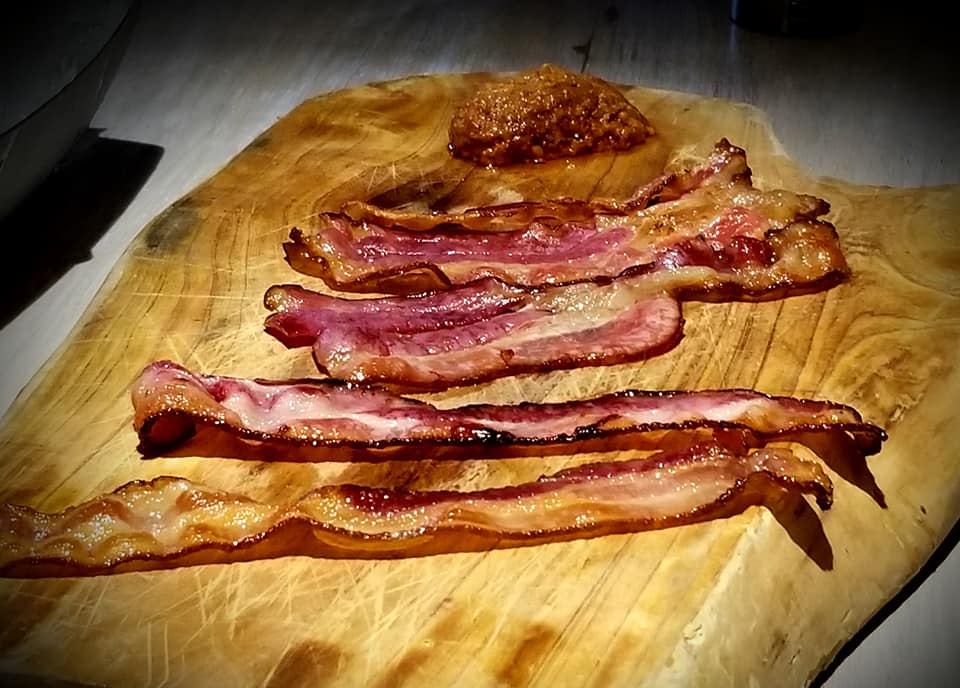 B&B has this amazing bacon dish named after Chef Tommy. Let me tell you, "Chef Tommy's Bacon Dish" is loaded with flavors. When I read about this dish, I had to visit B&B so I could Chow Down and enjoy it for myself. It's prepared with fresh blue cheese, truffle infused honey, and thick house bacon. This dish meets all the requirements for an award winning dish. The taste has an amazing flavor profile, tenderness, cooked perfectly, great texture, and fantastic eye appeal. One of the best bacon dishes anywhere, period! You need to try this dish, and it's only 20 bucks.
Knife Steakhouse
Dallas & Plano, Texas
Chef John Tesar always has his creative side in forward motion. I haven't had one dish, or food item, from John that's not totally amazing. He's crazy about using fresh ingredients, having perfect execution, pallet busting flavor profiles, fantastic restaurant atmospheres, and amazing customer service. The Knife bacon appetizer, simply put, is deliciousness with every single bite. The succulent variety of bacon is so flavorful you will order an extra one. I know it because we did it. The dish is simplistic. A tasting of five varieties of bacon and it's served on a beautiful wood cutting board. It is truly life-changing and you need this dish in your life.
McKinney, Texas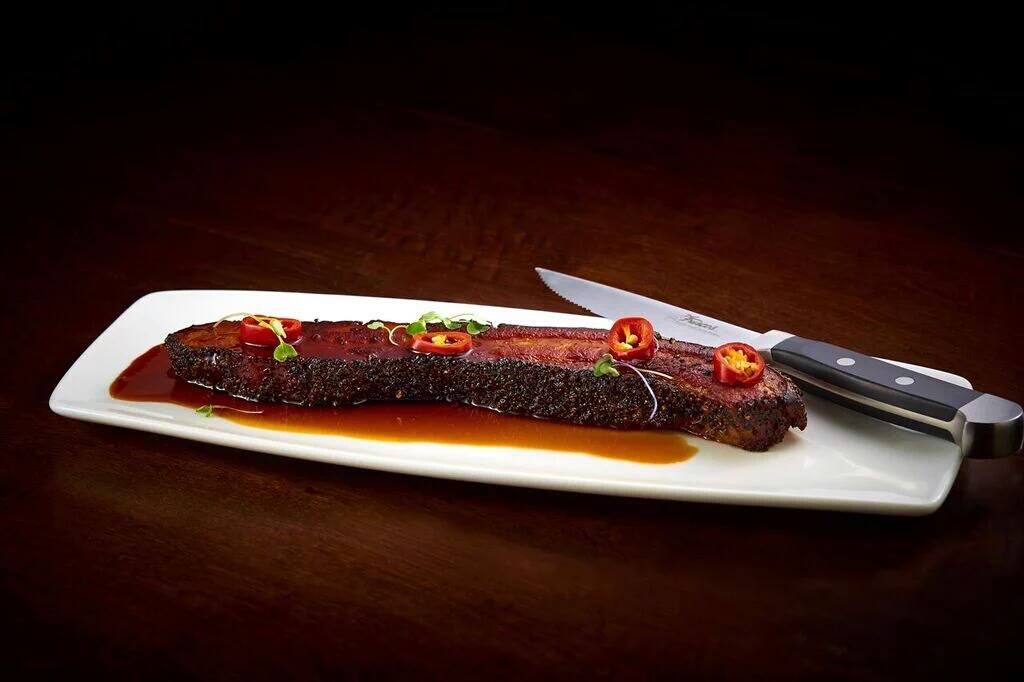 Oh, I love me some Sugarbacon! You're probably saying to yourself, what the heck is Sugarbacon? Well, it's two things really; A fantastic restaurant and a delicious lip-smacking bacon dish. The team over at Sugarbacon in McKinney have come up with a flavor-packed bacon dish that will send your taste buds to the flavor town. It's truly an opportunity to try something new and exciting. The "Sugarbacon Appetizer" is prepared with house-smoked pork belly, ancho chili bbq sauce, B and B pickles, and served on thick bacon square bites. I'm telling you right now it has a fantastic flavor profile and is downright delicious. Folks, it is absolutely worth a trip to Chow Down and see what Sugarbacon is all about.
Fort Worth, Texas
I drove by this place at least 25 times before I stopped into Chow Down. I had heard all about their flavor-packed barbecue treats, but I kept waiting to see some photos and reviews before I made the journey because I've been extremely busy. That was a mistake!  We stopped in and had a variety of delicious BBQ treats but what really caught my eye was the "Bacon Wrapped Jalapeños." I eat these all the time but Cowtown's were different. They were wrapped tightly and the bacon was glazed just enough. Damn, they were delicious so flavorful that I ate 5 out of the 6 and we ordered some more for the whole table. They really were amazing. When you get a chance, head over to Cowtown for little bacon throw down. Tell'em Trey sent you!
Del Frisco's Double Eagle Steakhouse
Locations All Over U.S.A.
I have to confess something to each of you. I've had dreams about the bacon dish at Del's. Oh man, there's nothing like naughty bacon dreams folks. It's the THICK-CUT NUESKE'S BACON AU POIVR served with a Bourbon Molasses Glaze and a side of deliciousness. Oh, the food gods are shining down on Del Frisco's for this bacon dish! By all means, this is so good it should be illegal. The succulent bacon flavor just rolls across your tongue and sends your taste buds into full mode overload. Don't be surprised if you have to wipe your chin after each juicy bite. A true trend sitter and it's only 16 bucks, ladies and gentlemen.
Multiple Texas Locations
I know you're thinking… What did he just say? Logan's Roadhouse? Am I reading this correct? Yes, you are! This is all about bacon and Logan's Roadhouse locations has some great bacon. They have a little appetizer that goes by the name "Bacon On A Stick" and it's in a bucket too. I've had this twice and both times the bacon was perfectly cooked, loaded with flavor, and easy to eat right off the stick. This is a great little bacon treat you will love. It's prepared from 12-hour smoked bacon seasoned and grilled in a brown sugar glaze with a kick of spice. Served with crispy fried onions and your choice of original BBQ or Bourbon BBQ. Just damn delicious if you ask me. Your taste buds with take a trip to the "bacon flavor rodeo" and it's only 10 bucks. Check it out!
North Fort Worth, Texas
I took a trip over the Shady Oak to try some barbecue. As I sat down and was reviewing the menu when the server said, "Hey, do you want to try some of our bacon burnt ends"? My head snapped up and said, "Do tell? Why yes I will"! Those bacon burnt ends were saucy and mouth-watering delicious. The flavor really pops in your mouth as they roll across your tongue. This is a dish you must try and price right too!
There are a lot more bacon dishes I have tried, but these are truly some of the best you will find in the Fort Worth/Dallas area. All of these truly stand on their own with fantastic flavor profiles that will leave you wanting more. As a chef once told me, "Trey, if I can leave you wanting more then I've done my job. I know you will come back and dine with us again".
Please visit these local restaurants because eating and buying local is extremely important to our chefs and restaurants.
If you LOVE cooking bacon at home then I would try my favorite Tender Belly Bacon. You can locate Tender Belly at https://www.tenderbelly.com
Don't forget to listen or watch our worldwide podcast Trey's Chow Down Live every Friday on iHeartRadio, iTunes, Dash Radio or tune and watch us LIVE.
Remember, I'm passionate about bringing each of you the very food and drink experiences I can find.
Much love,
Trey Chapman Follow me for deliciousness and fun