Howdy Barbecue Lovers!
I took a ride over to the NEW BRIX Barbecue located on South Main Street in Fort Worth, Texas. I was very impressed with the new operations. All I can say is: " Pitmaster and owner Trevor Sales has taken the old BRIX Barbecue "From A SMOKESTEAM to a COWTOWN DREAM," and he's slang'n meaty deliciousness that everyone will love.
Brix Barbecue Full Video and photos of deliciousness. 
The new building is open with plenty of room and seating. It has a big pitroom, a beautiful dining room, a bar area, outdoor seating, and a stunning patio upstairs overlooking South Main Street that will also have a bar during cooler months of the year. There is a BIG VARIETY of fresh prepared Texas BBQ, creative sides, unique BBQ items, and of course the FAMOUS BRIX FRIED CHICKEN SAMMY with DANK SAUCE. Whatever BBQ you're dreaming of, Trevor and his culinary team are going to be slang'n it with style and deliciousness.
Fresh BRIX Barbecue Items Featured: Burnt Ends, Brisket, Ribs, Pulled Pork, Fresh House Porchetta, Fresh Barbacoa Taco, Fresh Barbacoa, Brisket Rags, Tallow Beans, and Fried Chicken SAMMY with DANK SAUCE.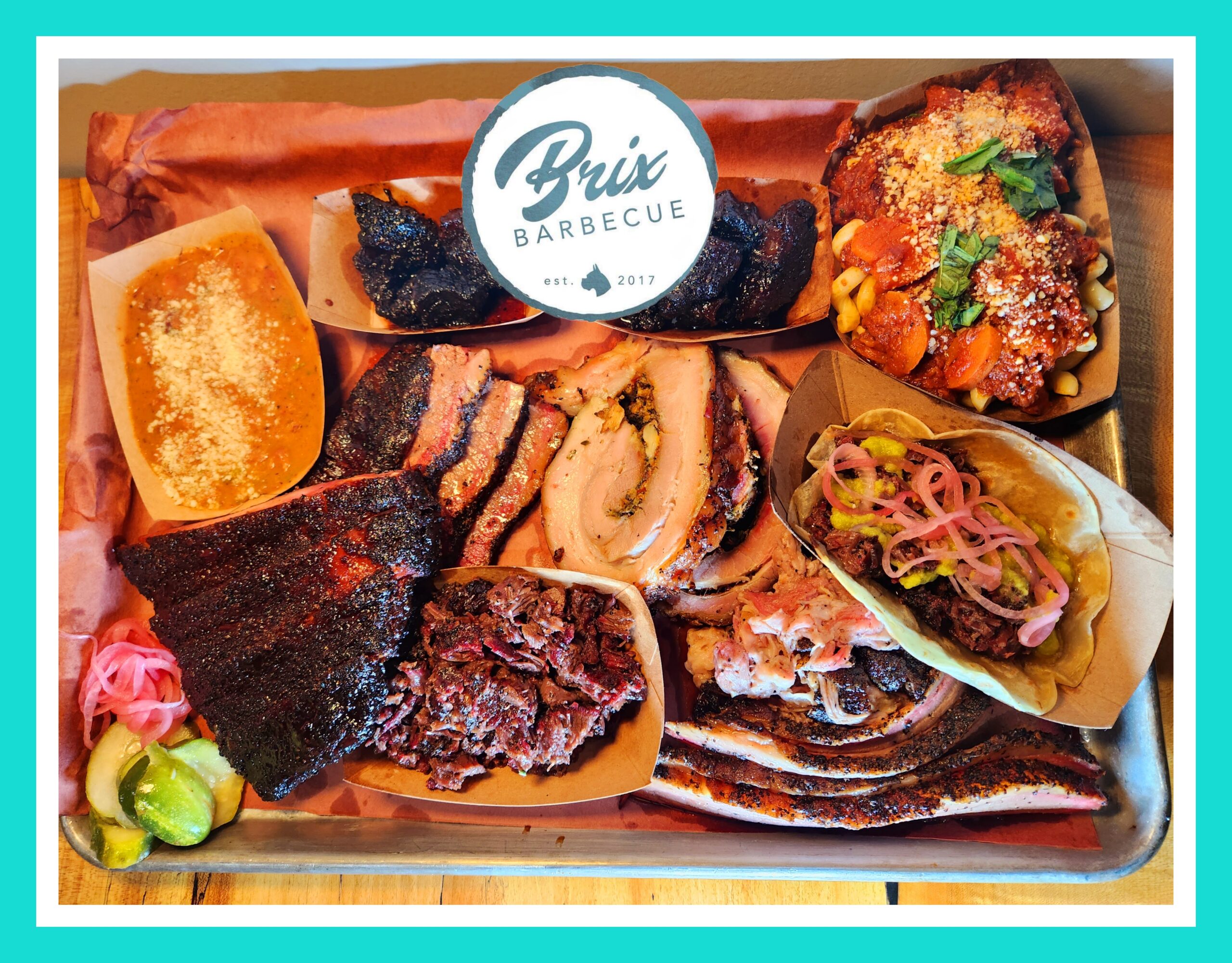 Trey's Favorites: Today, I want to talk about my THREE favorites. The amazing PORKCHETTA that is packed with flavor. It has that magical culinary jungle that everyone is trying to achieve. That little jingle, I like to call "PORK-O-LICIOUSNESS" with every bite. They also have some incredibly flavorful burnt ends that are DRIPP'IN with MEATY deliciousness. If you like sides, the BEANS and the FRESH BRISKET RAGU is simply #StupidDelicious.
If you're looking for a NEW favorite BBQ joint to visit, that's a BBQ dreamland. I would highly recommend you check out the NEW BRIX BARBECUE and chow down. It's a NEW OFFICIALLY APPROVED TREY'S CHOW DOWN DELICIOUS DESTINATION for all BBQ lovers to enjoy.  A Trey's Chow Down FAVORITE! 😋
The rest of the story:
Homemade smoker, rescued dog, man with a crazy passion for texas style smoked meats = brix barbecue
In 2017, Big Trevor got his first smoker as a birthday gift from his parents after moving to Texas from the Chicago region and falling in love with real Texas Barbecue. He would stay up overnight to barbecue and stumble into work with samples for friends and colleagues. After a few months gone, and a bigger waistline – they convinced him he has what is takes to compete with the 'big dogs' in Texas Barbecue. Fast forward to early 2018, when he rescued a Boxer-Terrier mix, Brix, that had such influence on his life, he rebranded and named his barbecue business after him.
Big Trevor is a transplant that has fused his love for food with Central Texas Style Barbecue. Most of the recipes are simple and let the meat shine. There's nothing to hide, and he'll share all of his secrets, because the one thing no one can match is his passion for smoking meats to perfection. His love of food comes from his mother, Mama Sales, where her first two ingredients are always butter and love. Big Trevor doesn't use much butter on his barbecue (the sides are another story), but that first bite of brisket will unveil a great deal of love. Just don't forget to save the bones for Brix.
Thanks so much and stay hungry my friends!
Trey (Chow Down) Chapman